100 Examples of Degrees of Comparison
English has many degrees of comparison, which can be confusing for ESL students. In this post, we will provide 100 examples of how to use these degrees properly. With practice, you'll be able to master this important aspect of the English language!
What is the degree of comparison? The degree of comparison (or the grade of comparison) is the intensity of the adjective or adverb. There are three degrees of comparison: positive, comparative, and superlative.
The positive degree is the base form of the word, without any comparison. The comparative degree is formed by adding -er to the positive form, and the superlative degree is formed by adding -est.
For example, the positive degree of "happy" is "happy." The comparative degree is "happier," and the superlative degree is "happiest."
Here are some more examples:
| | | |
| --- | --- | --- |
| Positive | Comparative | Superlative |
| cold | colder | coldest |
| full | fuller | fullest |
| messy | messier | messiest |
| skinny | skinnier | skinniest |
| coarse | coarser | coarsest |
| friendly | friendlier | friendliest |
| mean | meaner | meanest |
| sincere | sincerer | sincerest |
| black | blacker | blackest |
| dark | darker | darkest |
| handy | handier | handiest |
| old | older/elder | oldest/eldest |
| sore | sorer | sorest |
| brief | briefer | briefest |
| dumb | dumber | dumbest |
| humble | humbler | humblest |
| quick | quicker | quickest |
| thin | thinner | thinnest |
| broad | broader | broadest |
| early | earlier | earliest |
| icy | icier | iciest |
| rare | rarer | rarest |
| tiny | tinier | tiniest |
| good | better | best |
| creamy | creamier | creamiest |
| narrow | narrower | narrowest |
| slimy | slimier | slimiest |
| bland | blander | blandest |
| deadly | deadlier | deadliest |
| happy | happier | happiest |
| | | |
| --- | --- | --- |
| Positive | Comparative | Superlative |
| plain | plainer | plainest |
| sweaty | sweatier | sweatiest |
| calm | calmer | calmest |
| faint | fainter | faintest |
| juicy | juicier | juiciest |
| risky | riskier | riskiest |
| true | truer | truest |
| clean | cleaner | cleanest |
| fierce | fiercer | fiercest |
| light | lighter | lightest |
| sad | sadder | saddest |
| bold | bolder | boldest |
| dirty | dirtier | dirtiest |
| healthy | healthier | healthiest |
| pretty | prettier | prettiest |
| tan | tanner | tannest |
| busy | busier | busiest |
| flat | flatter | flattest |
| low | lower | lowest |
| sharp | sharper | sharpest |
| chewy | chewier | chewiest |
| fancy | fancier | fanciest |
| large | larger | largest |
| rough | rougher | roughest |
| warm | warmer | warmest |
| crunchy | crunchier | crunchiest |
| great | greater | greatest |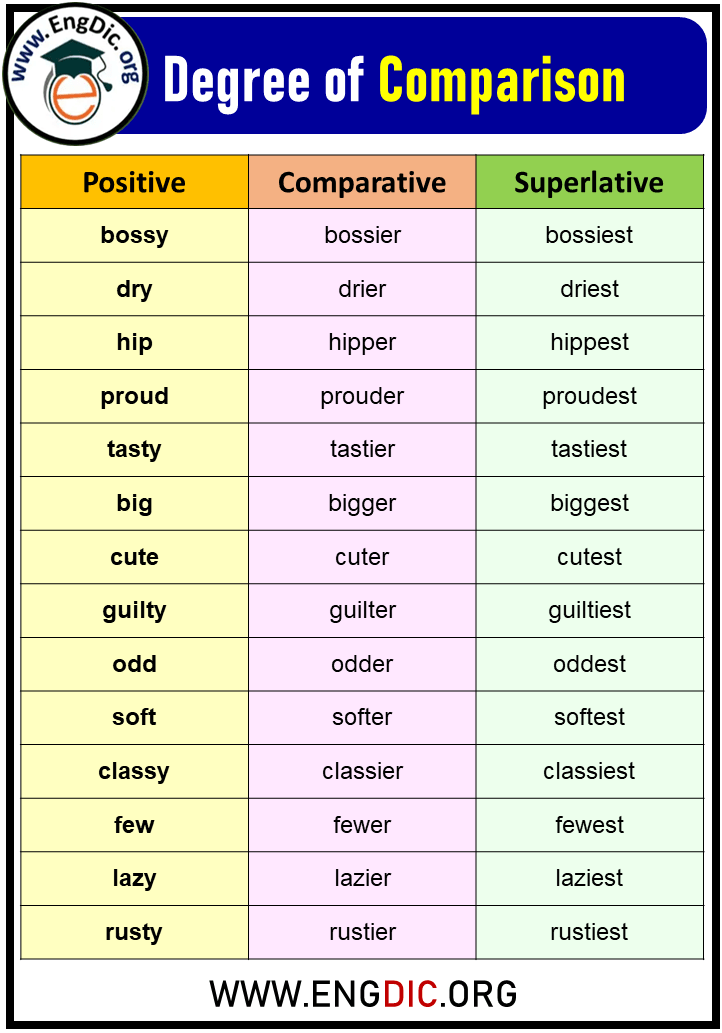 | | | |
| --- | --- | --- |
| Positive | Comparative | Superlative |
| neat | neater | neatest |
| smelly | smellier | smelliest |
| close | closer | closest |
| firm | firmer | firmest |
| long | longer | longest |
| sane | saner | sanest |
| brave | braver | bravest |
| dull | duller | dullest |
| hot | hotter | hottest |
| pure | purer | purest |
| thick | thicker | thickest |
| clear | clear | clearest |
| filthy | filthier | filthiest |
| likely | likelier | likeliest |
| safe | safer | safest |
| bright | brighter | brightest |
| dusty | dustier | dustiest |
| hungry | hungrier | hungriest |
| quiet | quieter | quietest |
| thirsty | thirstier | thirstiest |
| cheap | cheaper | cheapest |
| fair | fairer | fairest |
| kind | kinder | kindest |
| roomy | roomier | roomiest |
| ugly | uglier | ugliest |
| cool | cooler | coolest |
| funny | funnier | funniest |
| mild | milder | mildest |
| sleepy | sleepier | sleepiest |
| cloudy | cloudier | cloudiest |
| fit | fitter | fittest |
| loud | louder | loudest |
| scary | scarier | scariest |
| bitter | bitterer | bitterest |
| damp | damper | dampest |
| hairy | hairier | hairiest |
| oily | oilier | oiliest |
| soon | sooner | soonest |
| angry | angrier | angriest |
| curly | curly | curliest |
| greedy | greedier | greediest |
| nice | nicer | nicest |
| smoky | smokier | smokiest |
| crispy | crispier | crispiest |
| grave | graver | gravest |
| naughty | naughtier | naughtiest |
| small | smaller | smallest |
| creepy | creepier | creepiest |
| grand | grander | grandest |
| | | |
| --- | --- | --- |
| Positive | Comparative | Superlative |
| nasty | nastier | nastiest |
| slow | slower | slowest |
| blue | bluer | bluest |
| dense | denser | densest |
| harsh | harsher | harshest |
| poor | poorer | poorest |
| tall | taller | tallest |
| clumsy | clumsier | clumsiest |
| flaky | flakier | flakiest |
| lovely | lovelier | loveliest |
| shallow | shallower | shallowest |
| chubby | chubbier | chubbiest |
| fat | fatter | fattest |
| late | later | latest |
| rude | ruder | rudest |
| weak | weaker | weakest |
| bossy | bossier | bossiest |
| dry | drier | driest |
| hip | hipper | hippest |
| proud | prouder | proudest |
| tasty | tastier | tastiest |
| big | bigger | biggest |
| cute | cuter | cutest |
| guilty | guilter | guiltiest |
| odd | odder | oddest |
| soft | softer | softest |
| classy | classier | classiest |
| few | fewer | fewest |
| lazy | lazier | laziest |
| rusty | rustier | rustiest |
| curvy | curvier | curviest |
| gross | grosser | grossest |
| noisy | noisier | noisiest |
| smooth | smoother | smoothest |
| bad | worse | worst |
| bloody | bloodier | bloodiest |
| deep | deeper | deepest |
| hard | harder | hardest |
| polite | politer | politest |
| sweet | sweeter | sweetest |
| calm | calmer | calmest |
| fresh | fresher | freshest |
| mad | madder | maddest |
| shiny | shinier | shiniest |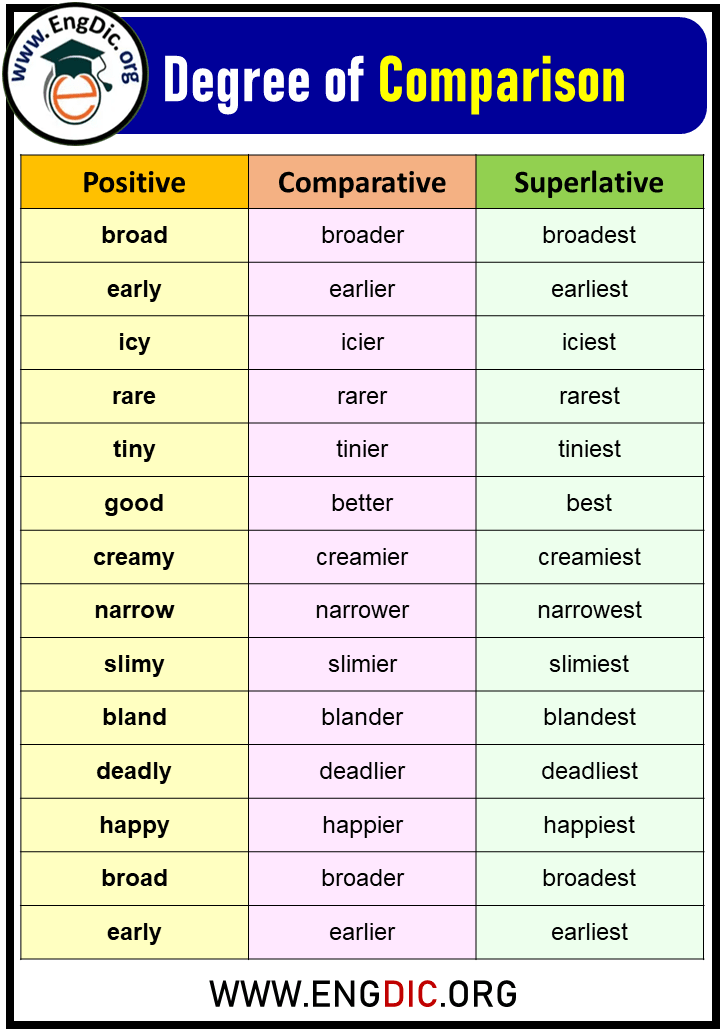 | | | |
| --- | --- | --- |
| Positive | Comparative | Superlative |
| busy | busier | busiest |
| easy | easier | easiest |
| itchy | itchier | itchiest |
| ripe | riper | ripest |
| tough | tougher | toughest |
| crazy | crazier | craziest |
| gentle | gentler | gentlest |
| moist | moister | moistest |
| slim | slimmer | slimmest |
| cruel | crueller | cruellest |
| greasy | greasier | greasiest |
| near | nearer | nearest |
| smart | smarter | smartest |
| clever | cleverer | cleverest |
| fine | finer | finest |
| little | littler | littlest |
| salty | saltier | saltiest |