The English language is a vast sea of words, with adjectives acting as its colorful corals. Among these, the adjectives starting with the letter 'Y' hold a special place. They may be fewer in number compared to other letters, but their uniqueness is undeniable.
From describing someone's youthful exuberance to the yellow hue of a setting sun, 'Y' adjectives weave a world of their own.
Dive into this article as we unravel the intriguing and lesser-known adjectives that begin with this letter, adding a 'youthful' zest to our vocabulary!
Also, Check More Adjectives A-Z:
A – B – C – D – E – F – G – H – I – J – K – L – M – N – O – P – Q – R – S – T – U – V – W – X – Y – Z
Adjectives that Start with Y
Yao
Yew
Yon
Yare
Yawl
Your
Yvel
Yakut
Yappy
Yeast
Yechy
Yewen
Yippy
Yogic
Young
Yours
Yo-yo
Yucky
Yuman
Yummy
Yacked
Yankee
Yeared
Yearly
Yeasty
Yellow
Yemeni
Yester
Yippee
Yonder
Youthy
Yttric
Yacking
Yanking
Yapping
Yarrish
Yawling
Yawning
Yenning
Yestern
Yiddish
Yobbish
Youngly
Youthly
Yowling
Yoyoing
Yummier
Yachting
Yahooing
Yearling
Yearlong
Yearnful
Yeilding
Yemenite
Yeomanly
Yielding
Yodeling
Yogistic
Yokeless
Yokelish
Youngish
Youthful
Ypsiloid
Ytterbic
Yttrious
Yugoslav
Yuletide
Yummiest
Yabbering
Yammering
Year-long
Yeastlike
Yellowish
Yieldable
Yieldless
Yoke-toed
Youngling
Youthsome
Yucatecan
Year-round
Yeomanlike
Yuppifying
Yttriferous
Yugoslavian
Yeast-bitten
Young-looking
Yellow-bellied
Top 30 Adjectives That Start With Y (Sorted Alphabetically)
1. Yare
Meaning: Agile, quick.
Example: The dancer's yare movements enthralled the audience.
2. Yearlong
Meaning: Lasting through the year.
Example: They embarked on a yearlong journey around the world.
3. Yearning
Meaning: Having an intense feeling of loss or lack.
Example: Her yearning eyes spoke of untold stories.
4. Yeasty
Meaning: Resembling or containing yeast.
Example: The bread had a yeasty aroma.
5. Yeld
Meaning: Barren; not giving milk.
Example: The yeld cow was separated from the herd.
6. Yellow
Meaning: Cowardly or easily scared.
Example: He was labeled yellow for not taking the challenge.
7. Yellowish
Meaning: Slightly yellow in color.
Example: The walls were painted a yellowish hue.
8. Yelping
Meaning: Uttering a sharp, high-pitched sound.
Example: The yelping dog alerted the neighbors.
9. Yielding
Meaning: Ready to give way or submit.
Example: He was yielding in nature, always ready to compromise.
10. Yodelling
Meaning: Singing with frequent changes in pitch.
Example: His yodelling skills were popular in the mountain regions.
11. Yoked
Meaning: Bound or united, often in difficulty.
Example: The two friends were yoked in their shared goals.
12. Yonder
Meaning: Distant but within sight.
Example: The cottage lies yonder, just past the hill.
13. Youngish
Meaning: Somewhat young.
Example: The youngish man still enjoyed playing video games.
14. Youthful
Meaning: Having qualities of youth.
Example: Her energy and enthusiasm were youthful.
15. Yummy
Meaning: Very delicious.
Example: The cake tasted so yummy!
16. Yawning
Meaning: Indicating boredom or tiredness.
Example: The yawning audience signaled the play's dullness.
17. Yeomanly
Meaning: Sturdy, dependable.
Example: His yeomanly demeanor was appreciated by all.
18. Yuppified
Meaning: Having characteristics of a yuppie.
Example: The neighborhood has become quite yuppified in recent years.
19. Yowling
Meaning: Making a loud, wailing noise.
Example: The yowling cat disturbed our sleep.
20. Yiddish-speaking
Meaning: Speaking the Yiddish language.
Example: The Yiddish-speaking community gathered for the festival.
21. Yucky
Meaning: Disgusting or unpleasant.
Example: He found the slimy texture of the food yucky.
22. Yarely
Meaning: Readily, quickly.
Example: The horse responded yarely to the rider's command.
23. Yon
Meaning: That over there.
Example: The tree yon is where we carved our initials.
24. Yieldable
Meaning: Capable of yielding or bending.
Example: The yieldable metal could be molded into various shapes.
25. Yottabyte
Meaning: Extremely large data unit.
Example: The system can store several yottabytes of data.
26. Yucky
Meaning: Unpleasant or disgusting.
Example: The spoiled milk tasted yucky.
27. Yuppifying
Meaning: Making more appealing to yuppies.
Example: The old bar was yuppifying to attract a new crowd.
28. Yare
Meaning: Eager, ready.
Example: The team was yare for the challenge.
29. Yelpy
Meaning: Prone to yelping.
Example: The yelpy dog was anxious during the storm.
30. Yummy
Meaning: Very tasty or delicious.
Example: The dessert was so yummy that I had seconds.
Adjectives that start with Y to describe a Person
Youthful
Yeasty
Yare (agile or lively)
Yearning
Yielding
Yonder (distant but within sight)
Yawning (indicating boredom)
Yappy (talkative, often annoyingly so)
Yearly (occurring every year)
Yellow (cautious or cowardly)
Yeomanly (sturdy, strong)
Yiddish-speaking
Yummy (attractive or delightful)
Yclept (named)
Yowling (loud, wailing)
Youth-oriented
Yucky (unpleasant)
Yelping (crying out sharply)
Yachting (interested in or fond of yachting)
Yodeling (able to yodel)
Yeasty (energetic, bubbly)
Young-looking
Young-at-heart
Yowling (crying out)
Yiddish-speaking (speaking the Yiddish language)
Year-round (all year)
Yuppified (characteristic of a yuppie)
Yummy (attractive)
Youthful-looking
Yoked (joined, united)
Positive Adjectives That Start With Y
Some common positive adjectives that are commonly used in English are
Yellow-covered
Yellowed
yellowish
Yellowy
Yelping
Yoke-toed
Yon
Yond
yond
Yonder
young
Young-at-heart
Younger
youngest
Youngish
Negative Adjectives That Start With Y
Some common negative adjectives that are commonly used in English are
Youngling
young-looking
Your
Yours
Youth
Youthful
youthful
Yowling
Yucky
Yugoslav
Yugoslavian
Yuletide
Yummy
Adjectives with y Infographics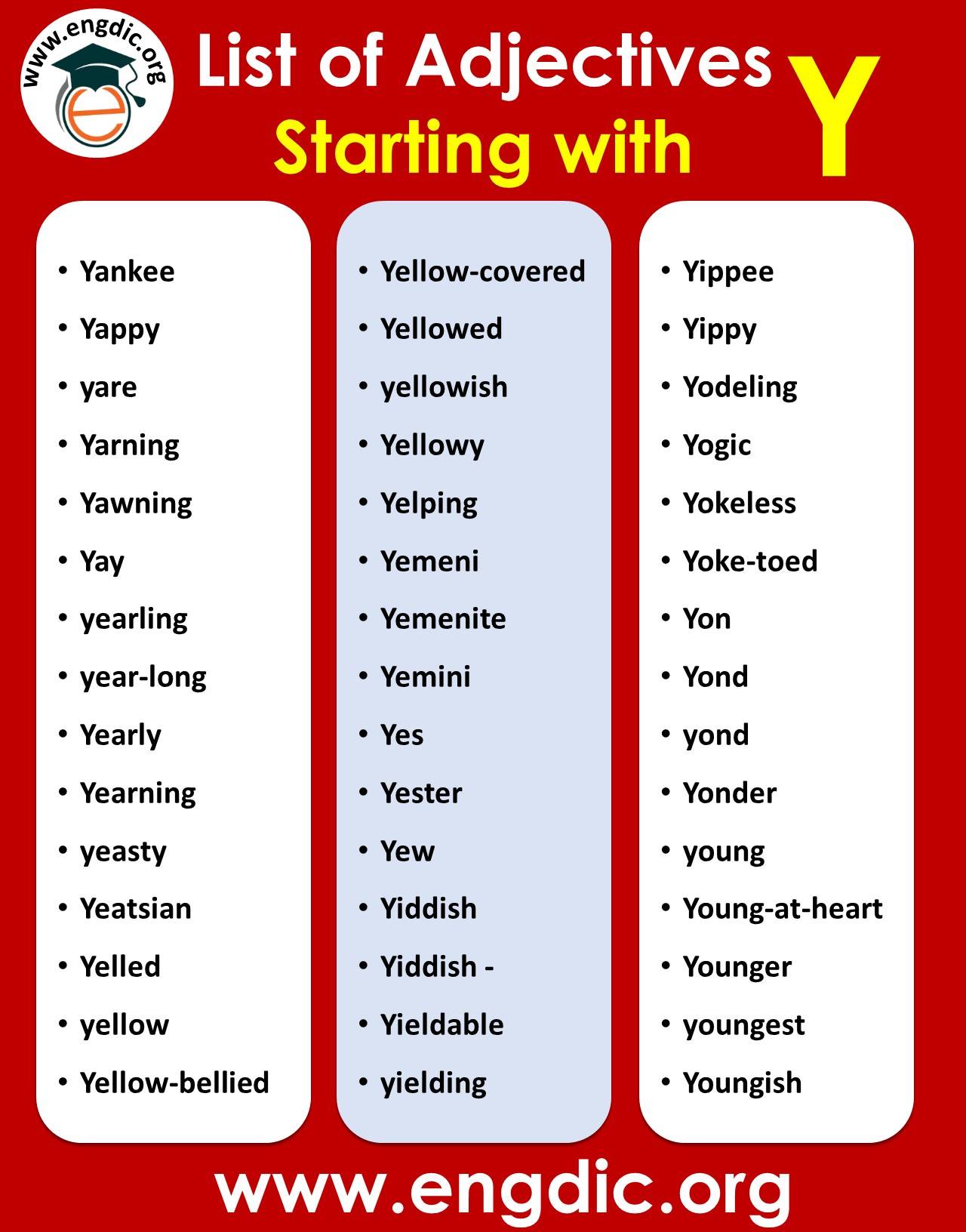 Here, You can Download PDF of adjectives.
Last updated on November 2nd, 2023 at 05:56 am