Adverbs starting with C! List of all daily use adverbs in English that begin with C  to describe a person positively is here. These adverbs are of great importance in your writings and professional communication.  These lists of a to z adverbs will improve your way of  understanding and teaching.
Adverbs starting with C
This list contains all the adverbs used in English language that start with C. It includes negative and positive adverbs with C to describe a person.
List Adverbs starting with C
Also study: List of Adverbs
Also Study: Adjectives starting with C
Caddishly
Cagily
Cajolingly
Calculatingly
Callously
Callowly
Calmingly
Calmly
Calumniously
Candidly
Cankeredly
Cannibally
Cannily
Canny
Cantankerously
Capably
Capitally
Capriciously
Captiously
Captivatedly
Captivatingly
Carefully
Carelessly
Caressingly
Caringly
Carnally
Carnivorously
Casually
Casuistically
Catastrophically
Catatonically
Categorially
Categorically
Catholicly
Cat-like
Cattily
Caudad
Caudally
Causally
Caustically
Cautiously
Cavalierly
Cavilingly
Ceaselessly
Celibately
Censoriously
Centrally
Cephalad
Cerebrally
Ceremonially
Ceremoniously
Certainly
Certes
Chagrinedly
Challengingly
Chanceably
Changeably
Chantingly
Chaotically
Characteristically
Chargeably
Charily
Charismatically
Charitably
Charmingly
Chastely
Chastenedly
Chattily
Chauvinistically
Cheap
Cheaply
Cheekily
Cheerfully
Cheerily
Cheeringly
Cheerlessly
Cheesily
Chemically
Cherishedly
Cherishingly
Cherubically
Chidingly
Chiefly
Childishly
Chillily
Chillingly
Chimingly
Chintzily
Chipperly
Chirpily
Chirpingly
Chivalrously
Choicely
Chokingly
Cholericly
Chorally
Chronologically
Chubbily
Chuffily
Chunkily
List 2 of adverbs that start with C
Churlishly
Circuitously
Circularly
Circumspectly
Circumstantially
Civilly
Clairvoyantly
Clammily
Clandestinely
Clannishly
Clarifyingly
Clashingly
Classically
Classily
Classlessly
Clatteringly
Claustrophobically
Clean
Cleanlily
Cleanly
Cleansingly
Clear
Clearer
Clearly
Cleverly
Climatically
Clingingly
Clinically
Clinkingly
Cliquishly
Cloakedly
Clockwise
Close
Closely
Close-mindedly
Closer
Closest
Cloudily
Cloyingly
Clubbily
Cluelessly
Clumsily
Coach
Coactively
Coarsely
Coastward
Coastways
Coaxingly
Cockily
Coequally
Cogently
Cognisantly
Cognitively
Cognizably
Cognizantly
Coherently
Coincidentally
Cold
Cold-bloodedly
Coldheartedly
Coldly
Collect
Collectedly
Collectively
Collingly
Colorfully
Colorlessly
Colourfully
Colourlessly
Coltishly
Comatosely
Combatively
Comelily
Comfortably
Comfortedly
Comfortingly
Comfortlessly
Comically
Commandingly
Commendatorily
Commodiously
Commonly
Communally
Communicatively
Compactly
Companionably
Comparably
Comparatively
Comparingly
Compassionately
Compatibly
Compellingly
Compensatingly
Competently
Competitively
Complacently
Complainingly
Complaisantly
Complementarily
Completely
List 3
Complexly
Compliantly
Complicatedly
Complicitly
Complimentarily
Composedly
Comprehendingly
Comprehensibly
Compromisingly
Comptly
Compulsively
Compulsorily
Concavely
Concealingly
Concedingly
Conceitedly
Conceivably
Concentratedly
Concernedly
Concertedly
Conciliatorily
Concisely
Concludingly
Conclusively
Concretely
Concupiscently
Concurrently
Concurringly
Condescendingly
Condignly
Conditionally
Conducibly
Confidentially
Confidently
Confidingly
Confinedly
Confirmingly
Conflictedly
Confoundedly
Confusedly
Confusingly
Congenially
Congestedly
Congratulatorily
Congruently
Conically
Conjointly
Conjugally
Conjunctly
Connately
Connivingly
Conscientiously
Consciously
Consecutively
Consensually
Consentedly
Consentingly
Consequently
Conservatively
Considerably
Considerately
Consideringly
Consistently
Consolingly
Conspicuously
Conspiratorially
Constantly
Constrictedly
Constrictingly
Constrictively
Constructively
Consumedly
Consumingly
Consummately
Contagiously
Contemplatively
Contemptibly
Contemptuously
Contentedly
Contentiously
Contently
Continently
Continually
Continuingly
Continuously
Contra
Contradictorily
Contrarily
Contrastingly
Contritely
Contrivedly
Controlledly
Contumaciously
Contumeliously
Conveniently
Conversationally
Conversely
Convexly
Convincedly
Convincingly
List 4
Convivially
Convolutely
Convulsively
Cool
Coolingly
Coolly
Cooperatively
Coordinately
Copiously
Coquettishly
Cordately
Cordially
Cornerwise
Corporally
Correctedly
Correctively
Correctly
Correspondingly
Corruptly
Cortically
Cosily
Cosmically
Costively
Coughingly
Counter
Counter-clockwise
Counterproductively
Courageously
Courteously
Covenably
Covertly
Covetously
Cowardly
Coyly
Cozily
Crabbily
Craftily
Crankily
Crassly
Cravenly
Crazily
Creakily
Creakingly
Creamily
Creatively
Credibly
Creditably
Credulously
Creepily
Creepingly
Crescendingly
Crestfallenly
Criminally
Cringingly
Crisply
Critically
Croakily
Croakingly
Crookedly
Crossingly
Crossly
Crossways
Crowdedly
Crucially
Crudely
Cruelly
Crunchily
Crushedly
Crushingly
Crustily
Cryptically
Cubically
Culinarily
Culpably
Cultivatedly
Culturally
Culturedly
Cumbersomely
Cunningly
Curiously
Curlingly
Curmudgeonly
Currently
Currishly
Cursedly
Cursively
Cursorily
Curstfully
Curtly
Curvedly
Cussedly
Customably
Customarily
Cuttingly
Cyclically
Cynically
Adverbs that start with C Info-graphics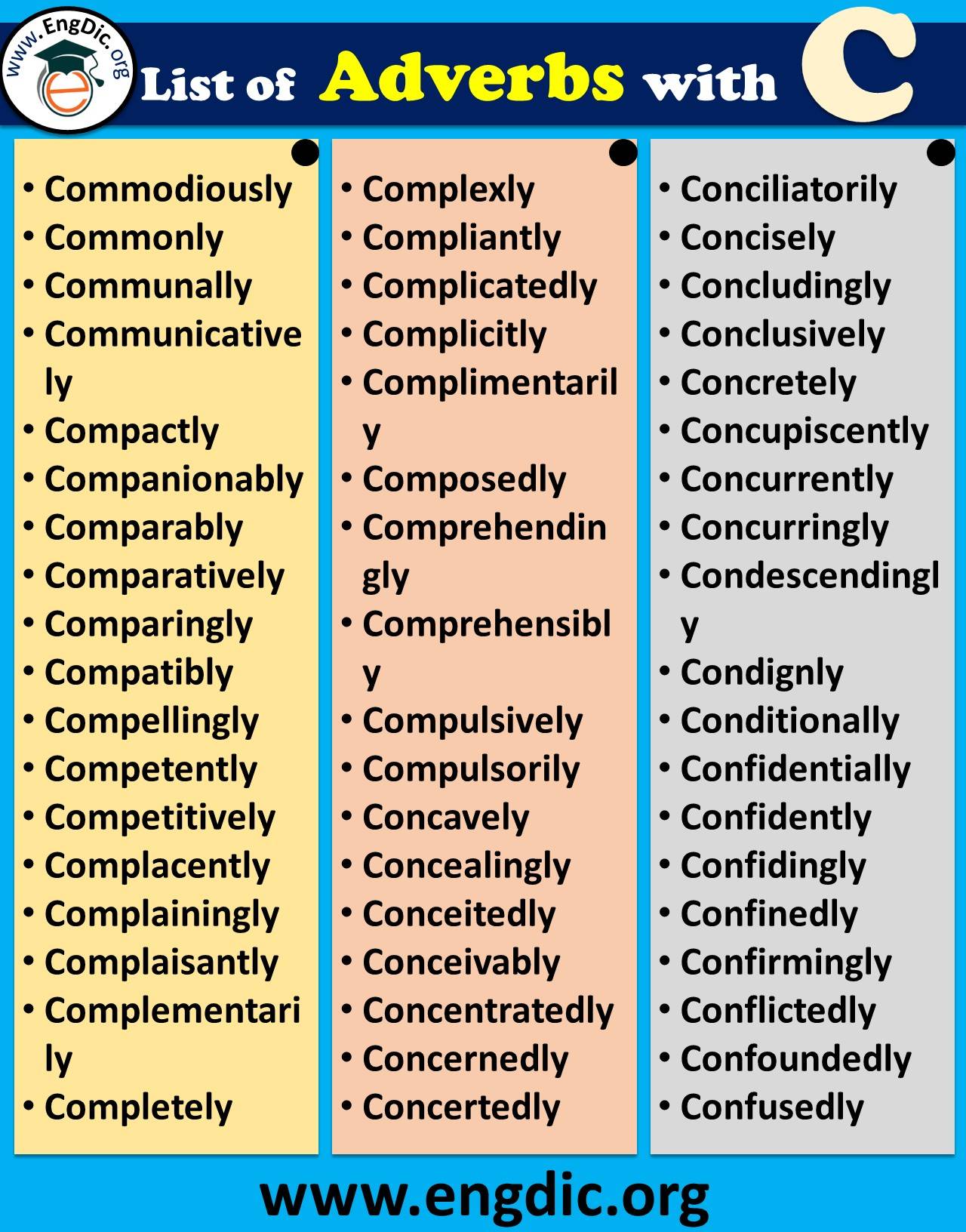 Download PDF
You can Download PDF of the list of adverbs starting with C.