Adverbs starting with Q! List of all daily use adverbs in English that begin with Q  to describe a person positively is here. These adverbs are of great importance in your writings and professional communication.  These lists of a to z adverbs will improve your way of  understanding and teaching.
Adverbs starting with Q
This list contains all the adverbs used in English language that start with Q. It includes negative and positive adverbs with Q to describe a person.
List Adverbs starting with Q
Quackingly
Quackishly
Quadrangularly
Quadrantally
Quadratically
Quadrennially
Quadriennially
Quadrilaterally
Quadrillionfold
Quadripartitely
Quadrupedally
Quadruply
Quaffably
Quailingly
Quaintly
Quakily
Quakingly
Quakinglyreal
Qualifiably
Qualifiedly
Qualifyingly
Qualitatively
Qualitywise
Qualmishly
Qualmlessly
Quantsuff
Quantically
Quantifiably
Quantificationally
Quantitatively
Quantitively
Quantitywise
Quantumsufficit
Quantumly
Quaquaversally
Quarrelsomely
Quarterly
Quartically
Quasiconformally
Quasilinearly
Quasilocally
Quasiperiodically
Quasistatically
Quatenus
Quaternarily
Quaveringly
Queasily
Queenlily
Queenly
Queer
Queerishly
Queerly
Quellingly
Quenchingly
Quenchlessly
Querimoniously
Querulously
Queryingly
Questingly
Questionably
List of Adverbs with
Questioningly
Questionless
Questionlessly
Questward
Quhair
Quhar
Quhen
Quher
Quhere
Quhow
Quia
Quibblingly
Quick
Quickasaflash
Quicksmart
Quickely
Quickeningly
Quicker
Quickest
Quicketysplit
Quickhanded
Quick-handed
Quicklike
Quickly
Quicksome
Quickwittedly
Quick-wittedly
Quietlike
Quietly
Quight
Quinarily
Quincuncially
Quincunxially
Quindicessima
Quinquennially
Quintessentially
Quintically
Quintillionfold
Quintuply
Quippingly
Quirkily
Quite
Quiteabit
Quitethecontrary
Quitly
Quiveringly
Quixotically
Quizzically
Quizzingly
Quoadhunc
Quodlibetically
Quotably
Quotationally
Quotatively
Quoteunquote
Quotidianly
Quranically
Also study: List of Adverbs
Also Study: Adjectives starting with Q
Adverbs that start with Q Info-graphics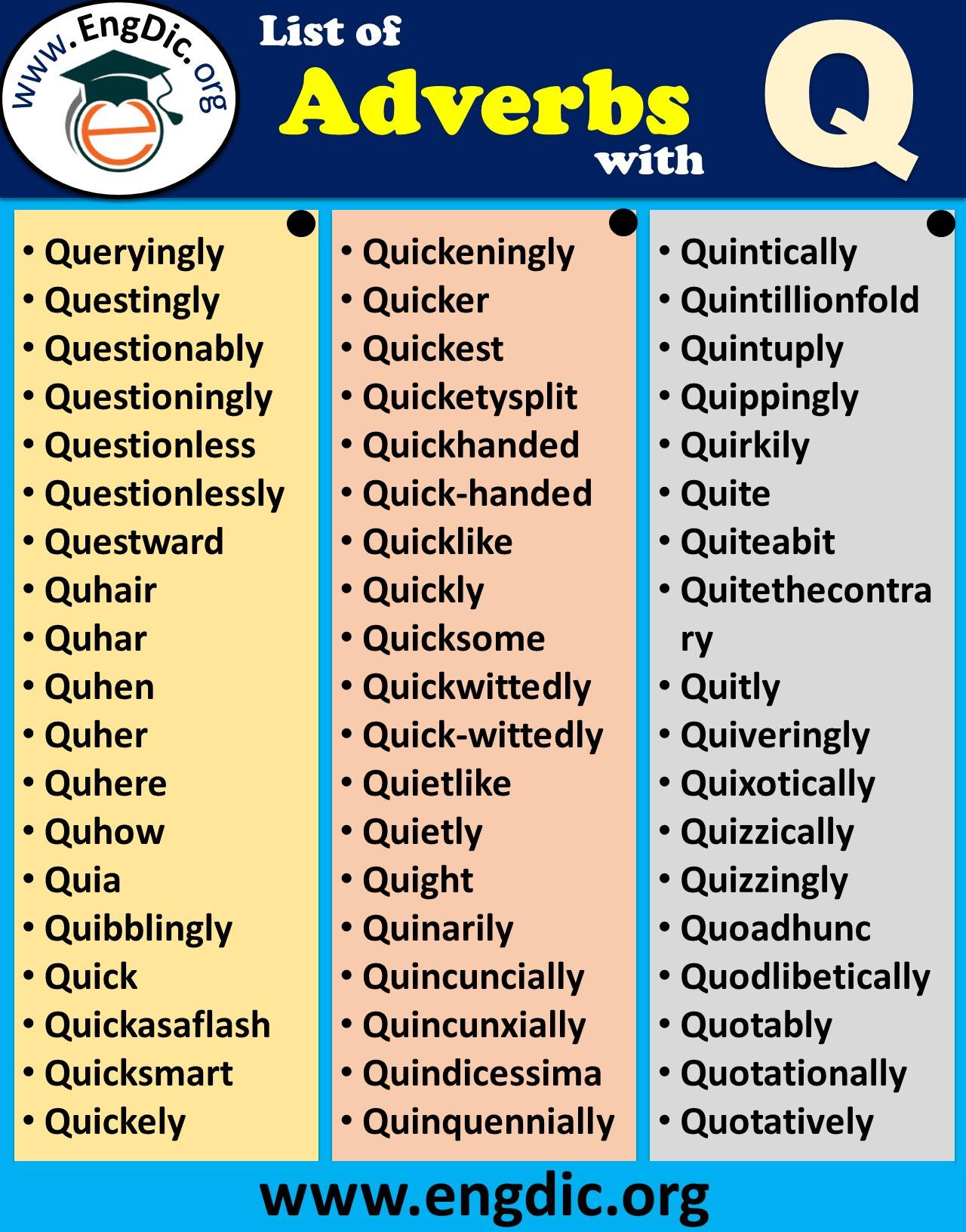 You can Download PDF of the list of Adverbs starting with Q to describe a Person PDF.