Adverbs starting with K! List of all daily use adverbs in English that begin with K  to describe a person positively is here. These adverbs are of great importance in your writings and professional communication.  These lists of a to z adverbs will improve your way of  understanding and teaching.
Adverbs starting with K
This list contains all the adverbs used in English language that start with K. It includes negative and positive adverbs with K to describe a person.
Also study: List of Adverbs
Also Study: Adjectives starting with K
Kabbalistically
Kafkaesquely
Kaleidoscopically
Karmically
Karyokinetically
Karyologically
Karyomorphologically
Karyotypically
Kata
Kataphatically
Kawaiily
Keenly
Kerchunk
Kerwallop
Kicking and screaming
Kickingly
Kidding aside
Kiddingly
kindheartedly
kindly
kingly
kissingly
Killingly
Kilometrically
Kinaesthetically
Kind of
Kind of like
Kinda
Kind-heartedly
Kindlily
Kindof
Kinematically
Kinesthetically
Kinetically
Kinkily
Kinodynamically
Kissably
Kit and caboodle
Kitchenward
Kitschily
Kitschly
Kittenishly
Kitty bar the door
Kittycorner
Kitty-corner
Kittycorners
Kleptographically
Kleptomaniacally
Kleptoparasitically
Knavishly
Kneadingly
Knee-jerkishly
Kneelingly
Knightly
knowingly
knowledgeably
Knitwise
Knobbily
Knockingly
Knottily
Knowably
Knowledgably
Koranically
Kosherly
Adverbs with k Info-graphics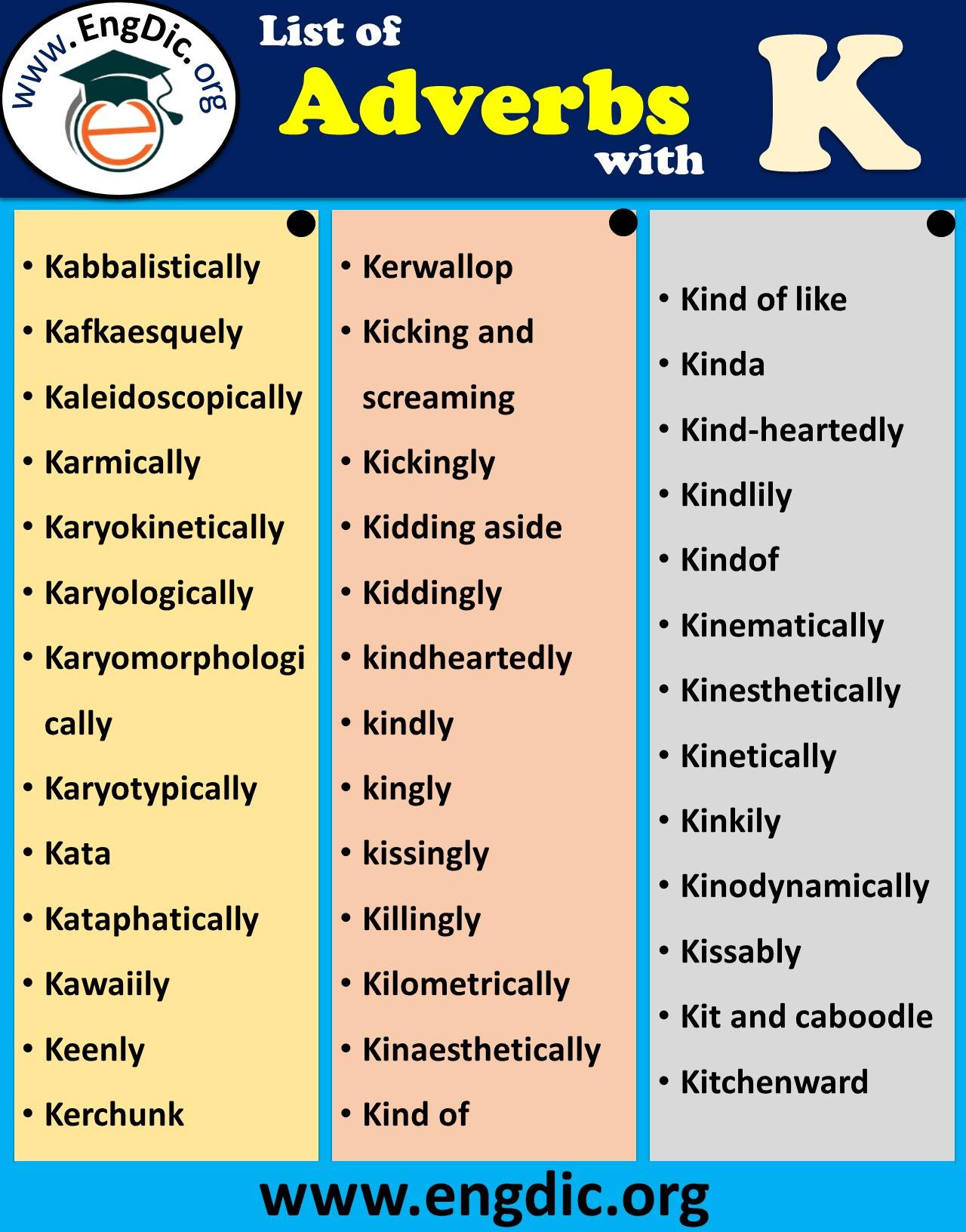 You can Download PDF of the list of adverbs starting with K.