Adverbs starting with R to describe someone with Pdf. List of all daily use adverbs in English that begin with R  to describe a person positively is here. These adverbs are of great importance in your writings and professional communication.  These lists of a to z adverbs will improve your way of  understanding and teaching.
Adverbs starting with R
This list contains all the adverbs used in English language that start with R. It includes negative and positive adverbs with R to describe a person.
List Adverbs starting with R to describe Someone
Rabidly
Racially
Racily
Radially
Radiantly
Radiately
Radically
Radioactively
Raffishly
Raggedly
Railingly
Rakishly
Rallentando
Ramblingly
Rampantly
Rancidly
Randomly
Rankly
Rantingly
Rapaciously
Rapid
Rapidly
Rapturously
Rarely
Rashly
Raspingly
Rather
Rationally
Rattling
Raucously
Ravenously
Raving
Ravingly
Ravishingly
Rawly
Readably
Readily
Real
Realistically
Realizingly
Really
Rearly
Rearward
Rearwards
Reasonably
Reassuringly
Rebelliously
Rebukingly
Recently
Receptively
Reciprocally
Recklessly
Reclusely
Recognizably
Rectlinearly
Recurrently
Redly
Reflectively
Reflexively
Reflexly
Refreshfully
Refreshingly
Regally
Regardless
Regimentally
Regionally
Regretfully
Regrettably
Regular
Regularly
Relatively
Relativistically
Relaxingly
Relentlessly
Relevantly
Reliably
Religiously
Reluctantly
Remarkably
Remedially
Reminiscently
Remissly
Remorsefully
Remorselessly
Remotely
Renewedly
Renownedly
Reparably
Repeatedly
Repellently
Repellingly
Repentantly
Repetitively
Repiningly
Reportedly
Reprehensibly
Reprehensively
Reproachfully
Reproducibly
List of Adverbs starting with R to describe someone
Reprovingly
Repulsively
Reputably
Reputedly
Resentfully
Reservedly
Residentially
Resignedly
Resiliently
Resinously
Resolutely
Resolvedly
Resonantly
Resoundingly
Resourcefully
Respectably
Respectfully
Respectively
Resplendently
Responsibly
Responsively
Restfully
Restively
Restlessly
Restoratively
Restrictively
Retail
Retentively
Reticently
Retroactively
Retrospectively
Reunitedly
Revengefully
Reverendly
Reverentially
Reverently
Reversedly
Reversely
Reversibly
Revokingly
Revoltingly
Rewardingly
Rhapsodically
Richly
Ridgingly
Right
Righteously
Rightfully
Rightly
Rightward
Rigidly
Rigorously
Rimosely
Ringingly
Riotously
Ripely
Ripplingly
Risibly
Riskily
Ritually
Roaringly
Robustly
Roguishly
Rollickingly
Romantically
Romanticly
Romeward
Rompingly
Roomily
Ropily
Rosily
Rottenly
Rotundly
Rough
Roughly
Round
Roundly
Rousingly
Routinely
Routously
Rovingly
Rowdily
Royally
Ruddily
Rudely
Ruefully
Ruggedly
Ruinously
Rulingly
Rumblingly
Ruminantly
Runningly
Rurally
Rushingly
Rusticly
Ruthlessly
Also study: List of Adverbs
Also Study: Adjectives starting with R
Adverbs that start with R to describe someone – InfoGraphics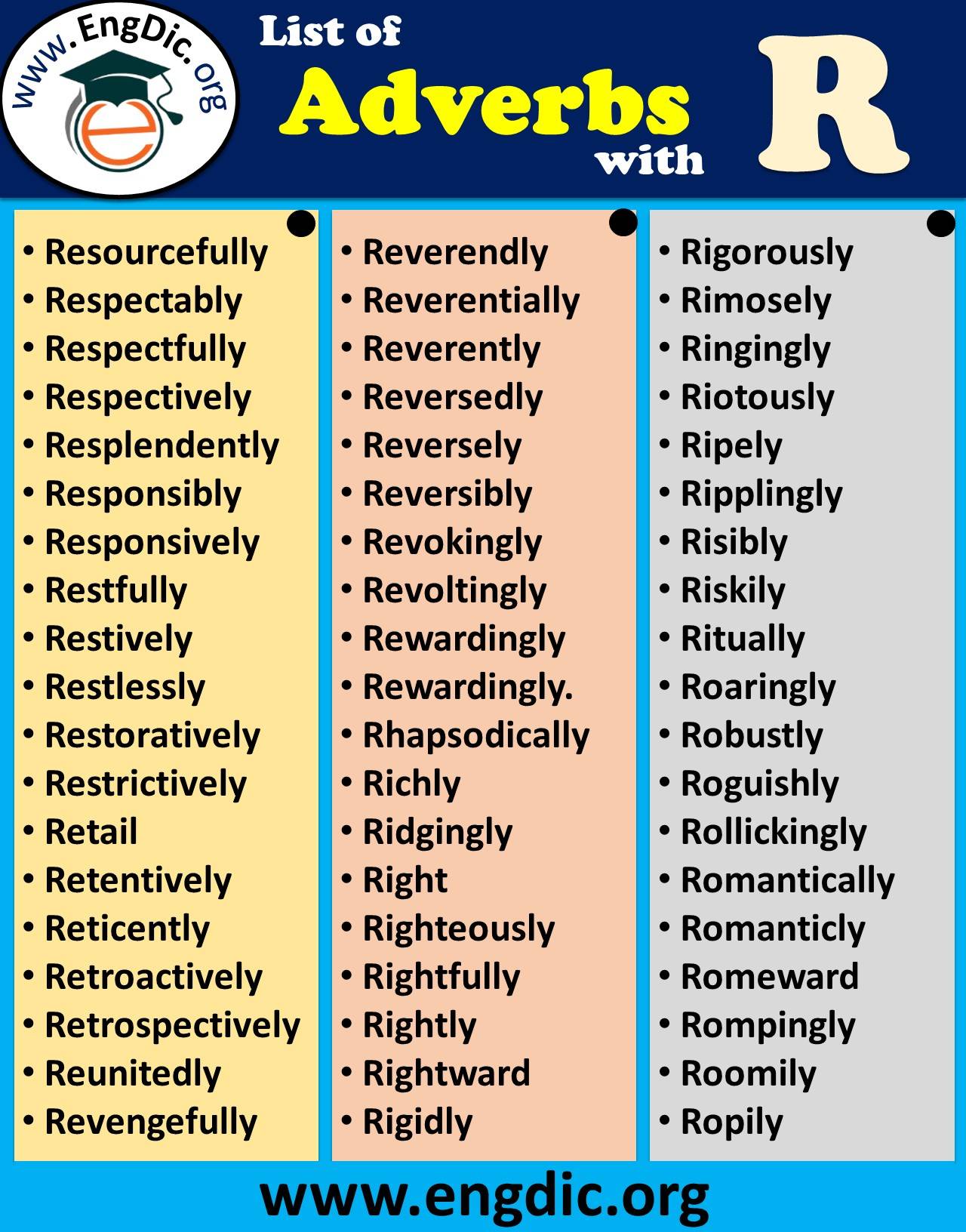 You can Download PDF of the list of Adverbs starting with R to describe someone PDF.