Adverbs starting with U to describe a Person Pdf. List of all daily use adverbs in English that begin with U  to describe a person positively is here. These adverbs are of great importance in your writings and professional communication.  These lists of a to z adverbs will improve your way of  understanding and teaching.
Adverbs starting with U
This list contains all the adverbs used in English language that start with U. It includes negative and positive adverbs with U to describe a person.
List Adverbs starting with U to describe a person
Uglily
Ulteriorly
Ultimately
Umquhile
Unabashedly
Unaccountably
Unaccustomedly
Unaffectedly
Unaggressively
Unambiguously
Unambitiously
Unamiably
Unamicably
Unamusedly
Unanimously
Unannounced
Unapologetically
Unappetizingly
Unappreciatively
Unarguably
Unashamedly
Unassumingly
Unathletically
Unattractively
Unavoidably
Unawares
Unbearably
Unbecomingly
Unbelievably
Unbelievingly
Unbelligerently
Unbendingly
Unbeware
Unbiasedly
Unblinkingly
Unblushingly
Uncannily
Unceremoniously
Uncertainly
Unchangingly
Uncharacteristically
Uncharitably
Unchastely
Uncheerfully
Unchivalrously
Unciatim
Uncivilly
Unclearly
Uncleverly
Unco
Uncomfortably
Uncommonly
Uncommunicatively
Uncompetitively
Uncomplainingly
Uncompliantly
Uncomplicatedly
Uncomprehendingly
Uncompromisingly
Unconcernedly
Unconditionally
Uncongenially
Unconsciously
Unconsolably
Uncontrollably
Unconvincedly
Unconvincingly
Uncooperatively
Uncoordinatedly
Uncordially
Uncourageously
Uncouthly
Uncritically
Unctuously
Unctuousnessly
Uncurably
Undauntedly
Undecidedly
Undecipherably
Undefeatedly
Undeniably
Under
Underboard
Underfoot
Underground
Underhand
Underhandedly
Underneath
Understandably
Understandingly
Understatedly
Undeservingly
Undignifiedly
Undirectly
Undistractedly
Undividedly
Undoubtedly
Undulatingly
Unduly
Uneasily
List of Adverbs with U
Unemotionally
Unendingly
Unenlightenedly
Unenthusiastically
Unenviously
Unequally
Unequivocally
Unerringly
Unethically
Unevenly
Unexpectedly
Unexpertly
Unfailingly
Unfairly
Unfaithfully
Unfalteringly
Unfamiliarly
Unfashionably
Unfavorably
Unfavourably
Unfazedly
Unfearingly
Unfeelingly
Unfemininely
Unflaggingly
Unflappably
Unflickeringly
Unflinchingly
Unfocusedly
Unforgetfully
Unforgivingly
Unfortunately
Ungainly
Ungallantly
Ungenerously
Ungenially
Unglamourously
Ungraciously
Ungratefully
Ungrudgingly
Unguardedly
Unguiltily
Unhaltingly
Unhappily
Unharmoniously
Unhealthily
Unheedingly
Unhelpfully
Unheroically
Unhesitantly
Unhesitatingly
Unhurriedly
Uniaxially
Uniformly
Unilaterally
Unimaginatively
Unimpeachably
Unimportantly
Unimposingly
Unimpressedly
Unimpressively
Unindulgently
Uninformatively
Uninhibitedly
Uninquisitively
Uninspiredly
Unintelligently
Unintelligibly
Unintentionally
Uninterestedly
Uninterruptedly
Uninvitedly
Uninvitingly
Uniquely
Unitedly
Unitively
Universally
Univocally
Unjustly
Unkindly
Unknowingly
Unlawfully
Unlike
Unluckily
Unmanfully
Unmelodiously
Unmercifully
Unmindfully
Unmotivatedly
Unmovably
Unmovingly
Unmusically
Unnaturally
Unnear
Unnecessarily
Unnervedly
Unnervingly
Unnethe
Unnethes
Unnobly
List of Adverbs with U
Unobservantly
Unobservedly
Unobtrusively
Unofficially
Unoften
Unorthodoxly
Unostentatiously
Unperturbedly
Unpleasantly
Unpoetically
Unprecedentedly
Unpredictably
Unpreparedly
Unpretentiously
Unprobably
Unproductively
Unprofessionally
Unproficiently
Unpropitiously
Unprotectedly
Unquestionably
Unquestioningly
Unquietly
Unreadably
Unrealistically
Unreally
Unreasonably
Unreceptively
Unrefinedly
Unregretfully
Unrelatedly
Unrelentingly
Unreliably
Unreluctantly
Unremorsefully
Unrepentantly
Unrequitedly
Unreservedly
Unresponsively
Unrestrainedly
Unrevealingly
Unrhythmically
Unromantically
Unruffledly
Unsatiably
Unsatisfactorily
Unsatisfiedly
Unscrupulously
Unseasonably
Unseeingly
Unseen
Unseldom
Unselfconsciously
Unselfishly
Unsettledly
Unsettlingly
Unshakably
Unskillfully
Unsmilingly
Unsociably
Unsolicitously
Unsparingly
Unspeakingly
Unsteadily
Unstintingly
Unstoppably
Unsubmissively
Unsubtly
Unsuccessfully
Unsuitably
Unsurely
Unsurprisedly
Unsurprisingly
Unsuspectingly
Unswervingly
Unsymmetrically
Unsympathetically
Unsystematically
Untangibly
Unthinkingly
Unthreateningly
Untidily
Unto
Untruly
Untrustingly
Untruthfully
Unusually
Unvirtuously
Unvisibly
Unwantedly
Unwares
Unwarily
Unwaveringly
Unwelcomingly
Unwillingly
Unwisely
Unwittingly
Unwontedly
Unworthily
Unyieldingly
Up
Uptopar
Up-and-down
Upbeat
Up-front
Uphill
Upliftingly
Uppermost
Uppishly
Upright
Uprightly
Upriver
Uproariously
Upsetly
Upside-down
Upstairs
Upstate
Upstreet
Uptill
Upward
Upwardly
Upwards
Urbanely
Urgently
Usefully
Usefullyvaliantly
Uselessly
Usually
Usuriously
Usurpingly
Utterly
Uxoriously
Also study: List of Adverbs
Also Study: Adjectives starting with U
Adverbs starting with U to describe a Person – Infographics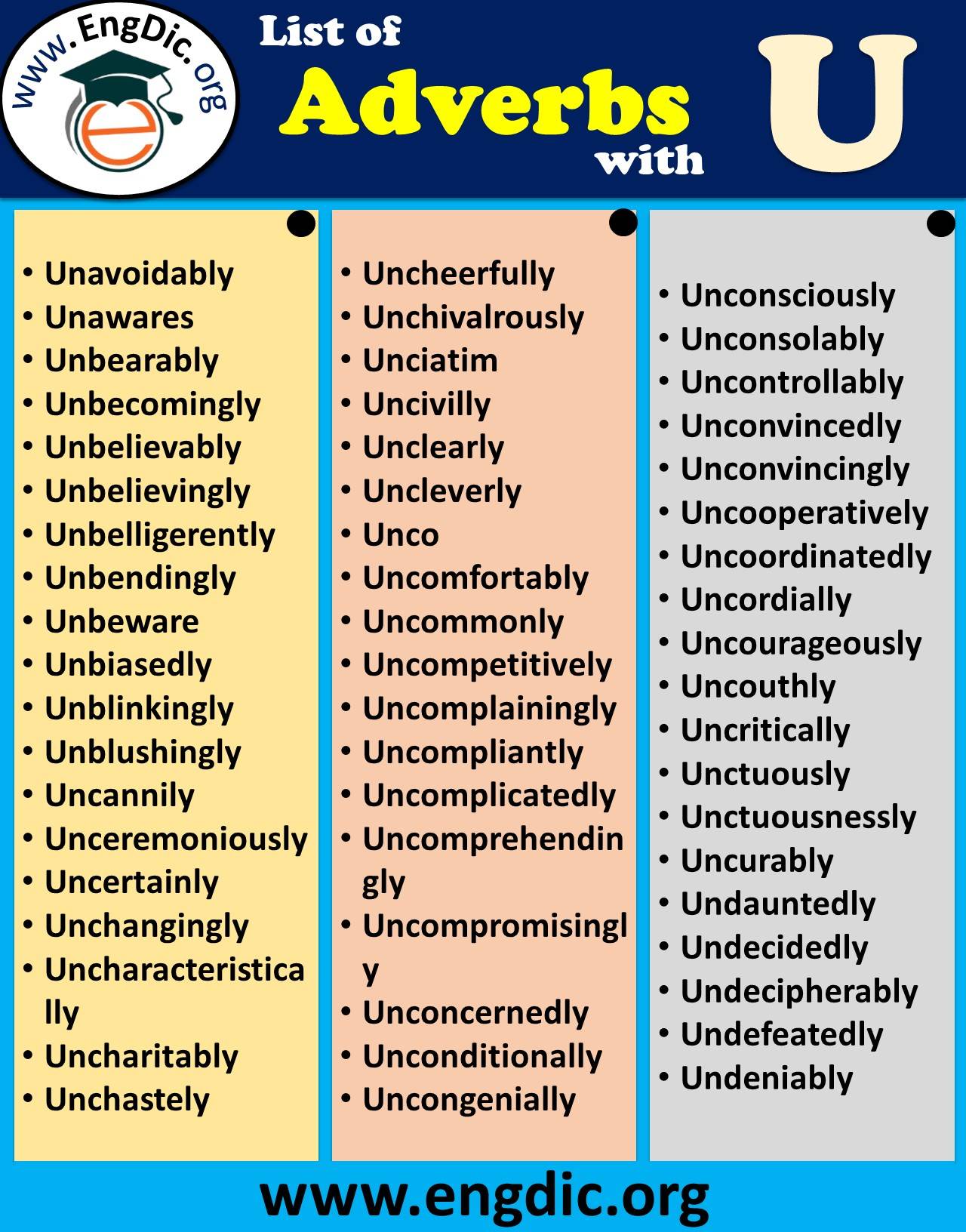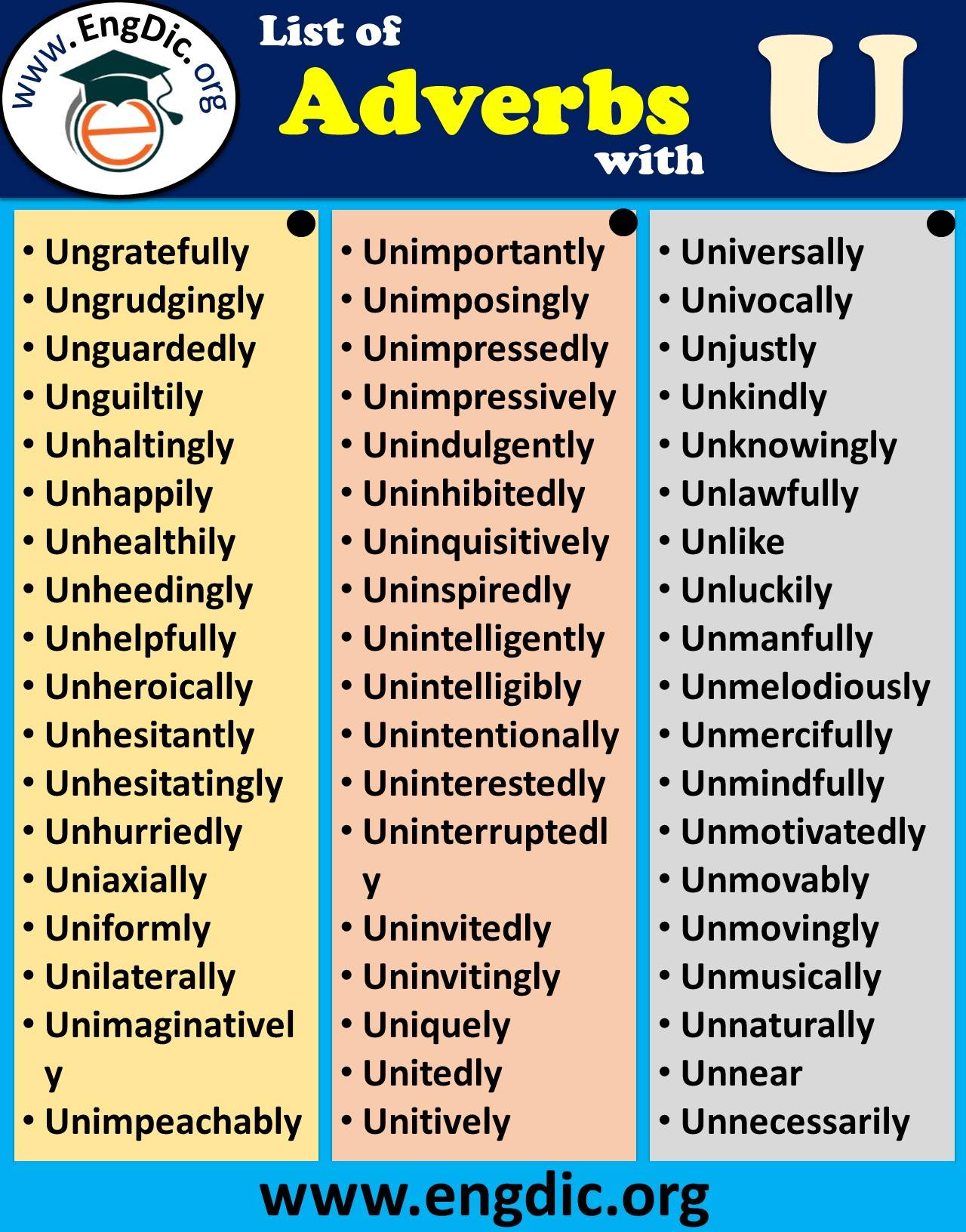 You can Download PDF of the list of adverbs starting with U.