List of Adverbs starting with V to Describe a Person PDF. List of all daily use adverbs in English that begin with V  to describe a person positively are here. These adverbs are of great importance in your writings and professional communication.  These lists of a to z adverbs will improve your way of  understanding and teaching.
Adverbs starting with V
This list contains all the adverbs used in English language that start with V. It includes negative and positive adverbs with V to describe a person.
List of Adverbs starting with V to describe a Person
Vacantly
Vacillatingly
Vacuously
Vagally
Vagariously
Vaginally
Vagrantly
Vaguely
Vaingloriously
Vainly
Valiantly
Validly
Valleyward
Valleywards
Valorously
Valourously
Valuably
Valuationally
Valuatively
Valuelessly
Vampily
Vampirically
Vampiristically
Vampishly
Vandalically
Vandalistically
Vanishingly
Vanward
Vapidly
Vaporously
Vapouringly
Vapourously
Variably
Variationally
Varicosely
Variedly
Varietally
Variformly
Variously
Varry
Varyingly
Vascularly
Vastly
Vaultingly
Vauntingly
Vectorially
Veddy
Veeery
Veeringly
Vegetably
Vegetally
Vegetatively
Vehemently
Vehicularly
Veiledly
Veinously
Veloce
Velociously
Venally
Venatically
Venerably
Venereally
Vengeably
Vengeancely
Vengefully
Venially
Venomously
Venously
Ventrad
Ventrally
Ventricularly
Ventriloquially
Ventroapically
Ventrobasally
Ventrocaudally
Ventrodistally
Ventro-dorsad
Ventrodorsally
Ventrolingually
Ventromedially
Ventroproximally
Venturesomely
Venturingly
Venturously
Veraciously
Verbally
Verbatim
Verbatimetliteratim
Verblessly
Verbosely
Verdantly
Veridically
Verifiably
Verily
Verisimilarly
Veristically
Veritably
Veritically
Verminly
Verminously
List of Adverbs with V to describe someone
Vernacularly
Vernally
Verrayment
Verrry
Verry
Versatilely
Versus
Vertebrally
Vertically
Vertiginously
Very
Verymuch
Verywell
Vestally
Vestigially
Vewy
Vexatiously
Vexedly
Vexingly
Vg
Viably
Vibrantly
Vibratingly
Vibrationally
Vibronically
Vibroscopically
Vicariously
Viceversa
Viceversâ
Vicelet
Viceregally
Vice-versa
Vicibus
Vicinally
Viciously
Vicissitudinously
Victimologically
Victoriously
Videlicet
Videoendoscopically
Videofluoroscopically
Viewably
Viewlessly
Vigilantly
Vigoroso
Vigorously
Vigourously
Vilely
Villageward
Villagewards
Villainously
Vincibly
Vindicatorily
Vindictively
Vinegarishly
Vinously
Violably
Violatively
Violently
Violetward
Viperishly
Viperously
Virally
Virescently
Virginally
Virginly
Virilely
Virologically
Virtually
Virtuosically
Virtuously
Virulently
Vis-a-vis
Vis-à-vis
Viscerally
Viscidly
Viscously
Visibly
Visigothically
Visionally
Visionarily
Visionwise
Visualizably
Visually
Visuospatially
Vitalistically
Vitally
Viticulturally
Vitiously
Vitriolically
Vituperatively
Vituperously
Vivavoce
Vivâvoce
Vivaciously
Vively
Vividly
Viviparously
Vivisectionally
Vixenishly
Viz
Vocalically
Vocally
Vocationally
Vocatively
Vociferously
Voguishly
Voicelessly
Volarly
Volatilely
Volcanically
Volcanologically
Volitionally
Volitively
Volubly
Volumetrically
Voluminously
Voluntarily
Voluntary
Voluptuously
Vomitously
Vonce
Voraciously
Vortically
Votively
Voyeuristically
Vp
Vulgarly
Vulnerably
Vulpinely
Vyingly
Also study: List of Adverbs
Also Study: Adjectives starting with V
List of Adverbs starting with V to Describe a Person – Infographics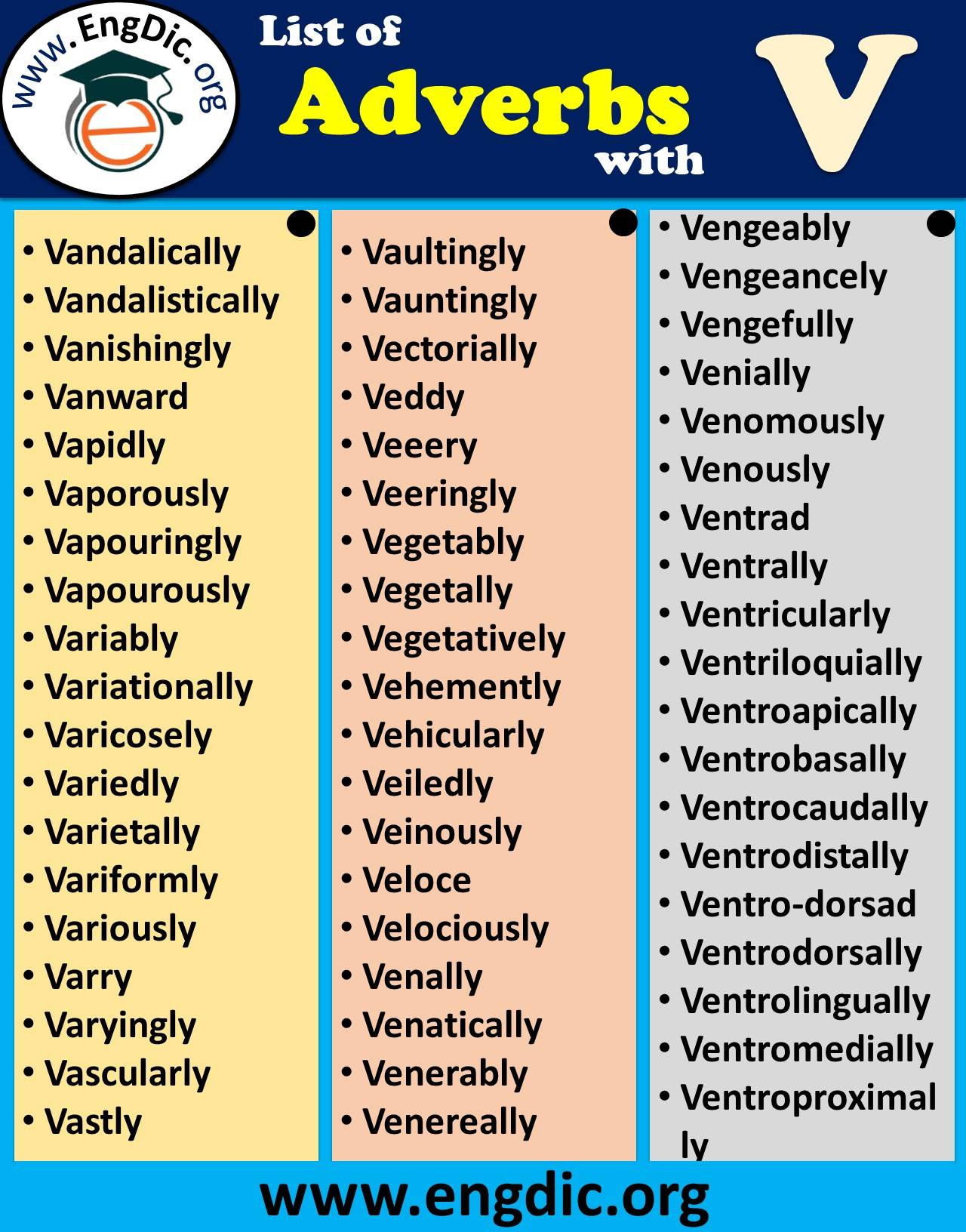 You can Download PDF of the list of adverbs starting with V.