Animal Names That Starts with W
Animals are a type of living organism. Some animals are domesticated, while others live in the wild. All animals can move around and interact with their environment. They eat food to survive and grow.
Animal names in English and Pictures!
Animals That Start With W
Welsh Springer Spaniel
White Crappie
Welsh Corgi
Weasel
Woolly Rhinoceros
Water Vole
Welsh Terrier
Wahoo Fish
Water Beetle
West Highland Terrier
White Sturgeon
Wyoming Toad
Western Hognose Snake
Water Dragon
Wildebeest
Walking Catfish
Whimbrel
Wolf Spider
Western Blind Snake
Western Diamondback Rattlesnake
White Marlin
Wrasse
Wood Tick
Wood Bison
White-shouldered House Moth
Whale Shark
Walrus
Woolly Bear Caterpillar
Writing Spider
Waterbuck
Wombat
Wax Moth
White-Faced Capuchin
Whiting
Wood Turtle
Wiwaxia
Worm Snake
Wirehaired Pointing Griffon
Weimardoodle
Weaver Bird
Woodlouse
Western Green Mamba
Warthog
Whooping Crane
Western Rat Snake
Wryneck
Wolf Eel
Wood Frog
Welsh Black Cattle
Whippet
Western Blacklegged Tick
Wattled Jacana
Wolffish
Waimanu
Willow Flycatcher
Wirehaired Vizsla
Woodrat
White Butterfly
Woolly Mammoth
Western Lowland Gorilla
Willow Warbler
White-Crowned Sparrow
White Tiger
Wolf Snake
Wallaby
Water Buffalo
Woodpecker
Woolly Aphids
Wild Boar
Woolly Monkey
Wolf
Whinchat
White-Tailed Eagle
White Rhinoceros
Woma Python
Winter Moth
Whitetail Deer
Wheaten Terrier
White Bass
Western Gorilla
Weimaraner
Woodlouse Spider
Wandering Albatross
Westiepoo
White Catfish
Water Bug
Whoodle
Wire Fox Terrier
Western Tanager
Wasp
White-tail deer
Whiptail Lizard
White Ferret / Albino Ferrets
Warbler
White-Eyed Vireo
Wolverine
Wrought Iron Butterflyfish
Wels Catfish
Walleye Fish
White Shark
Wool Carder Bee
Worm
White German Shepherd
West Siberian Laika
Extinct Animals Starting With W
Woolly Mammoth
Western Black Rhinoceros
Western Gray Whale
Waved Albatross
Wright's Tarpan
White-winged Sandpiper
Western Wild Boar
Wyoming Toad
Western Mastodon
White-footed Rabbit-rat
West Indian Monk Seal
Welsh Hedgehog
Walden's Water Rat
White-toothed Shrew
Wollaston's Vesper Rat
Warrah or Falkland Islands Wolf
White-faced Owl
Wallace's Giant Bee
West Indian Manatee
West Indian Ground Sloth
White-throated Rail
Western Canary
White-rumped Swiftlet
Waimanu Penguin
Wandering Albatross (Antipodean)
White-winged Nightjar
Willow Brook Lamprey
Western Quoll
Woodford's Rail
Woolly Rhino
Sea/Ocean Animals Starting with W
Walrus
Whale Shark
Whimbrel
White shark
Whiting
Wild boar
Wolf eel
Wrasse
Farm/Domestic Animals That Start with Letter W
Walrus
Warthog
Wasp
Water buffalo
Weasel
Weimaraner
Welsh Corgi
Welsh Harlequin Duck
West Highland White Terrier
Westiepoo
Whale
Whippet
White Leghorn Chicken
White Tailed Deer
Wirehaired Pointing Griffon
Wolf
Wolverine
Wombat
Woodchuck
Woodpecker
Wild Animals that Begin with W
Walrus
Warthog
Weasel
Whale
White-tailed deer
Wild boar
Wildcat
Wildebeest
Wolf
Wolverine
Wombat
Woodchuck
Woodpecker
Woolly mammoth
Water buffalo
Water dragon
Western lowland gorilla
Western spotted skunk
Western toad
Whimbrel
White shark
White-winged dove
Wild turkey
Willow ptarmigan
Wilson's snipe
Winter wren
Witchetty grub
Wolf spider
Wood frog
Woodland caribou
Animals that Start with W – List With Pictures and Facts
Western Lowland Gorilla
 Can lift over 2,000 pounds.
Water Dragon
 Can stay underwater for up to 90 minutes.
Water Vole
 Excellent swimmer and diver.
Woodpecker
 Pecks wood at up to 15 miles per hour.
Whippet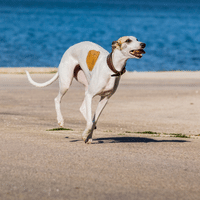 The fastest dog breed in the world.
West Highland Terrier
 Known for its lively and friendly nature.
Wasp
 Can fly up to 20 miles per hour.
Woodlouse
 Has seven pairs of legs.
Walleye Fish
 Has excellent night vision.
Woolly Monkey
 Has a prehensile tail that can grasp branches.
Whale Shark
 The largest fish in the world.
Wolf Eel
 Has a lifespan of up to 100 years.
Wild Horse
 Able to run within hours of birth.
Walrus
 Has the second thickest skin of any mammal.
Wandering Albatross
 Can fly for hours without flapping its wings.
Wild Boar
 Can run up to 30 miles per hour.
White-Faced Capuchin
 Known for using tools to obtain food.
White Rhinoceros
 Has a massive horn made of keratin.
Welsh Corgi
 Known for their short legs and big ears.
Wolverine
 Has a powerful bite that can crush bone.
Wild Turkey
 Can fly up to 55 miles per hour.
Weasel
 Known for their speed and agility.
White Tiger
 Has blue eyes and a white coat with black stripes.
Wombat
 Can run up to 25 miles per hour in short bursts.
Wolffish
 Has a mouthful of sharp teeth.
Woolly Mammoth
 Went extinct around 4,000 years ago.
Wallaby
 A smaller relative of the kangaroo.
Wyoming Toad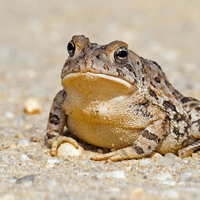 One of the most endangered amphibians in North America.
Wildebeest
 Can run up to 50 miles per hour.
Wolf
 Howls to communicate with other pack members.
Wrasse
 Can change color and sex throughout its lifetime.
Water Buffalo
 Can weigh over a ton and is used as a working animal.
Wolf Spider
 Has eight eyes and hunts prey at night.
Warthog
 Has four sharp tusks that can be used for defense.
White Hawk
 A rare color morph of the Red-tailed Hawk.
Explore Other Animals that Start With:
A – B – C – D – E – F – G – H – I – J – K – L – M – N – O – P – Q – R – S – T – U – V – W – X – Y – Z
Last updated on July 7th, 2023 at 06:29 am