Animal Names That Starts with G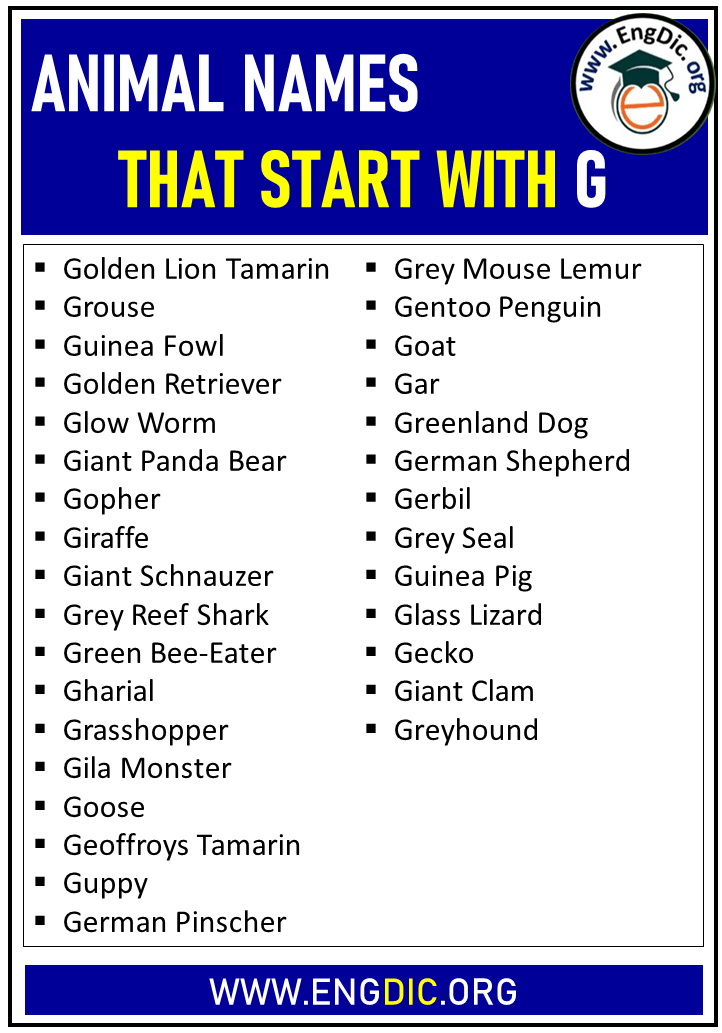 Animals are a type of living organism. Some animals are domesticated, while others live in the wild. All animals can move around and interact with their environment. They eat food to survive and grow.
Animal names in English and Pictures!
Animals That Start With G
Gouldian Finch
Genet
Grasshopper Mouse
Giant Isopod
Goliath Beetle
Gooty Sapphire Tarantula
Grapevine Beetle
Golden Masked Owl
Great Dane
Giant Salamander
Glass Lizard
Goblin Shark
Gazelle
Golden Shepherd
Grass Spider
German Shorthaired Pointer
Green Snake
Grizzly Bear
Goliath Grouper
Gopher Snake
Giant Desert Centipede
Greenland Shark
Grass Carp
Great Potoo Bird
Golden Jackal
Grouper
Great Crested Flycatcher
Gila Monster
Gray Fox
Gollie
Greenland Dog
Goral
Green Anaconda
Green June Beetle
Golden Eagle
Gypsy Cuckoo Bumblebee
Gypsy Moth Caterpillar
Great Egret
Green Bottle Blue Tarantula
Great Kiskadee
Gigantopithecus
Gorgosaurus
Groenendael
Glen Of Imaal Terrier
German Wirehaired Pointer
Great Dane Mix
Gastornis
Goldcrest
Gray Tree Frog
Golden Tortoise Beetle
Great Hammerhead Shark
Gnat
Griffonshire
Goberian
Green Rat Snake
German Shepherd Mix
Golden Trout
Giant Siphonophore
Great Plains Rat Snake
Green Mamba
Guinea Pig
Glechon
Giraffe
Guadalupe Bass
Garden Spider
Giant Schnauzer
Golden Retriever
Green Tree Python
Golden Irish
Gar
German Longhaired Pointer
Golden Newfie
Gaboon Viper
Gentoo Penguin
Greyhound
Gray Catbird
Gecko
Gopher Tortoise
Golden Lancehead
Golden Lion Tamarin
Goshawk
Goat
Grey Mouse Lemur
Gharial
Ghost Catfish
Gerbil
Grouse
Giant Leopard Moth
Goliath Tigerfish
Golden Oriole
Green Tree Frog
Great Pyrenees Mix
German Sheppit
Giant Weta
Garden Eel
Glowworm
Goose
Great White Shark
Gypsy Moth
Grebe
Golden-Crowned Kinglet
Giant Clam
Gomphotherium
Glass Frog
Green Sunfish
Greater Swiss Mountain Dog
Golden Pyrenees
Galapagos Penguin
Garter Snake
Giant Schnoodle
Guinea Fowl
Ground Snake
Gourami
German Cockroach
Great Blue Heron
Gulper Eel
Gerberian Shepsky
Great Danoodle
German Sheprador
Goldendoodle
Golden-Crowned Flying Fox
Green Aphids
Great Pyrenees
Gargoyle Gecko
Grey Seal
Green Anole
Giant Panda Bear
Goliath Frog
Green Heron
Ghost Crab
Galapagos Tortoise
Golden Dox
Goonch Catfish
Gibbon
Groundhog Tick
Goldfish
Gorilla
Golden Retriever Mix
Grasshopper
Gadwall
Griffon Vulture
Galapagos Shark
Grey Heron
Groundhog (Woodchuck)
Guppy
German Spitz
Giant Trevally
Geoffroys Tamarin
Golden Saint
Gulper Catfish
German Shepherd Guide
Grass Snake
Goldador
Giant Beaver
Green Bee-Eater
German Pinscher
Goby Fish
Giant African Land Snail
Gordon Setter
Green Frog
Gopher
Grey Reef Shark
Giant House Spider
Giant Armadillo
Extinct Animals Starting With G
Gabela bushshrike
Gastric-brooding frog
Giant beaver
Giant fossa
Giant ground sloth (Megatherium)
Giant Moa
Giant short-faced bear
Glaucous macaw
Golden skiffia
Golden toad
Gough moorhen
Grand Cayman thrush
Great auk
Great Indian bustard
Guadalupe caracara
Guadalupe storm petrel
Guam flying fox
Guam kingfisher
Guam rail
Guam swiftlet
Sea/Ocean Animals Starting with G
Gannet
Gaur
Gharial
Giant clam
Giant Isopod
Giant squid
Glass squid
Goblin shark
Goldfish
Goliath grouper
Goosefish
Gray seal
Gray whale
Great White Shark
Green sea turtle
Greenback flounder
Greenland shark
Grouper
Guillemot
Guineafowl
Farm/Domestic Animals That Start with Letter G
Gazelle
Gecko
Gerbil
German Shepherd
Giant Anteater
Giant Clam
Giant Panda
Giraffe
Goat
Golden Pheasant
Golden Retriever
Goose
Gorilla
Grasshopper
Great Dane
Great Pyrenees
Greyhound
Guinea Fowl
Guinea pig
Gull
Wild Animals that Begin with G
Giraffe
Gorilla
Grizzly Bear
Gray Wolf
Grey Kangaroo
Great White Shark
Greater Kudu
Grevy's Zebra
Galapagos Penguin
Giant Anteater
Giant Otter
Golden Eagle
Green Anaconda
Grey Seal
Gopher Tortoise
Gharial
Gila Monster
Geoffroy's Cat
Gnome
Goral
Greater Roadrunner
Gray Fox
Greater Flamingo
Great Egret
Golden Jackal
Green Sea Turtle
Golden Monkey
Galago
Gray Langur
Animals that Start with G – List With Pictures and Facts
Galapagos Penguin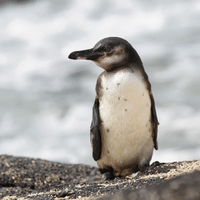 It is the only penguin species found north of the equator.
Galapagos Tortoise
 They can live for over 100 years, making them one of the longest-living animals in the world.
Gar
 They have a very unique respiratory system that allows them to breathe both underwater and on land.
Gecko
 Some gecko species can change color to blend in with their surroundings.
Gentoo Penguin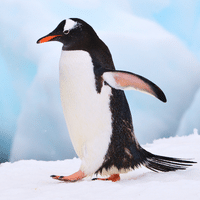 They are the fastest swimming penguin species, reaching speeds of up to 22 mph.
Geoffroy's Tamarin
 They have a strong bond with their mate and often groom each other.
Gerbil
 They can jump up to 12 inches in the air.
German Pinscher
 They were originally bred as rat catchers.
German Shepherd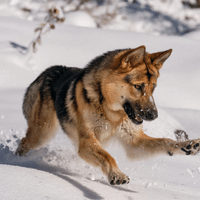 They are one of the most popular dog breeds in the world and are commonly used as police and military dogs.
Gharial
 They have a very thin snout that they use to catch fish.
Giant African Land Snail
 They are one of the largest snail species in the world and can grow up to 8 inches long.
Giant Clam
 They can live for over 100 years and are the largest living bivalve mollusk.
Giant Panda Bear
 They have a special thumb-like extension on their front paws that helps them grasp bamboo shoots.
Giant Schnauzer
 They were originally bred to be a cattle-driving and guarding dog.
Gibbon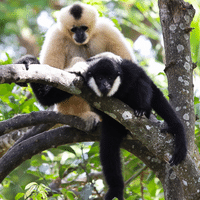 They are capable of brachiating (swinging from branch to branch) at speeds of up to 35 mph.
Gila Monster
 They are one of only a few venomous lizard species in the world.
Giraffe
 They have the highest blood pressure of any mammal due to their long necks.
Glass Lizard
 They can break off their tail as a defense mechanism and later grow a new one.
Glow Worm
 They are actually a species of beetle and not a worm at all.
Goat
 They have rectangular pupils that allow them to have a wider field of vision.
Goblin Shark
 They have a protruding jaw that can extend out to catch prey.
Golden Lion Tamarin
 They have a long, silky golden mane that frames their face.
Golden Masked Owl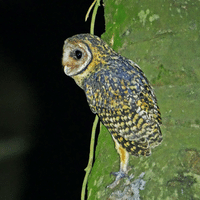 They are also known as the "ghost owl" because of their pale, almost translucent appearance.
Golden Oriole
 They have a beautiful, flute-like song that is often heard in the forests of Europe and Asia.
Golden Retriever
 They were originally bred to retrieve waterfowl for hunters.
Golden-Crowned Flying Fox
 They are one of the largest bat species in the world and can have a wingspan of up to 5 feet.
Goose
 They mate for life and often display strong loyalty to their mate and offspring.
Gopher
 They are capable of digging burrows up to 200 feet long.
Gorilla
 They are herbivores and primarily eat leaves, stems, and fruit.
Grasshopper
 They can jump up to 20 times their body length in a single bound.
Great Dane
 They are one of the tallest dog breeds in the world and can weigh up to 200 pounds.
Great Pyrenees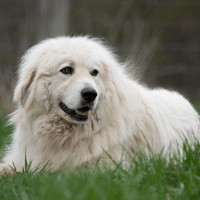 They were originally bred to guard livestock and are known for their protective instincts.
Great White Shark
 They are one of the largest predatory fish in the world and can weigh over 5,000 pounds.
Greater Swiss Mountain Dog
 They were originally bred as draft dogs and were used to pull carts and herd livestock.
Green Anole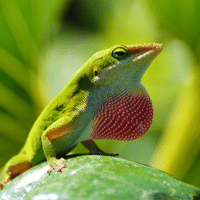 They are capable of changing color from bright green to brown or gray to blend in with their surroundings.
Green Bee-Eater
 They are known for their bright, vibrant colors and are often seen perched on tree branches or flying overhead
Greenland Dog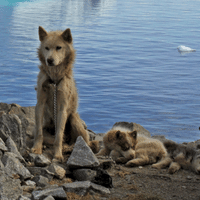 They are one of the oldest dog breeds in the world and were originally bred as sled dogs.
Grey Mouse Lemur
 They are the smallest primate species in the world and are only found in Madagascar.
Grey Reef Shark
 They are known for their aggressive behavior and are often found in shallow waters near coral reefs.
Grey Seal
 They can hold their breath underwater for up to 30 minutes and are excellent swimmers.
Greyhound
 They are one of the fastest dog breeds in the world and can reach speeds of up to 45 mph.
Grizzly Bear
 They are one of the largest bear species in the world and can weigh up to 1,500 pounds.
Grouse
 They have a unique mating ritual where males puff up their chests and make a distinct drumming sound to attract females.
Guinea Fowl
 They are known for their loud, distinctive calls and are often kept as domesticated birds for their meat and eggs.
Guinea Pig
 They were originally domesticated by the Incas for food and are now commonly kept as pets.
Guppy
 They are one of the most popular fish species kept in home aquariums and are known for their vibrant colors and easy maintenance.
Explore Other Animals that Start With:
A – B – C – D – E – F – G – H – I – J – K – L – M – N – O – P – Q – R – S – T – U – V – W – X – Y – Z
Last updated on March 16th, 2023 at 06:59 pm