Animal Names That Start with K
Animals are a type of living organism. Some animals are domesticated, while others live in the wild. All animals can move around and interact with their environment. They eat food to survive and grow.
Animal names in English and Pictures!
Animals That Start With K
Kokanee Salmon
Kodiak Bear
Kishu
Kagu
Kinkajou
Kuvasz
Kowari
Kenyan Sand Boa
King Eider
Komodo Dragon
Kakapo
Killer Clown Ball Python
Key Deer
Kea
Kangaroo Mouse
Kaluga Sturgeon
Kirtland's snake
Kangaroo Rat
Katydid
Keeshond
Kerry Blue Terrier
Kestrel
Knifefish
Khao Manee
Korean Jindo
Kermode Bear (Spirit Bear)
Knight Anole
Kaua'i 'Ō'ō
Koi Fish
Killifish
Kit Fox
King Shepherd
Kelp Greenling
King Snake
Khapra Beetle
Koolie
Kangal Shepard Dog
Kudu
King Rat Snake
Keel-Billed Toucan
Krill
Kudzu Bug
Kookaburra
Kori Bustard
Kitefin Shark
Keyhole Cichlid
King Salmon
Kiko Goat
King Vulture
Kiwi
Kissing Gourami
Kingfisher
Killdeer
Komondor
King Penguin
King Mackerel
Kentucky Warbler
Kodkod
King Quail
Keelback
Keagle
Koala
Kinder Goat
Kai Ken
Kangaroo
Kiang
King Crab
King Cobra
Klipspringer
Keta Salmon
Kinabalu Giant Red Leech
Kissing Bugs
Killer Whale
Kingklip
Krait
Kooikerhondje
Kouprey
Extinct Animals Starting With K
Kama'o
Kauai ōō
Kauaʻi palila
King Island dwarf emu
King Island emu
Kioea
Koa finch
Kona grosbeak
Kosrae crake
Sea/Ocean Animals Starting with K
Kelp
Kemp's ridley sea turtle
Kemp's Ridley Turtle
Killer whale
King crab
King penguin
King salmon
Kraken
Krill
Farm/Domestic Animals That Start With Letter K
Kangal Dog
Kangaroo
King Snake
Koala
Komodo Dragon
Kookaburra
Wild Animals That Begin with K
Kangaroo
Koala
Kingfisher
Kudu
Kodiak Bear
Kestrel
Kiwi
Komodo Dragon
Killer Whale
Kraken (mythical)
Kinkajou
Kit Fox
Kookaburra
Kiang
Kestrel
Kit Kangaroo Rat
Karakul Sheep
Kermode Bear
Kafue Lechwe
Kori Bustard
Kermode Bear
Komondor Dog
Kit Fox
King Cobra
Knob-tailed Gecko
Kinkajou
Killdeer
Kipunji
Knobbed Hornbill
Animals that Start with K – List With Pictures and Facts
Kirk's Dik-Dik
 The smallest antelope in Africa.
Koala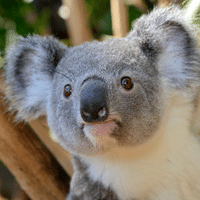 Sleeps around 18 hours a day.
Kestrel
 Can see ultraviolet light.
Kulan
 The fastest wild ass.
Kingfisher
 Has excellent hunting skills.
Killer Whale
 Actually a type of dolphin.
Kangaroo Rat
 Doesn't need to drink water.
Kudu
 Males have impressive horns.
Korean Hare
 Can run up to 60 km/h (37 mph).
Kookaburra
 Its laugh sounds like a human.
Kangaroo
 Can jump up to 3 times its own height.
Kite
 Can fly for hours without flapping.
King Crab
 Can have a leg span of over 3 meters.
King Cobra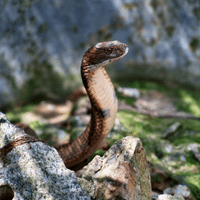 The world's longest venomous snake.
Katydid
 Can mimic bird sounds.
Keel-Billed Toucan
 Has a rainbow-colored beak.
Kowari
 Has excellent night vision.
Kakapo
 A flightless parrot.
Komodo Dragon
 Can eat up to 80% of its body weight in one meal.
Knifefish
 Can generate weak electric fields.
Kouprey
 Rare wild ox species in Southeast Asia.
Klipspringer
 Can jump up to 25 times its own body length.
Kodkod
 The smallest wildcat in the Americas.
Korean Field Mouse
 Can live up to 3 years.
Krill
 The most abundant animal on Earth.
Kivu Shrew
 The smallest shrew in Africa.
Kob
 A type of antelope that migrates in large herds.
Kiwi
 Lays eggs almost as big as its body.
Kinkajou
 Has a prehensile tail and can rotate its feet backward.
King Penguin
 Can dive up to 300 meters.
Keeshond
 A fluffy, friendly dog breed.
Korinch's Rat
 Endangered species in India.
Kagu
 Endemic bird species in New Caledonia.
Explore Other Animals that Start With:
A – B – C – D – E – F – G – H – I – J – K – L – M – N – O – P – Q – R – S – T – U – V – W – X – Y – Z
Last updated on July 7th, 2023 at 06:33 am