List of Animals and their homes Pdf!
Animals are the most beautiful creature of this universe and there are a lot of animal species that live in their houses and the most loved thing about animal homes is that they make their homes by themselves.
Remember most animals lived in groups and there are different types of animal species with different types of homes and shelters.
Related: Animals with their Babies Names
List of Animals and their Homes
Here is a precise list of some common animals along with the name of their homes:
| | |
| --- | --- |
| Porpoise | sea, aquarium |
| Hippopotamus | river banks |
| Chimpanzee |  tree |
| Cat | cattery, lair, den |
| Goat | locker, pen |
| Sealion | nest |
| Whale | whaler |
| Sheep | fold, pen |
| Armadillo | burrow |
| Hyena | den |
| Man | house |
| Moose | moosey land |
| Badger | hole, sett |
| Giraffe | safari |
| Yak | hill, mountain, barn |
| Dolphin | dolphinarium |
| Crocodile |  nest |
| Spider | web |
| Snail | shell |
| Viper | hole, burrow |
| Guinea Pig | hutch, cage |
| Beetle | land (tunnel) |
| Otter | hole, couch, holt, lodge |
| Possum | tree, forest |
| Grouse | nest |
| Donkey | stable, barn, shed |
| Snake | burrow, ophidarium, snakery |
| Rhinoceros | savannah, wallow |
| Monkey | tree |
| Aardvark | burrow, den |
| Cheetah | safari, savanna |
| Camel | desert |
| Penguin | penguinery |
| Gorilla | nest |
| Hare | farm |
| Cockroach | homes, sewers, privies |
| Cow |  shed, pen |
| Cattle | barn, byre, pasture, stable |
| Termite | termitarium, mound |
| Leopard | safari, savanna |
| Ant | hill |
| Raccoon | den, burrow |
| Ferret | cage |
| Kangaroo | hollow tree |
| Turtle | sea |
| Llama | Hut |
| Bull | cattle shed |
| Hornet | hive |
| Frog | froggery, ranarium |
| Ape | logging, nest |
| Wombat | burrow |
| Koala | tree |
| Chicken | Coop |
| Fish | water aquarium, vivary, pond |
| Hamster | cage |
| Panda | bamboo tree |
| Squirrel | dray |
| Wallaby | hollow tree |
| Alligator | nest |
| Porcupine | burrow, hollow trunk |
| Rabbit | burrow |
| Mole | burrow, fortress, tunnel |
| Buffalo | barn, byre, pasture, stable |
| Bee | beehive |
| Mouse | hole |
| Fly | cracks, crevasse |
| Wolf | lair, den |
| Tiger | lair |
| Shark | sea |
| Cat | cage |
| Deer |  grasslands |
| Rook | rookery |
| Horse | stable |
| Rat | nest, hole |
| Fox | burrow, hole, lair |
| Bear | den, cave large forest |
| Lion | den |
| Pig | cote, pen, sty |
| Grasshopper | grassland |
| Dog | kennel |
| Gerbil | gerbilarium |
| Zebra | jungle, safari, veldts |
| Elephant | jungle, dip-wad, nest |
| Polar bear | hole, burrow |
Related: List of Animals and their sounds
Infographics (List of Animals and their Homes)
Frogs Lives in Forgery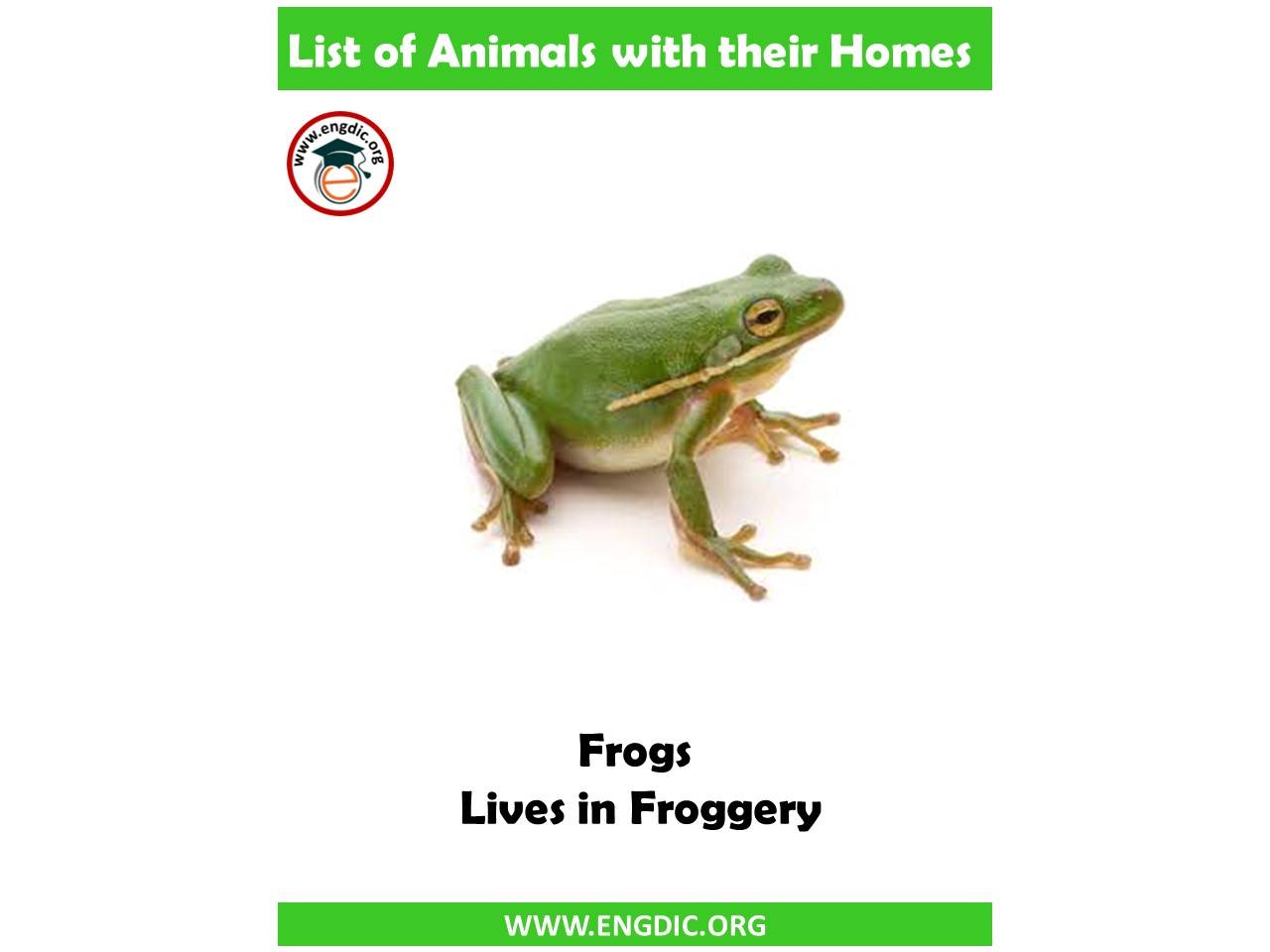 The beetle lives in Tunnels
Snail lives in Shells
Viper lives in Hole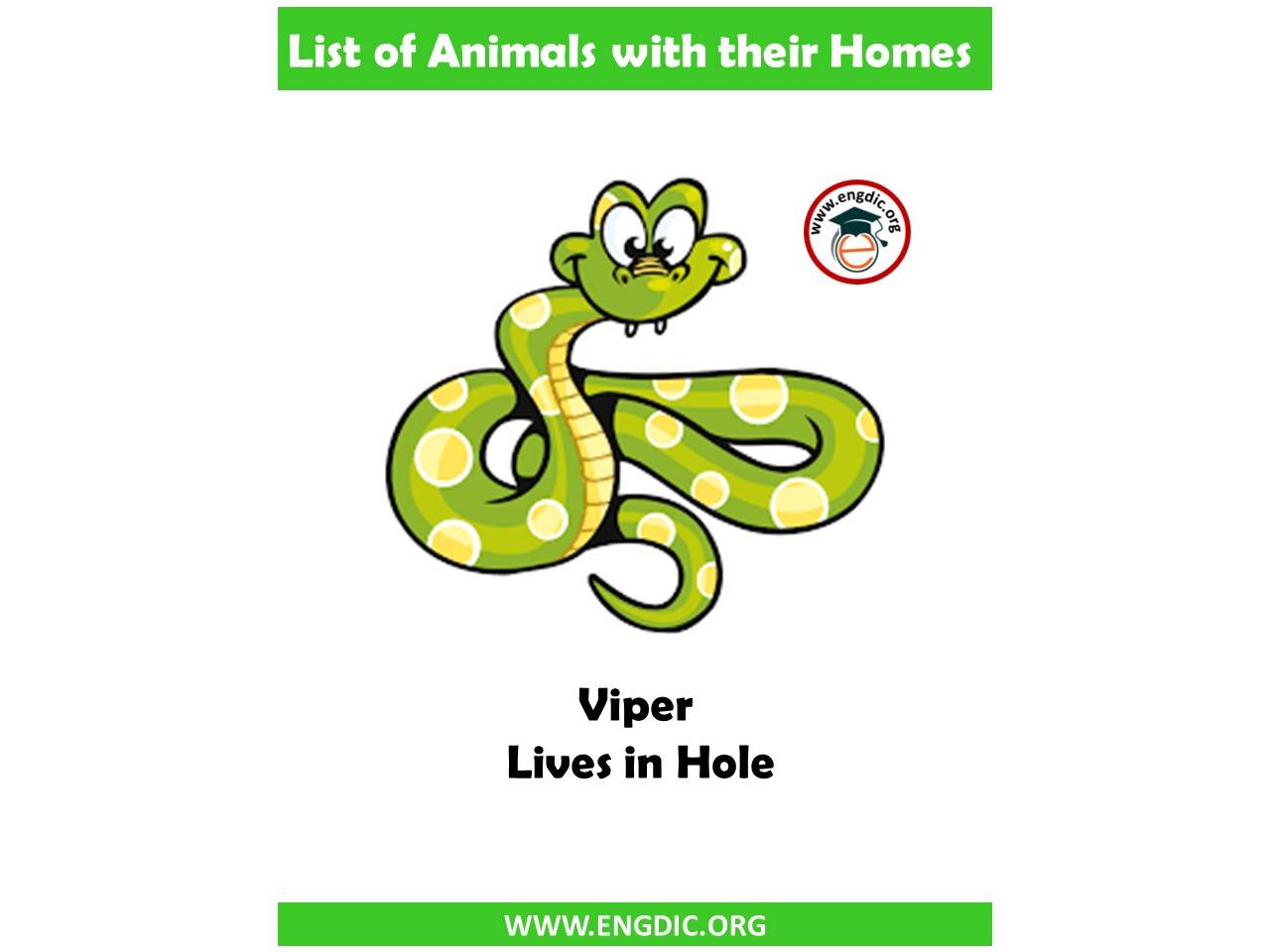 Giraffe lives in safari
Yak lives in a barn
The crocodile lives in Nest
The spider lives in Web
Badger Lives in Holes
Moose lives in Moose land
Ant Lives in Hills
Hyenas Lives in Den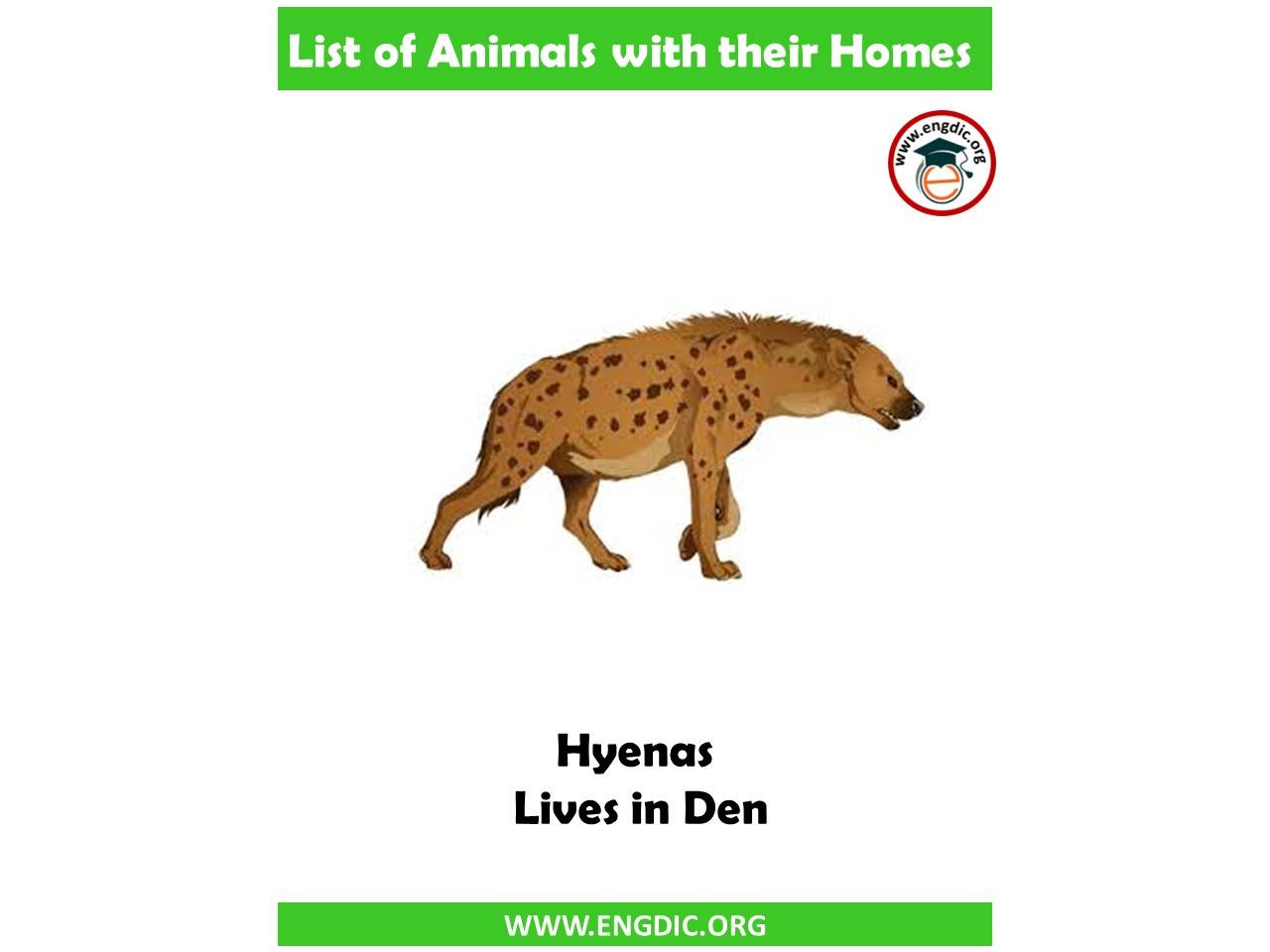 Chetas lives in savannas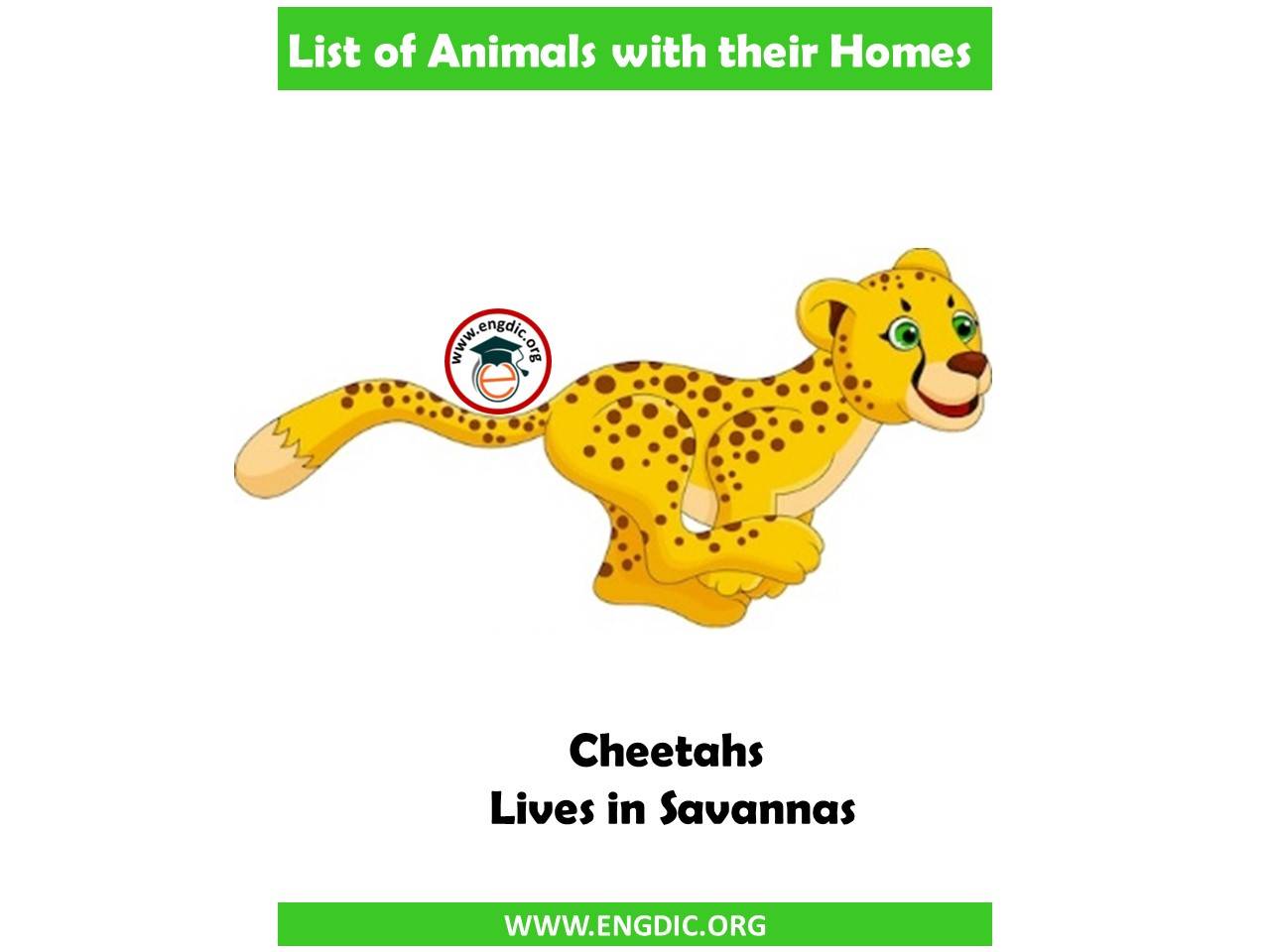 Penguin lives in Penguinery
Goat lives in the Locker
Whale lives in Whaler
Chimpanzee lives on Trees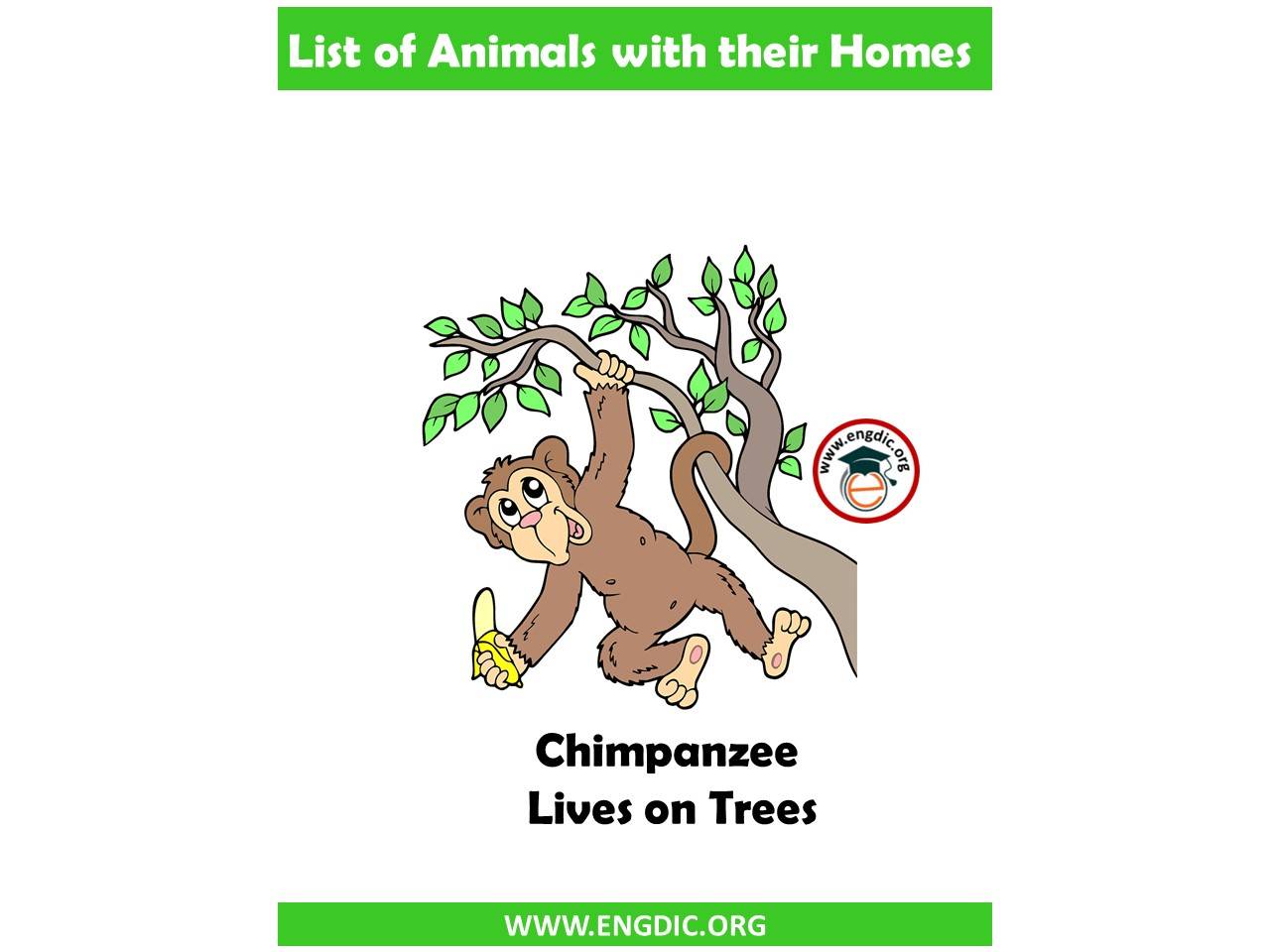 Hares live in farms
Porpoise lives in Sea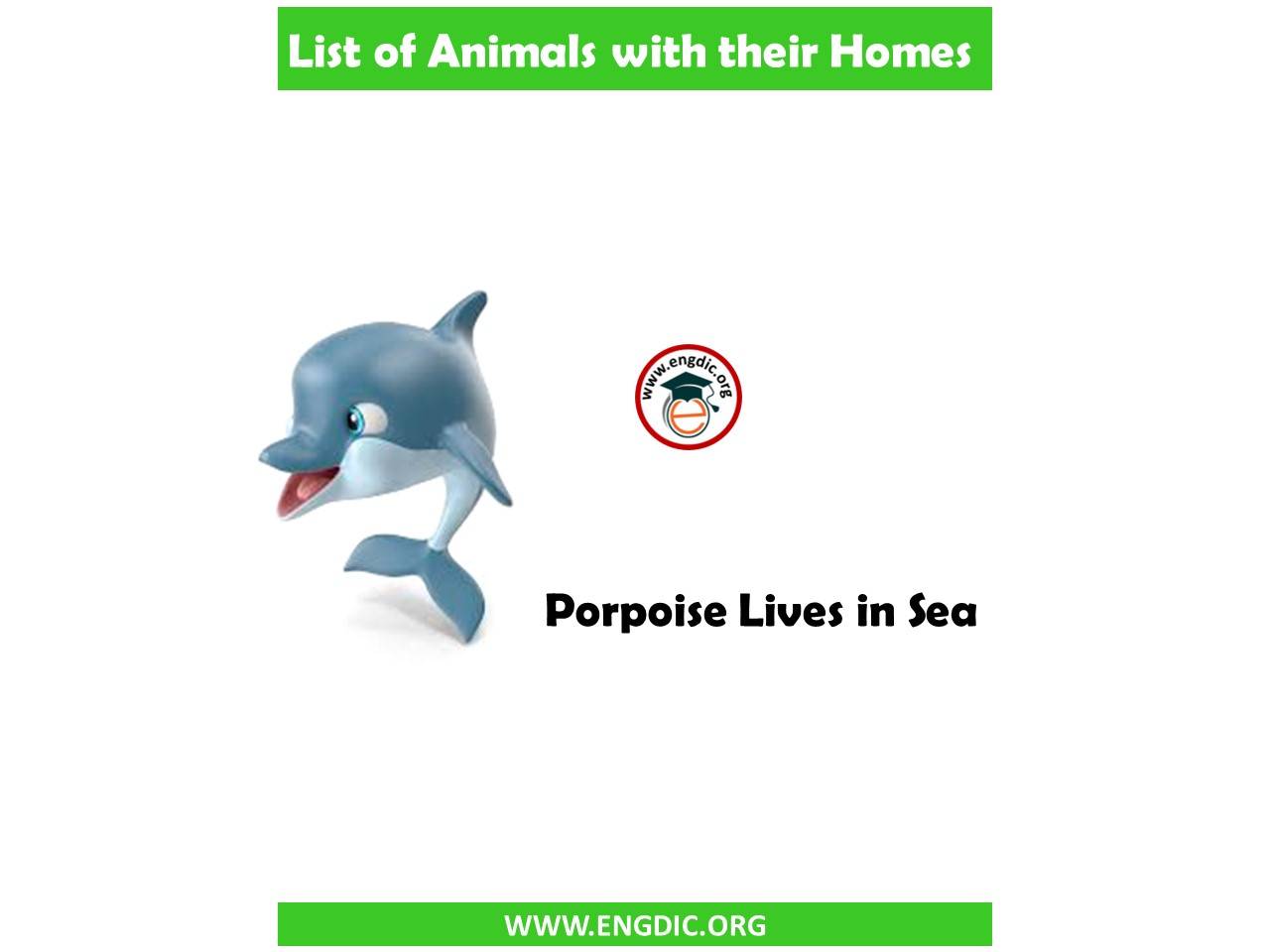 Download this lesson of List of Animals and their homes Pdf