Animal Names That Start with O
Animals are a type of living organism. Some animals are domesticated, while others live in the wild. All animals can move around and interact with their environment. They eat food to survive and grow.
Animal names in English and Pictures!
Animals That Start With O
Oyster
Ocean Pout
Ozark Bass
Opah
Oilfish
Ornate Bichir
Owl Butterfly
Oriental Dwarf Kingfisher
Orange-Crowned Warbler
Oranda Goldfish
Orange Spider
Orinoco Crocodile
Oscar Fish
Ornithocheirus
Ocellated Turkey
Ori-Pei
Oxpecker
Orange Baboon Tarantula
Oregon Spotted Frog
Orange Dream Ball Python
Ocelot
Oviraptor
Oyster Toadfish
Olm
Oceanic Whitetip Shark
Opossum
Orangutan
Ornithomimus
Orchard Oriole
Oenpelli python
Onagadori Chicken
Ornate Box Turtle
Owlfly (Ascalaphidae)
Olive Sea Snake
Olympic Marmot
Oak Toad
Ox
Ovenbird
Owl
Okapi
Otter
Otterhound
Olive Baboon
Ostracod
Orange Tanager (Orange-Headed Tanager)
Oleander Hawk Moth
Oarfish
Olingo
Opaleye (Rudderfish)
Orb Weaver
Oribi
Osprey
Orange Roughy
Ostrich
Old House Borer
Olive python
Ortolan Bunting
Orchid Dottyback
Octopus
Opabinia
Onager
Ocean Whitefish
Old English Sheepdog
Oriental Cockroach
Extinct Animals Starting With O
O'ahu ʻakialoa
Oahu deceptor bush cricket
Oahu nukupu'u
Omomys carteri
Ondatra zibethicus gregoryi
Onychonycteris finneyi
Oreopithecus bambolii
Ornimegalonyx oteroi
Orohippus pumilus
Osbornodon iamonensis
Otarocyon cooki
Otodus obliquus
Otomys denti
Ovis ammon
Ovis canadensis
Ovis vignei
Ozarkodina typica
Oligokyphus
Onchopristis numidus
Ophiodon elongatus
Ornithomimus sedens
Orthoceras
Osteoborus diogoi
Othnielia rex
Oxyaena gulo
Oxyaena lupina
Oxyaena lydekkeri
Oxyaenoides bicuspidatus
Oxyaenoides furcatus
Oxyaenoides gracilis
Oxyaenoides leptodus
Oxyaenoides minor
Oxyaenoides tongxinensis
Sea/Ocean Animals Starting with O
Octopus
Olive Ridley Turtle
Orca
Otter
Oyster
Oystercatcher
Farm/Domestic Animals That Start With Letter O
Ocelot
Octopus
Old English Bulldog
Old English Sheepdog
Opossum
Orangutan
Oryx
Ostrich
Otter
Owl
Ox
Oyster
Wild Animals that Begin with O
Ocelot
Opossum
Okapi
Orangutan
Otter
Oyster
Osprey
Olive Baboon
Ocean Sunfish
Olive Ridley Turtle
Ostrich
Ochre Starfish
Octopus
Onager
Osage Copperhead Snake
Oriental Pied Hornbill
Olive-backed Sunbird
Orange-headed Thrush
Olive Woodpecker
Old World Swallowtail Butterfly
Ornate Box Turtle
Olive Whip Snake
Orange-throated Whiptail Lizard
Olive Grass Snake
Orange Weaver Ant
Olive Bee-eater
Orange-tailed Skink
Oriental Small-clawed Otter
Orange-bellied Himalayan Squirrel
Orange-bellied Antwren
Animals that Start with O – List With Pictures and Facts
Oyster
 Can change gender multiple times in a lifetime.
Oryx
 Can detect rain from 50 miles away.
Oarfish
 World's longest bony fish, up to 36 feet.
Ornate Hawk-Eagle
 Can fly up to 50 mph.
Octopus
 Has three hearts and blue blood.
Ocellaris Clownfish
 Can change sex to become male.
Oilbird
 Only nocturnal fruit-eating bird in the world.
Oystercatcher
 Can open mollusk shells with their bills.
Otter
 Hold hands while sleeping to avoid drifting apart.
Osprey
 Can dive up to 100 feet into the water.
Owl Butterfly
 Has eye-like spots on its wings to deter predators.
Olm
 Can live up to 100 years in complete darkness.
Olive Ridley Sea Turtle
 Nest together in groups called arribadas.
Orb Weaver
 Spins a new web every day.
Okapi
 Only living relative of the giraffe.
Opossum
 Only marsupial in North America.
Owl
 Can rotate their heads up to 270 degrees.
Orangutan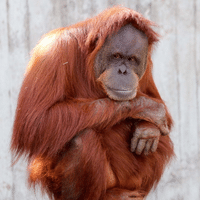 Has opposable thumbs like humans.
Ostrich
 World's largest bird, up to 9 feet tall.
Old English Sheepdog
 Has hair that grows continuously, and needs trimming.
Ocelot
 Can swim and climb trees to hunt prey.
Oriole
 Weaves intricate nests in trees.
Orca
 Also known as the killer whale, the largest dolphin species.
Ox
 Can pull up to 1.5 times their body weight.
Ornate Chorus Frog
 Can change colors from brown to green.
Explore Other Animals that Start With:
A – B – C – D – E – F – G – H – I – J – K – L – M – N – O – P – Q – R – S – T – U – V – W – X – Y – Z
Last updated on July 7th, 2023 at 06:32 am