Animal Names That Starts with N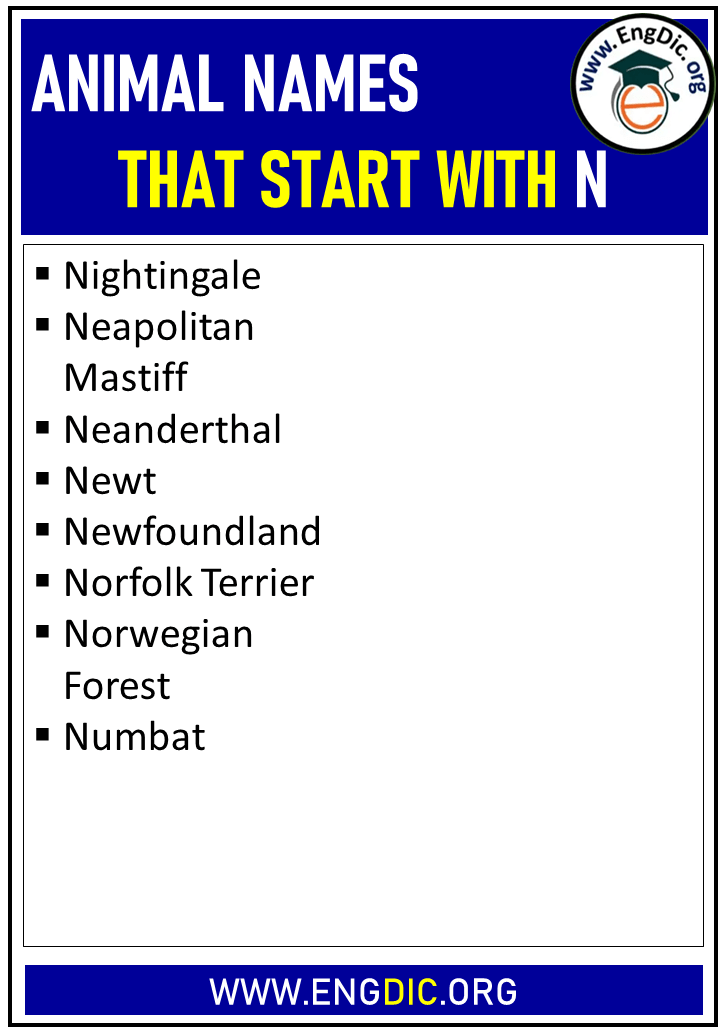 Animals are a type of living organism. Some animals are domesticated, while others live in the wild. All animals can move around and interact with their environment. They eat food to survive and grow.
Animal names in English and Pictures!
Animals That Start With N
Newfypoo
Night Heron
Naked Mole Rat
Northern Flicker
Needlefish
Norwegian Elkhound
Nicobar pigeon
Nudibranch
Nova Scotia Duck Tolling Retriever
Nile Perch
Neapolitan Mastiff
Nose-horned viper
Nile Crocodile
Norrbottenspets
Numbat
Northern Screamer
Northern Parula
Nuralagus
Naegleria
Northern Alligator Lizard
Natterjack
Norway Rat
Nubian Goat
Neon Tetra
Norwegian Forest
Northern Fur Seal
Northern Potoo
Nuthatch
New Hampshire Red Chicken
Narwhal
Northern Harrier
Nightingale
Night Snake
Norwegian Buhund
Nut Weevil
Nyala
Northern Cardinal
Northern Water Snake
Nelore Cattle
No See Ums
Nigerian Goat
Norwich Terrier
Northern Inuit Dog
Norfolk Terrier
Nebelung
Netherland Dwarf Rabbit
Nabarlek
Nurse Shark
Neanderthal
Newfoundland
North American Black Bear
Northern Jacana
Nautilus
Nilgai
Neptune Grouper
Newt
Nightjar
Norwegian Lundehund
Night Adder
Nutria
Nguni Cattle
Extinct Animals Starting With N
Nalolo
Nannospalax nehringi (blind mole rat)
New Caledonian lorikeet
New Guinea big-eared bat
New Zealand burrowing crayfish
New Zealand greyling
New Zealand merganser
New Zealand musk duck
New Zealand owlet-nightjar
New Zealand quail
New Zealand storm petrel
Newton's parakeet
Norfolk Island kākā
Norfolk Island pigeon
Norfolk kaka
Noronha skink
Northern gastric-brooding frog
Sea/Ocean Animals Starting with N
Narwhal
Nautilus
Nurse shark
Northern fur seal
Northern elephant seal
North Atlantic right whale
Northern shrimp
North Pacific giant octopus
North Atlantic bluefin tuna
Northern sea otter
Nudibranch
Numbfish
Nectonema agile
Nandu beach crab
Notothenioid
New Zealand fur seal
Nucleophaga
Nematocarcinus spp.
Nephrops norvegicus
Neon goby
Northern clingfish
Neptune's necklace
Northern shortfin squid
Natal hinged tortoise
Neopetrolisthes maculatus
Northern pipefish
Netted dog whelk
Northern sand lance
Nansenia
Nursehound shark
Farm/Domestic Animals That Start with Letter N
Netherland Dwarf Rabbit
New Zealand Rabbit
Newfoundland
Nigerian Dwarf Goat
North American River Otter
Norwegian Forest Cat
Numbat
Wild Animals that Begin with N
Narwhal
Nutria
Numbat
Nile crocodile
Nightingale
Newt
Northern fur seal
Nectar bat
Nene (Hawaiian goose)
Nyala
Narwhal
Nilgai
Northern pika
Northern elephant seal
Nutcracker
Namaqua chameleon
Natal red rock hare
Narrow-headed gartersnake
North American river otter
Northern raccoon
Naked mole rat
Norway rat
Namaqua sandgrouse
Nubian ibex
Nutmeg mannikin
Northern cardinal
Nelson's sparrow
Northern harrier
Night monkey (owl monkey)
Nubian giraffe
Animals that Start with N – List With Pictures and Facts
North American Black Bear
 Can climb trees despite their size.
Numbat
 Eats 20,000 termites per day.
Nurse Shark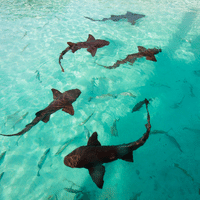 Can stay still while breathing.
Nudibranch
 Can be as small as a grain of sand.
Northern Inuit Dog
 The breed was used in "Game of Thrones".
Nightjar
 Can catch insects mid-flight.
Nighthawk
 Migrates from Canada to South America.
Nilgai
 Only male has horns.
Nase
 Can live up to 50 years.
Nyala
 Males and females have spiral horns.
Noctule
 Can fly up to 99 mph.
Narwhal
 Tusk is actually a tooth.
Nandu
 Second-largest bird in the world.
Noodlefish
 Can absorb oxygen through the skin.
Nicator
 Has a loud and distinctive call.
Nautilus
 Has been around for 500 million years.
Numbray
 Only found in freshwater.
Needlefish
 Can leap out of the water to escape predators.
Nunlet
 One of the smallest birds in the world.
Newt
 Can regenerate lost limbs.
Nunbird
 Males and females have different plumage.
Napu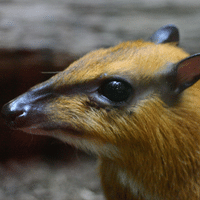 Can run up to 45 mph.
Noddy
 Birds have a distinct "nodding" behavior.
Newfoundland
 Has webbed feet and a water-resistant coat.
Nënë
 State bird of Hawaii.
Nalolo
 Can glide up to 330 feet.
Nightingale
 Males sing up to 300 different songs.
Neapolitan Mastiff
 Has loose skin to protect against attacks.
Ningaui
 One of the smallest marsupials in the world.
Norwegian Forest
 Has a water-repellent coat.
Nkupe
 One of the rarest primates in the world.
Nematode
 Most numerous animals on Earth.
Nile Crocodile
 Can live up to 100 years.
Nutria
 Can stay underwater for up to 5 minutes.
Nabarlek
 Only found in northern Australia.
Nightcrawler
 Common bait for fishing.
Norfolk Terrier
 Has a strong prey drive.
Neddicky
 Has a distinctive trilling call.
Nurseryfish
 The male protects eggs and young.
Natterjack
 Has a distinctive "burr" call.
Nightfish
 Can sense electricity.
Explore Other Animals that Start With:
A – B – C – D – E – F – G – H – I – J – K – L – M – N – O – P – Q – R – S – T – U – V – W – X – Y – Z
Last updated on July 7th, 2023 at 06:32 am