Animal Names That Starts with L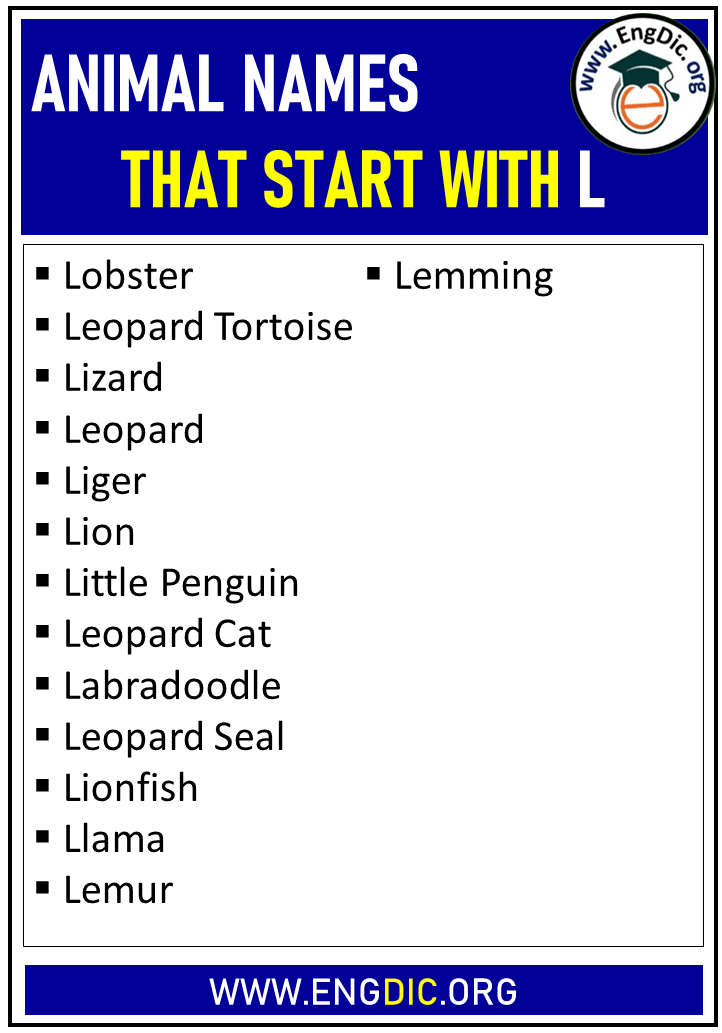 Animals are a type of living organism. Some animals are domesticated, while others live in the wild. All animals can move around and interact with their environment. They eat food to survive and grow.
Animal names in English and Pictures!
Animals That Start With L
Leopard Tortoise
Long-Haired Rottweiler
LaMancha Goat
Large Munsterlander
Longfin Mako Shark
Lynx
Leopard Seal
Lace Bug
Lancashire Heeler
Ladyfish
Liopleurodon
Lone Star Tick
Leedsichthys
Lungfish
Labout's Fairy Wrasse
Labrabull
Lakeland Terrier
Ladybug
Lake Sturgeon
Luna Moth Caterpillar
Lancetfish
Lystrosaurus
Little Penguin
Lappet-faced Vulture
Leopard Lizard
Lace Monitor
Labahoula
Lion
Loris
Lake Trout
Leichhardt's Grasshopper
Lyrebird
Lurcher
Leopard Cat
Longnose Gar
Leonberger
Labrador Retriever
Limpet
Lemming
Leptocephalus
Leopard Shark
Lamprey
Livyatan
Lizard
Lhasapoo
Lagotto Romagnolo
Leafcutter Bee
Long-Tailed Tit
Lazarus Lizard
Lion's Mane Jellyfish
Labraheeler
Lumpfish
Labrottie
Leopard
Labmaraner
Largemouth Bass
Locust
Lykoi Cat
Lemon Cuckoo Bumblebee
Leopard Gecko
Lorikeet
Liger
Leaf-Tailed Gecko
Lhasa Apso
Larder Beetle
Lionfish
Lapponian Herder
Leatherback Sea Turtle
Leopard Frog
Long-Winged Kite Spider
Lizardfish
Lemur
Lawnmower Blenny
Luna Moth
Lemon Blast Ball Python
Labradane
Lemon Shark
Lavender Albino Ball Python
Little Brown Bat
Lowchen
Lesser Jacana
Labradoodle
Leech
Linnet
Lobster
Lineback Cattle
Llama
Landseer Newfoundland
Long-Eared Owl
Loach
Extinct Animals Starting With L
Labrador duck
Lanai hookbill
Laughing owl
Laysan crake
Laysan millerbird
Laysan rail
Lesser bilby
Lesser koa finch
Lesser stick-nest rat
Liverpool pigeon
Longjaw cisco
Lord Howe Island boobook
Lord Howe Island phasmid
Lord Howe Island stick insect
Lord Howe swamphen
Sea/Ocean Animals Starting with L
Lamprey
Lanternfish
Leatherback sea turtle
Leatherback Turtle
Lemon shark
Leopard Seal
Leopard shark
Lingcod
Lionfish
Lion's Mane Jellyfish
Lobster
Loggerhead sea turtle
Loggerhead Turtle
Longman's Beaked Whale
Longspine snipe eel
Farm/Domestic Animals That Start with Letter L
Labradoodle
Labrador Retriever
Laced Wyandotte Chicken
Ladybug
Lemming
Lemur
Leonberger
Leopard
Lhasa Apso
Lhasa-Poo
Lion
Lionhead Rabbit
Little Penguin
Llama
Lobster
Longhorn Cattle
Lynx
Wild Animals that Begin with L
Llama
Lion
Leopard
Lynx
Lemming
Lapwing
Ladybug
Limpet
Lark
Loris
Lizard
Locust
Lobster
Longhorn
Lamprey
Long-tailed weasel
Least weasel
Llama
Long-nosed armadillo
Leafcutter ant
Lappet-faced vulture
Long-eared jerboa
Least chipmunk
Little brown bat
Long-finned pilot whale
Largemouth bass
Little egret
Loggerhead sea turtle
Long-tailed chinchilla
Lynx spider
Animals that Start with L – List With Pictures and Facts
Lobster
 Lobsters can live up to 100 years.
Lapwing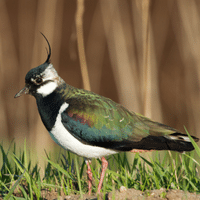 Lapwings have a distinctive "peewit" call.
Lyrebird
 Lyrebirds can mimic almost any sound.
Lemming
 Lemmings don't commit mass suicide.
Lynx
 Lynx have tufted ears for hearing.
Loach
 Loaches can breathe air through their skin.
Liger
 Ligers are a hybrid of lion and tiger.
Lungfish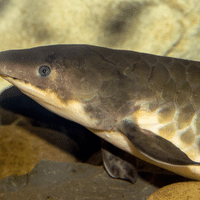 Lungfish can survive without water for months.
Lemur
 Lemurs are only found in Madagascar.
Lamb
 Lambs can recognize their mother's voice.
Lionfish
 Lionfish have venomous spines.
Loon
 Loons can dive up to 200 feet.
Lacewing
 Lacewings are called "aphid lions" as larvae.
Lammergeier
 Lammergeiers drop bones on rocks to break them.
Leech
 Leeches secrete anesthetic and anti-clotting agents.
Ladybug
 Ladybugs can fly up to 15 mph.
Lizard
 Lizards can regrow their tails.
Long-Tailed Tit
 Long-Tailed Tits have tiny bodies and long tails.
Labradoodle
 Labradoodles were first bred in Australia.
Leafcutter Ant
 Leafcutter ants can carry objects 50 times their weight.
Longspur
 Longspurs have a unique trilling call.
Leatherback Sea Turtle
 Leatherback Sea Turtles are the largest turtles.
Leopard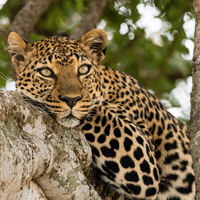 Leopards can drag prey twice their weight.
Leopard Cat
 Leopard Cats are skilled tree climbers.
Lamprey
 Lampreys attach to fish with their sucker mouths.
Little Penguin
 Little Penguins are the smallest penguin species.
Llama
 Llamas are social animals that spit when threatened.
Leopard Seal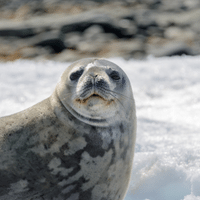 Leopard Seals can hold their breath for 15 minutes.
Labrador Retriever
 Labrador Retrievers are popular guide dogs.
Lion
 Lions are the only social cat species.
Loris
 Lorises have a toxic bite.
Lory
 Lories are colorful parrots found in Australia.
Long-Eared Owl
 Long-Eared Owls have distinctive ear tufts.
Leopard Tortoise
 Leopard Tortoises can live over 50 years.
Lovebird
 Lovebirds mate for life and groom each other.
Leaf-Tailed Gecko
 Leaf-Tailed Geckos have flattened bodies for camouflage.
Explore Other Animals that Start With:
A – B – C – D – E – F – G – H – I – J – K – L – M – N – O – P – Q – R – S – T – U – V – W – X – Y – Z
Last updated on July 7th, 2023 at 06:33 am