Animal Names That Starts with P
Animals are a type of living organism. Some animals are domesticated, while others live in the wild. All animals can move around and interact with their environment. They eat food to survive and grow.
Animal names in English and Pictures!
Animals That Start With P
Pictus Catfish
Porcupine
Pufferfish
Phorusrhacos
Peruvian Guinea Pig
Platypus
Podenco Canario
Pug Mix
Pademelon
Purple Tarantula
Pygmy Shark
Pool Frog
Piranha
Pliosaur
Pitador
Perro De Presa Canario
Prawn
Pine Siskin
Puertasaurus
Pike Fish
Polka Dot Stingray
Parrot Snake
Python
Pelican
Piebald Dachshund
Palaeoloxodon namadicus
Peacock Butterfly
Purple Emperor Butterfly
Partridge
Panther
Pink Bollworm
Palo Verde Beetle
Palaeophis
Pink Fairy Armadillo
Persian
Panda Pied Ball Python
Pyrenean Mastiff
Pangolin
Platybelodon
Parakeet
Pit Viper
Plains Hognose Snake
Parrotlet
Pumpkin Patch Tarantula
Plott Hound Mix
Puss Caterpillar
Pacific Coast Tick
Proboscis Monkey
Parson Russell Terrier
Plymouth Rock Chicken
Poogle
Pyrador
Pheasant-tailed Jacana
Patas Monkey
Pygmy Hippopotamus
Pit Bull
Pig-Nosed Turtle
Pygmy python
Pine Snake
Parrotfish
Philippine Cobra
Pantaloon Bee
Picardy Spaniel
Peagle
Petit Basset Griffon Vendéen
Prairie Chicken
Peppermint Angelfish
Pugshire
Platinum Arowana
Pollock Fish
Purussaurus
Purple Finch
Pond Skater
Pugapoo
Pyrenean Shepherd
Parasaurolophus
Pompano Fish
Perch Fish
Patterdale Terrier
Pink-Necked Green Pigeon
Potoo
Polyphemus moth
Porcupinefish
Porbeagle Shark
Pygmy Marmoset (Finger Monkey)
Plesiosaur
Pig
Procoptodon
Pronghorn
Paleoparadoxia
Possum
Pine Beetle
Pitsky
Polecat
Puffin
Pennsylvania Wood Cockroach
Pachycephalosaurus
Papillon
Pinacate Beetle
Polacanthus
Pine Marten
Prairie Dog
Pipe Snake
Puma
Pipefish
Pomsky
Puss Moth
Pinfish
Pied-Billed Grebe
Pointer
Pigeon
Petite Goldendoodle
Pudelpointer
Purple Gallinule
Patagotitan
Peppered Moth
Peacock
Pomchi
Poodle
Puggle
Pere Davids Deer
Pharaoh Hound
Pesquet's Parrot (Dracula Parrot)
Potato Beetle
Peregrine Falcon
Peacock Bass
Pacific Sleeper Shark
Polar Bear
Portuguese Podengo
Pied Ball Python
Pocket Pitbull
Prairie Rattlesnake
Pacific Spaghetti Eel
Pembroke Welsh Corgi
Pelycosaurs
Pocket Beagle
Polish Lowland Sheepdog
Poochon
Parrot
Phytosaurs
Paddlefish
Penguin
Pug
Psittacosaurus
Pomeranian
Pyredoodle
Poison Dart Frog
Pumi
Paradise Flying Snake
Panthera atrox (American Lion)
Pomapoo
Pink Salmon
Pomeagle
Phoenix Chicken
Pekingese
Pointer Mix
Pine Snake
Praying Mantis
Painted Turtle
Palm Rat
Pea Puffer
Puli
Pelagornithidae
Porpoise
Pelagornis
Pink Toed Tarantula
Pheasant
Parti Schnauzer
Polish Tatra Sheepdog
Powderpost Beetle
Pyjama Shark
Peekapoo
Pterodactyl
Potoroo
Pygora Goat
Psittacosaurus
Peruvian Inca Orchid
Peacock Spider
Peringuey's Adder
Pileated Woodpecker
Plott Hounds
Pied Tamarin
Pika
Puff Adder
Pteranodon
Extinct Animals Starting With P
Palau ground dove
Pallas's cormorant
Paradise parrot
Passenger pigeon
Pemba green pigeon
Pila'a cama'o
Pinta Island tortoise (Lonesome George)
Poʻouli
Pyrenean ibex
Sea/Ocean Animals Starting with P
Pacific herring
Pacific salmon
Pacific saury
Pacific White-Sided Dolphin
Palolo worm
Pangolin
Pelican
Pelican Eel
Petrela
Phytoplankton
Pike Eel
Pilot whale
Pineapple fish
Pink salmon
Pipefish
Plankton
Polar Bear
Porbeagle shark
Porcupinefish
Porpoise
Portuguese Man O' War
Prawn
Pufferfish
Puffin
Pygmy Sperm Whale
Farm/Domestic Animals That Start with Letter P
Paint Horse
Palomino
Panda
Panther
Papillon
Parakeet
Parrot
Peacock
Pekingese
Pelican
Pembroke Welsh Corgi
Penguin
Persian Cat
Peruvian Guinea Pig
Pheasant
Pig
Pigeon
Pigmy Goat
Platypus
Polar bear
Pomeranian
Poodle
Porcupine
Portuguese Water Dog
Pot-Bellied Pig
Prairie dog
Pug
Pygmy Marmoset
Wild Animals that Begin with P
Panther
Panda
Puma
Polar Bear
Platypus
Peacock
Pygmy Hippopotamus
Porcupine
Pronghorn Antelope
Philippine Eagle
Pine Marten
Pine Snake
Pangolin
Puffin
Python
Pelican
Peregrine Falcon
Praying Mantis
Proboscis Monkey
Paddlefish
Painted Stork
Pacific White-Sided Dolphin
Pacific Lamprey
Paradise Fish
Papuan Harpy Eagle
Parakeet
Painted Turtle
Pallid Bat
Panther Chameleon
Pink Fairy Armadillo
Animals that Start with P – List With Pictures and Facts
Pied Tamarin
 Native to Brazil's Atlantic Forest
Pointer
 Bred for pointing out prey for hunters
Pink Fairy Armadillo
 Smallest armadillo species
Panther
 Can roar as loud as a jet engine
Pere David's Deer
 Extinct in the wild
Pug
 Snoring is common in this breed
Peacock
 Only males have colorful feathers
Polar Bear
 Have black skin under white fur
Prawn
 Have their heart in their head
Peregrine Falcon
 The fastest animal on the planet
Possum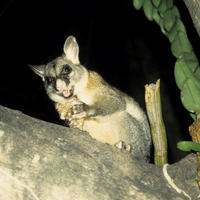 Immune to venom from snakes and bees
Pufferfish
 Can inflate up to three times its size
Porcupine
 Quills are modified hairs
Parrot
 Can mimic human speech
Pangolin
 Most trafficked mammal in the world
Pika
 Can communicate through high-pitched calls
Petit Basset Griffon Vendéen
 This means "small, low, rough-coated dog from Vendée"
Puma
 Can jump up to 40 feet in a single leap
Pekingese
 Bred as lap dogs for Chinese emperors
Pond Skater
 Can walk on water
Proboscis Monkey
 Has a long, bulbous nose
Pygmy Marmoset
 Smallest monkey species
Pygmy Hippopotamus
 Only found in West Africa
Poison Dart Frog
 Their bright colors warn predators they are toxic
Pig
 Have an excellent sense of smell
Pike Fish
 Can live up to 25 years
Pelican
 Can hold up to three gallons of water in their bill
Poodle
 Bred as water retrievers in Germany
Puffin
 Uses its beak to hold multiple fish at once
Paddlefish
 Have no scales, only smooth skin
Platypus
 One of the few mammals that lay eggs
Puss Moth
 Caterpillars have a "cat face" pattern on their back
Penguin
 Only found in the Southern Hemisphere
Porpoise
 Can reach speeds of up to 37 miles per hour
Piranha
 Can eat up to 20 times their weight in a single meal
Purple Emperor Butterfly
 Males have a purple-blue iridescence
Pademelon
 Smaller than kangaroos, found in Australia
Pheasant
 Males have colorful plumage
Patas Monkey
 Fastest monkey on land
Persian
 Bred in Persia (modern-day Iran)
Pool Frog
 Can hibernate underwater for months.
Explore Other Animals that Start With:
A – B – C – D – E – F – G – H – I – J – K – L – M – N – O – P – Q – R – S – T – U – V – W – X – Y – Z
Last updated on July 7th, 2023 at 06:31 am