List of Verbs Followed by Infinitives!
What are Infinitives in Grammar?
An infinitive is a non-finite verb. An infinitive is formed from a verb but doesn't act as a verb. It acts as a noun, adjective, or adverb, and it is actually made up of two words: to + verb.
List of  Verbs followed by Infinitives
Video Lesson
Here is a quick list of verbs followed by infinitives:
Wish
Promise
Agree
Fail
Forget
Delay
Would like
Claim
Wait
Appear
Swear
Anticipate
Recommend
Love
Threaten
Fail
Happen
Threaten
Decide
Cease
Tolerate
Like
Manage
Threaten
Hope
Arrange
Choose
Can't bear
Avoid
Deserve
Agree
Manage
Consider
Want
Practice
Can't stand
Propose
Learn
Refuse
Resent
Risk
Wait
Deserve
Try
Remember
Yearn
Admit
Refuse
Prefer
Deserve
Get
Neglect
Can't bear
Propose
Demand
Neglect
Appear
Learn
Vow
Propose
Prepare
Seem
Love
Expect
Vow
Swear
Dread
Hesitate
Enjoy
Want
Intend
Stop
Recollect
Manage
Happen
Recall
Ask
Plan
Need
Continue
Expect
Deny
Complete
Care
Intend
Choose
Yearn
Can't stand
Hate
Mind
Start
Arrange
Love
Intend
Fail
Offer
Regret
Pretend
Like
Wish
Continue
Begin
Hope
Swear
Regret
Regret
Ask
Hate
Yearn
Cease
Intend
Care
Sanction
Hesitate
Miss
Forget
Ask
Care
Start
Tend
Remember
Postpone
Try
Appreciate
Regret
Hesitate
Hope
Begin
Dislike
Expect
Dread
Involve
Forget
Offer
Start
Offer
Want
Neglect
Would like
Happen
Seem
Finish
Advise
Begin
Appear
Pretend
Dread
Refuse
Wait
Learn
Discuss
Vow
Decide
Choose
Try
Claim
Need
Can't bear
Begin
Defer
Acknowledge
Justify
Claim
Would like
Tend
Entail
Tend
Pretend
Need
Prefer
Plan
Wish
Promise
Mention
Agree
Like
Resist
Suggest
Start
Try
Remember
Plan
Promise
Continue
Can't stand
Hate
Forget
Keep
Hate
Prefer
Get
Prefer
Seem
Decide
Love
Quit
Demand
Like
Bear
Prepare
Arrange
Also Check: List of Countable nouns
Infographics (Verbs Followed by Infinitives)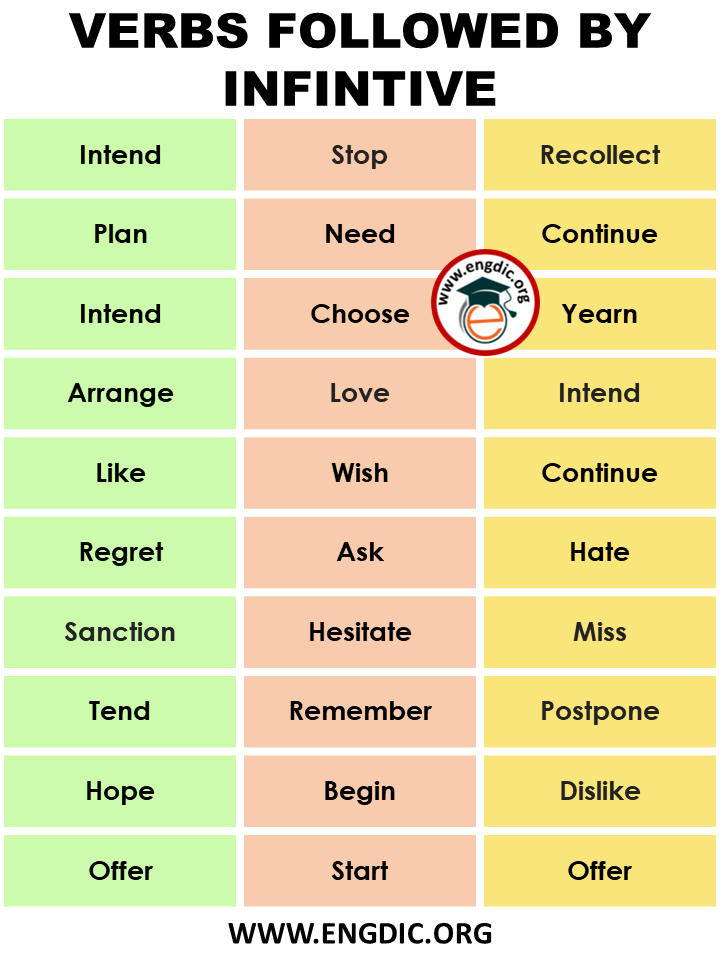 List of Verbs followed by Infinitives PDF