List of Abstract Noun from Common Nouns PDF!
What is a Noun in English?
The noun is the name of any place, thing, or any other thing. Nouns are of many types. One type is common nouns that we will be going to discuss later.
Below are some examples of nouns:
John
Obama
River
Iron
School
What are Common Nouns?
Basically, a common noun is a generic name of a person, place, or thing. Common nouns are used to name some general items instead of some specific ones. Common nouns are the more general version of a proper noun (Another type of Noun).
Below are some examples of Common Nouns:
Man
Mountain
Country
Building
What are Abstract Nouns?
An abstract noun usually refers to something that is intangible (unable to be touch), something that you can feel. Abstract nouns basically refer to emotions and feelings. There is no connection between an abstract noun and a physical object.
Going into more detail an abstract noun is a word or a group of words that refer to something or name something that you can hear, smell, taste, and feel.
Abstract nouns never refer to any kind of physical object.
What are some examples of Abstract Nouns?
Some common examples of abstract nouns are:
Anger, believe and consideration, etc.
List of Abstract Nouns from Common Nouns
Below is the list of an abstract noun from the common noun in English:
| | |
| --- | --- |
| Common Nouns | Abstract Nouns |
|  Regent | Regency |
|  Rogue | Roguery |
|  Captain | Captaincy |
|  Owner | Ownership |
|  Child | Childhood |
|  Member | Membership |
|  King | Kingdom |
|  Thief | Theft |
|  Bankrupt | Bankruptcy |
|  Infant | Infancy |
|  Common | Abstract |
|  Priest | Priesthood |
|  Woman | Womanhood |
|  Coward | Cowardice |
|  Author | Authorship/Authority |
|  Bond | Bondage |
|  Man |  Mankind |
|  Leader | Leadership |
|  Boy | Boyhood |
|  Pirate | Piracy |
|  Friend | Friendship |
|  Beggar | Beggary |
|  Patriot | Patriotism |
|  Rascal | Rascality |
|  Neighbor | Neighborhood |
|  Pilgrim | Pilgrimage |
|  Thief | Thieving |
|  Man |  Manhood |
|  Hero | Heroism |
|  Slave | Slavery |
|  King |  Kingship |
|  Friend | Friendliness |
|  Agent | Agency |
|  Glutton | Gluttony |
|  Brother | Brotherhood |
|  Scholar | Scholarship |
|  Captain | Captainship |
|  Mother | Motherhood |
 Related: List of Abstract Nouns from Verbs
Related: List of Abstract Nouns from Adjectives
Infographics (Abstract Nouns from Common Nouns)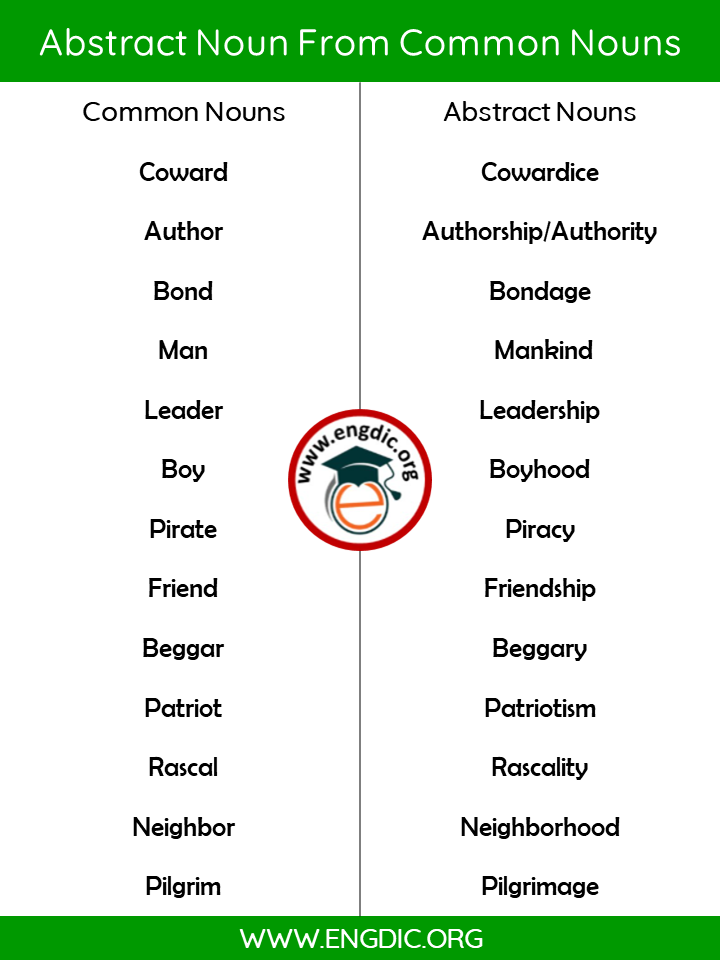 Download Pdf of Abstract Nouns from Common Nouns: