765 Nouns That Start with S
A noun is a word that represents a person, place, thing, or idea. Nouns can be classified into different types, including proper nouns, common nouns, Countable nouns, and Uncountable nouns.
List of Nouns That Start with S
Below is the list of nouns starting with s:
Nouns Beginning With SA
saccharate
sabrebill
sabretasche
sabaism
sabicu
sabbat
saberbill
sabella
sacalait
saadh
sabean
sabbatarian
sabotiere
saccharimeter
saccade
sabbatarianism
saccharilla
sabaean
sabellianism
sabellian
sabaeanism
sabot
sabbatical
saccharimetry
sabadilla
sabine
sabre
sabianism
sable
sacar
saber
sabbaton
sac
sabeism
sabbath
sabbatism
sabaeism
sabulosity
sabal
sabian
Nouns Beginning With SC
scaldfish
scabbard
scalade
scalebeam
scallion
scalloped
scala
scabrousness
scabies
scalawag
scalloping
scalaria
scabwort
scallop
scalado
scalder
scabbedness
scabbiness
scalenohedron
scads
scaleboard
scaliness
scale
scaglia
scalene
scab
scaffold
scald
scalp
scaliola
scalloper
scaffoldage
scabling
scaleback
scaffolding
scaler
scalar
scabredity
scagliola
scad
Nouns Beginning With SE
seaboard
seal
sean
sealgh
searcer
searchableness
seamanship
seam
seamstress
seabord
seaport
seaman
searcher
seah
searcloth
seapiece
seaquake
seamed
sear
seafarer
seamster
seascape
seapoy
seamark
seamstressy
seabeard
seacoast
seashore
seance
seaming
sealer
searedness
seannachie
seashell
seak
seafaring
searce
search
sea
seabeach
Nouns Beginning With SH
shag
shaffler
shadiness
shading
shacklock
shah
shagginess
shack
shabbiness
shadowiness
shahin
shade
shaft
shadrach
shagbark
shagebush
shafiite
shabby
shabble
shaddock
shake
shafting
shadbird
shader
shaftment
shakedown
shackle
shadd
shadowing
shabrack
shadow
shab
shakefork
shaftman
shaggy
shaken
shadoof
shagreen
shackatory
shaik
Nouns Beginning With SI
sickliness
sibilation
siamang
sidebone
sidepiece
sicamore
sicilian
sicilienne
sialogogue
sider
sibilance
sickerness
sickness
siberian
side
siciliano
sicklebill
sib
sibilant
siccative
sicle
sicca
sice
sibyl
siccation
sibilancy
sickle
sicklewort
sick-out
sicer
sick
sidehill
sideboard
sibylist
sida
siccity
sickleman
sibbens
siaga
sickler
Nouns Beginning With SK
skart
skeel
skep
skeelgoose
skaddle
skelly
skaith
skeletology
skatol
skeldrake
skeet
sketch
skeg
skating
skean
skeletonizer
skag
skeleton
skee
skerry
skainsmate
skein
skayles
skeptic
sketchbook
skaddon
skene
skald
skepticism
skellum
skelder
skelet
skate
skain
skegger
skater
skeine
skeed
skeelduck
skelp
Nouns Beginning With SL
slaughter
slammerkin
slackness
slater
slaughterman
slab
slate
slant
slang
slatternliness
slabbiness
slattern
slap
slaie
slacken
slating
slatting
slander
slanderer
slade
slapjack
slav
slakin
slaughterer
slat
slamkin
slapper
slatterpouch
slack
slabberer
slash
slam
slanginess
slaughterhouse
slasher
slabber
slatt
slangous
slatch
slapeface
Nouns Beginning With SM
smasher
smectite
smerlin
smegma
smallness
smallsword
smeller
smeir
smeltie
smaltite
smatch
smiddy
smell
smear
smallpox
smaragdite
smicket
smilacin
smelt
smack
smatterer
smeltery
small
smift
smaragd
smelling
smerk
smash
smatter
smallage
smaltine
smew
smelter
smee
smickering
smeath
smattering
smacking
smartness
smartweed
Nouns Beginning With SN
sneap
snead
snarl
snarler
snacket
snaphead
snaffle
snap
snakeroot
snatcher
snakehead
snag
snare
sneaker
snaw
snail
sneath
sneak
snakeweed
snakestone
snapweed
snake
sneakiness
snapper
snarer
sneaky
snaphance
snapsack
snattock
snakewood
snakefish
snatch
snakeneck
snailfish
sneaksby
snakebird
snack
snarl-up
snacot
snapdragon
Nouns Beginning With SO
soc
soar
sociability
socialization
sociate
soapwort
soaking
soak
soboles
socinian
soberness
soal
socialness
sociologist
sob
sobriquet
social
so-and-so
sociable
socialist
socage
soaproot
sociableness
soap
sobriety
socinianism
sockdolager
sociality
society
soapfish
soakage
socager
soapiness
socialism
sociology
sobbing
soaker
soapstone
soam
sock
Nouns Beginning With SP
spaddle
spaewife
spadebone
spall
spalt
spadeful
spadefish
spadroon
spaniel
spa
spahee
spadefoot
spangler
span
spacious
spanaemia
spagyrist
spaid
spadille
spanish
spakenet
space
spado
spandrel
spahi
spader
spaeman
spaad
spangle
spaniard
spaghetti
spadix
spade
spancel
spagyric
spang
spadassin
spacing
spale
spalpeen
Nouns Beginning With SQ
square
squamosal
squeal
squaller
squalodon
squeaker
squacco
squat
squash
squabble
squame
squaterole
squalidness
squamula
squamipen
squareness
squarer
squamozygomatic
squalidity
squaw
squamule
squawweed
squad
squall
squanderer
squawberry
squabby
squadron
squamella
squab
squama
squawk
squander
squasher
squawroot
squalor
squashiness
squabbler
squeak
squatter
Nouns Beginning With ST
stafette
stable
stagecoachman
stageplay
stableness
stacket
stackyard
stagery
stageplayer
stabbing
stade
staff
stabber
stager
stage
stackstand
stadium
stabilizer
stagger
stablishment
staffman
stabler
stack
stableboy
stabling
stability
stadimeter
staggard
stadtholdership
staffier
stackage
stacte
stagehouse
stagecoach
stableman
stag
stabulation
stadtholder
stab
stadtholderate
Nouns Beginning With SU
suavity
subdeacon
subdeaconry
subaltern
subcommittee
subalternate
subcarboniferous
suasion
subbasal
subadvocate
subatom
subalternation
subcontrary
subarration
subaction
subagent
subbrachian
subbeadle
subagitation
subcontractor
suability
subashdar
subagency
subconstellation
subcostal
subclass
suaviloquy
subcontract
subbreed
subashship
subdean
subaudition
sub
subash
subacid
subashdary
subalmoner
subdeaconship
subalternant
subchanter
Nouns Beginning With SW
swanpan
swage
swad
swang
swape
swan
swainship
swain
swanky
swankie
swale
swaddlebill
swabber
swanherd
swannery
swagger
swaggerer
swaddle
swarm
swallow
sward
swart
swaddler
swanskin
swallowwort
swarf
swagbelly
swallower
swanmark
swab
swallowfish
swag
swainling
swap
swallowtail
swarmspore
swanimote
swainmote
swamp
swallet
Nouns Beginning With SY
syconus
syderolite
syllabub
syke
sybarite
sycamine
sylva
syllabary
syle
syllabist
syce
sycophancy
syllogism
syllabarium
sycophantry
sybaritism
sycite
syllidian
syllogizer
syllabication
sylph
sycophantcy
syllabism
syllogization
sycee
syllabe
syllable
syconium
sycophant
sycamore
syllabus
syllabification
syenite
syllepsis
sycosis
sycophantism
sylphid
sylvan
sycoceryl
sycock
Different Types of Nouns Starting With S
Common Nouns That Start With S
Safety Goggles
Salad
Salad Bowl
Salad Fork
Salad Plates
Salt
Salt And Pepper Shakers
Salt Cellar
Sandals
Sander
Sandpaper
Sandwich
Sauce
Saucepan
Saucer
Saucers
Saw
Saw Blade
Scale
Scanner
Scarf
Scissors
Screen Protector
Screw
Screwdriver
Screws
Scrub Brush
Sculpture
SD Card
Serum
Serving Platter
Serving Spoon
Serving Trays
Sewing Machine
Shampoo
Shaving Cream
Sheet
Ship
Shipping Box
Shipping Label
Shirt
Shoes
Shopping Bag
Shorts
Shot Glass
Shower Cleaner
Shower Curtain
Sink
Skateboard
Skirt
Skydiving Suit
Slippers
Slotted Spoon
Slow Cooker
Smartphone
Smartwatch
Smoke Detector
Snorkel
Soap
Soap Dispenser
Soccer Ball
Soccer Cleats
Socks
Soda
Sofa
Soldering Iron
Soup
Soup Bowls
Soup Ladle
Spackle
Spatula
Spatulas
Speaker
Sponge
Spoon
Spoonful
Spoons
Stain Remover
Stamp
Staple
Stapler
Stemware
Step Ladder
Stethoscope
Sticky Note
Stockings
Stockpot
Stove
Straightener
Strainer
Styling Products
Submarine
Sugar
Sugar Bowl
Suitcases
Sun Hat
Sunglasses
Sunscreen
Surfboard
Surge Protector
Sweater
Swimming Goggles
Switch
Syringe
Proper Nouns That Start With S
Saguaro National Park
Sahara Desert
San Francisco
Santa Fe National Forest
Savannah River
Science Museum
Seattle
Seine River
Sequoia National Park
Shanghai
Shasta-Trinity National Forest
Shawnee National Forest
Shishapangma
Siberia
Singapore
Smithsonian Institution
Snake River
South African Standard Time
South Atlantic Ocean
South China Sea
South Pole
Southeast Asia Time
Southern Ocean
Space Needle
Lawrence River
Statue of Liberty
Stockholm
Strait of Gibraltar
Strait of Hormuz
Strait of Magellan
Strait of Malacca
Strait of Messina
Superior National Forest
Susquehanna River
Sutlej River
Sydney
Sydney Opera House
Syr Darya River
Countable Nouns That Start With S
Sandals
Shampoo
Shirt
Shoe
Sleeping Bag
Soccer Ball
Soccer Shoes
Spoon
Suitcase
Sunglasses
Swim Cap
Swing Set
Uncountable Nouns That Start With S
Sacrifice
Sadness
Safety
Salvation
Sanitation
Satisfaction
Scandal
Scarcity
Scholarship
Science
Scorn
Sculpture
Seafood
Secrecy
Security
Seduction
Segregation
Seizure
Selfishness
Semantics
Seminars
Sensation
Sensitivity
Sentimentality
Serenity
Service
Settlement
Sexism
Sexuality
Shadow
Shame
Sharing
Shaving
Sheer
Shock
Shopping
Shyness
Sickness
Silence
Simplicity
Sincerity
Sinfulness
Singing
Situation
Skill
Slavery
Sleep
Sluggishness
Smoking
Smuggling
Socialism
Society
Solidarity
Solitude
Solution
Sophistication
Sorcery
Sorrow
Sound
Sovereignty
Space
Sparkle
Speaking
Specialization
Speculation
Speed
Spirituality
Spite
Sport
Stability
Stagnation
Stance
Standing
Stardom
Statehood
Status
Steadfastness
Stealing
Steel
Stereotyping
Stigma
Stillness
Stimulus
Storytelling
Strategy
Strength
Stress
Strife
Struggle
Studying
Submission
Substance
Subtlety
Success
Suffering
Sugar
Suicide
Summation
Superstition
Support
Suppression
Surface
Surgery
Surrender
Survival
Suspicion
Sustainability
Swearing
Sweat
Sympathy
Symphony
Synthesis
System
Nouns Starting With S – Definition and Example Sentences
Sailboat: a boat or vessel with sails, often used for recreational or competitive sailing.
The sailboat glided smoothly across the water, propelled by the wind.
Salad: a dish consisting of mixed greens, vegetables, and often meat, cheese, or nuts, served with a dressing.
She ordered a Caesar salad for lunch at the restaurant.
Salt: a crystalline substance often used for seasoning or preserving food, or for melting ice.
She sprinkled some salt on her fries for extra flavor.
Sand: small particles of rock or minerals, often found on beaches or deserts.
They walked along the sand, enjoying the warmth of the sun.
Sandwich: a food item consisting of two or more slices of bread with fillings such as meat, cheese, or vegetables.
She made a turkey and cheese sandwich for lunch.
Santa: a fictional character associated with Christmas, often depicted as a jolly, bearded man in a red suit.
The children eagerly awaited Santa's arrival on Christmas Eve.
Sauce: a thick liquid often used as a condiment or flavoring for food, often made from a combination of ingredients.
She poured some sauce over her pasta to enhance the taste.
School: an institution for education and learning, often attended by children and young adults.
She went to school to learn new things and make friends.
Science: the study of the natural world and its phenomena, often involving experimentation and observation.
He enjoyed learning about science and conducting experiments in the lab.
Scissors: a cutting tool with two blades joined by a pivot, often used for cutting paper, fabric, or hair.
She used the scissors to trim her hair and give herself a new look.
Nouns That Start With S – Pictures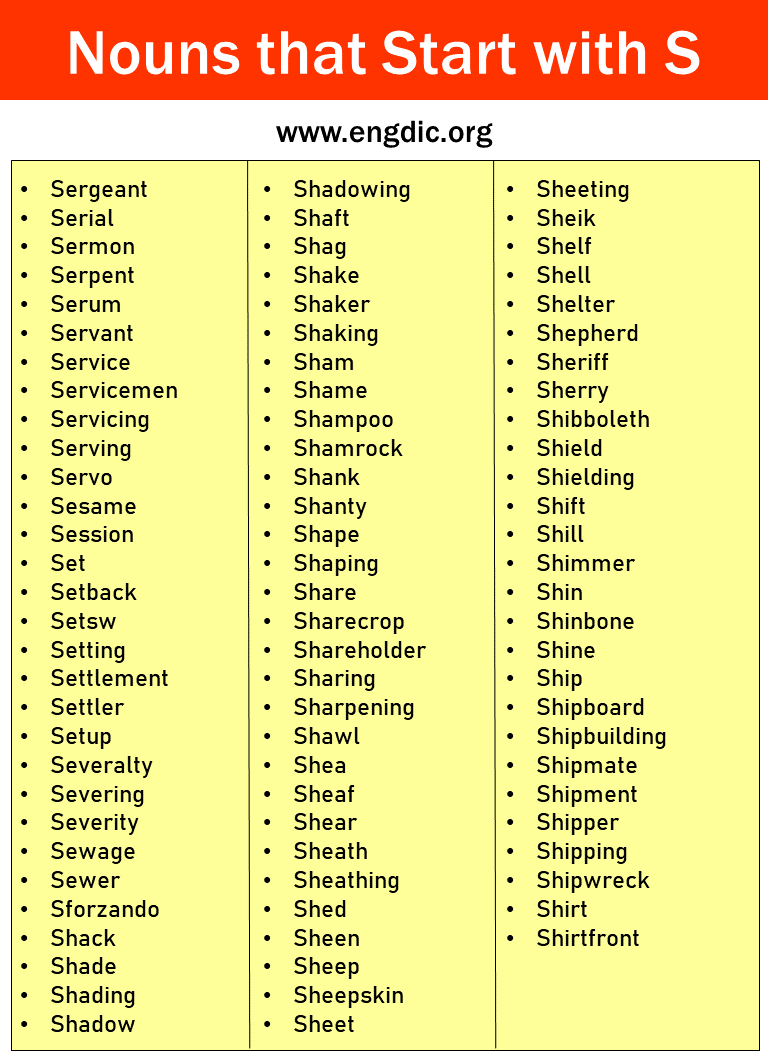 Explore other Nouns that start with:
A – B – C – D – E – F – G – H – I – J – K – L – M – N – O – P – Q – R – S – T – U – V – W – X – Y – Z