350 Nouns That Start With K
A noun is a word that represents a person, place, thing, or idea. Nouns can be classified into different types, including proper nouns, common nouns, Countable nouns, and Uncountable nouns.
List of Nouns That Start With K
Below is the list of nouns starting with k:
Nouns Beginning With KA
kaleege
kakaralli
kainite
kaique
kahani
kabala
kalender
kage
kaffir
kaiser
kadiaster
kabassou
kain
kakoxene
kakapo
kabob
kaleidoscope
kalendar
kakistocracy
kafilah
kaffle
kaimacam
kabyle
kalan
kahau
kainit
kale
kaguan
kail
kaka
kafir
kadi
kairoline
kafal
kabook
kalasie
kadder
kairine
kaama
kagu
Nouns Beginning With KE
kelpie
kelpware
keeler
keeling
keitloa
keckle
keelman
keever
keeping
keckling
keeper
keelson
kelp
keelvat
keesh
keepsake
kelotomy
kedge
keener
keel
kell
kelpfish
kedger
keir
keloid
keeve
keep
kelson
keepership
kedlook
keen
keenness
keelfat
keech
kelpy
keelivine
keck
keg
keelage
kecksy
Nouns Beginning With KH
kholsun
khan
khaya
khamsin
khutbah
khanate
khedive
kholah
khaliff
khenna
Nouns Beginning With KI
killigrew
killikinick
kickup
kidderminster
kill
kibitka
kiddie-cam
kiang
kieserite
kidneywort
kiblah
kidnapper
kiddier
killesse
kiddle
kier
kiefekil
killer
kick
kiddy
kickshoe
killdee
killifish
kicker
kilderkin
killdeer
kieselguhr
kidnaper
kidney
kickshaw
kiddow
kidling
kibble
kid
kickshaws
kiddie
kibe
kieve
kick-start
kichil
Nouns Beginning With KL
klipspringer
klicket
kleptomania
klinometer
klick
kloof
klopemania
klinkstone
klipdachs
klipfish
kleptomaniac
kleeneboc
klipdas
Nouns Beginning With KN
knighthood
knightliness
knaveship
knavishness
knickknackery
knag
kneader
knick-knack
kneepiece
knap
kneeler
knebelite
knightage
kneck
knell
knees-up
knight
knapsack
kneebrush
knave
knife
knighthead
knapweed
knickknackatory
knifeboard
knicker
kneejoint
kneepan
knar
knee
kneecap
knack
knavess
knarl
knit
knawel
knacker
knickknack
knavery
knapbottle
Nouns Beginning With KO
koff
koba
koord
koorilian
kokoon
koran
kohnur
koaita
kolarian
kousso
korin
kobellite
kob
korrigum
kohinoor
kohl
kobalt
konite
kotow
kobold
koolokamba
koel
konze
koala
koumiss
kowtow
koodoo
kosmos
kodak
koulan
kokama
koordish
kookoom
kopeck
koklass
koolslaa
komtok
Nouns Beginning With KR
kryolite
krokidolite
kreng
kreosote
krang
kraken
kris
kremlin
krooman
kritarchy
krone
kraal
kra
kreel
kruller
kreatin
krems
krummhorn
krameria
kreatinin
krishna
krait
kriegsspiel
krumhorn
kreutzer
krakowiak
Nouns Beginning With KU
kursaal
kussier
kuklux
kutch
kudos
kulan
kuda
kumiss
kurd
kummel
kumquat
kudu
kusimanse
kupfernickel
kutauss
kukang
kurilian
kumish
Nouns Beginning With KY
kyriology
kyrie
kymograph
kyley
kyannite
kymry
kymric
kyanophyll
kytomiton
kyriolexy
kynrede
kyaw
kymnel
kyanol
kyar
kyrielle
Different Types of Nouns Starting With K
Common Nouns That Start With K
Ketchup
Kettle
Key
Keyboard
Keychain
Kitchen Knife
Kitchen Scale
Kitchen Towel
Knife
Knitting Needles
Knives
Knob
Proper Nouns That Start With K
K2
Kabul River
Kangchenjunga
Kara Sea
Kaveri River
Kilimanjaro
Kings Canyon National Park
Kisatchie National Forest
Kolkata
Korean Standard Time
Krishna River
Kuroshio Current
Countable Nouns That Start With K
Kaleidoscope
Kettle
Key
Keyboard
Keyboard Stand
Keyboard Tray
Kitchen Apron
Kitchen Knife
Kitchen Scale
Kitchen Scissors
Kitchen Sponge
Kitchen Sponge Holder
Kitchen Strainer
Kitchen Timer
Kitchen Timer Clock
Kitchen Tongs
Kitchen Trash Can
Kitchen Utensils
Kite
Knife Sharpener
Uncountable Nouns That Start With K
Karma
Kindness
Kinship
Kiss
Knowledge
Nouns Starting With K – Definition and Example Sentences
Kaleidoscope: a tube-shaped instrument with mirrors and colored glass or other objects inside, that shows changing patterns when rotated.
The kids were mesmerized by the kaleidoscope's ever-changing patterns.
Kangaroo: a marsupial mammal found mainly in Australia, that has a large tail and powerful hind legs for jumping.
The kangaroo hopped through the field, graceful despite its size.
Keyboard: an electronic device consisting of a set of keys used for typing, playing music, or inputting commands into a computer or other device.
She typed on the keyboard to send an email to her boss.
Ketchup: a thick, sweet and tangy sauce made from tomatoes, vinegar, and spices.
I put ketchup on my burger for extra flavor.
Kettle: a container with a spout, handle, and lid used for boiling water or other liquids.
She boiled water in the kettle for a cup of tea.
Key: a small piece of metal, usually with teeth, used for opening or locking doors, starting vehicles, or winding clocks.
He inserted the key into the lock and turned it to open the door.
Keyboardist: a musician who plays the keyboard or piano.
The keyboardist played a beautiful melody on the piano.
Kick: an act of striking someone or something with the foot.
He gave the ball a powerful kick and sent it flying into the goal.
Kid: a child or young goat.
The kids played together in the park, laughing and having fun.
Killer: a person or thing that kills or causes death.
The police were on the lookout for a serial killer in the area.
Nouns That Start With K – Pictures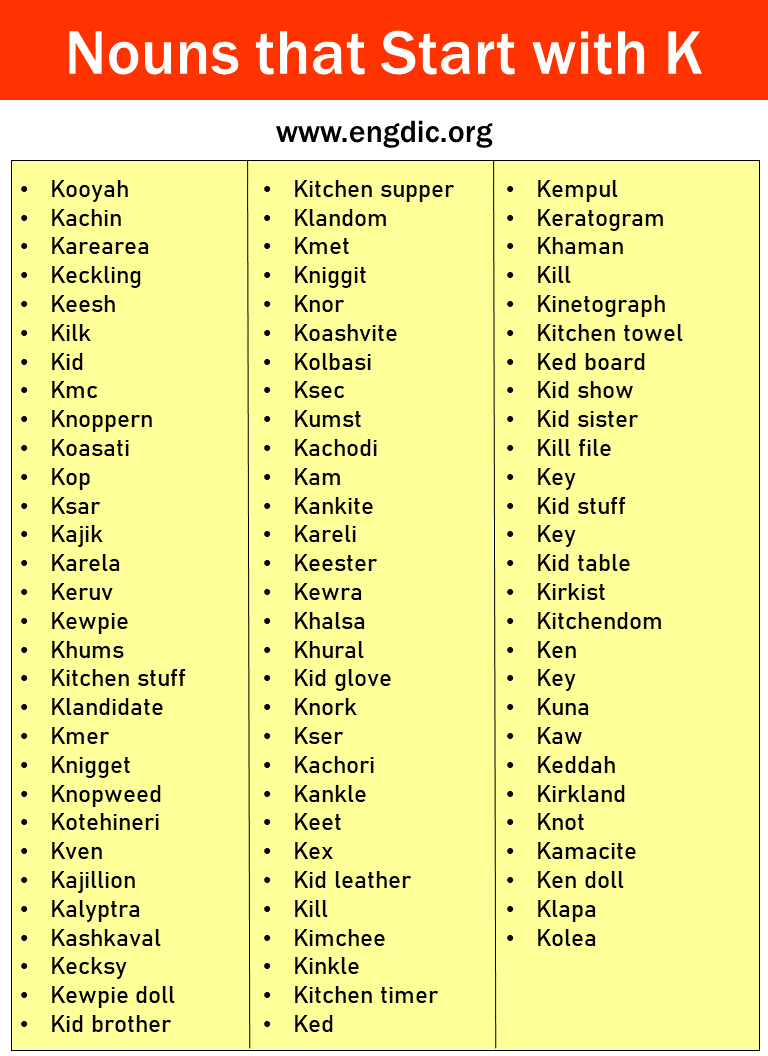 Explore other Nouns that start with:
A – B – C – D – E – F – G – H – I – J – K – L – M – N – O – P – Q – R – S – T – U – V – W – X – Y – Z
Last updated on March 19th, 2023 at 09:47 am