List of Emotions and Feelings in English! Here is a big list of different emotions of different types with infographics and a PDF.
Emotions and feelings are often used interchangeably, but they are distinct experiences.
Emotions refer to a complex psychological and physiological state that arises in response to a specific event or situation. Emotions are often experienced as strong feelings or urges, such as happiness, anger, fear, or sadness. They are generally thought to be universal and biologically based, although the way they are expressed and experienced can vary across cultures.
Feelings, on the other hand, refer to the conscious experience of emotions. They are subjective experiences that arise in response to our emotions and are shaped by our personal experiences, beliefs, and values. For example, if you feel anxious before giving a speech, this is a feeling that arises in response to the emotion of fear.
In short, emotions are the automatic response to a stimulus, while feelings are the conscious experience of those emotions.
List of Emotions and Feelings in English
STRONG
Dynamic
Determined
Confident
Certain
Bold
Ambitious
Unique
Tenacious
Sure
Secure
Powerful
Hardy
Empowered
FEAR
Dread
Baffled
Avoidance
Agitated
Vulnerable
Terrified
Tense
Scared
Overwhelmed
Insecure
HELPED
HAPPY
Enthusiastic
Delighted
Content
Charmed
Amused
Pleased
Optimistic
Marvelous
Loving
Joyful
Grateful
Glad (Synonym of Happy)
EMBARRASSED
Inferior
Guilty
Confused
Ashamed
Self-conscious
Repugnant
Pathetic
Lonely
Isolated
SAD
Frustrated
Dismayed
Disgusted
Desperate
Depressed
Dejected
Crushed
Weepy
Upset
Sorrowful
Mournful
Heavy
Hateful
ANGER
Disgusted
Critical
Bitter
Annoyed
Agitated
Resentful
Raging
Outraged
Mad
Livid
Irritated
Furious
Fed up
SURPRISE
Exhilarated
Enchanted
Delighted
Curious
Astonished
Stunned
Splendid
Shacked
Replenished
Playful
Passionate
Mystified
Inquisitive
Incredulous
Impressed
TIRED
Dull
Drained
Dejected
Burned out
Bored
Weary
Stale
Powerless
Listless
Indifferent
Fatigued
Exhausted
HURT
Damaged
Criticized
Betrayed
Abused
Wounded
Tender
Rejected
Punished
Let down
Jealous
Impaired
CONFIDENT
Comforted
Certain
Brave
Assured
Successful
Strong
Secure
Relaxed
Prepared
Peace
Encouraged
CONFUSION
Upset
Unsure
Uncertain
Tense
Shy
Pessimistic
Perplexed
Lost
Indecisive
Hesitant
Embarrassed
Doubtful
ENERGIZED
Healthy
Focused
Determined
Creative
Vibrant
Strengthened
Renewed
Refreshed
Motivated
Invigorated
Inspired
PANIC
Frozen
Desperate
Anxious
Unsure
Uncomfortable
Troubled
Stunned
Stuck
Mixed up
Hurt
Also Study: Adjectives that Starts with G
ANOTHER LIST OF EMOTIONS
calm
mortification
exasperation
greedy
ecstasy
jolly
sorry
agitation
scorn
subdued
complacent
apprehension
anguish
weariness
dismay
outgoing
guilt
fright
peaceful
vivacious
quiet
affection
emotional
fear
happy
queasy
pushy
surprise
envy
equanimity
self-assured
thrill
liking
anxiety
unhappiness
satisfaction
fondness
kindhearted
conceited
capricious
hopeless
vengeful
admiration
shock
acceptance
glum
fury
anticipation
lust
embarrassment
passive
wrathful
agony
love
upset
adoration
gloating
crazed
anger
grouchy
defeated
pensive
optimism
distress
modesty
rapture
torment
sardonic
boredom
disturbed
passion
terror
venal
caring
pleased
quarrelsome
watchfulness
aggravation
awe
envious
cross
ecstatic
jaded
kind
assured
dread
contentment
exhausted
insecurity
amazement
weary
disillusioned
submission
composed
insulted
alienation
alarm
enthusiasm
agreeable
crazy
nirvana
flustered
resigned
bliss
extroverted
cheerful
cautious
grief
jolliness
kindly
vanity
sorrow
attachment
enraptured
blue
smug
distraction
annoyance
astonishment
stressed
humiliation
bitterness
frustration
tranquil
hysteria
introverted
delighted
stingy
zest
fatalistic
disappointment
pride
unhappy
spite
querulous
sympathy
merry
enjoyment
shame
resentment
lulled
trust
relief
dependence
disgust
generous
furious
keen
hostility
rage
stoical
roused
uncomfortable
wary
enchanted
horror
aggressive
lonely
grumpy
desire
repentance
compliant
joy
serenity
jealous
cruel
grim
interested
loneliness
open
beleaguered
ferocity
proud
flummoxed
crabby
easy-going
wonder
irritation
closeness
outrage
lazy
disenchanted
euphoria
amusement
naughty
tenderness
frightened
misery
assertive
defiance
rejection
jittery
spellbound
zeal
pity
pessimism
tense
ornery
sadness
enthralled
joviality
longing
dissatisfied
enraged
panic
dislike
isolation
bewitched
concerned
attraction
vain
vigilance
homesick
fearful
angry
content
jubilation
placid
hurt
contempt
woe
self-satisfied
gloomy
excited
compassion
displeasure
exuberant
happiness
quirky
mad
timidity
fascinated
enamored
sad
suffering
discontent
earnest
vexed
calculating
elation
relieved
nervous
afraid
remorse
depressed
scared
eager
charmed
harried
worried
revulsion
disapproval
like
glad
sarcastic
neglected
Feelings and Emotions (Meaning and Example Sentence)
Disappointment: Feeling let down or unhappy due to unfulfilled expectations.
She was disappointed by the outcome.
Enthusiasm: A strong feeling of excitement and eagerness.
He approached the task with enthusiasm.
Loneliness: Feeling sad and alone due to lack of companionship.
She often felt loneliness in the big city.
Gratitude: Feeling thankful or appreciative for something.
He expressed gratitude for the kind gesture.
Jealousy: Feeling envious or resentful towards someone's success.
She couldn't help feeling jealousy towards her friend's achievements.
Pride: A feeling of satisfaction and accomplishment.
She felt pride in her daughter's achievements.
Hope: Feeling optimistic about a positive outcome.
He held onto hope despite the difficult circumstances.
Regret: Feeling remorseful or sorry for past actions.
He regretted not taking the opportunity when it was presented.
Excitement: Feeling thrilled or eager about something.
The kids were filled with excitement on Christmas morning.
Anxiety: A feeling of unease or nervousness.
She felt anxiety before her big presentation.
Curiosity: A strong desire to learn or know more.
He had a natural curiosity about the world around him.
Surprise: A feeling of astonishment or shock.
She expressed surprise at the unexpected news.
Disgust: A feeling of revulsion or strong dislike.
He couldn't hide his disgust at the sight of the spoiled food.
Contentment: A feeling of satisfaction and happiness.
She found contentment in the simple things in life.
Embarrassment: A feeling of self-consciousness or shame.
He felt embarrassment when he tripped in front of his crush.
Guilt: A feeling of responsibility or remorse for a wrongdoing.
She felt guilt for lying to her parents.
Anticipation: A feeling of excitement or expectation.
He looked forward to the weekend with anticipation.
Trust: A feeling of confidence in someone's reliability or honesty.
She had complete trust in her best friend.
Resentment: A feeling of bitterness or indignation.
He couldn't shake the feeling of resentment towards his boss.
Empathy: A feeling of understanding and compassion towards others.
She showed empathy towards her friend who was going through a tough time.
Infographics (Emotions and Feelings List)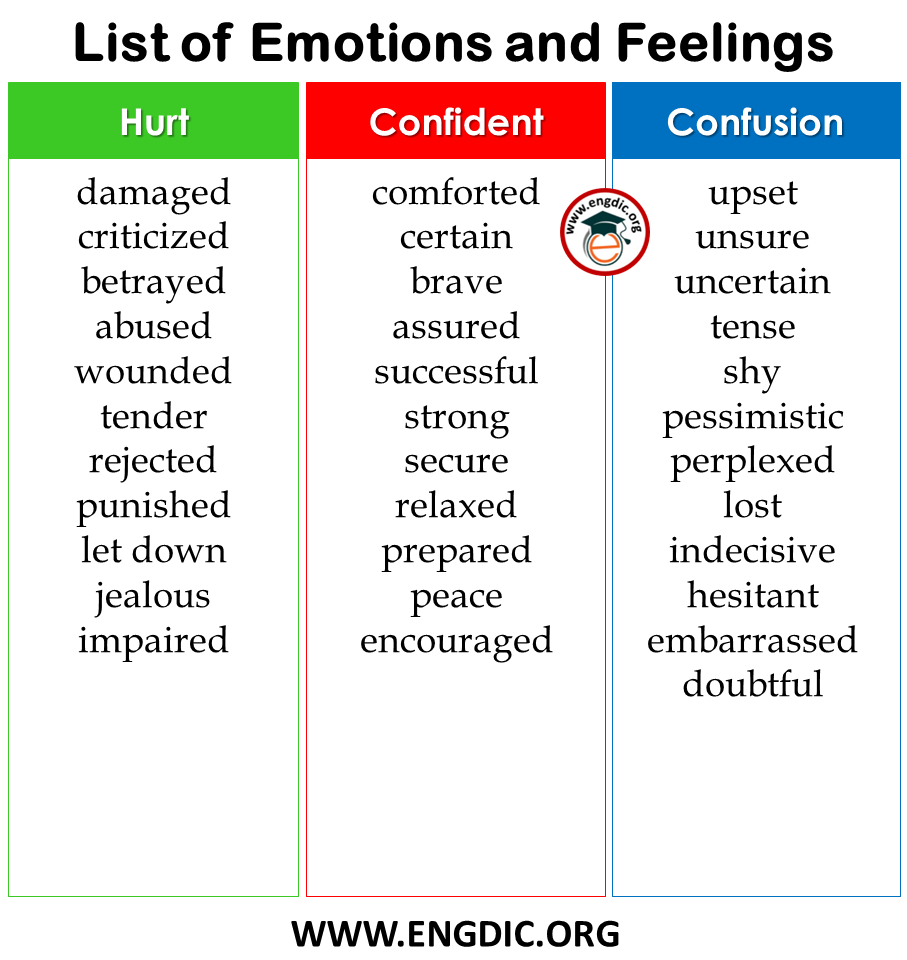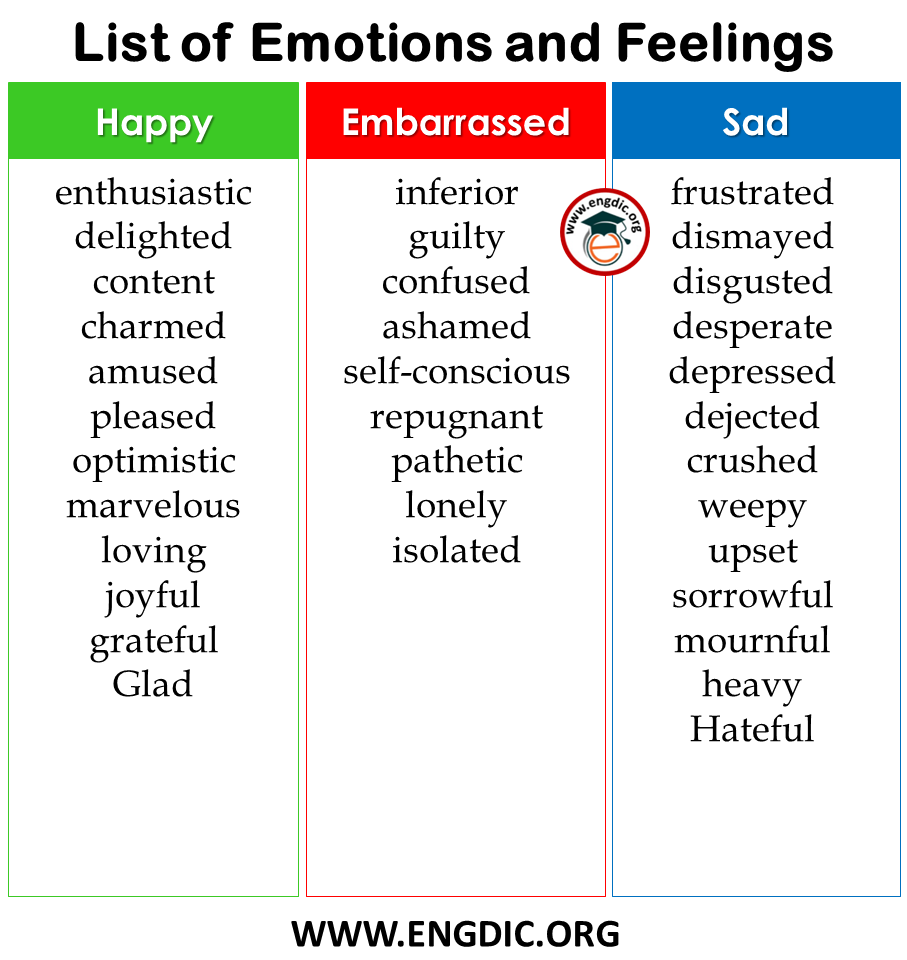 List of emotions and feelings PDF