750 Verbs Starting with S! Verbs are an essential part of any language – they make sentences come alive, convey action and meaning, and essentially turbocharge your communication. Whether you're learning a new language or simply beefing up your vocabulary, having access to a comprehensive list of verbs can be incredibly useful! In this blog post, we'll explore 750 commonly-used verbs starting with the letter 'S.'
List of Verbs Starting with S
Verbs Starting with SA
sack
salmon
sadden
salaam
sadducize
salient
sallow
saffron
safe
saint
sacrament
safeguard
sacrifice
saltire
sable
salt
salivate
saginate
sacrate
sain
sale
saltate
saber
sag
salute
saith
salite
saccharize
sacramentize
saltant
sally
salary
sail
saddle
salue
sad
sacre
sabre
salify
saccharify
Verbs Starting with SC
schismatize
scape
scavenge
scath
scavenger
scandal
scapple
scare
scern
scarlet
scantling
scantle
scene
scamble
scarify
scallop
scabbard
schematize
scarf
scamper
scan
scapement
scabble
scepter
scent
scholiaze
scatter
scaffold
scandalize
sceptre
scalp
scar
scarp
scathe
scheme
scab
scald
scant
scale
schedule
Verbs Starting with SD
Verbs Starting with SE
segregate
second-guess
seize
seemly
season
sear
sectionalize
segment
secure
sedate
secede
seise
sejein
seche
secularize
seesaw
seel
secern
section
sectionize
searce
seal
second
secundate
seduce
seam
see
seep
seclude
seek
seigniorize
secrete
seethe
search
seem
searcloth
sectarianize
secret
seed
seat
Verbs Starting with SH
shark
sheaf
shear
shab
shail
shed
sheathe
shampoo
sharp
sheave
shawl
shadow
shall
shack
shaffle
shank
shaft
sheepbite
shatter
sheet
shallow
shake
shag
shanghai
sheen
shagreen
share
sharpen
shame
sheer
sheal
shamble
sham
sheading
shackle
shave
shanty
shale
shade
shape
Verbs Starting with SI
sift
siccate
simmer
sicker
sidle
silken
simple
simulate
sight
similize
silverize
sig
siderealize
silence
silage
signation
sin
silhouette
silicify
sicken
simper
sigh
signature
signal
sign
sibilate
side
sigger
siege
sick
signiorize
sight-read
silt
sile
simplify
signate
signpost
silver
sike
sickly
Verbs Starting with SK
skiff
skrike
skelly
skirt
skip
skedaddle
skunk
skill
skelp
skittish
skew
skive
skin
skittles
skun
skall
skim
skelter
skipper
skinch
skreen
ski
skink
sklere
skepticize
sken
skringe
skilder
skeletonize
skimp
skirmish
sketch
skate
skelder
skid
skirr
skulk
skrimp
skewer
skit
Verbs Starting with SL
slatter
slave
slap
sle
slate
slacken
slag
sleid
slaughter
slaver
sliddery
slabber
slash
slang
slee
sley
sleave
sleek
sleep
slack
slake
slice
slam
slapdash
slent
sleet
slide
slander
slattern
sleeve
slat
slidderly
slidder
slant
slay
slick
sled
slam-dunk
slew
sledge
Verbs Starting with SM
smart
smother
smeeth
smittle
smelt
smolder
smoothen
smight
smerk
smite
smarten
smicker
smatter
smug
smouch
smooth
smilt
smash
smirk
smoke
smudge
smutch
smile
smut
smitt
smoor
smalt
smartle
smoulder
smore
smock
smirch
smell
smuggle
smear
smatch
smack
smooch
small
Verbs Starting with SN
snore
sneck
snig
sniff
snot
snigger
snatch
sneer
snet
snivel
snick
sneb
sneap
sniggger
snare
snib
snape
snack
snook
snew
snarl
snast
sned
snaffle
snip
sniggle
snort
snift
snag
snathe
snite
snar
sneeze
snicker
sniffle
snooze
snake
sneak
snap
snood
Verbs Starting with SO
solve
soil
soliloquize
socinianize
sober
soldier
solute
solemnize
soleship
sod
sombre
soder
soap
solecize
solo
solidate
sodden
solder
sole
soberize
soar
soft-soap
solemnizate
sol-fa
sob
solfeggiare
sollar
soften
solicitous
somber
solace
solstice
soak
socialize
solidify
sociate
solarize
sojourn
solicit
sock
Verbs Starting with SP
spawn
speck
spectate
spade
spank
speechify
speculate
space
sparse
spay
speech
specificate
spancel
spare
spae
spane
spat
spang
speer
spear
sparge
spar
spangle
spasm
speed
spaniel
spawl
speak
sparpoil
speckle
sparkle
spacelate
spark
specify
spall
specialize
spatiate
sparble
span
spatter
Verbs Starting with SQ
squeal
squail
square
squawl
squabash
squiggle
squeeze
squawk
squirr
squab
squander
squib
squirrel
squire
squiny
squabble
squat
squelch
squeak
squall
squirt
squint
squirm
squash
Verbs Starting with ST
starch
stagger
stamp
stall-feed
stark
stampede
staddle
stain
stale
stank
starve
stall
stage-manage
stage
start
stanch
state
stable
stalk
stabilitate
star
stalemate
stablish
stack
stagnate
standardize
stand
stare
stammer
startle
staff
stang
stabilize
stake
staller
staminate
starboard
stag
stab
staple
Verbs Starting with SU
subordinate
subduce
subpoena
subministrate
subact
suade
subindicate
subsecute
subnex
subjugate
sublate
subaud
subpena
subrogate
subdelegate
subject
submonish
submerge
subcontract
subibfer
subinduce
suage
subdivide
subjoin
sublet
sublimable
submit
subdiversify
sublime
suborn
subdue
subnect
suavify
subminister
subscribe
sub
subhumerate
subduct
sublimate
subaid
Verbs Starting with SW
sway
swell
swelter
swale
swerd
sweltry
swill
swart
sweal
swelve
sweet
swaddle
swan
swag
swarve
swage
swift
sweat
swig
swap
swallow
swagger
swarthy
swerve
swim
swaip
swathe
swear
swarm
swifter
swelt
swarf
sward
sweeten
swab
sweep
swash
swamp
swabber
swath
Verbs Starting with SY
symbol
syke
syllable
symphonize
symbolize
syllabize
systematize
synonymize
sycophantize
sympathize
synthesize
syncopize
syncopate
syllabify
symmetrize
syllogize
sycophant
synthetize
synchronize
systemize
syndicate
syphilize
syringe
syllabicate
Verbs That Start With S and Their Meaning
Sabotage: Destroy, hinder
Sacrifice: Give up, offer
Sadden: Make sad
Safeguard: Protect, ensure
Sail: Navigate by boat
Salute: Greet, honor
Salvage: Rescue, recover
Sanction: Approve, penalize
Satisfy: Fulfill, please
Save: Rescue, store
Saw: Cut with saw
Say: Express with words
Scan: Examine, analyze
Scare: Frighten, alarm
Scatter: Spread, disperse
Schedule: Plan, arrange
Scheme: Plan, plot
Scoff: Mock, ridicule
Score: Record, earn
Scorch: Burn, parch
Scowl: Frown, glower
Scramble: Climb, hurry
Scrape: Rub, scratch
Scratch: Scrape, mark
Scream: Shout, yell
Screen: Show, hide
Screw: Fasten, twist
Scrounge: Beg, search
Scrub: Clean, wash
Scuffle: Struggle, fight
Sculpt: Carve, shape
Seal: Close, secure
Search: Look for
Seat: Position, place
Secure: Protect, obtain
See: Observe, perceive
Seek: Search for
Seize: Grab, capture
Select: Choose, pick
Sell: Trade, market
Send: Deliver, dispatch
Sense: Perceive, feel
Separate: Divide, disconnect
Serve: Assist, provide
Set: Place, establish
Settle: Resolve, establish
Sew: Stitch, mend
Shake: Move, vibrate
Shape: Form, mold
Share: Divide, distribute
Shatter: Break, destroy
Shed: Drop, discard
Shelter: Protect, house
Shift: Move, change
Shine: Glow, radiate
Ship: Transport by ship
Shock: Surprise, startle
Shoot: Fire, photograph
Shop: Buy, sell
Show: Display, demonstrate
Shred: Tear, cut
Shrink: Decrease, contract
Shrug: Dismiss, ignore
Shudder: Tremble, quiver
Shuffle: Walk, mix
Shut: Close, lock
Sicken: Make ill
Sift: Filter, separate
Signal: Communicate, indicate
Signify: Mean, represent
Silence: Quiet, hush
Simulate: Imitate, pretend
Sing: Vocalize, chant
Sink: Descend, submerge
Sit: Rest, be seated
Sketch: Draw, outline
Skim: Read quickly, glide
Skip: Leap, omit
Slam: Close violently
Slander: Defame, libel
Slash: Cut, reduce
Sleep: Rest, slumber
Slice: Cut, divide
Slide: Slip, glide
Slip: Slide, fall
Slow: Decrease speed
Smell: Sense odor
Popular S-Verbs in Example Sentences
Say: She said hello to her neighbor as she walked by.
Sing: He sang his favorite song at the karaoke bar.
Study: She studied for her exams late into the night.
Smile: He smiled at the cute baby in the stroller.
Stand: She stood up for herself in a difficult situation.
Sleep: He slept for eight hours to recharge his energy.
Spend: She spent the weekend with her family at the beach.
Speak: He spoke with confidence during his presentation.
Search: She searched for her lost keys around the house.
Serve: He served his guest's delicious food and drinks.
Verbs With Letter S and their Three Forms
| | | |
| --- | --- | --- |
| Base Form | Past Form | Past Participle |
| screw | screwed | screwed |
| solve | solved | solved |
| sweat | sweat | sweat |
| savor | savored | savored |
| slay | slew | slain |
| strive | strove | striven |
| sally | sallied | sallied |
| shock | shocked | shocked |
| step | stepped | stepped |
| sap | sapped | sapped |
| shun | shunned | shunned |
| stitch | stitched | stitched |
| set | set | set |
| spray | sprayed | sprayed |
| sentence | sentenced | sentenced |
| split | split | split |
| saponify | saponified | saponified |
| shut | shut | shut |
| stoop | stooped | stooped |
| scar | scarred | scarred |
| smite | smote | smitten |
| support | supported | supported |
| sashay | sashayed | sashayed |
| signal | signalled | signalled |
| store | stored | stored |
| saddle | saddled | saddled |
| shirk | shirked | shirked |
| steal | stole | stolen |
| scatter | scattered | scattered |
| sneak | sneaked | sneaked |
| surround | surrounded | surrounded |
| select | selected | selected |
| spill | spilt | spilt |
| sanction | sanctioned | sanctioned |
| shrink | shrank | shrunk |
| stir | stirred | stirred |
| sate | sated | sated |
| sing | sang | sung |
| stray | strayed | strayed |
| see | saw | seen |
| speak | spoke | spoken |
| swot | swotted | swotted |
| seem | seemed | seemed |
| spell | spelt | spelt |
| sass | sassed | sassed |
| signify | signified | signified |
| strain | strained | strained |
| scald | scalded | scalded |
| slip | slipped | slipped |
| suck | sucked | sucked |
| sadden | saddened | saddened |
| shine | shone | shone |
| stay | stayed | stayed |
| sanctify | sanctified | sanctified |
| show | showed | shown |
| stink | stank | stunk |
| saunter | sauntered | sauntered |
| skid | skidded | skidded |
| strike | struck | struck/stricken |
| secure | secured | secured |
| sparkle | sparkled | sparkled |
| swing | swung | swung |
| scale | scaled | scaled |
| slit | slit | slit |
| suffer | suffered | suffered |
| shatter | shattered | shattered |
| stare | stared | stared |
| seize | seized | seized |
| spend | spent | spent |
| sabotage | sabotaged | sabotaged |
| shave | shove | shaven |
| start | started | started |
| scarify | scarified | scarified |
| smother | smothered | smothered |
| surge | surged | surged |
| sacrifice | sacrificed | sacrificed |
| shed | shed | shed |
| scorch | scorched | scorched |
| sniff | sniffed | sniffed |
| survive | survived | survived |
| scream | screamed | screamed |
| solicit | solicited | solicited |
| swear | swore | sworn |
| scab | scabbed | scabbed |
| sling | slung | slung |
| subtract | subtracted | subtracted |
| sash | sashed | sashed |
| sight | sighted | sighted |
| stop | stopped | stopped |
| shake | shook | shaken |
| sprout | sprouted | sprouted |
| scrub | scrubbed | scrubbed |
| soothe | soothed | soothed |
| sweep | swept | swept |
| search | searched | searched |
| sort | sorted | sorted |
| swell | swelled | swollen |
| sell | sold | sold |
| spin | span/spun | spun |
| satisfy | satisfied | satisfied |
| sit | sat | sat |
| strew | strewed | strewn |
| share | shared | shared |
| stand | stood | stood |
| satiate | satiated | satiated |
| send | sent | sent |
| sink | sank | sunk |
| spit | spat/spit | spat/spit |
| stress | stressed | stressed |
| salute | saluted | saluted |
| shoe | shod | shod |
| sterilize | sterilized | sterilized |
| scabble | scabbled | scabbled |
| slink | slunk | slunk |
| succeed | succeeded | succeeded |
| scam | scammed | scammed |
| smash | smashed | smashed |
| suggest | suggested | suggested |
| satirise | satirised | satirised |
| sip | sipped | sipped |
| stretch | stretched | stretched |
| scan | scanned | scanned |
| smell | smelt | smelt |
| summon | summoned | summoned |
| sack | sacked | sacked |
| shear | shore | shorn |
| state | stated | stated |
| sail | sailed | sailed |
| shiver | shivered | shivered |
| stem | stemmed | stemmed |
| sever | severed | severed |
| spread | spread | spread |
| say | said | said |
| slim | slimmed | slimmed |
| subscribe | subscribed | subscribed |
| save | saved | saved |
| slam | slammed | slammed |
| string | strung | strung |
| saw | sawed | sawn |
| slide | slid | slid/slide |
| submit | submitted | submitted |
| scarp | scarped | scarped |
| snap | snapped | snapped |
| surmise | surmised | surmised |
| salve | salved | salved |
| shorten | shortened | shortened |
| stimulate | stimulated | stimulated |
| sew | sewed | sewn |
| spring | sprang | sprung |
| scowl | scowled | scowled |
| soar | soared | soared |
| swallow | swallowed | swallowed |
| savvy | savvied | savvied |
| sleep | slept | slept |
| study | studied | studied |
| shape | shaped | shaped |
| squeeze | squeezed | squeezed |
| sample | sampled | sampled |
| shout | shouted | shouted |
| sting | stung | stung |
| scrawl | scrawled | scrawled |
| sob | sobbed | sobbed |
| sway | swayed | swayed |
| scat | scatted | scatted |
| snatch | snatched | snatched |
| surpass | surpassed | surpassed |
| scare | scared | scared |
| smooth | smoothed | smoothed |
| suppose | supposed | supposed |
| separate | separated | separated |
| spoil | spoilt | spoilt |
| sag | sagged | sagged |
| scant | scanted | scanted |
| shit | shit | shit |
| smile | smiled | smiled |
| steep | steeped | steeped |
| supply | supplied | supplied |
| salvage | salvaged | salvaged |
| shoot | shot | shot |
| stick | stuck | stuck |
| scold | scolded | scolded |
| sneeze | sneezed | sneezed |
| survey | surveyed | surveyed |
| seat | seated | seated |
| sow | sowed | sowed |
| swim | swam | swum |
| seek | sought | sought |
| speed | sped | sped |
| saturate | saturated | saturated |
| ski | skied | skied |
| stride | strode | stridden |
Positive Verbs That Start With S
State
Snug
Service
Sight
Satisfy
Supple
Sanctify
Sugar
Simplify
Spice
Sire
Sense
Sprout
Sublime
Show
Size
Strike
Stun
Sister
Soup Up
Select
Sympathize
Shine
Smooth
Stir
Spark
Season
Swank
Style
Secure
Sway
Sponsor
Seem
Swell
Square
Star
Soothe
Sinew
Scintillate
Surpass
Steady
Steward
Saint
Succeed
Slick
Sculp
Sustain
Salute
Skill
Suffice
Set
Sophisticate
Sparkle
Sleek
Speed
Seek
Sweeten
Serve
Save
Supply
Socialize
Snap
Soar
Sport
Share
Savvy
Support
Squire
Snuggle
Script
Surprise
Shelter
Stable
Spot
Spirit
Sanction
Suit
Sentinel
Spell
Shape
Spruce
Stimulate
Strive
Smile
Different Types of Verbs Starting With S
Action Verbs Beginning With S
Supervised
Snore
Supplied
Summarized
Supported
Shaped
Scrutinized
Ski
Sleep
Solidified
Systematized
Suggested
Showcased
Separated
Stimulated
Stand up
Specified
Succeeded In
Succeeded
Structured
Standardized
Screened
Surpassed
Smell
Served
Sit down
Set-Up
Shake
Surveyed
Solved
Streamlined
Secured
Sold
Specialize in
Simplified
Strengthened
Sew
Saved
Searched
Set Goals
Satisfied
Spoke
Sing
Studied
Spearheaded
Selected
Stack
Scheduled
Sustained
Slashed
Synthesized
Regular Verbs That Start With S
Seek
Shut
Slit
Set
Snore
Swim
Shrink
Spit
Slink
Sit
Select
Spoil
Shine
Stick
Swear
Slay
Steal
Smell
Scold
Spring
Strive
Shit
Sell
Send
Smoke
Sting
Study
Start
Sing
See
Shed
Shoot
Swing
Shake
Slide
Shrive
Stare
Spread
Smite
Sling
Strike
Irregular Verbs That Start With S
Send
Sew
Sting
Split
Seek
Strive
Speed
Smell
Swing
Slink
See
Speak
Sling
Stink
Spoil
Stick
Swell
Stand
Slay
Shed
Saw
Set
Spell
Shoe
Shoot
Smite
Slide
Swim
Spit
Shrink
Sow
Say
Swear
Sit
Strike
Show
Sweat
Stride
Spill
Shine
Spring
Shut
Shrive
Sleep
Sweep
Spin
Slit
Sell
Shit
String
Sink
Spend
Steal
Sing
Strew
Spread
Shake
Phrasal Verbs Starting With S
Stick up
Stay on
Spell out
Send off
Sign up
See into
Set off
Sing along
Speak for
Send down
Stick out
Settle in
Sleep with
Sign off
Stick to
Sleep on
Show in
Smooth down
Set about
Send back
Shake up
Split up
Shut in
Set forth
Set down
Settle for
Sit through
Speak of
Set upon
Stand up
See out
Send up
Stand back
Sell out
Scare off
Show up
Spread out
Stick down
Show off
Send away
Sort out
Sit up
Sit back
Shut down
Shake off
Stick with
Speed up
Step back
Stay in
Sit down
Sump up
Smoke out
Shower with
Stand out
Stick at
See to
Slide off
Set on
Scarf down
Shut out
See through
Scale back
Step up
Sign out
Sink in
See in
Sell down
Sound off
Speak up
Stand for
Stand aside
Skip out
Start off
Shop around
Set back
Speak to
Sleep in
Stand off
Stick around
Start afresh
Stay up
Set up
Set aside
Set in
Sit on
Stand by
Set out
Shade up
Sit out
Start up
Settle down
Settle on
Slow down
Shut up
Speak out
Verbs that begin with S – Flashcards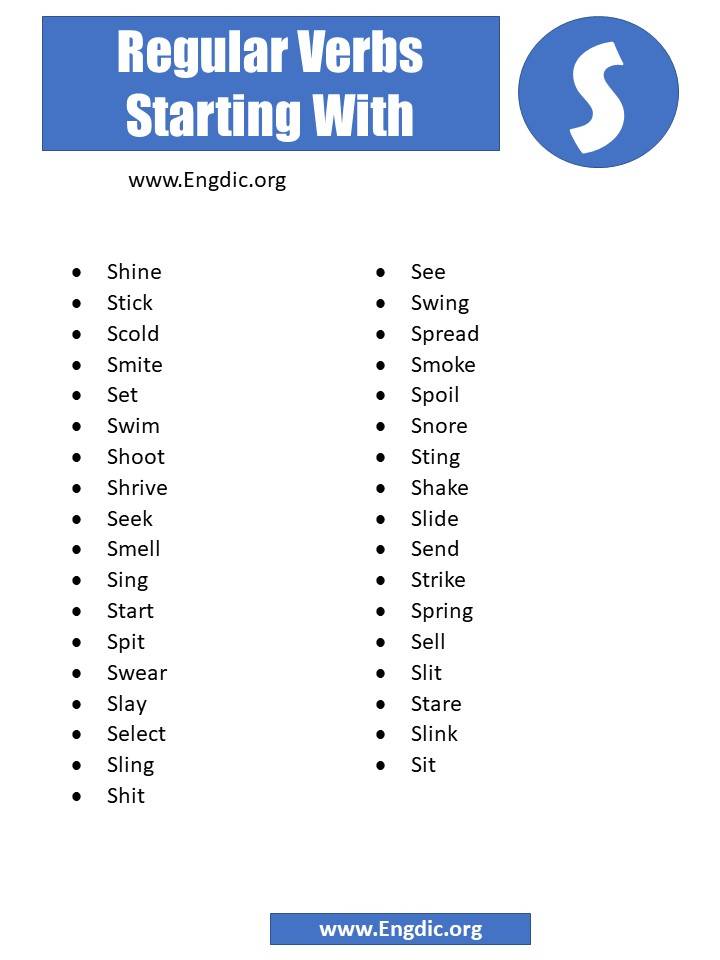 Other Verbs Starting With:
A – B – C – D – E – F – G – H – I – J – K – L – M – N – O – P – Q – R – S – T – U – V – W – X – Y – Z