280 Verbs Starting With D! Do you ever find yourself searching for the perfect verb to include in your writing? Is it difficult to find just the right phrase that conveys exactly what you mean without sounding awkward or restrictive? Look no further! Here, we've compiled a complete list of 280+ verbs starting with D from all across the English language. Whether you need an action word, regular verb, irregular verb, phrasal verb, or any other type of D-word – this resource has it all!
No matter if you are crafting a creative story or working on a formal homework assignment; this comprehensive collection can help take your writing and speaking skills to the next level. Keep reading for more details about these captivating words and their varied definitions/meanings.
A verb is a word used to express an action or state of being. Verbs are the second most important part of speech after nouns. There are three types of verbs: Action Verbs, Linking Verbs, and Helping Verbs.
List of Verbs Starting with D
Verbs Starting with DA
dag
dark
damage
dandify
damask
dang
dapple
damn
damaskeen
dance
dagger
damasken
dally
darraign
dabble
darken
dap
damp
daguerreotype
dampne
dandyise
darn
dab
damnify
dart
dander
dangle
daff
daggle
darkle
dare
dandle
dampen
damascene
darrain
dam
daintify
dade
danger
dadle
Verbs Starting with DE
decarbonize
debarb
debouch
debit
debulliate
death
debarrass
debate
decant
debellate
debar
debacchate
deburse
dear
debel
dealbate
dead
decapitate
debauchee
dearn
dearticulate
debark
deaden
decalcify
debut
decarburize
debosh
deaf
deaurate
decamp
deambulate
debase
debilitate
debituminize
decarbonate
deacon
deafen
deave
deal
decantate
Verbs Starting with DI
digit
dich
diffuse
dialyze
diagram
die
dight
differentiate
difficilitate
diaper
dib
diadem
differ
diffine
diazotize
diddle
diet
diabolify
dial
diagnose
dice
difference
difficult
diagnosticate
difficultate
dig
dibble
diffind
digitate
dicker
digest
diabolize
dialogize
diffract
dialogue
dictate
dichotomize
diffide
diamondize
Verbs Starting with DO
donate
do
dorr
dot
docket
doer
dote
dotage
doat
domicile
doodle
dotard
dop
document
dogmatize
docquet
dod
domify
dodd
door
dole
doff
dodder
domiciliate
dotterel
dodge
don
doom
domesticate
dose
dolt
dock
dolomize
dor
doctor
doorstep
dominate
dog
doctorate
domineer
Verbs Starting with DR
draw
draggle
drain
drape
dribble
drip-feed
draft
dread
drink
drill
dramatize
dretch
dree
drabble
dreul
drib
drail
drip
drawl
drein
drecche
dream
drag
dram
drawbore
draught
dragoon
drench
drab
drie
dresser
dredge
drenche
drift
dress
draining
Verbs Starting with DU
duncify
dulce
dusk
duel
dungeon
dulcify
dub
dumfounder
dupe
dudder
dunk
dulcorate
dusken
duplicate
duck
dumple
duress
dubitate
dumb
dull
dung
duke
dup
dust
dumfound
due
duff
dun
dump
Verbs Starting with DW
dwarf
dwaule
dwell
dwine
dwindle
dwaul
Verbs Starting with DY
Different Types of Verbs Starting With D
Action Verbs Beginning With D
Directed
Deployed
Designed
Displayed
Dance
Documented
Discovered
Decreased
Dig
Defined
Deducted
Determined
Doubled
Deploy
Delegated
Drafted
Dispensed
Diversified
Detected
Demonstrated
Dream
Dive
Distributed
Diverted
Drove
Developed
Delivered
Debugged
Dispatched
Diagnosed
Devised
Drink
Detailed
Regular Verbs That Start With D
Dam
Disapprove
Describe
Drip
Doubt
Dance
Desert
Dry
Delight
Drain
Dust
Deliver
Detect
Discover
Do
Disagree
Damage
Dress
Delay
Develop
Deceive
Dare
Dislike
Destroy
Drop
Deserve
Dream
Drive
Divide
Dig
Draw
Disappear
Depend
Drum
Double
Decay
Drown
Decide
Decorate
Disarm
Drag
Irregular Verbs That Start With D
Dream
Draw
Drive
Do
Deal
Dive
Drink
Dwell
Dig
Phrasal Verbs Starting With D
Drive at
Drink to
Draw on
Draw out
Draw up
Drive away
Drink in
Die down
Dress up
Do for
Do up
Draw in
Dry up
Drop off
Drop in
Dry out
Drop out
Do without
Do in
Drink up
Deal with
Drag on
Positive Words That Start D
Dispense
Disciple
Dizen
Disenslave
Depict
Dulcify
Dress
Deoppilate
Drink
Draft
Describe
Delectate
Declare
Depurate
Deputize
Do
Dissolve
Dight
Delight
Dew
Discumber
Drape
Decore
Deosculate
Detect
Discrete
Drib
Doted on
Deserve
Droll
Dovetail
Dub
Disenchant
Disclose
Dispatch
Deonerate
Daintify
Display
Demulce
Disentangle
Diadem
Decorate
Defer
Dip
Document
Deduce
Deposit
Depute
Derive
Decree
Donate
Dabble
Desire
Discuss
Deepen
Descry
Delibate
Dye
Disillusion
Determinate
Discover
Deliberate
Dignify
Desume
Dig
Drive
Define
Defend
Draw
Devise
Discloud
Duplicate
Dispand
Deed
Diamondize
Dulcorate
Determine
Distribute
Ding
Decoct
Deck
Develop
Direct
Dance
Deliver
Dream
Doll
Defix
Depreicate
Disinvovle
Verbs That Start With D and Their Meaning
Dance: move rhythmically
Dance off: have a dance competition
Dare: have courage
Dazzle: impress greatly
Deactivate: turn off
Deal: distribute or negotiate
Debate: discuss formally
Debrief: question after the mission
Debug: remove errors
Decant: pour off
Decide: make a choice
Declare: announce formally
Decompose: break down
Decorate: embellish
Decrease: reduce in size
Decry: condemn
Dedicate: devote to
Deduce: infer
Deem: Consider
Deescalate: reduce tension
Deface: vandalize
Default: fail to repay
Defend: protect from attack
Define: give meaning to
Delay: postpone
Delete: remove
Deliver: bring or transport
Demolish: destroy completely
Demonstrate: show or prove
Denote: signify
Depart: leave
Depend: rely on
Depict: represent
Deposit: put down
Deprive: take away
Derive: obtain from
Describe: give an account
Design: plan or create
Desire: want strongly
Destroy: ruin or demolish
Detect: discover or find
Develop: grow or progress
Deviate: depart from
Devote: commit to
Devour: eat greedily
Diagnose: identify illness
Dial: call by phone
Dictate: give orders
Die: cease to live
Differentiate: distinguish between
Dig: excavate or burrow
Dilute: weaken
Diminish: reduce
Dip: immerse briefly
Direct: guide or lead
Disagree: have a different opinion
Disappear: vanish
Disapprove: not approve of
Discover: find out
Discuss: talk about
Dislike: not like
Dismantle: take apart
Dismiss: send away
Disobey: not obey
Display: show or exhibit
Dispute: argue or debate
Disrupt: disturb or interrupt
Dissolve: mix in liquid
Distribute: give out
Dive: jump into water
Divert: turn aside
Divide: separate into parts
Do: perform an action
Document: record or write down
Dominate: control or rule
Donate: give to charity
Double: increase twofold
Download: transfer data
Draft: write a rough copy
Drag: pull along
Drain: empty liquid
Draw: make a picture
Dream: experience dreams
Dress: put on clothes
Drill: bore or train
Drink: consume liquids
Drive: operate a vehicle
Drop: let fall
Dry: remove moisture
Dub: give a title
Dwell: live in
Dye: color with dye
Dynamite: explode with dynamite
Popular D-Verbs in Example Sentences
Dance: They danced all night at the party.
Draw: She drew a beautiful picture of the beach.
Drive: He drove his car to the office every day.
Drink: She drank a glass of water to quench her thirst.
Discuss: They discussed the latest movie they watched.
Discover: He discovered a new planet while studying astronomy.
Decide: She decided to quit her job and travel the world.
Deliver: The postman delivered a package to their house.
Design: She designed her own wedding dress.
Dress up: He dressed up for the wedding ceremony.
Verbs With Letter D and their Three Forms
| | | |
| --- | --- | --- |
| Base Form | Past Form | Past Participle |
| dare | dared | dared |
| draw | drew | drawn |
| diminish | diminished | diminished |
| disobey | disobeyed | disobeyed |
| deprive | deprived | deprived |
| deny | denied | denied |
| display | displayed | displayed |
| distribute | distributed | distributed |
| dig | dug | dug |
| dedicate | dedicated | dedicated |
| discuss | discussed | discussed |
| disuse | disused | disused |
| decide | decided | decided |
| decorate | decorated | decorated |
| disturb | disturbed | disturbed |
| drop | dropped | dropped |
| differ | differed | differed |
| discover | discovered | discovered |
| download | downloaded | downloaded |
| decay | decayed | decayed |
| dry | dried | dried |
| detect | detected | detected |
| decrease | decreased | decreased |
| determine | determined | determined |
| die | died | died |
| dance | danced | danced |
| drink | drank | drunk |
| dispose | disposed | disposed |
| desire | desired | desired |
| dash | dashed | dashed |
| dazzle | dazzled | dazzled |
| delay | delayed | delayed |
| do | did | done |
| detach | detached | detached |
| delete | deleted | deleted |
| dive | dived | dived |
| dine | dined | dined |
| drive | drove | driven |
| dump | dumped | dumped |
| divide | divided | divided |
| dwell | dwelt | dwelt |
| develop | developed | developed |
| dim | dimmed | dimmed |
| derive | derived | derived |
| drill | drilled | drilled |
| drag | dragged | dragged |
| dress | dressed | dressed |
| direct | directed | directed |
| describe | described | described |
| damage | damaged | damaged |
| dream | dreamt | dreamt |
| destroy | destroyed | destroyed |
| disappear | disappeared | disappeared |
| damp | damped | damped |
| depend | depended | depended |
| digest | digested | digested |
| dye | dyed | dyed |
| dip | dipped | dipped |
| deal | dealt | dealt |
| declare | declared | declared |
| donate | donated | donated |
Positive Verbs That Start With D
Deosculate
Dance
Document
Disclose
Disenslave
Determinate
Desume
Disentangle
Defer
Drink
Disinvovle
Dip
Deliberate
Dulcorate
Descry
Disenchant
Dispatch
Depute
Derive
Dispand
Decree
Drape
Ding
Discuss
Dabble
Dizen
Depurate
Deduce
Draw
Diamondize
Describe
Dig
Defix
Droll
Dignify
Deliver
Dye
Deoppilate
Decorate
Dovetail
Disillusion
Devise
Depict
Deposit
Deserve
Dissolve
Diadem
Desire
Dispense
Discloud
Decore
Draft
Deed
Dream
Display
Deepen
Dress
Dight
Disciple
Determine
Decoct
Doted On
Daintify
Do
Declare
Donate
Delectate
Dub
Discrete
Develop
Demulce
Deck
Doll
Dew
Discumber
Deonerate
Delibate
Dulcify
Define
Drive
Detect
Defend
Direct
Drib
Discover
Delight
Duplicate
Depreicate
Deputize
Distribute
Verbs that begin with D – Flashcards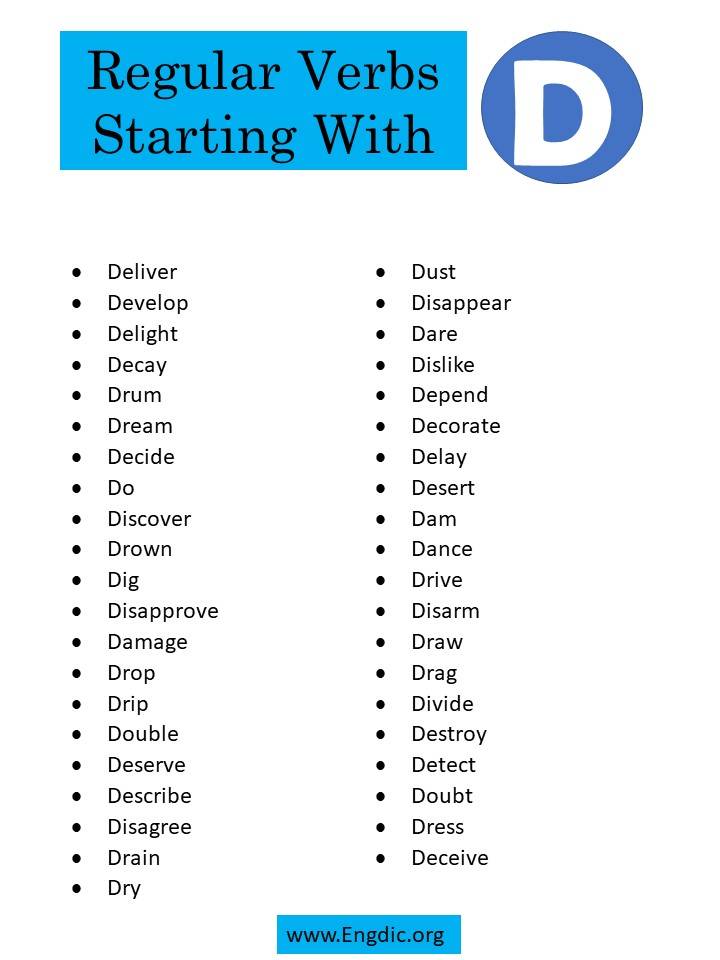 Other Verbs Starting With:
A – B – C – D – E – F – G – H – I – J – K – L – M – N – O – P – Q – R – S – T – U – V – W – X – Y – Z
Last updated on March 4th, 2023 at 07:20 pm