180 Verbs Starting with I! Isn't it amazing how many verbs start with just one single letter? The English language is full of such peculiar curiosities, and 'I' is no different! There are a whopping 180 verbs starting with 'I' – imagine the possibilities for your writing. And you needn't worry about not having the complete list just yet – if you're looking for all those I-verbs to make your sentences shine, then this blog post has got you covered.
From "illuminate" to "interact", we have all 180 I-verbs listed out in alphabetical order here, ensuring that finding what you need will be easier than ever! Keep reading to discover each of these incredible words beginning with 'I' and start spicing up your vocabulary today!
A verb is a word used to express an action or state of being. Verbs are the second most important part of speech after nouns. There are three types of verbs: Action Verbs, Linking Verbs, and Helping Verbs.
List of Verbs Starting with I
Verbs Starting with IC and ID
iconize
idealize
idolize
idle
identify
ice
ice-skate
Verbs Starting with IL
illumination
illegitimatize
ill-treat
illuminate
illegalize
illure
illuminator
illume
illaqueate
illighten
illuminize
illegitimate
illude
illumine
illuminati
illiberalize
illapse
illustrate
illtreat
Verbs Starting with IM
imbrute
imbibe
imbow
imbosom
imbowel
imbay
imblaze
imbody
imbreed
imborder
imbezzle
imbed
imbower
imbase
imbolden
imbark
imbalm
imbrown
imboil
imbastardize
imbathe
imbitter
imban
image
imbraid
imbox
imbound
imband
imbecile
imbrangle
imbarn
imblazon
imbosk
imboss
imbrue
imagine
imbank
imbecilitate
imbar
imbricate
Verbs Starting with IN
incloister
incarcerate
incise
inbind
inaugur
incask
in
inclip
inchamber
inchant
inbreed
incanton
inanimate
incense
inclasp
incinerate
incage
incase
incend
inable
inaugurate
inanitiate
incapsulate
inch
inchase
inarch
inchest
incite
incapacitate
incide
incarnadine
incline
inactuate
inaurate
incircle
inbarge
incarnate
incarn
inchoate
inbreathe
Verbs Starting with IO
Verbs Starting with IR
iron
iridize
irregulate
irradiate
irrigate
irritate
irrorate
irrugate
irk
irradicate
irreconcile
Verbs Starting with IS
island
isle
is
issue
isolate
islamize
Verbs Starting with IT
iterate
italianate
itinerate
italicize
italianize
itemize
itch
item
Different Types of Verbs Starting With I
Action Verbs Beginning With I
Inventoried
Investigated
Interpreted
Increased
Instituted
Interviewed
Implemented
Installed
Intervened
Invented
Itemized
Incorporated
Informed
Integrated
Inspected
Identified
Inspired
Imported
Improvised
Intensified
Improved
Influenced
Introduced
Innovated
Imagined
Illustrated
Instructed
Initiated
Regular Verbs That Start With I
Inject
Instruct
Increase
Include
Imagine
Injure
Influence
Invite
Intend
Invent
Itch
Interfere
Identify
Ignore
Improve
Interrupt
Inform
Introduce
Irritate
Interest
Impress
Irregular Verbs That Start With I
Interlay
Interbreed
Interwind
Input
Phrasal Verbs Starting With I
Verbs That Start With I and Their Meaning
Identify: recognize, name
Ignite: light, start fire
Illuminate: light up, clarify
Immerse: submerge, involve deeply
Impart: share, communicate
Imprison: incarcerate, confine
Impute: attribute, ascribe
Incarcerate: imprison, confine
Incite: provoke, stimulate
Incline: lean, slope
Increase: grow, expand
Indicate: show, point out
Inflame: provoke, irritate
Inflict: impose, cause harm
Infuse: imbue, inject
Ingest: consume, swallow
Inhabit: occupy, reside
Inhibit: restrict, restrain
Inquire: ask, investigate
Insinuate: suggest, imply
Inspect: examine, scrutinize
Inspire: motivate, encourage
Instruct: teach, guide
Intensify: increase, strengthen
Interpret: explain, translate
Interrogate: question, cross-examine
Introduce: present, initiate
Invent: create, devise
Invest: allocate, devote
Invite: ask, welcome
Popular I-Verbs in Example Sentences
Imagine: She imagined herself on a beach while meditating.
Involve: He involved himself in the community by volunteering.
Insist: She insisted on paying for the meal even though it was his treat.
Identify: He identified the bird by its unique call.
Introduce: She introduced her new boyfriend to her family.
Ignore: He ignored the phone call because he was busy.
Invest: She invested in stocks to grow her wealth.
Instruct: He instructed his assistant on how to complete the task.
Inform: She informed her boss of the project's progress.
Inspire: He inspired his followers with his motivational speeches.
Verbs With Letter I and their Three Forms
| | | |
| --- | --- | --- |
| Base Form | Past Form | Past Participle |
| immure | immured | immured |
| inquire | inquired | inquired |
| indulge | indulged | indulged |
| infringe | infringed | infringed |
| import | imported | imported |
| implore | implored | implored |
| infuse | infused | infused |
| invite | invited | invited |
| inhabit | inhabited | inhabited |
| indent | indented | indented |
| illustrate | illustrated | illustrated |
| implant | implanted | implanted |
| inform | informed | informed |
| inherit | inherited | inherited |
| impel | impelled | impelled |
| imperil | imperilled | imperilled |
| inhale | inhaled | inhaled |
| ignite | ignited | ignited |
| insult | insulted | insulted |
| inculcate | inculcated | inculcated |
| inflect | inflected | inflected |
| innovate | innovated | innovated |
| impede | impeded | impeded |
| insure | insured | insured |
| inaugurate | inaugurated | inaugurated |
| impinge | impinged | impinged |
| incise | incised | incised |
| ill-treat | ill-treated | ill-treated |
| increase | increased | increased |
| imbibe | imbibed | imbibed |
| immolate | immolated | immolated |
| identify | identified | identified |
| inspire | inspired | inspired |
| ingest | ingested | ingested |
| imprint | imprinted | imprinted |
| impair | impaired | impaired |
| impart | imparted | imparted |
| implicate | implicated | implicated |
| injure | injured | injured |
| improve | improved | improved |
| implode | imploded | imploded |
| initiate | initiated | initiated |
| infect | infected | infected |
| idolize | idolized | idolized |
| install | installed | installed |
| integrate | integrated | integrated |
| inject | injected | injected |
| introduce | introduced | introduced |
| include | included | included |
| induce | induced | induced |
| impose | imposed | imposed |
| idealize | idealized | idealized |
| inspect | inspected | inspected |
| input | input | input |
| insert | inserted | inserted |
| illuminate | illuminated | illuminated |
| inflame | inflamed | inflamed |
| impress | impressed | impressed |
| imitate | imitated | imitated |
| inscribe | inscribed | inscribed |
| imprison | imprisoned | imprisoned |
| inflate | inflated | inflated |
| immerse | immersed | immersed |
| illumine | illumined | illumined |
| ignore | ignored | ignored |
| imply | implied | implied |
| indicate | indicated | indicated |
| invent | invented | invented |
| infest | infested | infested |
| imagine | imagined | imagined |
| impeach | impeached | impeached |
| impend | impended | impended |
| inlay | inlaid | inlaid |
Positive Verbs That Start With I
Involve
Input
Illuminate
Improve
Improvise
Interface
Increase
Introduce
Impress
Individualize
Index
Instruct
Import
Initiate
Insure
Interview
Inventory
Invite
Install
Incorporate
Influence
Inebriate
Illustrate
Institute
Integrate
Infant
Interact
Identify
Inspirit
Innovate
Inspire
Intertwine
Impart
Investigate
Inspect
Implement
Invigorate
Intimate
Interpret
Interest
Immerse
Invent
Inform
Verbs that begin with I – Flashcards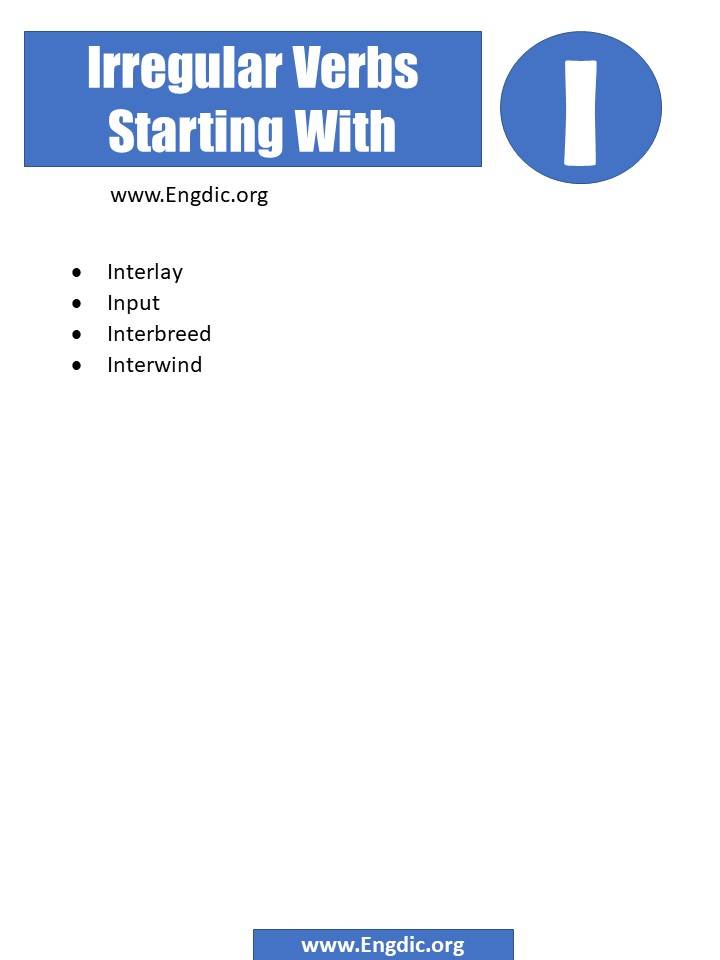 Other Verbs Starting With:
A – B – C – D – E – F – G – H – I – J – K – L – M – N – O – P – Q – R – S – T – U – V – W – X – Y – Z
Last updated on March 4th, 2023 at 05:22 pm