320 Verbs Starting With G! Having the right verb at hand can help to bring your writing and conversations to life. Whether you're a student, a native speaker, or simply looking for ways to expand your vocabulary, having a good understanding of verbs is essential. With this in mind, we've compiled an extensive list of 320 verbs starting with G that are sure to spice up your language! Here you will find anything from Gadzooks and Gabble, Galumph, and Geek out – as well as inventive phrases such as Gamify and Glamping. Read on for more information about our incredible list – perfect for any budding linguist!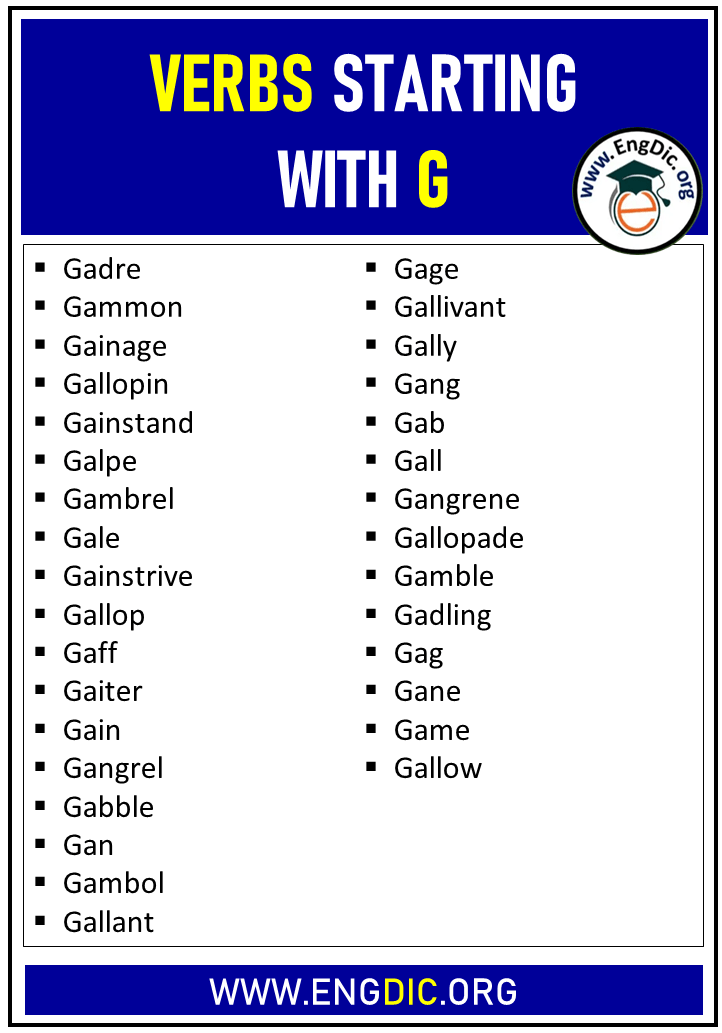 A verb is a word used to express an action or state of being. Verbs are the second most important part of speech after nouns. There are three types of verbs: Action Verbs, Linking Verbs, and Helping Verbs.
List of Verbs Starting with G
Verbs Starting with GA
gadre
gammon
gainage
gallopin
gainstand
galpe
gambrel
gale
gainstrive
gallop
gaff
gaiter
gain
gangrel
gabble
gan
gambol
gallant
gage
gallivant
gally
gang
gab
gall
gangrene
gallopade
gamble
gadling
gag
gane
game
gallow
gallicize
gainsay
gangrenate
gainable
gaggle
gad
galvanize
gadere
Verbs Starting with GE
generate
gesse
germinate
geste
gemote
gentilize
genuflect
germ
generalize
genealogize
gesticulate
gelt
geometrize
geld
gear
geologize
gem
geminate
geniculate
geck
get
gesture
gerrymander
gee
gen
gelding
gentle
germanize
gern
geal
gelatinate
gender
gelatinize
Verbs Starting with GH
Verbs Starting with GI
gib
gingle
gildale
gift-wrap
girt
gibberish
give
given
gimblet
gimp
giddy
gise
gimlet
girdle
girth
gibbet
gig
gie
ginger
gittern
gift
gin
gip
gibber
gibe
giggle
giantize
gild
gird
ginning
gilt
Verbs Starting with GL
glass
gloppen
glaze
glad-hand
glede
glase
glimmer
glaver
gleam
gloat
glance
glad
gleet
glisten
gleed
glent
glombe
gley
glister
glabreate
glair
glimpse
glib
globe
glaciate
glaum
glide
gloom
glare
gloar
gloam
gladden
glean
glitter
gleek
glome
glabriate
glint
gleen
glomerate
Verbs Starting with GN
Verbs Starting with GO
gothicize
good
goad
gorgonize
gospelize
gobble
gob
goggle
gobbet
gowl
gouge
gospel
god
goffer
gorge
gowk
goblinize
gold
gormandize
govern
gossip
gore
godfather
go
gorm
Verbs Starting with GR
grapple
greaten
gravitate
greave
grammaticize
grass
gratify
greet
gravel
granulate
grant
grecianize
graith
grave
graft
gradate
gregge
graunt
gralloch
grammar
grasp
gradation
grabble
gree
grecize
grab
grease
grade
grane
green
grain
grate
graven
graze
greit
grace
graduate
grangerize
graff
grege
Verbs Starting with GU
guilt-trip
guy
guffaw
gubernate
gulp
guard
gurgle
gush
guide
guild
guardant
gun
guzzle
gutturalize
guidon
gully
gum
guardable
gudgeon
guardian
guilt
gurge
gust
guarish
gustable
guyle
guillotine
gutter
gule
guarantee
guardage
guess
gutturize
guest
gull
gulch
gut
guggle
Verbs Starting with GY
gye
gyp
gyre
gybe
gynno
gypsy
gyrland
gyn
gyrate
gyve
Different Types of Verbs Starting With G
Action Verbs Beginning With G
Give
Grew
Governed
Guided
Generated
Graduated
Gained
Regular Verbs That Start With G
Get
Grate
Greet
Grab
Glow
Grease
Grind
Glue
Guide
Gaze
Groan
Guarantee
Grow
Guard
Gather
Grin
Guess
Grip
Go
Irregular Verbs That Start With G
Phrasal Verbs Starting With G
Go over
Go away
Give off
Go towards
Go at
Get about
Give way
Get away
Get across
Go on
Give in
Give back
Go off
Get out
Go out
Go round
Give over
Go before
Go through
Go for
Get down
Get by
Get off
Go forward
Go across
Give out
Go down
Get with
Go to
Get up
Get ahead
Go past
Go after
Get through
Give away
Go up
Go around
Go along
Go ahead
Gear up
Go without
Get into
Get in
Go into
Go with
Get on
Get behind
Get at
Go below
Get back
Get after
Get over
Go about
Get together
Go in
Go under
Go against
Go by
Give up
Go back
Get around
Get to
Get onto
Get used
Get along
Get it
Go together
Give forth
Grow up
Positive Words That Start G
Glory
Gussy
Glitter
Greet
Gild
Glance
Grok
Glow
Give
Guerdon
Garden
Grow
Gravitate
Glad-hand
Gain
Guide
Gather
Groove
Giggle
Game
Glad
Glaze
Ginger
Grubstake
Gush
Gladden
Glister
Garb
Gleam
Grin
Galvanize
Grace
Grant
Gloss
Generate
Graduate
Garland
Gallivant
Glorify
Gratify
Glamorize
Gift
Guest
Glamour
Guard
Garnish
Glimmer
Gad
Grind
Gentle
Glisten
Guffaw
Verbs That Start With G and Their Meaning
Gain: to obtain, acquire
Gather: to collect, assemble
Give: to offer, provide
Glance: to look quickly
Glow: to shine, radiate
Go: to move, travel
Grab: to seize, take quickly
Graduate: to finish studies
Grant: to give permission
Grasp: to hold tightly
Grate: to shred, rub
Grease: to lubricate, oil
Greet: to welcome, acknowledge
Grill: to cook on grates
Grind: to crush, pulverize
Grip: to hold firmly
Grow: to increase, develop
Guess: to estimate, predict
Guard: to protect, watch over
Guide: to lead, direct.
Gallop: to run fast
Gamble: to bet, risk
Gape: to open wide
Gasp: to breathe heavily
Gather: to bring together
Gauge: to measure, estimate
Gaze: to look intently
Gelatinize: to become jelly-like
Generate: to create, produce
Gesticulate: to make gestures
Get: to obtain, receive
Giggle: to laugh softly
Give up: to surrender, quit
Glamorize: to make attractive
Glare: to stare angrily
Glean: to gather information
Glide: to move smoothly
Glimpse: to catch a quick look
Glitter: to shine brightly
Gobble: to eat quickly.
Popular G-Verbs in Example Sentences
Give: She gave her friend a birthday present.
Get: He got a promotion at work.
Go: She went to the store to buy groceries.
Grow: He grew tomatoes in his backyard.
Guide: She guided the tourists around the city.
Gather: They gathered around the campfire to sing songs.
Guess: He guessed the answer to the riddle correctly.
Grab: She grabbed her coat before leaving the house.
Grill: He grilled some burgers for dinner.
Greet: She greeted her guests at the door with a smile.
Verbs With Letter G and their Three Forms
| | | |
| --- | --- | --- |
| Base Form | Past Form | Past Participle |
| gaze | gazed | gazed |
| grip | gripped | gripped |
| greet | greeted | greeted |
| grab | grabbed | grabbed |
| glow | glowed | glowed |
| google | googled | googled |
| glitter | glittered | glittered |
| govern | governed | governed |
| gag | gagged | gagged |
| gash | gashed | gashed |
| guess | guessed | guessed |
| get | got | got |
| give | gave | given |
| grade | graded | graded |
| grant | granted | granted |
| grow | grew | grown |
| guard | guarded | guarded |
| gain | gained | gained |
| guide | guided | guided |
| gainsay | gainsaid | gainsaid |
| grind | ground | ground |
| glance | glanced | glanced |
| go | went | gone |
Positive Verbs That Start With G
Grind
Gladden
Garden
Garland
Glorify
Gather
Graduate
Guide
Garb
Gentle
Guard
Guest
Generate
Gleam
Game
Give
Grubstake
Glimmer
Guffaw
Gloss
Gratify
Grin
Glance
Garnish
Grok
Groove
Gush
Gild
Gift
Gussy
Gad
Glaze
Glisten
Giggle
Glister
Glamour
Glad
Glamorize
Glow
Gallivant
Gravitate
Glad-Hand
Galvanize
Greet
Grace
Glory
Glitter
Gain
Grant
Grow
Guerdon
Ginger
Verbs that begin with G – Flashcards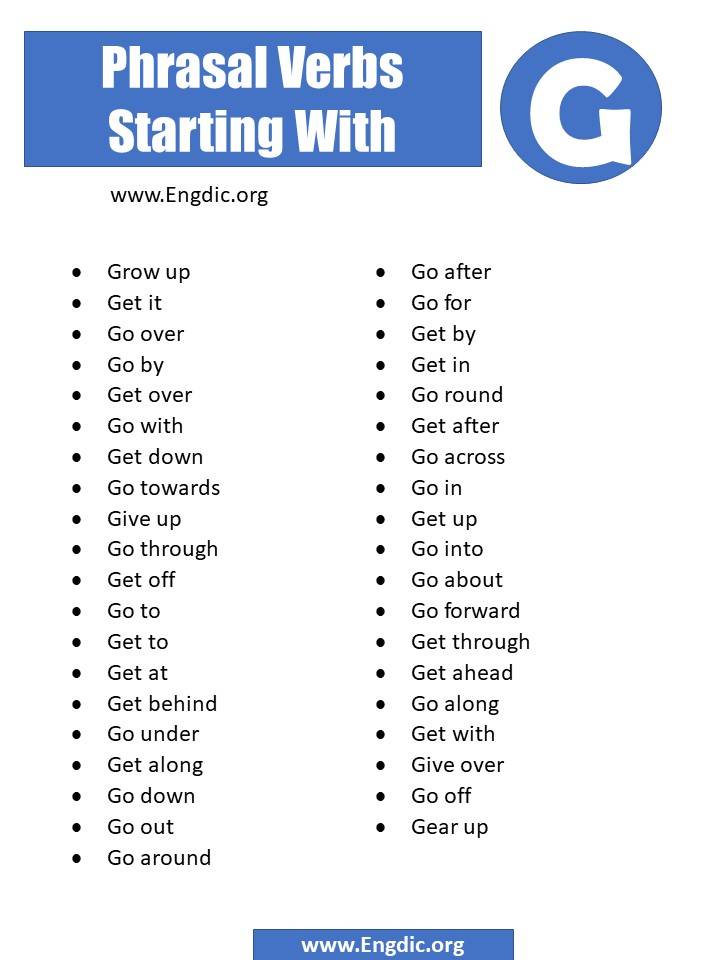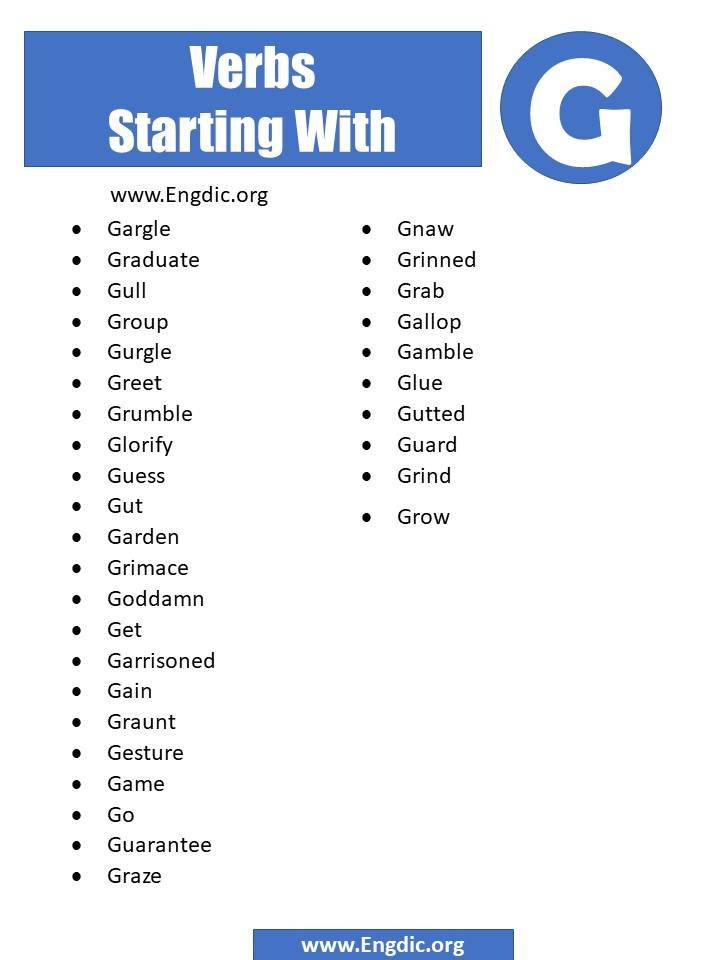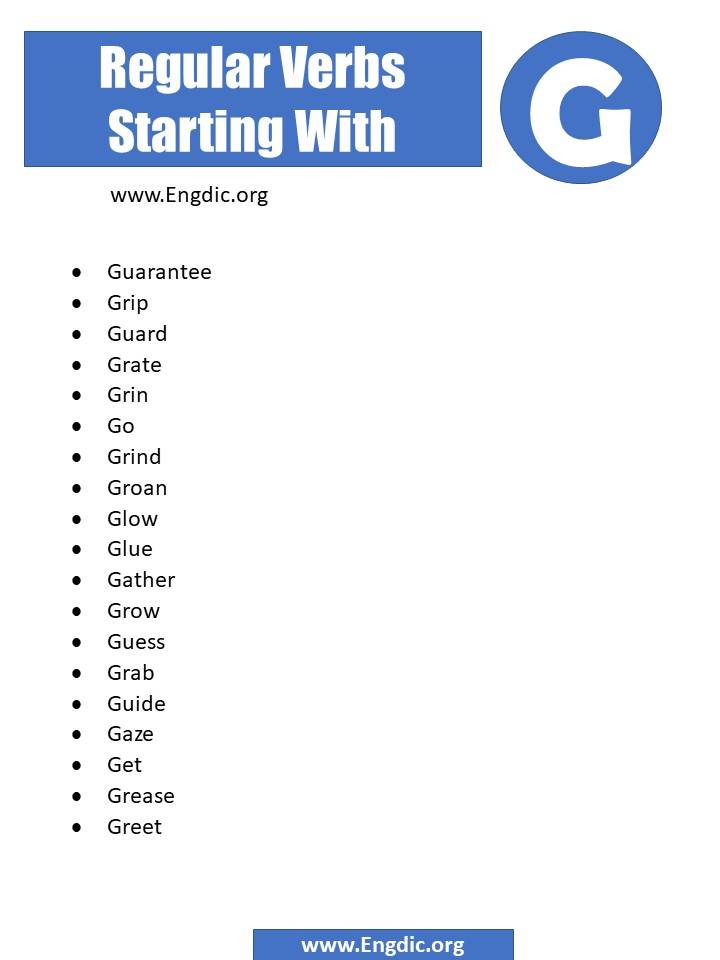 Other Verbs Starting With:
A – B – C – D – E – F – G – H – I – J – K – L – M – N – O – P – Q – R – S – T – U – V – W – X – Y – Z
Last updated on March 4th, 2023 at 05:16 pm