250 Verbs Starting With H! Do you know your verbs? Your verbs indicate action, emotion, and more, adding a unique flavor to writing and conversation. If you're stuck for ideas or find yourself in the weeds of verbal storytelling, fear not: we've compiled a list of 250+ verbs starting with H that are easy to remember and can be used for any situation. In this blog post, let's explore how powerful these swift words can truly be!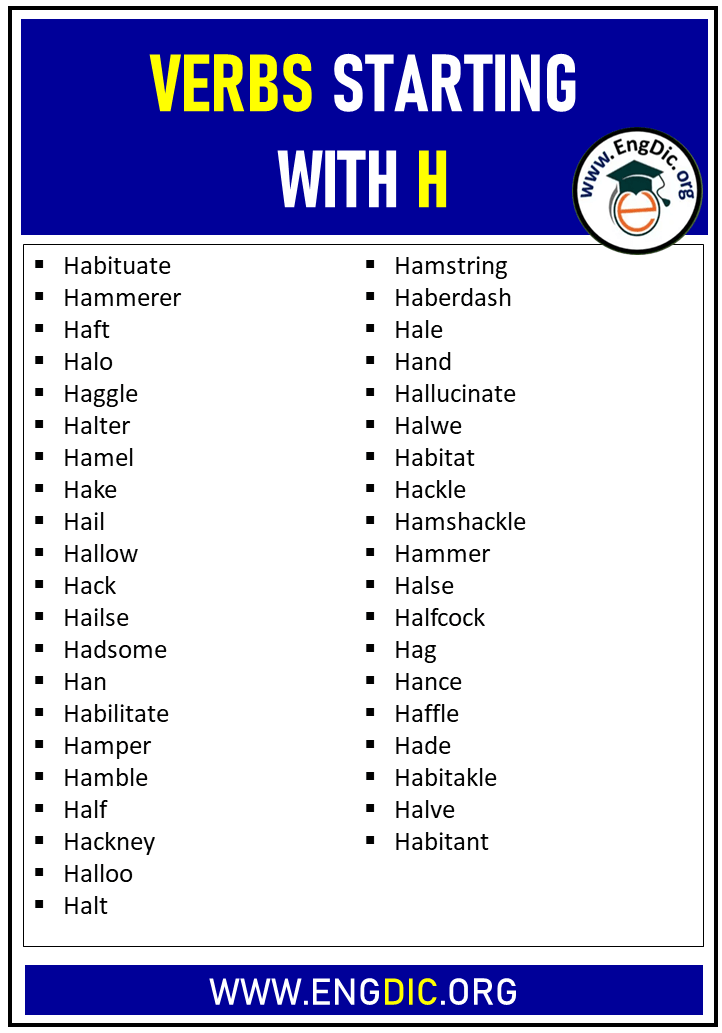 A verb is a word used to express an action or state of being. Verbs are the second most important part of speech after nouns. There are three types of verbs: Action Verbs, Linking Verbs, and Helping Verbs.
List of Verbs Starting with H
Verbs Starting with HA
habituate
hammerer
haft
halo
haggle
halter
hamel
hake
hail
hallow
hack
hailse
hadsome
han
habilitate
hamper
hamble
half
hackney
halloo
halt
hamstring
haberdash
hale
hand
hallucinate
halwe
habitat
hackle
hamshackle
hammer
halse
halfcock
hag
hance
haffle
hade
habitakle
halve
habitant
Verbs Starting with HE
hence
hebetate
hele
heft
hell
heathenize
heckle
heddle
helve
heel
heavy
heavenize
hellenize
hearten
heed
hearse
headline
hemisect
hedge
heartstrike
heat
hebraize
heal
helm
hellier
henpeck
heir
heap
heave
help
heart
hector
heeltap
heighten
hemstitch
head
hear
heaven
hearken
hem
Verbs Starting with HI
hip
hill
higgle
histority
hit
hitch
hindrance
hinniate
hickup
history
hinge
historicize
historize
hibernate
high
hide
hint
histrionize
hitchel
hie
hive
hinny
hispanicize
hiccough
hight
hile
hiss
hire
hizz
hinder
Verbs Starting with HO
hobnail
hont
hockle
hoarsen
hoe
hobble
holloa
hock
hocus
homologate
hood
hobandnob
hoar
hoist
homage
hog
hoit
hone
hold
hoof
home
hoax
hollow
hole
homologize
hobnob
holla
honk
hoodwink
hobanob
homogenize
homicide
hoard
hocuspocus
homestead
hoiden
honey
holystone
hoise
hong
Verbs Starting with HU
hunch
huckster
humble
huff
humectate
humorize
huggle
hug
humanify
hugger
hubbub
hunt
hunger
humor
hustle
hush
hurry
hulk
hum
humect
hunker
hurt
hurr
huisher
hurl
humanize
hummel
hungerly
hump
humbug
hurter
hull
huddle
hurdle
husk
huck
hurrah
hurtle
husband
humiliate
Verbs Starting with HY
hymn
hypothecate
hydrate
hyperbolize
hyphen
hypostasize
hyemate
hye
hypnotize
hyphenate
hybridize
hyp
hydrogenate
hypercriticise
hypostatize
hydrogenize
Different Types of Verbs Starting With H
Hum
Held
Hurt
Hear
Hark
Hang
Hunt
Have
Height
Handcuff
Hate
Harden
Hold
Hit
Hanker
Hope
Harbor
Happen
Harm
Heap
Hail
Help
Handle
Heal
Hide
Haggle
Harness
Action Verbs Beginning With H
Hug
Hypothesized
Harnessed
Honored
Headed
Halted
Handle
Hired
Regular Verbs That Start With H
Hook
Hurry
Head
Heap
Hide
Hear
Handle
Harass
Hover
Hurt
Hold
Heal
Hunt
Hand
Hit
Hate
Happen
Hope
Hum
Hop
Have
Hammer
Heat
Harm
Hug
Help
Hang
Haunt
Irregular Verbs That Start With H
Have
Hide
Hear
Hang
Hurt
Hold
Hit
Phrasal Verbs Starting With H
Hand in
Hand over
Hand round
Hurry up
Hang together
Hang on
Hand off
Hold up
Hang up
Hold off
Hang out
Hold on
Hold in
Hold over
Hash out
Hold back
Hold out
Hang about
Head off
Hand out
Hold down
Hang over
Positive Words That Start H
Help
Host
Head
Honor
Hale
Harmonize
Husband
Highlight
Hire
Handle
Hope
Verbs That Start With H and Their Meaning
Halt: to stop abruptly.
Hammer: to strike repeatedly.
Handle: to manage or deal with.
Hang: to suspend or dangle.
Happen: to occur or take place.
Harden: to make something solid or stiff.
Harness: to utilize or control.
Harvest: to gather crops.
Hate: to dislike intensely.
Haunt: to visit or trouble repeatedly.
Head: to lead or direct.
Heal: to cure or restore health.
Heap: to pile or accumulate.
Hear: to perceive sound.
Heat: to make hot.
Help: to assist or aid.
Hesitate: to pause or be indecisive.
Hide: to conceal or keep secret.
Highlight: to emphasize or draw attention to.
Hinder: to obstruct or impede.
Hinge: to depend on.
Hint: to suggest or imply.
Hire: to employ or engage.
Hit: to strike or collide with.
Hoard: to accumulate or stockpile.
Hone: to sharpen or improve.
Honor: to respect or show esteem.
Hook: to catch or connect.
Hope: to desire or wish for.
Huddle: to crowd or gather closely.
Popular H-Verbs in Example Sentences
Help: She helped her neighbor carry groceries to her apartment.
Hit: He hit a home run during the baseball game.
Hear: She heard the birds singing outside her window.
Hold: He held his girlfriend's hand as they walked.
Hug: She hugged her friend tightly when they reunited.
Hide: He hid the present in the closet to surprise his wife.
Hate: She hated the taste of broccoli as a child.
Hurt: He hurt his ankle while playing basketball.
Hope: She hoped to get a good grade on her exam.
Hire: He hired a plumber to fix the leaky faucet.
Verbs With Letter H and their Three Forms
| | | |
| --- | --- | --- |
| Base Form | Past Form | Past Participle |
| hush | hushed | hushed |
| heave | hove | hove |
| hoax | hoaxed | hoaxed |
| hold | held | held |
| hope | hoped | hoped |
| have | had | had |
| hit | hit | hit |
| hug | hugged | hugged |
| horrify | horrified | horrified |
| hate | hated | hated |
| hiss | hissed | hissed |
| hurry | hurried | hurried |
| hang | hung | hung |
| happen | happened | happened |
| hatch | hatched | hatched |
| hop | hopped | hopped |
| hunt | hunted | hunted |
| handle | handled | handled |
| hum | hummed | hummed |
| help | helped | helped |
| humiliate | humiliated | humiliated |
| harm | harmed | harmed |
| hear | heard | heard |
| hurt | hurt | hurt |
| hypnotize | hypnotized | hypnotized |
| hide | hid | hidden |
| hustle | hustled | hustled |
| hinder | hindered | hindered |
| heal | healed | healed |
| hew | hewed | hewn |
| hurl | hurled | hurled |
Positive Verbs That Start With H
Hale
Husband
Hire
Honor
Host
Head
Highlight
Hope
Handle
Harmonize
Help
Verbs that begin with H – Flashcards
Other Verbs Starting With:
A – B – C – D – E – F – G – H – I – J – K – L – M – N – O – P – Q – R – S – T – U – V – W – X – Y – Z
Last updated on March 4th, 2023 at 05:18 pm