"A dollar" refers to a unit of currency in the United States and many other countries. In the United States, it specifically represents one United States dollar, which is the standard unit of currency used for various transactions, purchases, and economic activities.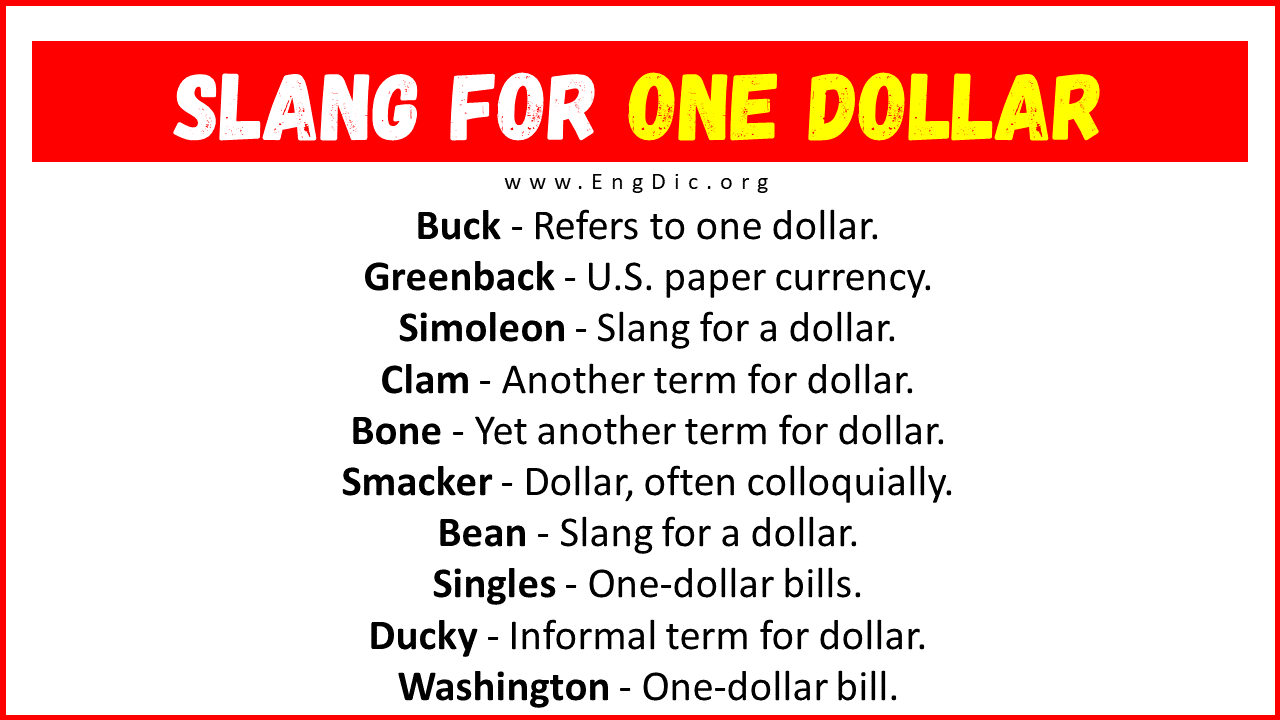 Slang Words for A Dollar
Here is the list of slang words for a dollar:
Buck
Greenback
Simoleon
Clam
Bone
Smacker
Bean
Singles
Ducky
Washington
Bill
Note
Paper
Coin
Scrip
Quid
Dead president
Dough
Guinea
C-note
Fiver
Tenner
Lincolns
Jacksons
Grant
Yard
Stacks
Benjamin
Blue faces
Chips
Slang Terms for A Dollar with Meanings
Buck – Refers to one dollar.
Greenback – U.S. paper currency.
Simoleon – Slang for a dollar.
Clam – Another term for dollar.
Bone – Yet another term for dollar.
Smacker – Dollar, often colloquially.
Bean – Slang for a dollar.
Singles – One-dollar bills.
Ducky – Informal term for dollar.
Washington – One-dollar bill.
Bill – General term for money.
Note – Paper money.
Paper – Money, often paper currency.
Coin – Physical currency, metal.
Scrip – Temporary or alternative currency.
Quid – British pound, sometimes dollar.
Dead president – U.S. currency (features presidents).
Dough – General slang for money.
Guinea – Historic British gold coin.
C-note – Hundred-dollar bill.
Fiver – Five-dollar bill.
Tenner – Ten-dollar bill.
Lincolns – Five-dollar bills.
Jacksons – Twenty-dollar bills.
Grant – Fifty-dollar bill.
Yard – Hundred dollars, traditionally.
Stacks – Large amounts of money.
Benjamin – Hundred-dollar bill.
Blue faces – New hundred-dollar bills.
Chips – Casino tokens or money.
Use of A Dollar Slangs in Example Sentences
I owe you three bucks for lunch.
He flashed a greenback and paid the tab.
She gave me a simoleon as a tip.
I need five clams for the ticket.
Lend me ten bones for the movie.
That'll be one smacker for the candy.
I lost a few beans betting on horses.
She paid in singles at the checkout.
That's a crisp ducky you have there.
He handed over a Washington without hesitation.
Pay the toll with a bill or card.
Do you have a five-dollar note?
I'm short on paper this week.
She tossed a coin into the fountain.
The company issued scrip during the depression.
He spent fifty quid on shoes.
All I see are dead presidents in this wallet.
He's low on dough right now.
That antique costs twenty guineas.
She handed over a C-note for the dress.
Exchange this ten for two fivers.
I only have a tenner on me.
There are two Lincolns in my pocket.
Can you break this Jackson?
I've never held a Grant before.
He owes me a yard from that bet.
He's made stacks from his investments.
I need to deposit this Benjamin.
Newer bills, especially those blue faces, feel different.
How many chips did you win?
Explore More Slang Words: