What does Football Mean?
Football is a team sport where two teams compete to score goals by advancing a ball into the opponent's goal area. Depending on the region, it may refer to association football (soccer) or American football.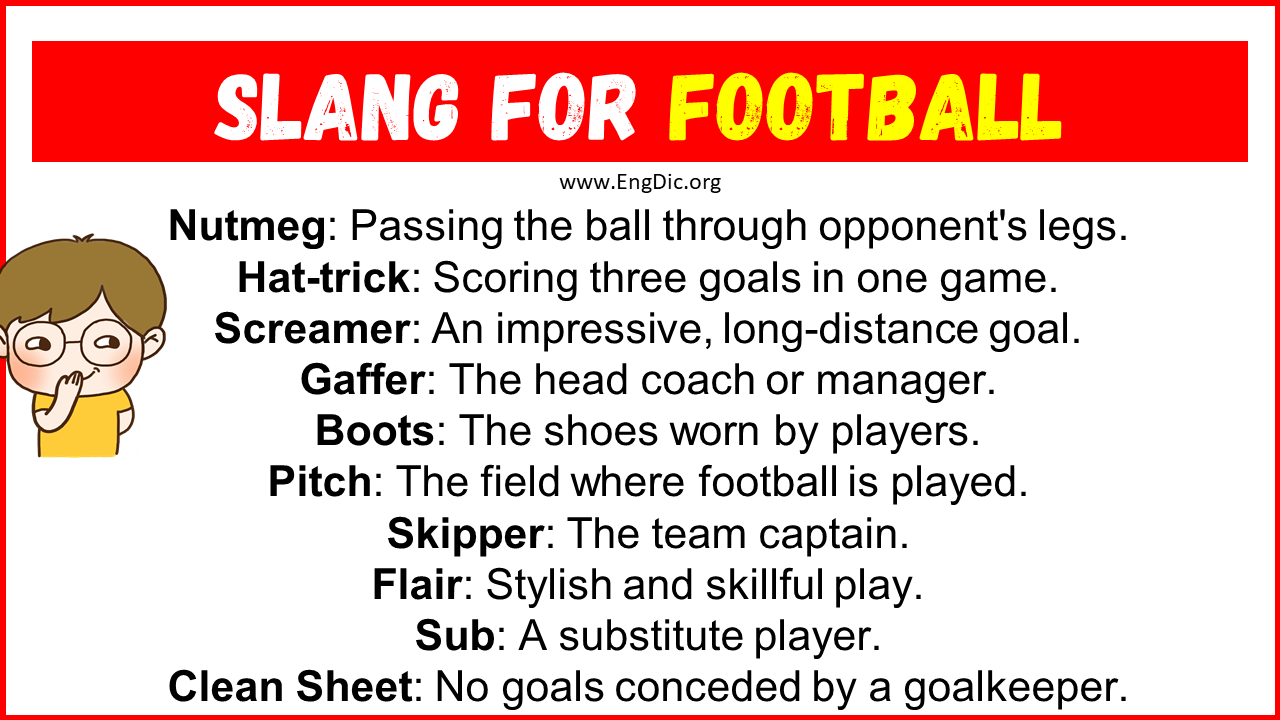 Slang Words for Football
Nutmeg: Passing the ball through opponent's legs.
Hat-trick: Scoring three goals in one game.
Screamer: An impressive, long-distance goal.
Gaffer: The head coach or manager.
Boots: The shoes worn by players.
Pitch: The field where football is played.
Skipper: The team captain.
Flair: Stylish and skillful play.
Sub: A substitute player.
Clean Sheet: No goals conceded by a goalkeeper.
Brace: Two goals scored by one player.
Buzzer: A last-minute goal.
Dribbler: A player skilled at dribbling.
Fixture: A scheduled match.
Keeper: The goalkeeper.
G.: Own goal, scored against one's own team.
Winger: A player on the sides of the field.
Sweeper: Defensive player behind defenders.
Studs: Metal spikes on boots.
Kit: The team's uniform.
Use of Foot Slang in Example Sentences
He executed a perfect nutmeg on the defender.
Ronaldo scored a hat-trick yesterday.
That was an absolute screamer from midfield!
The gaffer made some excellent tactical changes.
His boots are specially designed for control.
The pitch was in perfect condition today.
The skipper led his team to victory.
His flair on the ball is unmatched.
The sub came on and made an impact.
The goalkeeper kept a clean sheet today.
Messi scored a brace in the second half.
They won with a buzzer in extra time.
He's a remarkable dribbler with close ball control.
The next fixture is crucial for them.
The keeper made some fantastic saves.
Unfortunately, it was an O.G. that decided the match.
The winger delivered a perfect cross.
Their sweeper cleared all the dangerous balls.
His studs got caught in the turf.
The team unveiled their new kit today.
Explore More Slang Words: