Plants That Start With C
Plants are eukaryotic organisms that possess cell walls made of cellulose and have the ability to synthesize their own food using energy from the sun, carbon dioxide, and water. Below is the list of plants starting with C.
Plants That Start With C
Cyrtostachys
Cyrtomium
Cyrilla
Cyphostemma
Cyperus
Cypella
Cynodon
Cynara
Cymbopogon
Cylindropuntia
Cydista
Cycnoches
Cyclamen
Cybistax
Cyathodes
Cyanotis
Cutleaf Toothwort
Cutleaf Maple
Cutleaf Coneflower
Cussonia
Cursed Thistle
Curcuma
Cuphea
Cunonia
Cunila
Cuminum
Cucurbita
Cucumis
Ctenanthe
Cryptotaenia
Cryptocarya
Crowfoot
Crowea
Croton
Crocus
Crinum
Crinodendron
Cress
Crepis
Creeping Yellowcress
Creeping Thistle
Creek Maple
Crassula
Craspedia
Crambe
Congea
Coneflower
Conandron
Comptonia
Comptonella
Common Yarrow
Common Tansy
Common Serviceberry
Common Ragwort
Common Ragweed
Common Plantain
Common Milkweed
Common Fig
Common Alder
Commiphora
Commidendrum
Commersonia
Comesperma
Combretum
Colwort
Colvillea
Coluteocarpus
Columnea
Colquhounia
Collomia
Collinsia
Colletia
Collard
Colic Weed
Coleonema
Coix
Coffee Plant
Coelia
Codonopsis
Codonanthe
Cochlioda
Cocculus
Cobaea
Coast Polypody
Coakum
Clytostoma
Clusia
Clumpfoot Cabbage
Clivia
Clitoria
Clintonia
Climbing Nightshade
Clianthus
Cleyera
Clerodendrum
Clematis
Cleistocactus
Claytonia
Clarkia
Cladrastis
Cladanthus
Cissus
Cirsium
Cionura
Cinnamon
Cicerbita
Cibotium
Chusquea
Chrysothemis
Chrysolepis
Chrysogonum
Chrysobalanus
Chrysanthemum
Chrysanthemoides
Chrysalidocarpus
Christmas Fern
Chorizema
Choisya
Chlidanthus
Chirita
Chionochloa
Chimonobambusa
Chimaphila
Chiliotrichum
Chigger Flower
Chiastophyllum
Cherry Birch
Cherry
Chelidonium
Cheiridopsis
Cheilanthes
Chasmanthium
Chasmanthe
Champion Oak
Chamaerops
Chamaelirium
Chamaedorea
Chamaedaphne
Chamaecytisus
Chaerophyllum
Chadsia
Cestrum
Ceropegia
Cereus
Cercocarpus
Cercidiphyllum
Ceratozamia
Ceratostigma
Ceratopteris
Ceratophyllum
Cerastium
Ceraria
Cephalophyllum
Cephalocereus
Cephalaria
Centradenia
Centaurium
Centaurea
Cedronella
Cantua
Canoe Birch
Canna
Canistrum
Cane Ash
Cancer Jalap
Canarina
Canada Thistle
Canada Root
Camoensia
Camellia
Calymmanthium
Calycanthus
Calpurnia
Calotropis
Calothamnus
Caloscordum
Calopyxis
Calophyllum
Calophaca
Calomeria
Calochortus
Calochone
Callisia
Callianthemum
Calliandra
Calla
California Thistle
California Sycamore
Calibrachoa
Calibanus
Calathea
Calanthe
Calandrinia
Calamus
Caladium
Cadia
Cabomba
Cabinet Cherry
Cabbage
All Trees and Plants Beginning With C
Plants That Start With CA
cabbage
california allspice
calochortus macrocarpus
camphor dune tansy
cannaceae
cardamine diphylla
cartagena bark
castilleja
calico aster
calochortus kennedyi
campeachy
cannabidaceae
cardamine bulbifera
carrot
castanospermum
caladenia cairnsiana
callitriche
camelina
candlenut
capsella
carolina lupine
cassia fasciculata
cauliflower
calandrinia ciliata
calocedrus
campanula pyramidalis
canker brake
carambola
carpobrotus
castanea crenata
cactaceae
california fuchsia
calostomataceae
canada lily
canton ginger
carex arenaria
carya myristiciformis
catalpa
calendula officinalis
calochortus amoenus
campanulaceae
canna indica
caraway
carrion fungus
castanea sativa
caladenia
callitrichaceae
cambium
candleberry
caprifoliaceae
carolina jasmine
cassia bark
caudex
cactus family
california nutmeg
caltrop
canada thistle
caoutchouc tree
carica
caryocar
catananche
caimito
california yew
calyptridium umbellatum
canary creeper
caper
carnauba
cascara buckthorn
catharanthus roseus
calamintha nepeta
callitris quadrivalvis
campanula americana
canella
capsule
carpet grass
cassia roxburghii
calamintha sylvatica
calluna
campanula aparinoides
canella bark
capulin
carpetweed
cassia tora
calamintha
callitris glaucophylla
camosh
cane
capsicum frutescens
carpenteria
cassia marilandica
cayenne pepper
calamus
calluna vulgaris
campanula carpatica
canella family
capulin tree
carpetweed family
cassie
calamint
callitris glauca
camomile
candyweed
capsicum baccatum
carpel
cassia marginata
cayenne jasmine
cacao tree
calceolaria
california fern
calochortus albus
calostoma ravenelii
campanula rotundifolia
canada ginger
canna edulis
cantharellus floccosus
caranda palm
carex
carpospore
carya myristicaeformis
castanea ozarkensis
catalina cherry
cajanus cajan
calla lily
calyx
canarybird flower
caper tree
carnegiea
cascarilla bark
catkin
caesalpinia coriaria
california redbud
calycanthaceae
canadian fleabane
cape gooseberry
carissa
caryophyllaceous plant
catasetum macrocarpum
caesalpinia gilliesii
california sagebrush
calycle
canadian red pine
cape kafferboom
carlina
caryota
catchweed
cajanus
calla
calystegia sepium
canary whitewood
caper spurge
carnauba wax
cascarilla
catjang pea
cabomba caroliniana
california box elder
calopogon
campyloneurum
cantaloupe
cardinal flower
carya aquatica
castor bean plant
caesalpinioideae
california white oak
calypso bulbosa
cananga odorata
cape tulip
carnation
cascade penstemon
catha
calaba
calliopsis
camas
canavalia ensiformis
capparidaceae
carob
cashew tree
cattail
cabomba
california bluebell
calophyllum longifolium
camptosorus
cantaloup vine
cardamon
carya
castor bean
calamintha grandiflora
callitris parlatorei
campanula
cane reed
capsicum pepper plant
carpenteria californica
cassia occidentalis
calabash
calamus australis
callirhoe digitata
callus
camass
campanula divaricata
cancer weed
canella winterana
capparis arborea
caracolito
carob bean tree
carpinaceae
cassia
cassiope
cattail millet
calendula
calochortus amabilis
campanula trachelium
canna generalis
caranday
carrion flower
castanea pumila
calamus oil
calnada pea
campanula glomerata
canellaceae
caragana
carpinus
cassiope mertensiana
calabazilla
callirhoe triangulata
camassia leichtlinii
candelilla
capparis mitchellii
carolina allspice
cassia alata
cattleya
caesalpiniaceae
california white fir
calypso
cananga
cape primrose
carline thistle
cascade everlasting
catgut
cactus euphorbia
calamus rotang
california live oak
calocarpum
caltha palustris
campanula medium
canada plum
canistel
canyon oak
caragana arborescens
carib wood
carpinus betulus
carya tomentosa
castanea
catalpa speciosa
caimitillo
california yellow bells
calyptra
canangium
cape yellowwood
carnation family
cascara
catharanthus
cajan pea
calisaya
calystegia
canary grass
caper family
carnauba palm
cascara sagrada
cathaya
cactus
california laurel
caltha
canada moonseed
canyon live oak
carex pseudocyperus
carya ovata
catalpa bignioides
caesalpinia
california olive
calvary clover
canada violet
cap
carica papaya
caryocar nuciferum
catananche caerulea
cacao
california false morel
calostoma lutescens
canada garlic
cantharellus clavatus
carduus nutans
carya laciniosa
cat thyme
cabbage palmetto
california black oak
calophyllum calaba
campion
cantala
cardamine rotundifolia
carum
castilleja sessiliflora
caesalpinia echinata
california romero
calycanthus family
canadian hemlock
cape jasmine
carissa grandiflora
caryophyllidae
catch crop
caesalpinia bonduc
california poppy
calvatia
canada wild rye
cape aloe
caricaceae
caryocaraceae
cataphyll
calamagrostis
callitris endlicheri
camellia sinensis
candytuft
capsicum annuum longum
carolina spring beauty
cassia javonica
cayenne
cakile maritima
calliandra
camachile
canavalia
capitulum
carnivorous plant
cashew
catnip
cabbage bark
california bay tree
calochortus nuttallii
camphor tree
canoe birch
cardamine douglasii
carthamus
castilleja chromosa
caesalpinia decapetala
california redwood
calycanthus
canadian goldenrod
cape hyacinth
carissa bispinosa
caryophyllales
catbrier
cakile
calla palustris
calyx tube
canarybird vine
capeweed
carnegiea gigantea
cash crop
catmint
cacalia lutea
caley pea
california dandelion
calochortus elegans
calostoma cinnabarina
campanulales
canada balsam
canna lily
cantharellus cibarius
cardamine
carduus crispus
carrizo
carya illinoinsis
castanopsis
casuarinales
calabash tree
callirhoe involucrata
camassia
cancerweed
capparis flexuosa
carob tree
cassia acutifolia
cattley guava
calabur tree
callistephus
camassia quamash
candida
capparis spinosa
carolina buckthorn
cassia augustifolia
cattleya citrina
cacalia
california buckwheat
calopogon tuberosum
camwood
canterbury bell
cardoon
carya glabra
casuarina equisetfolia
calanthe
calocedrus decurrens
campanula rapunculoides
cankerweed
carambola tree
carpobrotus edulis
castanea dentata
cacalia javanica
california coffee
caloscypha fulgens
canada anemone
cantharellus
carduus
carya illinoensis
casuarinaceae
caladium
callitris
camellia
candlestick tulip
capsicum
carolina moonseed
cassia fistula
caulophyllum
cabombaceae
california buckthorn
calopogon pulchellum
campylotropous ovule
cantaloupe vine
cardiospermum
carya cordiformis
casuarina
calandrinia
calocarpum zapota
campanula persicifolia
canistel tree
caragana sinica
carpinus caroliniana
castanea chrysophylla
caladium bicolor
callitris calcarata
camellia japonica
candlewood
capsicum annuum grossum
carolina pond fern
cassia grandis
caviuna wood
calathian violet
calochortus
campanula rapunculus
canna
caranda
carpophore
castanea mollissima
caesalpinia ferrea
california sage
calycanthus floridus
canadian pondweed
cape jessamine
carissa macrocarpa
caryopsis
catchfly
calabar bean
callirhoe
camash
canavalia gladiata
capparis
carob bean
cassava
cattail family
calabura
callistephus chinensis
camassia scilloides
candida albicans
caprifig
carolina hemlock
cassia auriculata
caucasian walnut
caesalpinia pulcherrima
california sycamore
calycophyllum
canafistola
cape marigold
carlina acaulis
caryota urens
catclaw
caesalpinia sepiaria
california tree poppy
calyculus
canafistula
cape periwinkle
carlina vulgaris
casava
catechu
calico bush
calochortus luteus
camphor daisy
cannabis indica
cardamine bulbosa
carrot family
castilleia
cabbage palm
california beauty
calophyllum
camphorweed
canoe cedar
cardamine pratensis
carthamus tinctorius
castilleja miniata
cabbage tree
california black walnut
calophyllum inophyllum
campsis radicans
cantaloup
cardamom
carum carvi
castilleja sulphurea
caesalpinia bonducella
california privet
calvatia gigantea
canadian aspen
cape dagga
caricature plant
caryophyllaceae
catasetum
Plants That Start With CH
chanterelle
chestnut tree
chinese parasol tree
chrysanthemum segetum
chanar
chestnut
chinese mustard
chrysanthemum lacustre
chaenactis
chenopodium capitatum
chinaberry tree
chorizema
chamaedaphne
cherry pepper
chinese gooseberry
christmas star
chaulmoogra
chile hazel
chinkapin oak
chytridiaceae
chamomile
chervil
chinese magnolia
chrysanthemum balsamita
chadlock
chenopodium botrys
chinaberry
chordospartium
cheat
chile tarweed
chiococca
cheiranthus
chimaphila corymbosa
chloranthus
chalaza
cherimoya tree
chinese cabbage
christmas bush
chalice vine
cherokee rose
chinese chestnut
christmas cactus
chaffweed
chenopodium vulvaria
chinese anise
christmas bells
chamaecrista
cherry
chinese chive
christmas fern
chafeweed
chenopodium rubrum
chinese angelica tree
christmas begonia
chamaemelum nobilis
chatterbox
cherry tomato
chiggerflower
chinese lacquer tree
chinese yam
chromoplast
chufa
cheiranthus cheiri
chimney plant
chloris gayana
checkered daffodil
chilean hazelnut
chionochloa conspicua
cheeseflower
chilean strawberry
chittimwood
cheiranthus asperus
chimney bellflower
chloris
chard plant
chickweed phlox
chinese scholar tree
chrysopsis
cheilanthes gracillima
chilopsis linearis
chlamys
chelone
china aster
chloroxylon
chard
chickweed
chinese rhubarb
chrysophyllum cainito
chain fern
cherimoya
chinese black mushroom
christmas berry
chamaecyparis
chenin blanc
cherry apple
china grass
chinese cinnamon
chocolate root
christmas flower
chamois cress
cherry tree
chinese lantern plant
chrysanthemum
chamaecyparis thyoides
cherry birch
chinese cork oak
christmas green
chenopodiales
china pink
chokecherry
cheilanthes eatonii
chilopsis
chlamydospore
chamaecytisus
chaulmugra
cherry crab
chile pine
chinese elm
chinquapin oak
christmas holly
chytridiomycetes
cheilanthes lanosa
chimaphila
chloranthaceae
cheiranthus allionii
chimaphila umbellata
chlorenchyma
chaulmoogra tree
chile nut
chinquapin
chytridiales
cheatgrass
chilean cedar
chiococca alba
charred pancake cup
chigger flower
chinese wistaria
chrysothamnus nauseosus
chaparral pea
chickpea
chinese primrose
chrysolepis
cheddar pink
chilean nut
chittamwood
checkerberry
chilean firebush
chionanthus
chaenomeles speciosa
chenopodium murale
chinese angelica
christella
chelidonium majus
chimonanthus praecox
chloroplast
chaparral broom
chichipe
chinese parsley
chrysobalanus
checkered lily
chilean jasmine
chittam bark
chelidonium
chimonanthus
chloris truncata
chanal
charlock
chess
chicot
chinese mushroom
chinese white cabbage
chrysanthemum coccineum
chrysothamnus
chenopodiaceae
china jute
chocolate tree
chenopodium
china rose
chokecherry tree
chardonnay grape
chicory plant
chinese silk plant
chrysopsis villosa
chamaedaphne calyculata
cherry plum
chinese hibiscus
christmas tree
charity
chicory root
chinese water chestnut
chrysosplenium
chaenomeles
chenopodium glaucum
chincherinchee
christ plant
chardonnay
chicory
chinese scholartree
chrysopsis mariana
chamaecytisus palmensis
cherry laurel
chinese evergreen
christmas rose
chaenomeles japonica
chenopodium hybridum
chinchona
christ thorn
chamaemelum
cherry stone
chinese holly
christmasberry
cheese
chilean rimu
chittem bark
chelone glabra
china fleece vine
chloroxylon swietenia
chenopodium album
china tree
cholla
cheilanthes
chili pepper
chive
cheilanthes alabamensis
chilli pepper
chives
chantarelle
chestnut oak
chinese parasol
chrysanthemum maximum
chaparral mallow
chickasaw plum
chinese pea tree
chrysobalanus icaco
chaparral sage
chickpea plant
chinese privet
chrysophyllum
checkerbloom
chilean flameflower
chionanthus virginicus
Plants That Start With CI
cirsium heterophylum
cirsium flodmanii
cinnamomum camphora
cirio
citroncirus
cirsium discolor
cinnamomum
citrullus
cimicifuga racemosa
citrus paradisi
cinnamon vine
cinquefoil
cinnamon bark
circaea
cinnamon
cirsium
citron tree
cinchona calisaya
citrus tangelo
cicer arietinum
citrus aurantium
cicuta
citrus limetta
cinchona bark
citrus sinensis
cistus albidus
cimicifuga americana
citrus medica
cinchona ledgeriana
cistus
cinnamon fern
cinchona pubescens
circaea alpina
cirsium arvense
circaea lutetiana
cineraria
cimicifuga
citrus maxima
circassian walnut
citronwood
cimicifuga foetida
citrus nobilis
cinchona
citrus reticulata
citroncirus webberi
cibotium
citrullus vulgaris
citron
cirsium vulgare
cichorium endivia
citrus decumana
cibotium barometz
citrus
cinnamomum zeylanicum
cinchona lancifolia
cive
cirsium lanceolatum
cichorium
citrus bergamia
cinchona cordifolia
citrus tree
cirsium eriophorum
citrange tree
cinchona tree
cineraria maritima
cistus ladanum
cirrhus
citrange
cinnamomum cassia
cistus ladanifer
circis siliquastrum
cinnamomum loureirii
cirrus
cichorium intybus
citrus grandis
cinchona officinalis
cinnabar chanterelle
cicuta verosa
citrus limon
cider gum
citrus limonia
cirsium helenioides
cirsium rivulare
cistaceae
cicer
citrus aurantifolia
Plants That Start With CE
cedrus atlantica
cerastium
cedrela odorata
cephalotus
centaurea solstitialis
cedar nut
centunculus
celastrus scandens
ceratozamia
cedrela
cephalotaxaceae
centaurea scabiosa
celery cabbage
cercidium
cembra nut
ceroxylon alpinum
cebu maguey
centranthus
cecropia
centranthus ruber
centaurium scilloides
cecropia peltata
centrolobium
centaurium minus
cedar tree
celastrus orbiculatus
cephalanthera rubra
ceratostomella ulmi
cenchrus ciliaris
cestrum diurnum
cell wall
cercis occidentalis
celosia cristata
cereal
cenchrus
cestrum
ceibo
ceratopetalum
celtis occidentalis
ceriman
centaurea americana
ceterach officinarum
ceiba tree
ceratonia siliqua
centaury
cecropiaceae
centaurea cyanus
centrolobium robustum
cetraria islandica
cedarwood
cephalotaceae
cedar
centrosema
centaurea imperialis
ceylon cinnamon tree
celtis laevigata
cereus
cedar elm
celery
centrosema virginianum
cercidiphyllum
celtuce
ceroxylon
cembra nut tree
ceroxylon andicola
celeriac
cercidiphyllaceae
celery pine
cercidium floridum
celastrus
ceratostomella
ceiba
cerastium tomentosum
celosia
cercospora kopkei
celery root
cercis
centaurium calycosum
centaurea
ceterach
cedrus deodara
cerastium alpinum
cellular slime mold
cercospora
cenchrus tribuloides
cestrum nocturnum
cedrela calantas
celastric articulatus
cephalotaxus
ceratostomataceae
centaurea gymnocarpa
ceylon cinnamon
centaurea moschata
ceylon gooseberry
celandine poppy
ceratophyllum
cedar of goa
century plant
celastraceae
ceratopteris
centauria calcitrapa
celandine
ceratophyllaceae
cedar mahogany
centrospermae
centaurium
cedar of lebanon
cephalanthera
celosia argentea
cercosporella
centaurea cineraria
cetraria
centaurea nigra
celtis
cereal grass
celtis australis
cereal oat
cedrus
cephalotus follicularis
cedrus libani
cerastium arvense
ceiba pentandra
ceratonia
celery top pine
cercis canadensis
Plants That Start With CL
class gastromycetes
clianthus formosus
class filicopsida
clethraceae
cladrastis lutea
cleistothecium
clove tree
class cycadopsida
clementine tree
cluster bean
class magnoliopsida
climbing hempweed
class eumycetes
clethra
cladrastis kentukea
cleistocarp
clove pink
class musci
climbing maidenhair
clatonia lanceolata
clitocybe nuda
class angiospermae
clematis texensis
clubroot fungus
class anthoceropsida
clematis versicolor
clusia
clary sage
clematis ochreleuca
club moss
class ascomycetes
clematis verticillaris
clusia flava
clary
clematis lasiantha
club fungus
class dicotyledones
class lycopsida
cleome pinnata
climbing fumitory
clytocybe alba
claviceps purpurea
clitoria
class plectomycetes
clinopodium vulgare
class sphenopsida
clintonia uniflora
claviceps
clitocybe subconnexa
class hepaticae
cliftonia
clathraceae
clitocybe inornata
claytonia caroliniana
clivers
class hemiascomycetes
cliff rose
class acrasiomycetes
clematis tangutica
clubmoss family
cladonia
class basidiomycetes
clearweed
clematis viorna
closed gentian
clusia insignis
class equisetatae
cleome serrulata
class bryopsida
clematis virginiana
clusia major
cladoniaceae
cleistes
cloud grass
class zygomycetes
clitocybe dealbata
class chytridiomycetes
class monocotyledones
clematis vitalba
climbing lily
clusia rosea
clathrus
clitocybe irina
clavariaceae
clitocybe robusta
class monocotyledonae
climbing hydrangea
class myxomycetes
climbing nightshade
class lycopodineae
climbing fern
class gnetopsida
cliff brake
class psilotatae
clintonia andrewsiana
class oomycetes
climbing onion
clammyweed
clematis crispa
cloveroot
claytonia
clitoria turnatea
class ginkgophytina
clianthus puniceus
class psilopsida
clintonia
clavicipitaceae
clitoria mariana
class filicinae
class lycopodiate
clethra alnifolia
climbing corydalis
cladonia rangiferina
cleavers
clotbur
cladophyll
cleistes divaricata
cloudberry
class hymenomycetes
climber
class deuteromycetes
cleome
clustered bellflower
class liliopsida
climbing boneset
clammy chickweed
clematis
clover
class hepaticopsida
cliftonia monophylla
class coniferopsida
clementine
clusiaceae
clammy locust
clematis baldwinii
clover fern
class dicotyledonae
cleome hassleriana
clustered poppy mallow
class pyrenomycetes
clintonia borealis
cladode
claytonia virginica
clocks
cladrastis
cleistes rosea
clove
class taxopsida
clitocybe
class tiliomycetes
clitocybe clavipes
class gasteromycetes
clianthus
class ginkgopsida
clianthus speciosus
class gymnospermae
cliff penstemon
class pinopsida
clinopodium
Plants That Start With CN
cnidoscolus
cnicus
cnicus benedictus
cnidoscolus urens
Plants That Start With CO
colchicaceae
common birch
common polypody
conker
cordaitales
cortaderia richardii
cow lily
cola acuminata
common beech
common plantain
conium
cord grass
corozo palm
covered smut
coffea
comfrey
common lilac
cone pepper
coral bean
cornflower
cotton
cohune fat
common bamboo
common nardoo
coniferales
corallorhiza maculata
cornus stolonifera
coumarouna
cocculus carolinus
collinsia bicolor
common coral tree
common spotted orchid
conradina glabra
coreopsis tinctoria
cortinarius violaceus
coyote brush
coir
common bean plant
common pepper
coniogramme
coralwort
coronilla varia
courgette
coelogyne
combretum family
common lettuce
cone
corakan
cornelian cherry
cottage tulip
cocklebur
collinsia verna
common daisy
common sunflower
consumption weed
coriandrum
corydalis claviculata
cocos nucifera
columbo
common grape hyacinth
common wormwood
copernicia alba
corn marigold
coryphantha
coffee fungus
commiphora myrrha
common moonseed
conic morel
coral pea
cornus
cottonweed
coffee rose
common ageratum
common moonwort
conic verpa
coral root
cornus amomum
cottonwood
coffee
commiphora
common matrimony vine
confederate rose mallow
coral gem
cornsmut
cotton thistle
coffee senna
common alder
common morel
conic waxycap
coral tree
cornus canadensis
cotula
coffea robusta
commelinidae
common marigold
confederate rose
coral fungus
cornsilk
cotton rush
cocculus
cohune palm
collinsia
common basil
common comfrey
common osier
common spindle tree
coniferopsida
conradina
coralroot
coreopsis maritima
corona
cortinarius subfoetidus
courbaril
coyol palm
cocozelle
colutea arborescens
common heath
compass plant
copernicia prunifera
corn poppy
cosmos
coco palm
colocasia esculenta
common elder
common thyme
convolvulaceae
corkscrew flower
corylopsis
cocoa plum
colorado river hemp
common fennel
common vetchling
convolvulus sepium
corm
corylus cornuta
cocoyam
colutea
common gum cistus
compass flower
copernicia cerifera
corn mint
cosmea
coast redwood
coleus aromaticus
common buttercup
common rush
conocarpus erectus
cordia gerascanthus
cortinariaceae
cowherb
coconut tree
columbia tiger lily
common foxglove
common wolffia
coontie
corn chamomile
corypha umbraculifera
codariocalyx
coma
common horehound
composite plant
coprinus
corn smut
cotinus
coast polypody
coleus amboinicus
common burdock
common rose mallow
conocarpus
cordia alliodora
cortina
cowberry
coffee fern
commiphora meccanensis
common milkwort
congoo mallee
coral necklace
cornstalk
cottonseed
codiaeum
coffee tree
comandra pallida
common allamanda
common hyacinth
common morning glory
compound pistil
conidiophore
coprinus comatus
coral vine
corn spurrey
cornus florida
cotinus coggygria
cotula coronopifolia
coigue
common bean
common pea
coniferous tree
coralwood
coronilla
courbaril copal
coffeeberry
common amsinckia
common mugwort
conidiospore
coralbells
cornus mas
cotyledon
coeloglossum
combretum
common jasmine
comptonia asplenifolia
coptis groenlandica
corn stalk
cotoneaster
coconut palm
colubrina
common flat pea
common white dogwood
coolwart
corn campion
corypha gebanga
cochlearia officinalis
cohosh
collinsia parviflora
common apricot
common cotton grass
common mullein
common stinkhorn
conidium
consolida ambigua
coralberry
coriander plant
cornus obliqua
corydalis
couch grass
cocos
columbine
common garden cress
common wood sorrel
copernicia
corn lily
corypha utan
cocoswood
columnea
common grape vine
common yellowwood
copernicia australis
corn mayweed
cos lettuce
cochlearia
collinsia heterophylla
common corn salad
common staghorn fern
consolida
coriander
coryanthes
coyote bush
cockleburr
collinsonia
common dandelion
common tarweed
convallaria
coriandrum sativum
corydalis sempervirens
coca
collard
common chickweed
common speedwell
conospermum
coreopsis gigantea
cortinarius mutabilis
coyol
coast lily
cole
common box
common ragweed
connarus guianensis
cordgrass
corticium salmonicolor
cow parsnip
coco plum tree
colorado blue spruce
common european dogwood
common unicorn plant
convolvulus arvensis
corkwood family
corylus americana
coco
collinsonia canadensis
common dogbane
common teasel
convallaria majalis
cork oak
corydalis solida
coffea liberica
commelinales
common mallow
confederate jasmine
coral drops
cornish heath
cotton rose
cod
colza oil
common hops
composite
coprinaceae
corn silk
costusroot
coachwhip
colchicum
common bird cherry
common privet
connaraceae
cordaites
cortaderia selloana
cow oak
coco plum
coloradillo
common european ash
common tobacco
convolvulus
corkwood
corylus
cocuswood
colza
common hop
compositae
copper beech
corn salad
costmary
cobnut
cola
colicroot
common bearberry
common carline thistle
common pitcher plant
common snowberry
coniogramme japonica
conopodium denudatum
corchorus
coreopsis
corozo
cortinarius gentilis
cover crop
cowslip
codiaeum variegatum
combretaceae
common ivy
comptonia
coptis
corn spurry
cotinus obovatus
coeloglossum bracteatum
combretum appiculatum
common juniper
comptonia peregrina
coquilla nut
cornaceae
cotoneaster dammeri
coast white cedar
colewort
common camas
common scurvy grass
conoclinium coelestinum
cordyline australis
cortinarius armillatus
cowpea plant
cohune nut
common barberry
common nightshade
coniferophyta
corallorhiza striata
corokia
coumarouna odorata
coastal rein orchid
colic root
common caper
common sickle pine
conopodium
cordyline terminalis
cortinarius corrugatus
cowpen daisy
coffea arabica
commelina
common madia
coneflower
coral bean tree
cornflower aster
cotton grass
coast rhododendron
coleus blumei
common calamint
common sage
conoclinium
cordyline
cortinarius
cowpea
cohune
common arrowhead
common myrtle
conifer
corallorhiza
cornus sanguinea
coumara nut
coffea canephora
commelinaceae
common maidenhair
conessi
coral bush
cornhusk
cotton plant
cohune oil
common barley
common oak
coniferophytina
corallorhiza trifida
corolla
country borage
cocoa palm
colorado fir
common evening primrose
common valerian
convolvulus scammonia
corkwood tree
corylus avellana
codariocalyx motorius
comandra
common horsetail
compound leaf
coprinus atramentarius
corn speedwell
cotinus americanus
coeloglossum viride
combretum bracteosum
common laburnum
conacaste
coracan
cornel
cottage pink
cocobolo
colorado spruce
common fig
common watercress
conyza
cormous plant
corymb
coconut
coltsfoot
common fig tree
common wheat
conyza canadensis
corn
corypha
cola nut
common beet
common plum
conium maculatum
cordaitaceae
cortaderia
coville
coast banksia
colchicum autumnale
common bog rosemary
common purslane
connarus
cordate leaf
corticium
cow parsley
coast live oak
coleus
common broom
common reed
connemara heath
cordia
corticium solani
cowage
coco de macao
colocasia
common duckweed
common thorn apple
convallariaceae
cork tree
corylaceae
Plants That Start With CR
creeping lily
crustose thallus
creeping jenny
cruciferous plant
crataegus mollis
croton eluteria
creeping bent
crown daisy
creosote bush
creeping crowfoot
crucifer
crataegus marshallii
croton
crab cactus
crepe gardenia
crape fern
crinkle root
crazy weed
crowberry
crazyweed
crowberry family
crataegus tomentosa
crow corn
cream violet
crowfoot
crataegus pedicellata
crottle
creeping buttercup
crenate leaf
crown vetch
craspedia
crocus
crack willow
crescentia
crampbark
crested coral root
crape myrtle
crocanthemum canadense
creeping thyme
cryptogramma crispa
cranberry tree
crete dittany
crataegus
cronartium ribicola
creeping thistle
cryptogramma
crateva
crow garlic
crataegus apiifolia
creamcups
cross vine
crowfoot family
creeping charlie
crownbeard
creashak
crowfoot grass
crataegus calpodendron
crotalaria
cranberry heath
cretan dittany
creeper
crepe flower
crown
cranesbill
crimson clover
crape jasmine
crinkleroot
crepe fern
crab grass
crepe jasmine
creeping zinnia
creeping soft grass
cryptogam
crambe
cress
crabapple
crepe myrtle
crataegus oxycantha
crottal
crassulaceae
cronartium
creeping oxalis
crybaby tree
crackerberry
crescentia cujete
crassula
crocus sativus
creeping fern
creeping wood sorrel
cruciferae
crystal tea
crataegus biltmoreana
crotal
crataegus coccinea
crotalaria sagitallis
creeping windmill grass
cryptomeria
creeping bentgrass
crown imperial
creeping wintergreen
cryptomeria japonica
crataegus monogyna
croton oil
creeping willow
cryptogrammataceae
creeping bellflower
crown beard
crataegus oxyacantha
croton tiglium
creeping bugle
crown of thorns
crambe maritima
cress plant
crataegus aestivalis
crop
crataegus laevigata
crotalaria spectabilis
cranberry
crested wheat grass
cranberry bush
crested wheatgrass
creeping juniper
cruel plant
creeping snowberry
cryptocoryne
creeping spike rush
cryptogamia
crabgrass
crepis
Plants That Start With CU
cupressaceae
cup morel
cultivated cabbage
cumquat
cuban mahogany
curcuma longa
cup and saucer
cultivar
cubeb
curly grass
cucurbita
custard apple
cultivated strawberry
culvers physic
cultivated plant
culvers root
cultivated parsnip
cuban bast
cunoniaceae
curcuma domestica
cucurbita maxima
cutleaved coneflower
cuckooflower
currajong
cucumber vine
curtisia
cucurbita foetidissima
cutch
cupressus lusitanica
cucumis sativus
cushion calamint
cucurbita pepo
cupressus guadalupensis
cultivated rice
cucurbitaceae
cumfrey
cup
cumin
culcita
cucumis melo inodorus
cushaw
cube
cuminum
curly clematis
cucurbit
cushion flower
cucurbita argyrosperma
custard apple tree
cuban spinach
curled leaf pondweed
cubeb vine
curly grass fern
curcuma
cupressus arizonica
cucumber
currant bush
cuckoo bread
curly pondweed
cultivated crab apple
cucurbita moschata
cupressus
cuckoopint
currant
cucurbita mixta
cup fungus
cupule
cudweed
culcita dubia
cupressus pigmaea
cuneate leaf
cupressus sempervirens
cultivated carrot
cupressus macrocarpa
cuminum cyminum
cultivated celery
cunonia family
cucumber tree
cursed crowfoot
cucurbita pepo melopepo
culm
cucumis
cuscuta
cucumis melo
cuscuta gronovii
cupflower
cupressus abramsiana
cupressus goveniana
cuckoo flower
curlycup gumweed
Plants That Start With CY
cynancum
cymling
cycadofilicales
cystopteris montana
cyclosorus
cyperus esculentus
cymbidium
cycadales
cystopteris fragilis
cyperus rotundus
cypripedium arietinum
cyclamen
cyclamen hederifolium
cycas circinalis
cytisus ramentaceus
cyclamen neopolitanum
cycas
cytisus multiflorus
cydonia oblonga
cyperus alternifolius
cypripedium parviflorum
cypress family
cypress tree
cypripedium montanum
cynodon plectostachyum
cypripedium acaule
cyamopsis psoraloides
cyrilla family
cynodon dactylon
cycas revoluta
cytisus scoparius
cyathea medullaris
cyclamen purpurascens
cyrilliaceae
cymbid
cycloloma
cycad
cyrtomium aculeatum
cypripedium
cyclophorus
cyperus papyrus
cypripedium album
cypripedium calceolus
cyperus longus
cyphomandra
cyperus
cynara scolymus
cypress sedge
cypre
cycadopsida
cytisus albus
cyamopsis
cyrilla
cynara
cypress pine
cypripedium reginae
cyme
cyperaceae
cyatheaceae
cyrtomium
cycad family
cystopteris
cynoglossum amabile
cycnoches
cynoglossum officinale
cycadophyta
cytesis proliferus
cynoglossum
cyclophorus lingua
cycadophytina
cytisus
cydonia
cypress spurge
cyathea
cyrilla racemiflora
cycadaceae
cystopteris bulbifera
cypress vine
cypripedia
cymule
cynara cardunculus
cynodon
cypress
Tropical Plants That Start With C
Cistaceae
Chloranthaceae
Cannaceae
Costaceae
Celastraceae
Cunoniaceae
Cactaceae
Calceolariaceae
Calophyllaceae
Caricaceae
Corynocarpaceae
Cyclanthaceae
Colchicaceae
Codonaceae
Cactacea
Calycanthaceae
Casuarinaceae
Campanulaceae
Canellaceae
Cucurbitaceae
Crassulaceae
Cupressaceae
Cornaceae
Clusiaceae / Guttiferae
Cyatheaceae
Cleomaceae
Cyperaceae
Cephalotaxaceae
Convolvulaceae
Commelinaceae
Capparaceae
Connaraceae
Combretaceae
Cannabaceae
Caprifoliaceae
Chrysobalanaceae
Clethraceae
Cochlospermaceae
Cycadaceae
House Plants | Indoor Plants That Start With C
Cyclamen
Cast Iron Plant
Coral Bead Plant
Croton or Joseph's Coat
Cardboard Palm
Cigar Plant
Cineraria Flowers
Chinese Money Plant
Clivia Lily
Chinese Evergreen
Creeping Fig
Calathea Orbifolia
Caladium
Calathea Roseopicta 'Corona'
Christmas Cactus
Camellia
Clubmoss
Crocus
Coffee Plant
Candy Corn Plant
Coleus Plant
Cactus
China Doll Plant
Calathea Rattlesnake Plant
Calathea Pinstripe
Crown of Thorns
Campanula Flowers
Cape Primrose
Coral Berry
Cat Palm Tree
Copper Plant
Celosia Plumosa
Corn Plant
California Pitcher Plant
Cape Sundew
Cylindrical Snake Plant
Perennials that Start with C
| | |
| --- | --- |
| Common Name | Botanical Name |
| Calla lily | Zantedeschia spp. |
| Cupid's dart | Catanache |
| Celandine poppy | Stylophorum |
| Culver's root | Veronicastrum |
| Chameleon plant | Houttuynia |
| Coneflower | Echinacea |
| Celandine | Chelidonium |
| Coreopsis lanceleaf | Coreopsis lanceolata |
| Chives | Allium |
| Cinquefoil | Potentilla x hybrida |
| Coral bells | Heuchera sanguinea |
| Cardinal flower | Lobelia cardinalis |
| Columbine | Aquilegia canadensis |
| Corydalis | Corydalis |
| Canna lily | Canna x generalis |
| Crambe, Kale | Crambe |
| Crinum lily | Crinum |
| Coltsfoot | Tussilago |
| Cephalaria | Cephalaria |
| Comfrey | Symphytum |
| Coneflower purple | Echinacea purpurea |
| Celmatis | Clematis |
| Chamomile | Anthemis |
| Cat's tail | Typha |
| Camus lily, Quamash | Camassia |
| Chrysanthemum | Chrysanthemum morifolium |
| Checker-mallow | Sidalcea |
| Cornflower | Centaurea |
| Calla lily | Calla |
| Christmas fern | Polystichum |
| Coreopsis threadleaf | Coreopsis verticillata |
| Catmint | Nepeta spp. |
| Cranesbill geranium | Geranium sanguineum |
| Crocosmia | Crocosmia x crocosmiiflora |
| Catchfly | Lychnis |
| Catchfly | Silene |
| Curled pondweed | Potamogeton |
| Carpet bugle | Ajuga |
| Cyclamen | Cyclamen |
| Cinnamon fern | Osmunda |
| Cotyledon | Chiastophyllum |
| Crocus | Crocus |
| Clover | Trifolium |
| Colocasia | Colocasia |
| Calamint | Calamintha |
| Calla lily | Zantedeschia |
| Candytuft | Iberis sempervirens |
| Chervil | Anthriscus |
20 Plants Starting With Letter C (Pictures and Short Definitions)
1. Cactus
The Cactus is a succulent plant that is adapted to hot and arid environments. It is characterized by its thick and fleshy stems, and its ability to store water for long periods of time.
2. Chamomile
Chamomile is a herbaceous plant that is commonly used for its calming and soothing properties. It is often used in teas and as an ingredient in natural remedies for anxiety and insomnia.
3. Carnation
Carnation is a flowering plant that is prized for its colorful and fragrant blooms. It is often used in gardens, bouquets, and floral arrangements.
4. Cedar
Cedar is a type of coniferous tree that is valued for its durable wood and pleasing aroma. It is often used for furniture, and building materials, and as an ingredient in essential oils.
5. Cherry
A Cherry is a fruit tree that produces small, sweet, and juicy fruits. It is a popular fruit for eating fresh, cooking, and making jams and preserves.
6. Chives
Chives are a type of herb that is closely related to onions and garlic. They are often used as a seasoning in cooking and are known for their mild and slightly sweet flavor.
7. Cinnamon
Cinnamon is a spice that is derived from the bark of several species of trees. It is commonly used in cooking and baking and is prized for its sweet and warm flavor.
8. Clover
Clover is a type of herbaceous plant that is commonly used as a food source for livestock. It is also often used as a cover crop to improve soil health and prevent erosion.
9. Coconut
Coconut is a tropical fruit that is prized for its sweet and nutty flavor, as well as its numerous health benefits. It is often used in cooking, as a source of oil, and in the production of coconut milk and cream.
10. Coriander
Coriander is a herb that is commonly used as a seasoning in cooking. It is known for its strong and distinctive flavor, which is often described as citrusy and slightly sweet.
11. Crocus
Crocus is a type of flowering plant that is prized for its delicate and colorful blooms. It is often used in gardens and as a decorative plant.
12. Cyclamen
Cyclamen is a flowering plant that is valued for its colorful and fragrant blooms. It is often used in gardens, as a houseplant, and in floral arrangements.
13. Cypress
Cypress is a type of coniferous tree that is valued for its durable wood and pleasing aroma. It is often used for furniture, and building materials, and as an ingredient in essential oils.
14. Calendula
Calendula is a herbaceous plant that is commonly used for its medicinal properties. It is often used to treat skin irritations and wounds and is also known for its anti-inflammatory and anti-fungal properties.
15. Camellia
Camellia is a flowering plant that is prized for its colorful and fragrant blooms. It is often used in gardens, as a houseplant, and in floral arrangements.
16. Coleus
Coleus is a type of herbaceous plant that is valued for its colorful and ornamental foliage. It is often used as a decorative plant in gardens and as a houseplant.
17. Cumin
Cumin is a spice that is commonly used in cooking. It is known for its distinctive flavor, which is slightly bitter and earthy.
18. Cupressus
Cupressus is a type of coniferous tree that is valued for its durable wood and ornamental value. It is often used in landscaping as a hedge, screen, or windbreak.
19. Chinese lantern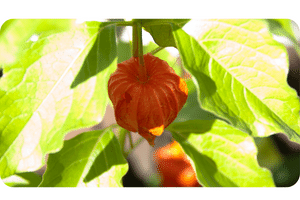 Chinese lantern is a herbaceous plant that is valued for its colorful and unique papery seed pods that resemble lanterns. It is often used in gardens and as a decorative plant.
20. Castor bean
Castor bean is a type of plant that is valued for its oil-rich seeds, which are used in a variety of industrial and medicinal applications. However, it is important to note that all parts of the plant are toxic if ingested, so caution should be taken when handling or growing it.
Other Plants Starting With:
A – B – C – D – E – F – G – H – I – J – K – L – M – N – O – P – Q – R – S – T – U – V – W – X – Y – Z
Last updated on March 13th, 2023 at 05:03 am