Welcome to an exciting compilation of over 100 vehicles and transport names! From sleek sports cars to massive cargo ships, we've got you covered. Explore this diverse collection of automobiles, aircraft, boats, trains, and more, accompanied by captivating pictures that showcase their unique designs and functions. Get ready to embark on a thrilling journey through the world of transportation!
The term "transport" encompasses a wide range of modes of transportation, including automobiles, aircraft, boats, trains, bicycles, and more.
Transport Name
Transport Name with Picture
| | |
| --- | --- |
| 1. Car | |
| 2. Yacht | |
| 3. Cargo Ship | |
| 4. Bus | |
| 5. Dump Truck | |
| 6. Boat | |
| 7. Jetpack | |
| 8. Train | |
| 9. Oil Tanker | |
| 10. Limousine | |
| 11. Tractor | |
| 12. Metro | |
| 13. Ambulance | |
| 14. Bike | |
| 15. Motorcycle | |
| 16. Aeroplane | |
| 17. Ship | |
| 18. Auto Rickshaw | |
| 19. Rocket | |
| 20. Ropeway | |
| 21. Taxi | |
| 22. Lorry | |
| 23. Taxi | |
| 24. Crane | |
| 25. Helicopter | |
| 26. Submarine | |
| 27. Delivery Van | |
| 28. Scooter | |
| 29. Jeep | |
| 30. Carriage | |
A to Z Transport Name List
Here is the list of some most Popular Transport Names a to z:
A – Airplane, Ambulance, Automobile, ATV
B – Bicycle, Bus, Boat, Bullet Train
C – Cable Car, Caravan, Car, Cruise Ship
D – Double-Decker Bus, Drone, Dirt Bike, Delivery Truck
E – Elevator, Electric Car, Escalator, Excavator
F – Ferry, Fire Engine, Freight Train, Fighter Jet
G – Garbage Truck, Golf Cart, Gondola, Gyroplane
H – Helicopter, Hot Air Balloon, Hovercraft, Horse and Carriage
I – Icebreaker, Inter-city Bus, Ice Cream Truck, Incline Railway
J – Jet Ski, Jeep, Jumbo Jet
K – Kayak, Kiteboard, Kick Scooter
L – Limo, Light Rail, Luxury Yacht, Locomotive
M – Motorcycle, Minivan, Monorail, Mountain Bike
N – Narrowboat, Naval Ship, Nissan Leaf, Narrow Gauge Railway
O – Ocean Liner, Off-road Vehicle, Oil Tanker, Outrigger Canoe
P – Plane, Pickup Truck, Police Car, Passenger Train
Q – Quad Bike, Quadricycle
R – Rowboat, Recreational Vehicle, Rickshaw, Rocket
S – Submarine, Speedboat, Segway, Scooter
T – Truck, Tractor, Taxi, Trolley Car
U – Unicycle, Ultralight, Utility Vehicle
V – Van, Vintage Car, Viking Ship, Vaporetto
W – Wagon, Water Taxi, Warship, Wind Surfer
X – X-ray Transportation, X-15 Rocket Plane
Y – Yacht, Yak, Yellow Cab, Yutong Bus
Z – Zeppelin, Zamboni, Zip Line, Zil Car
More to Discover:
Transport Name for Nursery and KG Class
Different Types of Vehicles & Transport
We can divide transport into three types.
Land Transport (Road Transport)
Water Transport
Air Transport
Road & Land Transport Name List
Below is the list of land transport name:
Car
Truck
Motorcycle
Bus
SUV
Trailer
Van
Pickup truck
Tanker truck
Dump truck
Flatbed truck
Cement mixer
Garbage truck
Ambulance
Fire truck
Police car
Taxi
Limousine
Hearse
Horse-drawn carriage
Ice cream truck
Food truck
Moving truck
Box truck
Tow truck
Snowplow
Street sweeper
Tractor
Combine harvester
Forklift
Bulldozer
Excavator
Front loader
Backhoe
Skid steer loader
Grader
Roller
Road header
Pile driver
Crane
Aerial work platform
Boom lift
Scissor lift
Mobile crane
Tower crane
Container ship
Freight train
Passenger train
Subway
Monorail
Cable car
Tram
Trolleybus
Electric bus
Hybrid bus
RV
Motorhome
Camper van
School bus
Double-decker bus
Articulated bus
Low-floor bus
High-floor bus
Minibus
Midi-bus
Coach
Intercity bus
Shuttle bus
Jet ski
Hydrofoil
Segway
Skateboard
Bicycle
Tricycle
Electric bicycle
Cargo bicycle
Rickshaw
Motorized rickshaw
Scooter
Moped
Electric scooter
Personal transporter
Wheelchair
Golf cart
Water Transport Name List
Below is the list of water transport name:
Ferry
Cruise ship
Sailboat
Motorboat
Jet Ski
Yacht
Catamaran
Canoe
Kayak
Rowboat
Raft
Paddleboat
Barge
Tugboat
Cargo ship
Oil tanker
Fishing boat
Speedboat
Gondola
Houseboat
Submarine
Hovercraft
Hydroplane
Pontoon boat
Water taxi
Dhow
Pirogue
Longboat
Sampan
Zodiac boat
Air Transport Name List
Below is the list of air transport name:
Jet
Aeroplane
Helicopter
Glider
Balloon
Airship
Ultralight
Seaplane
Gyroplane
Dirigible
Blimp
Parachute
Hang glider
Powered parachute
Hot air balloon
Model aircraft
Drone
Vertical takeoff and landing (VTOL) aircraft
Supersonic transport (SST)
Regional jet
Cargo Aircraft
Military aircraft
Business jet
Turboprop
Single-engine aircraft
Multi-engine aircraft
Amphibious aircraft
Light sport aircraft (LSA)
Experimental aircraft
Electric aircraft
Transportation Vocabulary Words
Below are the 15 most common transport vocabulary words with example sentences.
Public Transport
I prefer using public transport for my daily commute.
Train
The train is a reliable mode of transportation.
Bicycle
I ride my bicycle to work every morning.
Taxi
I called a taxi to take me to the airport.
Bus
The bus is crowded due to traffic congestion.
Subway
The subway is the fastest way to get downtown.
Car
I parked my car in the designated parking spot.
Pedestrian Crossing
Pedestrians should use the pedestrian crossing for safety.
Motorcycle
The motorcycle weaved through traffic effortlessly.
Fare
The fare for the train ride was quite affordable.
Route
The route to the port was scenic and picturesque.
Vehicle
I booked a vehicle rental for my vacation trip.
Traffic
The traffic on the highway was backed up for miles.
Airport
The airport shuttle arrived just in time for boarding.
Public Transport
I rely on public transport to get around the city.
Transport Name With Definitions
Aircraft
Aircraft are used to travel great distances very quickly. They are also somewhat dangerous to use. There are many different types of aircraft, but most people think of airplanes when they hear the word "airplane.
Balloon
A balloon is a type of aircraft that does not have any wings or flying surfaces. It is filled with hot air, and it goes up in the air by using this air pressure. A balloon can be used for carrying things, like mail or people.
Bathyscaphe
A bathyscaphe is an underwater vehicle. The word bathyscaphe comes from the Greek words bathys and skaphos, which means deep and vessel. The name was chosen for this type of vehicle because it was the deepest known underwater vessel in the world when it was built.
Bike
A bike is a wheeled human-powered vehicle that has two or three wheels. It is usually used for transportation and can be fast or slow depending on the rider's skill.
Biplane
A biplane is a plane that has two wings and one or more engines. The term comes from the Greek word "bio" meaning life and "pylon" meaning wings. This type of aircraft had its first test flight in 1907.
Bullet train
A bullet train is a type of electric train that travels at very high speeds. It is also called a "high-speed train".
Caboose
The caboose is the last car on a train that provides additional supplies, such as food and water.
Camper
A camper is a vehicle used for camping. It is usually a trailer with a bed, tent, and other camping supplies.
Caravel
A caravel is a small sailing ship that was used by the Portuguese. It was also called a "pinta".
Cargo ship
A cargo ship carries goods and goods from one place to another.
Catamaran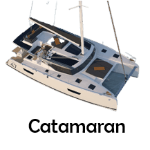 A catamaran is a small boat that can be used as a sailboat or a motorboat.
Coach
A coach is a type of car that can be much more comfortable than a regular car. It has seats and a roof, so it can be used for traveling instead of just sitting in the back seat of a car.
Compact car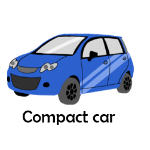 A compact car is a car that is small and has low gas mileage. It can be used for short trips because it gets good gas mileage. It is not very comfortable, but it is really easy to drive.
Conestoga wagon
A Conestoga wagon is a type of wagon that was used in the early 1800s. It was made of wood and had two wheels. It was pulled by oxen or horses.
Convertible
A convertible is a car that can be used to travel in the summer and drive in the winter. It has both roof and windows, so it is much more comfortable than just a regular car.
Conveyance
A conveyance is a vehicle used to carry things. It can be made of anything from a raft to a train.
Coupe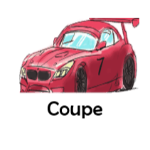 The coupe is a car that has only two seats. It is often called a two-seater. It was first made in the 1930s and 1940s.
Crane
A crane is a machine that can move heavy objects. They are used in factories and construction sites to lift things up and put them down.
Crop duster
A crop duster is a plane that is used to spray seeds on plants. They are made in the shape of airplanes and hang down from the
Cutter
A cutter is a machine that cuts things with blades. They are used in factories to cut metal and other materials.
Delivery van
A delivery van is a vehicle that is used to deliver goods. They are often used to deliver food, clothes, and other goods.
Dinghy
A dinghy is a small boat, usually made of plastic. It is used in the water to move around.
Dirigible
A dirigible is a type of aircraft that has no wings or flying surfaces. It is filled with hot air, and it goes up in the air by using this air pressure. A dirigible can be used for carrying things, like mail or people.
Dirt bike
A dirt bike is a type of motorcycle that has no wheels. It is only used by riding it on the ground. The rider can control it with his or her feet, and sometimes they can control it with the handle bars.
Dog cart
A dog cart is a type of vehicle that has two or four wheels.
Dogsled
Dogsled is a type of vehicle that has no wheels. It is only used by dragging it with their hands on the ground.
Dray
A dray is a type of vehicle that has two, four or six wheels.
Dump truck
Dump trucks are a type of vehicle that is used to haul large amounts of material. The name dump truck comes from the fact that the truck can be driven to the dump site and the contents of the truck can be dumped out.
Earthmover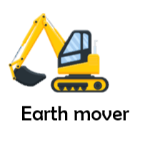 An Earth mover is a large piece of construction equipment used to move large quantities of earth, sand, gravel, or other material. Earth movers are used in many different industries, including construction, mining, and manufacturing.
Electric car
Electric cars are becoming more popular each year. Electric cars run on electricity instead of gasoline. This makes them much cheaper to operate than gasoline cars. They also emit no pollutants, which is great for the environment.
Elevator
An elevated railroad is a type of transportation system that uses tracks above the ground.
Express train
An express train is a type of railway that travels very quickly.
Ferry
A ferry is a type of transportation that uses boats to transport people and vehicles.
Fireboat
A fireboat is a type of water transportation system that uses a fire-fighting device to spray water at burning buildings. The rider can control it with their feet, and sometimes they can control it with the handlebars.
Funicular railway
A funicular railway is a type of railway that only travels up and down. The rider can control it with their feet, and sometimes they can control it with the handlebars.
Galleon
A galleon is a type of sailing ship from the middle ages. This kind of ship was very fast, and it was made for going on long voyages. It was also a big boat.
Garbage truck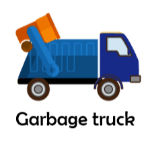 A garbage truck is a vehicle that collects garbage, often from a large city. It then takes the garbage to a place where it is burned or buried.
Hang glider
A hang glider is a type of aircraft that has no wings, but it does have a parachute. People can use this kind of aircraft to fly in the air. The pilot uses the glider's parachute to guide him down to the ground safely.
Hay wagon
A hay wagon is a vehicle that carries hay or straw. It is often pulled by a horse or oxen.
Hook and ladder truck
A hook and ladder truck is a type of truck that uses hooks to lift things up. This kind of truck has a large platform on the back that has hooks on it. The driver can use these hooks to lift up the things, such as cars or other trucks.
Hot rod
A hot rod is a car that has been modified to go really fast. This was popular in the 1930s and 1940s.
Hydroplane
A hydroplane is a boat that has two propellers on the front. It has a long hull and a large sail on the front of it. The boat can also have extra seats, like benches or cabin houses for people to sit in.
Ice boat
An ice boat is a boat that has an engine that can be used on ice. This is because an engine doesn't work very well on ice.
Jet
A jet is a type of aircraft that has wings and flying surfaces. It uses jet engines to push air out of its wings to go up in the air.
Jet pack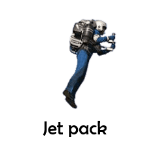 A jet pack is a special type of aircraft that allows people to fly using only their own strength. This is called "jet propulsion."
Ketch
A ketch is a type of sailing ship that has two masts. The name comes from the Dutch word "ketch" which means "spit."
Limousine
A limousine is a big and fancy car with lots of room for people.
Maglev
A maglev train is a type of train that uses magnets and electricity to go up in the air. The magnets make the train go up, and the electricity stops it when the train goes down.
Moped
A moped is a motorcycle with a small engine. It doesn't have a lot of power, so it goes slowly.
Motorcar
A motorcar is a car with a big engine that can go fast.
Mountain bike
A mountain bike is a type of bike that you can ride in the mountains. It is not very fast, so it is not good for racing.
Narrowboat
A narrowboat is a boat that is not very wide. It can fit in a small space, like a canal or river.
Ocean liner
An ocean liner is a ship that can travel all around the world. Ocean liners are very big and luxurious.
Oil tanker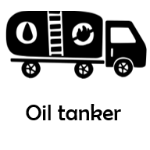 A tanker is a ship that carries oil. It is meant to transport oil from the place where it is made to where it is needed.
Parachute
A parachute is a device that is used to slow down and stop a person or thing from falling. The person or thing can open the parachute, which makes it rise slowly back up into the air with less force.
Pickup truck
A pickup truck is a vehicle that has a bed in the back and can carry lots of goods. The driver usually sits in the cab of the truck, which is where he or she controls the steering wheel and gears.
Spaceship
A spaceship is a type of aircraft that travels through space.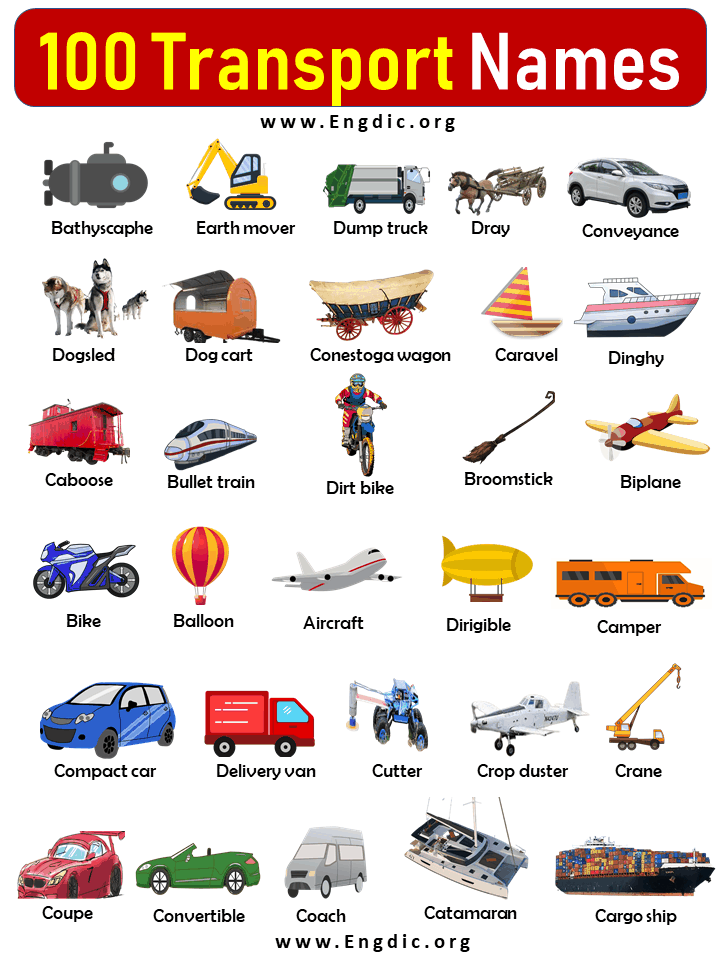 20 Transport Names
Car
Scooter
Balloon
Crane
Subway
Bicycle
Helicopter
Taxi
Forklift
Bus
Boat
Rowboat
Fire engine
Train
Tractor
Airplane
Police car
Motorcycle
Carriage
Dump truck
10 Transport Names
Ambulance
Van
Car
Scooter
Balloon
Crane
Subway
Bicycle
Helicopter
Skateboard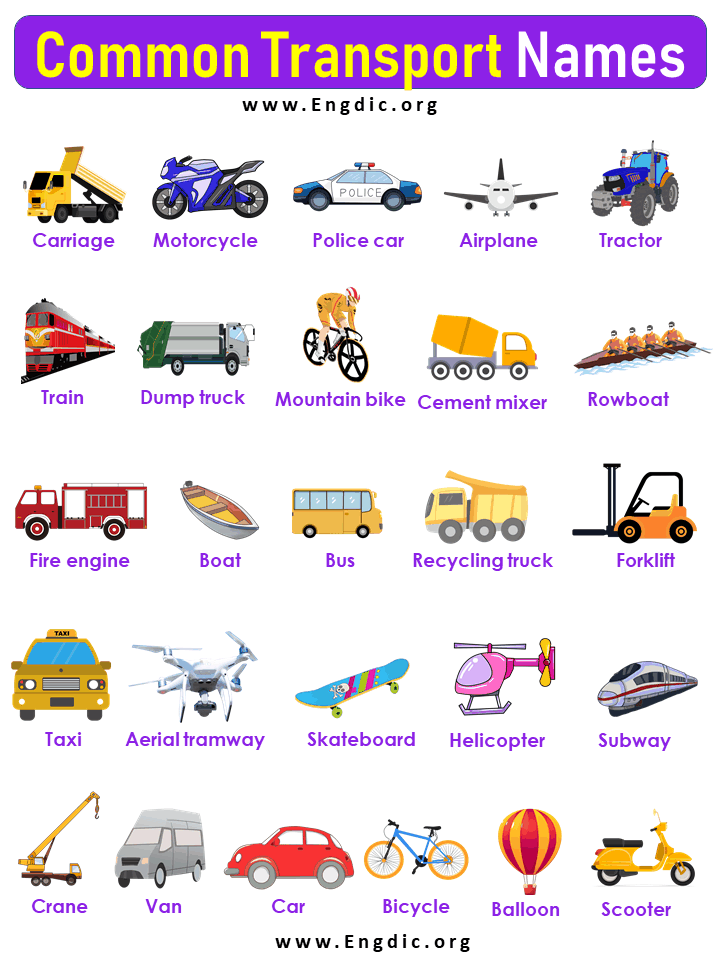 FAQS
What are 10 land transport name?
10 Land Transport Name are:
Car
Bus
Train
Bicycle
Motorcycle
Truck
Skateboard
Rollerblades
Scooter
Tractor
What Are The 5 Means Of Transport?
The five means of transport are:
Road transportation (e.g., cars, buses, trucks)
Rail transportation (e.g., trains, trams)
Air transportation (e.g., airplanes, helicopters)
Water transportation (e.g., ships, boats, ferries)
Pipeline transportation (e.g., for oil, gas, or other fluids)
What is Transport Used For?
Transport is used for the movement of people, goods, and resources from one place to another efficiently and conveniently.
Read More:
Last updated on July 13th, 2023 at 03:17 pm