Flowers are a beautiful addition to any garden, and there are many different types of flowers to choose from. Flowers come in all shapes, sizes, and colors, and each type has its own unique set of characteristics. Some flowers are fragrant, while others are not. Some flowers are perennial, while others only bloom for a single season. It's important to do your research before selecting flowers for your garden because not all flowers are compatible with every climate or growing condition.
There are thousands of different types of flowers, each with its own unique beauty and purpose. Flowers can be used for everything from decoration to aromatherapy. In this article, we will be exploring 50 different flowers and their names. Each flower will be accompanied by a picture to help you identify them.
50 Flowers Names List
Rose
Lotus
Lavender
Cone Flower
Monsoon lily
Jasmine
Bluestar
Daffodil
Dandelion Dewdrop
Tuberose Flower
Cypress Vine
Calendula
Papaya Flower
Foxtail Orchid
Star Jasmine
Oleander
Daisy
Pot Marigold
Acacia
Magnolia
Marigold
Canna Lily
Forest Ghost Flower
Prickly Pear
Periwinkle
Bougainvillea
Narcissus
Golden Shower Flower
Rosemallows
Black Turmeric
Balloon Flower
Dahlia
Lady's slipper orchid
Snowdrop
Chamomile Vine
Scarlet
Bauhinia
Mexican Tuberose
Apricot Flower
Mussaenda
Common crape Mrytle
Grand Crinum Lily
Cherry Blossom
Calotropis
Blood Lily
Crape Jasmine
Primrose
Jasminum Sambac
Aloe Vera Flower
Crossandra
Related: 300+ List of Flowers Name with Pictures
50 Flowers Names with Pictures
Rose
Rose is a perennial garden flower. It is a type of flowering plant in the genus Rosa, of which there are over 400 species. They are native to temperate regions in the Northern Hemisphere, with around 70 species occurring in Asia and more than 90 species occurring in Europe and North America. They are all deciduous and belong to the family Rosaceae.
Lotus
The lotus plant is native to the Himalayas, where it is cultivated as a symbol of purity and beauty. The lotus has been associated with the Hindu god Ganesha for thousands of years and is a sacred plant in Buddhism, Jainism, and Hinduism.
Lavender
Lavender is a perennial herb that blooms in the spring, growing up to two feet tall. Lavender has small yellow flowers with five petals and three stamens. The flower lavender is fragrant and is used as an essential oil.
Cone Flower
Coneflowers are a type of flower that grows in a cone shape at the end of the stem. The flowers mature into bright colors, such as pink and yellow.
Monsoon lily
Monsoon lilies are a type of lily that has yellow blooms in the summer. The name monsoon derives from the Hindi word for "rain."
Jasmine
Jasmine is a climbing plant that blooms in the summer and autumn months. Jasmine has fragrant, white flowers with five petals.
Bluestar
Bluestar is a type of flower that has blue blooms with white spots. Bluestar has a long bloom season, which is between spring and summer.
Daffodil
Daffodils have large, yellow blooms that look like miniature Easter lilies. They are also known as trumpets because of their shape and color.
Dandelion Dewdrop
The dandelion dewdrop is a small flower that has white petals and yellow centers. The dandelion dewdrop blooms in the summer, just before it flowers again in the fall.
Tuberose Flower
Tuberose flowers have a rich, sweet fragrance. They are known for their large, trumpet-shaped blooms in shades of purple and white.
Cypress Vine
Cypress vine flowers are small, but they can produce up to 100 blooms. The cypress vine flower is native to the eastern United States and tends to be found in wet areas.
Calendula
Calendulas are popular flowers that are native to the Mediterranean region. The flowers are small, with many petals and yellow centers.
Papaya Flower
The Papaya flower is native to the tropical regions of the Americas. The flowers grow in a bunch at the top of the leaves, which can be large and white.
Foxtail Orchid
Foxtail Orchid is a type of orchid found in the highlands of South America. The flower has six petals and two sepals, which are very colorful and attractive.
Star Jasmine
Jasmine is a type of flower with very delicate, sweet-scented flowers. The flowers can grow up to three feet in diameter. There are several different kinds of jasmine, but the most popular one is the star jasmine.
Oleander
Oleander is a beautiful, yellow-flowered shrub native to the Mediterranean region of Europe and North Africa. It has fragrant white flowers with five petals and a very long stem. Oleanders are poisonous when ingested, but they serve as ornamental plants in gardens.
Daisy
The daisy is a flower that has been cultivated for use as an ornamental plant. The flowers have five petals and are usually white in color. There are many different kinds of daisies, but the most commonly used one is the wild daisy.
Pot Marigold
Pot marigold is a plant that has dark green, hairy leaves and yellow flowers. The flowers are very appealing to insects, which pollinate the plant. Pot marigolds are used as ornamental flowers by farmers, who use them in their fields to repel bugs.
Acacia
Acacia is a woody tree that is native to Australia. The plant has brown bark with white hairs on it and has a blue flower. Acacias are used as an ornamental plants because they provide shade for people from the sun.
Magnolia
A Magnolia is a tree that has beautiful white flowers called magnolia flowers. The trees are used to attract insects, as well as birds that eat the insects.
Marigold
Marigolds are flowers that are used as ornamental plants. The plants have yellow flowers with orange petals. Marigolds are also known for their ability to repel insects, which pollinate the flower.
Canna Lily
Canna lilies flowers are light blue with a white center and yellow petals. The plant has beautiful purple leaves. Canna lilies are used as part of an ornamental garden or in the landscape.
Forest Ghost Flower
Forest Ghost flowers are ornamental plants that are used in the landscape. The flowers are white and have a yellow center. The plant is also known for its amazing purple leaves.
Prickly Pear
Prickly pear is another type of flower that is used in the landscape. The plant usually has bright red flowers with a yellow center. The leaves can be pink, green, or purple.
Periwinkle
Periwinkle, also known as Vinca, is a low-growing flowering plant that is commonly used in landscaping and garden design. It is prized for its profuse, long-lasting blue or purple flowers that bloom from spring to fall.
Bougainvillea
Bougainvillea is a stunning tropical vine that is known for its vibrant, colorful bracts that bloom in shades of pink, red, purple, orange, and yellow. The bracts surround small, inconspicuous white flowers, creating a brilliant display of color.
Narcissus
The genus Narcissus, is named for the Greek mythological figure Narcissus. A beautiful youth who rejected the love of Echo and was cursed by the gods with eternal love for his own reflection in a pool of water.
Golden Shower Flower
Narcissus jonquilla is a species of the genus Narcissus, and one of the most popular flowers in Europe. It is also known as 'golden shower' or 'golden rain'.
Rosemallows
A rosemallow is a type of tuberous perennial plant, which is related to the potato and the sweet potato. The rosemallow can grow up to two feet in height. The tubers are edible and contain starch as well as other minerals.
Black Turmeric
The black turmeric (Curcuma longa) is a perennial, herbaceous plant belonging to the ginger family. It is native throughout tropical Asia and Africa.
Balloon Flower
The balloon flower (Platycodon grandiflorus) is a perennial plant that can grow up to five feet tall and is an endangered species in Malaysia.
Dahlia
The dahlia (Dahlia anomala) is a perennial plant that can grow up to four feet tall. It has pink, flamingo-like flowers and the petals are edible.
Lady's slipper orchid
The lady's slipper orchid (Orchidaceae) is a perennial plant, scientifically known as Ophrys lutea, that is native to the Mediterranean region. It has yellow or white flowers with red and green spots.
Snowdrop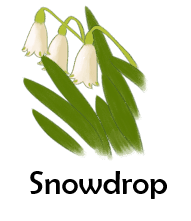 The snowdrop vine (Gentiana nivalis) is a perennial plant that has blue, white and violet flowers. The vines bloom in the winter months.
Chamomile Vine
The chamomile vine (Tamarindus indica) has small, yellow flowers and is native to Africa, Asia, and the Mediterranean. The vines grow up to 15 feet long.
Scarlet
The scarlet pimpernel (Anagallis arvensis) is a perennial plant that flowers in the spring and summer. The vine's leaves are covered in tiny, red or orange hairs.
Bauhinia
The bauhinia vine (Bauhinia racemosa) is a tropical plant that has small, fragrant flowers and grows up to 5 meters in height.
Mexican Tuberose
The Mexican tuberose (Dalbergia sissoo) has fragrant white flowers and grows up to 5 meters in height. Flowers are used as a food flavor and fragrance.
Apricot Flower
The apricot rose is very popular in China, Japan, and Korea. It has a short stem and clusters of small flowers that bloom on new growth. It is a double-flowered shrub, with white flowers that start to bloom in late summer.
Mussaenda
The Mussaenda rose is a native of China. It has a very vigorous growth habit and bears clusters of small, almost white flowers that bloom in early summer.
Common crape Mrytle
The common crape myrtle is a pretty shrub with fragrant, white flowers that bloom in early summer. The flowers are followed by fruits that resemble small acorn-shaped nuts.
Grand Crinum Lily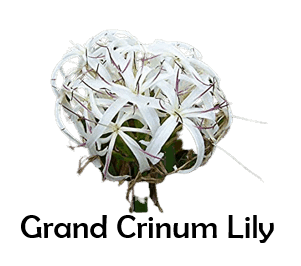 The grand crinum lily is a large shrub with fragrant, white flowers that bloom in early summer. The flowers are followed by fruits that resemble small acorn-shaped nuts.
Cherry Blossom
The cherry blossom is a small, deciduous tree with fragrant white flowers that bloom in early summer. The flowers are followed by fruits that resemble small acorn-shaped nuts.
Calotropis
Calotropis is a genus of plants in the family Araliaceae. It was formerly considered to be included in the genus Neem, but it has now been reclassified as a separate genus. The species Calotropis is commonly known as the "Chinese Evergreen".
Blood Lily
Blood lily or common lily is a genus of about 40 species of plants in the family Asphodelaceae. The genus is native to the temperate Northern Hemisphere. Fewer than 20 species are known from the Southern Hemisphere.
Crape Jasmine
Crape jasmine, also known as the yellow jasmine or yellow-flowering orange tree (Eugenia suberosa), is a species of flowering plant in the family Myrtaceae.
Primrose
Primrose is a genus of flowering plants in the family Primulaceae. It contains about 70 species of shrubs and trees, native to Europe and Asia.
Jasminum Sambac
Jasminum sambac, or ajwain, is a flowering plant in the family Oleaceae. It is native to tropical and southern Asia.
Crossandra
Crossandra is a genus of flowering plants in the family Araceae. It contains about 50 species, native to tropical and southern Africa, Madagascar, Australia, and New Zealand.
Related:
Last updated on February 10th, 2023 at 05:59 pm