What does Farting Mean?
Farting refers to the act of expelling gas from the digestive system through the rectum. It is a natural bodily function, often accompanied by sound and odor.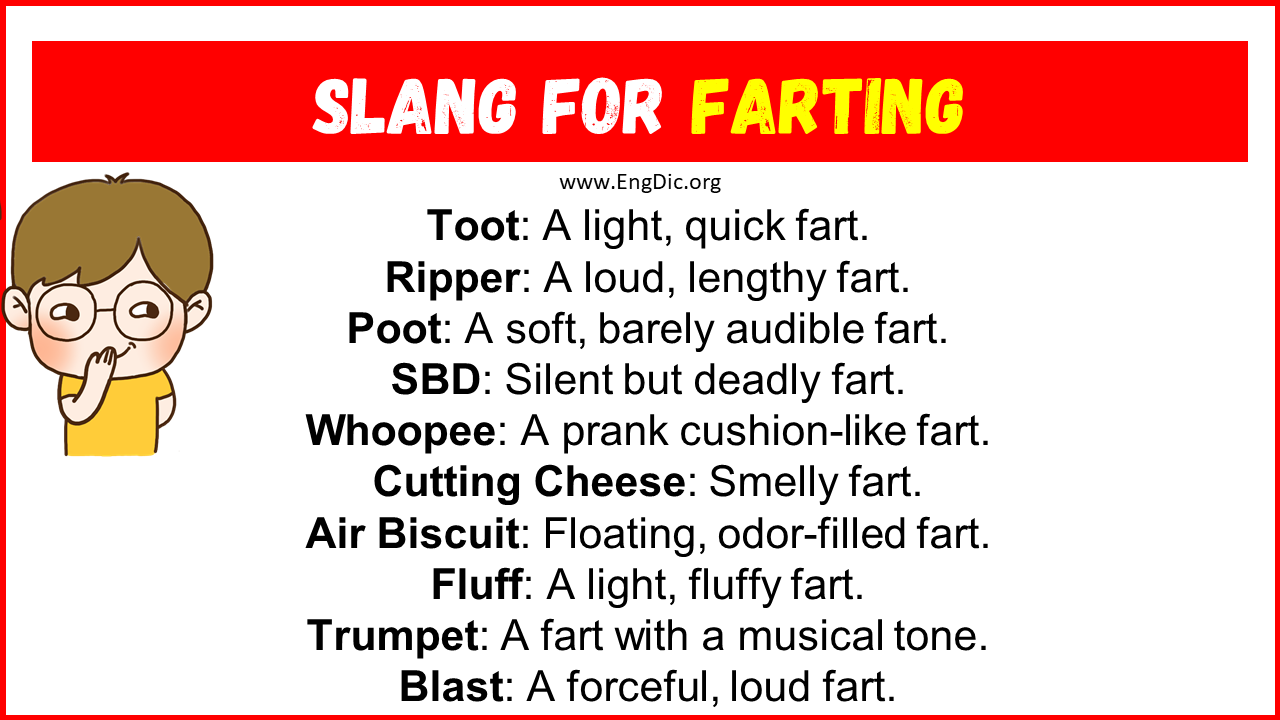 Slang Words for Farting
Toot: A light, quick fart.
Ripper: A loud, lengthy fart.
Poot: A soft, barely audible fart.
SBD: Silent but deadly fart.
Whoopee: A prank cushion-like fart.
Cutting Cheese: Smelly fart.
Air Biscuit: Floating, odor-filled fart.
Fluff: A light, fluffy fart.
Trumpet: A fart with a musical tone.
Blast: A forceful, loud fart.
Zephyr: A gentle, slight fart.
Boomer: A deep, resonant fart.
Honk: A short, sharp fart.
Stealth: Unnoticeable until it's too late.
Gasser: A particularly strong-smelling fart.
Thundersmack: A startlingly loud fart.
Pop: A short, quick fart.
Windjammer: A prolonged, noisy fart.
Bean Blower: A fart caused by legumes.
Vapor: An almost invisible fart.
Use of Farting Slang in Example Sentences
I accidentally let out a toot during the meeting.
John unleashed a ripper at the worst moment.
She managed a poot and nobody noticed.
The room went silent because of the SBD.
It sounded like a whoopee cushion in here.
I think someone is cutting the cheese in here.
An air biscuit just made its way around.
That fluff was surprisingly loud.
Her trumpet echoed in the hall.
He let out a blast during the movie.
A gentle zephyr went unnoticed.
That boomer shook the room!
The honk interrupted our conversation.
It was a stealth move for sure.
Wow, that was a real gasser!
He startled everyone with a thundersmack.
She let out a small pop while sitting.
He's a known windjammer among friends.
That bean blower was inevitable after lunch.
The vapor left us wondering who it was.
Explore More Slang Words: