Below is the List of normal English vs advanced English Sentences. Learn this interesting lesson to improve your Spoken English. ESL Pictures of this lesson can also be downloaded in the form of PDF.
What advanced English?
Advance English is the English language that is a superpower language. Advance English Language skills to strengthen the speaking and listening abilities of ESL Student.
Below are some very interesting sentences instead of some simple sentences, that you can use to empower your English speaking and listening.
Normal English Vs Advanced English Sentences
Below is the list of 50 Normal Vs Advance English sentences.:
Normal English: " How are you? "
Advanced English: " How's it going? "
Normal English: " Let's meet today. "
Advanced English: " Let's catch up today. "
Normal English: " Are you mad? "
Advanced English: " Are you out of mind? "
Normal English: " Good luck bro. "
Advanced English: " Break a leg bro. "
Normal English: " It's time to study. "
Advanced English: " It's time to hit the books. "
Normal English: " I'm very hungry. "
Advanced English: " I'm starving. "
Normal English: " Text me when you get free. "
Advanced English: " Hit me up when you get free. "
Normal English: " I'm very busy. "
Advanced English: " I'm swamped. "
Normal English: " Hurry up, we're getting late. "
Advanced English: " Chop chop, we're getting late. "
Normal English: " Keep it a secret. "
Advanced English: " Keep it under wraps. "
Normal English: " I like you a lot. "
Advanced English: " I'm so into you. "
Normal English: " Stop wasting time. "
Advanced English: " Stop faffing around. "
Normal English: " You are so lucky. "
Advanced English: " You are so jammy. "
Normal English: " I'm very tired. "
Advanced English: " I'm worn out. "
Normal English: " I'm very tired. "
Advanced English: " I'm exhausted. "
Normal English: "Senorita! You are so beautiful. "
Advanced English: "Senorita! You are drop -> dead gorgeous. "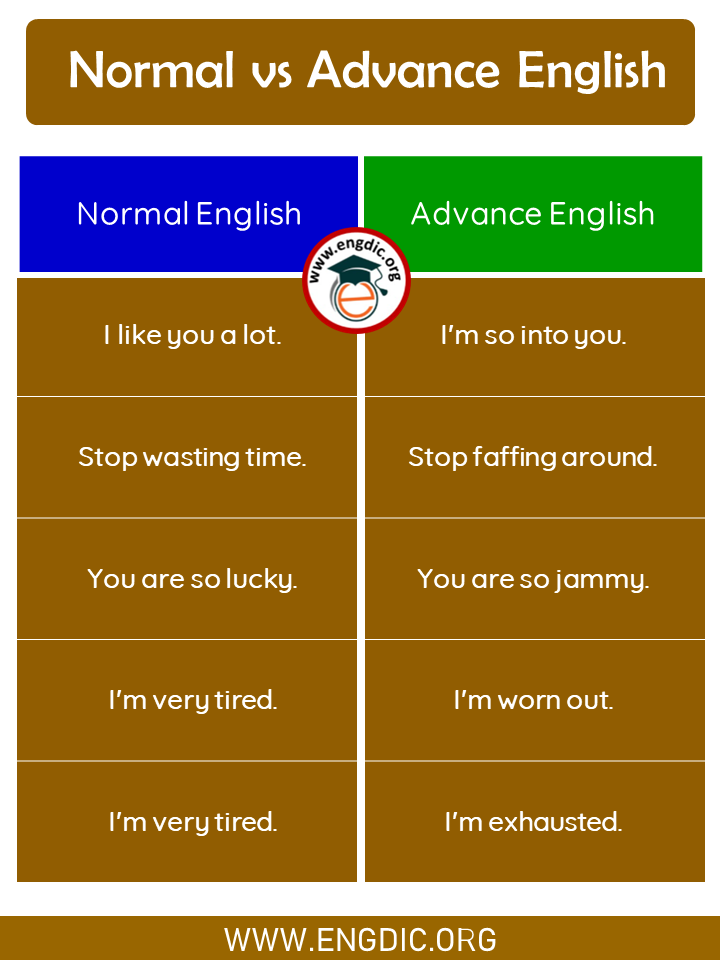 Normal English: " I'm bit busy. "
Advanced English: " I'm bit tied up. "
Normal English: " Why are you so angry. "
Advanced English: " Why are you so pissed off. "
Normal English: " It's not so difficult. "
Advanced English: " It's not a rocket science. "
Normal English: " I'm going to get married tomorrow. "
Advanced English: " I'm going to tie a knot tomorrow. "
Normal English: " I'm very happy. "
Advanced English: " I'm over the moon. "
Normal English: " I visit my hometown very rarely. "
Advanced English: " I visit my hometown once in a blue moon. "
Normal English: " Sorry, I fell asleep. "
Advanced English: " Sorry, I nodded off. "
Normal English: " I'm fit and healthy. "
Advanced English: " I'm fit as a fiddle. "
Normal English: " It's very cold outside. "
Advanced English: " It's freezing outside. "
Normal English: " Can I come tomorrow. "
Advanced English: " Can I drop in tomorrow. "
Download this Lesson of Normal English vs Advance English in PDF