Adjectives to Describe a Girl PDF! Below is a list of some cool and charming adjectives to describe a girl. Adjectives to describe a daughter, mother, sister, and girlfriend.
We can describe a girl in many ways. There are more ways to describe a woman than simply the way she looks. and in this lesson, we are going to provide you with a list of charming and curious words that will help you make her feel different.
How do You Describe a Good Girl?
Describing a good girl require good adjectives, and below is the list of adjectives to describe a good girl:
apparent
awful
brave
capital
deaf
dear
decent
definitive
deserving
devilish
excellent
exciting
honest
little
mighty
modest
nice
obliging
original
pathetic
plain
proper
pure
quintessential
rare
real
remarkable
sensible
sweet
thorough
There are many other ways to describe a girl, and below are 300+ adjectives to describe a girl.
List of Adjectives to Describe a Girl
Below are 300+ different words/adjectives to describe a baby and a teenage girl and adjectives to describe a woman you love and care about:
luscious
feisty
doting
valued
genuine
playful
content
supple
clever
delightful
spontaneous
trustworthy
hot
musical
passionate
respectful
engaging
natural
captivating
smiling
dreaming
vunerable
high-energy
frail
focused
enchanting
knowledgeable
willing
laid-back
wise
careful
social
giving
feminine
delicate
trusting
alluring
innovative
perfect
brilliant
sharp
curious
tawny
enigmatic
philanthropic
rebellious
ambitious
inspiring
gorgeous
creative
talented
graceful
romantic
sassy
observant
fun
nice
brave
serious
organized
beautiful
selfless
fabulous
devoted
unique
funny
cheeky
sophisticated
likable
womanly
flawless
magnetic
determined
understanding
adorable
idolized
curvy
tender-hearted
goal-oriented
nurturing
attentive
self-confident
angelic
intellectual
mischievous
ladylike
wily
calm
smart
honest
heavenly
fun-loving
girly
positive
compassionate
strong
glamorous
emotional
reserved
classy
spirited
remarkable
fiery
loved
young
entertaining
dependable
unafraid
disciplined
upbeat
poetic
petite
appreciated
intelligent
courageous
sweet
forgiving
crafty
sympathetic
flirtatious
committed
spunky
quirky
elegant
active
hypnotic
quick-witted
principled
gentle
affectionate
impulsive
bewitching
sensitive
fashionable
good-natured
open
beloved
sensical
agreeable
independent
List of Adjectives to describe a girl – Infographic
kind
well-bred
buxom
skinny
mature
grounded
dainty
thick-skinned
dreamy
warm
opinionated
artistic
intoxicating
kissable
well-mannered
flirty
easy-going
complex
strong-willed
radiant
down-to-earth
virtuous
adventurous
impassioned
dear
thriving
bubbly
shrewd
candid
smiley
happy
ravishing
hilarious
perceptive
responsible
joyful
warm-hearted
considerate
sultry
thin
popular
generous
devout
unpretentious
private
precious
lovable
wonderful
healthy
expressive
offbeat
etherial
gifted
bright
sexy
pragmatic
outgoing
personable
female
loyal
busty
shy
energetic
matronly
knowing
well-read
polite
cheerful
special
blessed
sensual
athletic
selective
charming
soft-spoken
attractive
self-driven
leggy
witty
darling
thorough
fit
photogenic
patient
proud
foxy
open-minded
mysterious
powerful
helpful
appreciative
intimate
accepting
huggable
red hot
extraordinary
confident
successful
artsy
intuitive
quiet
cuddly
talkative
sacrificing
empowered
motivated
encouraging
dramatic
voluptuous
mesmerizing
all-American
innocent
fearless
fragile
dazzling
thoughtful
pretty
caring
soft
provocative
giggly
amazing
inspirational
giddy
kind-hearted
well-educated
lovely
youthful
hard-working
detail-oriented
unconventional
cultured
tasteful
refined
breathtaking
sexual
dedicated
tough
punctual
persistent
fair
cute
thankful
friendly
loving
Infographics (List of Adjectives to describe a girl)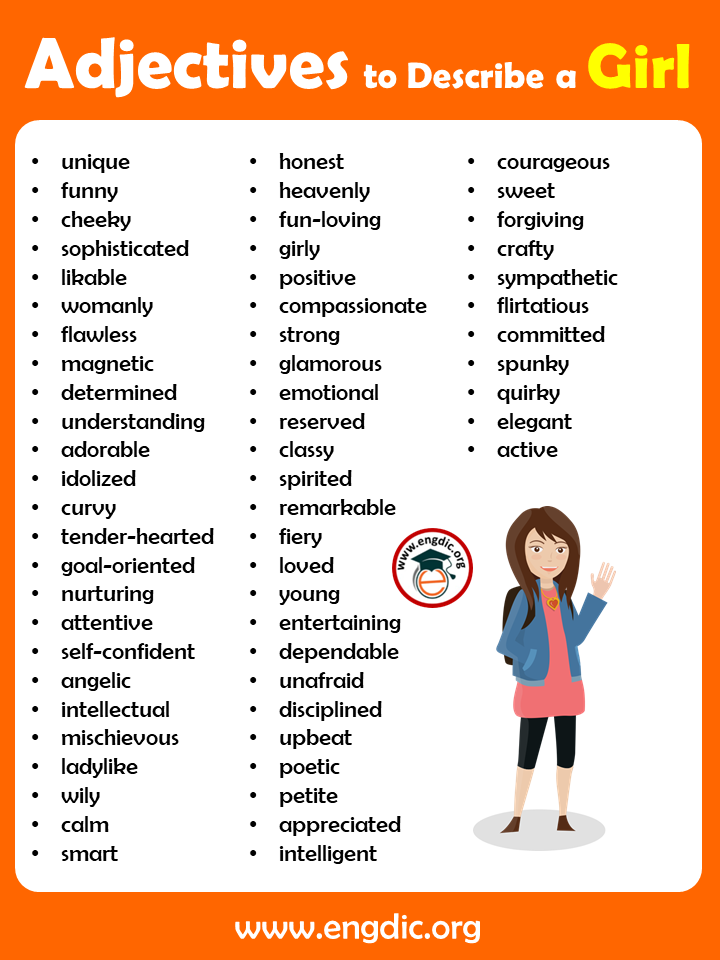 100 Top Words To Describe A Girl
Beautiful
Intelligent
Kind
Funny
Confident
Compassionate
Ambitious
Independent
Passionate
Creative
Thoughtful
Energetic
Loving
Caring
Adventurous
Artistic
Bold
Brave
Charismatic
Classy
Daring
Delightful
Determined
Elegant
Enthusiastic
Friendly
Generous
Graceful
Happy
Humorous
Inspiring
Joyful
Lively
Modest
Natural
Optimistic
Outgoing
Patient
Perceptive
Persistent
Playful
Polite
Radiant
Reliable
Romantic
Sassy
Seductive
Self-assured
Sensual
Sincere
Smart
Sophisticated
Spontaneous
Strong
Stylish
Supportive
Sweet
Talented
Tenacious
Trustworthy
Unique
Unpredictable
Warm
Witty
Youthful
Zealous
Alluring
Amazing
Angelic
Attractive
Bewitching
Captivating
Charming
Chic
Cool
Dainty
Darling
Dazzling
Delicious
Divine
Dreamy
Enchanting
Exquisite
Fabulous
Fascinating
Feminine
Flawless
Gorgeous
Heavenly
Lovely
Majestic
Mesmerizing
Precious
Sensational
Naughty
Slimy
Loamy
Fatty
Short
Down to earth
Related: Word to Describe Someone Special
Words Used to Describe a Women and Example Sentences
Adventurous: She is adventurous and always up for trying new things.
Alluring: She has an alluring presence that draws others in.
Amazing: She is amazing in every way and inspires those around her.
Ambitious: She is ambitious and always striving to achieve her goals.
Angelic: She has an angelic presence that radiates from her.
Artistic: She has an artistic eye and creates beautiful works of art.
Attractive: She is attractive and catches the eye of many.
Beautiful: She has a beautiful
Bewitching: She has a bewitching charm that captivates those around her.
Bold: She is bold and fearless in the face of challenges.
Brave: She is brave and never backs down from a difficult situation.
Captivating: She is captivating and holds the attention of those around her.
Caring: She is caring and always takes care of those around her.
Charismatic: She is charismatic and has a natural charm that draws people in.
Charming: She is charming and has a magnetic personality.
Chic: She has a chic sense of fashion that is always on-trend.
Classy: She has a classy sense of style and always looks put together.
Compassionate: She has a compassionate heart and always helps those in need.
Confident: She exudes confidence and self-assurance.
Cool: She has a cool demeanor that others admire.
Creative: She has a creative mind and comes up with amazing ideas.
Dainty: She has a dainty and delicate appearance.
Daring: She is daring and not afraid to take risks.
Darling: She is a darling person that everyone loves.
Dazzling: She has a dazzling presence that shines bright.
Delicious: She is a deliciously intriguing person with a lot of depth.
Delightful: She has a delightful personality and always brightens up the room.
Determined: She is determined to succeed and never gives up.
Divine: She has a divine aura that sets her apart from others.
Dreamy: She has a dreamy nature that makes others feel enchanted.
Elegant: She has an elegant sense of style and grace.
Enchanting: She is enchanting and has a mystical quality about her.
Energetic: She has boundless energy and is always on the go.
Enthusiastic: She is enthusiastic about life and always has a positive attitude.
Exquisite: She has an exquisite taste and eye for beauty.
Fabulous: She is fabulous and always on top of her game.
Fascinating: She is fascinating and never fails to impress.
Feminine: She has a feminine charm that is alluring to many.
Flawless: She is flawless in her appearance and character.
Friendly: She is friendly and always makes new friends easily.
Funny: She is very funny and always makes me laugh.
Generous: She is generous with her time and resources and always gives back.
Gorgeous: She is gorgeous and catches the eye of many.
Graceful: She is graceful and moves with fluidity and ease.
Happy: She is always happy and brings joy to those around her.
Heavenly: She has a heavenly aura that exudes from her.
Humorous: She has a humorous side and always knows how to make others laugh.
Independent: She is independent and doesn't rely on others to get things done.
Inspiring: She is inspiring and motivates others to be their best selves.
Intelligent: She is intelligent and quick-witted.
Joyful: She exudes joy and happiness wherever she goes.
Kind: She is always kind to others.
Lively: She is lively and full of energy, making every moment exciting.
Loving: She is a loving person and cares deeply for her family and friends.
Modest: She is modest and never boasts about her accomplishments.
Natural: She has a natural beauty that shines from within.
Optimistic: She is optimistic and always sees the bright side of things.
Outgoing: She is outgoing and loves to meet new people.
Passionate: She is passionate about her work and puts in 110% effort.
Patient: She is patient and understanding, always willing to listen.
Perceptive: She is perceptive and can pick up on things others might miss.
Persistent: She is persistent and never gives up on her goals.
Playful: She has a playful side and enjoys having fun.
Polite: She is polite and always shows respect to others.
Radiant: She has a radiant smile that lights up the room.
Reliable: She is reliable and can always be counted on.
Romantic: She has a romantic soul and loves to express her feelings.
Sassy: She has a sassy attitude and isn't afraid to speak her mind.
Seductive: She has a seductive charm that captivates those around her.
Self-assured: She is self-assured and confident in herself.
Sensual: She has a sensual presence that exudes from her every move.
Sincere: She is sincere and always speaks from the heart.
Smart: She is smart and has a great intellect.
Sophisticated: She has a sophisticated taste and style.
Spontaneous: She is spontaneous and always up for an adventure.
Strong: She is strong, both physically and mentally.
Stylish: She has a stylish sense of fashion that is unique to her.
Supportive: She is supportive and always there for her loved ones.
Sweet: She has a sweet nature and always puts others first.
Talented: She is talented and excels in many areas.
Tenacious: She is tenacious and never gives up on what she wants.
Thoughtful: She is thoughtful and always considers the needs of others.
Trustworthy: She is trustworthy and can be relied on with confidential matters.
Unique: She has a unique personality and stands out from the crowd.
Unpredictable: She is unpredictable and always keeps things interesting.
Warm: She has a warm and welcoming personality that makes others feel at ease.
Witty: She is witty and always has a clever remark up her sleeve.
Youthful: She has a youthful spirit and never loses her sense of wonder.
Zealous: She is zealous and passionate about her beliefs and interests.
Words To Describe A Girl's Personality
Below are some words to describe a girl's personality:
Kind-hearted
Confident
Ambitious
Empathetic
Compassionate
Intelligent
Artistic
Adventurous
Reliable
Humorous
Charismatic
Generous
Creative
Bold
Optimistic
Outgoing
Determined
Graceful
Genuine
Understanding
Words To Describe A Beautiful Woman's Personality
Alluring: She has an

alluring

figure that turns heads.
Captivating: Her

captivating

smile draws you in.
Stunning: She looked

stunning

in her evening gown.
Radiant: Her

radiant

complexion glows in the sunlight.
Gorgeous: She is undeniably

gorgeous,

both inside and out.
Exquisite: Her

exquisite

features are a work of art.
Elegant: She moves with

elegant

grace and poise.
Majestic: Her

majestic

beauty commands attention.
Striking: Her

striking

eyes are impossible to forget.
Mesmerizing: Her

mesmerizing

beauty leaves you speechless.
Bewitching: Her

bewitching

beauty casts a spell over you.
Enchanting: Her

enchanting

smile fills you with warmth.
Angelic: Her

angelic

face is pure and innocent.
Divine: Her

divine

beauty is awe-inspiring.
Serene: Her

serene

presence brings peace to those around her.
Flawless: Her

flawless

skin is the envy of all.
Graceful: She moves with

graceful

fluidity, like a ballerina.
Resplendent: Her

resplendent

beauty shines like the sun.
Glowing: Her

glowing

complexion is a sign of good health.
Tempting: Her

tempting

curves leave little to the imagination.
Words To Describe A Strong Woman
Resilient
Confident
Determined
Courageous
Independent
Empowered
Tenacious
Fearless
Fierce
Ambitious
Passionate
Persistent
Self-assured
Resourceful
Assertive
Bold
Inspiring
Capable
Empathetic
Authentic
Words To Describe A Warrior Woman
Brave
Fearless
Valiant
Resilient
Strong-willed
Skilled
Fierce
Tenacious
Determined
Courageous
Powerful
Intrepid
Bold
Heroic
Unyielding
Relentless
Vigilant
Dauntless
Loyal
Indomitable
How To Describe A Girl To Impress Her?
Here are some general tips on how to describe a girl in a way that might impress her:
Focus on her unique qualities: Think about what makes her stand out from others and highlight those qualities in your description. Whether it's her intelligence, sense of humor, creativity, or something else entirely, emphasizing what makes her special can be very flattering.
Be specific: Instead of using general, cliché compliments like "you're beautiful," try to be more specific in your descriptions. For example, you could mention her striking eyes, gorgeous smile, or elegant sense of style.
Use descriptive language: Using vivid, descriptive language can help bring your description to life and make it more memorable. Consider using metaphors, similes, or other literary devices to paint a picture of her in your words.
Be respectful: It's important to make sure that your description is respectful and not objectifying. Avoid making comments about her body or appearance that could be taken the wrong way.
Ultimately, the best way to impress someone is, to be honest, kind, and respectful. Show a genuine interest in getting to know her as a person and let your actions speak louder than your words.
How To Describe A Girl In One Word?
It's difficult to describe a girl in just one word, as every girl is unique and complex in her own way. However, some common adjectives used to describe girls are beautiful, intelligent, kind, confident, funny, charming, and unique. It's important to note that each individual has their own set of qualities that make them or who they are, and it's not fair to reduce them to just one word.
Download the PDF of this list of adjectives describing the girl you love and care about: