Adjectives to Describe a Girl PDF! Below is a list of some cool and charming adjectives to describe a girl. Adjectives to describe a daughter, mother, sister, and girlfriend.
We can describe a girl in many ways. There are more ways to describe a woman than simply the way she looks. and in this lesson, we are going to provide you with a list of charming and curious words that will help you make her feel different.
How do you describe a good girl?
Describing a good girl require good adjectives, and below is the list of adjectives to describe a good girl:
apparent
awful
brave
capital
deaf
dear
decent
definitive
deserving
devilish
excellent
exciting
honest
little
mighty
modest
nice
obliging
original
pathetic
plain
proper
pure
quintessential
rare
real
remarkable
sensible
sweet
thorough
There are many other ways to describe a girl, and below are 300+ adjectives to describe a girl.
List of Adjectives to Describe a Girl
Below are 300+ different words/adjectives to describe a baby and a teenage girl and adjectives to describe a women you love and care:
luscious
feisty
doting
valued
genuine
playful
content
supple
clever
delightful
spontaneous
trustworthy
hot
musical
passionate
respectful
engaging
natural
captivating
smiling
dreaming
vunerable
high-energy
frail
focused
enchanting
knowledgeable
willing
laid-back
wise
careful
social
giving
feminine
delicate
trusting
alluring
innovative
perfect
brilliant
sharp
curious
tawny
enigmatic
philanthropic
rebellious
ambitious
inspiring
gorgeous
creative
talented
graceful
romantic
sassy
observant
fun
nice
brave
serious
organized
beautiful
selfless
fabulous
devoted
unique
funny
cheeky
sophisticated
likable
womanly
flawless
magnetic
determined
understanding
adorable
idolized
curvy
tender-hearted
goal-oriented
nurturing
attentive
self-confident
angelic
intellectual
mischievous
ladylike
wily
calm
smart
honest
heavenly
fun-loving
girly
positive
compassionate
strong
glamorous
emotional
reserved
classy
spirited
remarkable
fiery
loved
young
entertaining
dependable
unafraid
disciplined
upbeat
poetic
petite
appreciated
intelligent
courageous
sweet
forgiving
crafty
sympathetic
flirtatious
committed
spunky
quirky
elegant
active
hypnotic
quick-witted
principled
gentle
affectionate
impulsive
bewitching
sensitive
fashionable
good-natured
open
beloved
sensical
agreeable
independent
List of Adjectives to describe a girl – Infographic
kind
well-bred
buxom
skinny
mature
grounded
dainty
thick-skinned
dreamy
warm
opinionated
artistic
intoxicating
kissable
well-mannered
flirty
easy-going
complex
strong-willed
radiant
down-to-earth
virtuous
adventurous
impassioned
dear
thriving
bubbly
shrewd
candid
smiley
happy
ravishing
hilarious
perceptive
responsible
joyful
warm-hearted
considerate
sultry
thin
popular
generous
devout
unpretentious
private
precious
lovable
wonderful
healthy
expressive
offbeat
etherial
gifted
bright
sexy
pragmatic
outgoing
personable
female
loyal
busty
shy
energetic
matronly
knowing
well-read
polite
cheerful
special
blessed
sensual
athletic
selective
charming
soft-spoken
attractive
self-driven
leggy
witty
darling
thorough
fit
photogenic
patient
proud
foxy
open-minded
mysterious
powerful
helpful
appreciative
intimate
accepting
huggable
red hot
extraordinary
confident
successful
artsy
intuitive
quiet
cuddly
talkative
sacrificing
empowered
motivated
encouraging
dramatic
voluptuous
mesmerizing
all-American
innocent
fearless
fragile
dazzling
thoughtful
pretty
caring
soft
provocative
giggly
amazing
inspirational
giddy
kind-hearted
well-educated
lovely
youthful
hard-working
detail-oriented
unconventional
cultured
tasteful
refined
breathtaking
sexual
dedicated
tough
punctual
persistent
fair
cute
thankful
friendly
loving
Infographics (List of Adjectives to describe a girl)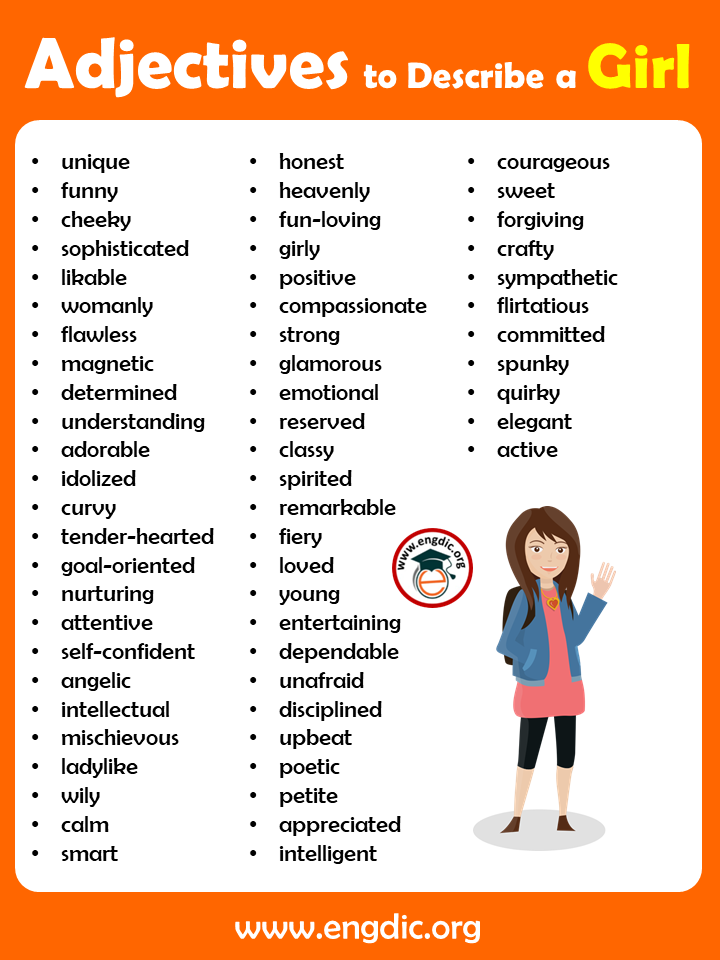 Download PDF of this list of adjectives describing the girl you love and care about: