15 Examples of Corelative Conjunctions in Sentences! The use of correlative conjunctions in sentences can help to improve the clarity and flow of your writing. Correlative conjunctions are pairs of conjunctions that work together to join two phrases or clauses. In this article, we will provide 15 examples of how to use correlative conjunctions in sentences in order to demonstrate their importance. We will look at sentence structure, grammar, and usage for each example, exploring the various ways these conjunctions can be used.
Related: 20 Examples of Correlative Conjunctions
15 Examples of Corelative Conjunctions in Sentences
Either you can join us for dinner tonight, or we'll have to find someone else to fill your spot.
Neither John nor Jane knows how to swim, so we won't be going to the beach this weekend.
Such is the beauty of this place that it takes your breath away.
Not only was the food delicious, but the service was also excellent.
I can't decide whether to take the job offer or pursue further studies.
Both the father and the son are avid basketball fans and play together every weekend.
As many as 100 people attended the charity event and helped raise a significant amount of money.
Rather than going to the mall, I prefer to shop online as it saves time and effort.
No sooner had the sun risen than the birds started chirping and the day began.
Neither the teacher nor the students were satisfied with the exam results.
Either you take responsibility for your actions or face the consequences.
Such was the intensity of the storm that uprooted several trees and caused massive damage.
Not only did he finish the race in record time, but he also broke the previous record by a significant margin.
Whether we go by car or train, it will take us approximately the same amount of time to reach our destination.
Both the book and the movie were highly acclaimed and won multiple awards.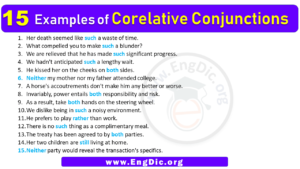 Last updated on April 5th, 2023 at 03:23 pm