A hat often symbolizes personal style and identity, while also serving as a practical accessory for head protection and fashion expression. It can convey a sense of individuality and complement one's overall appearance.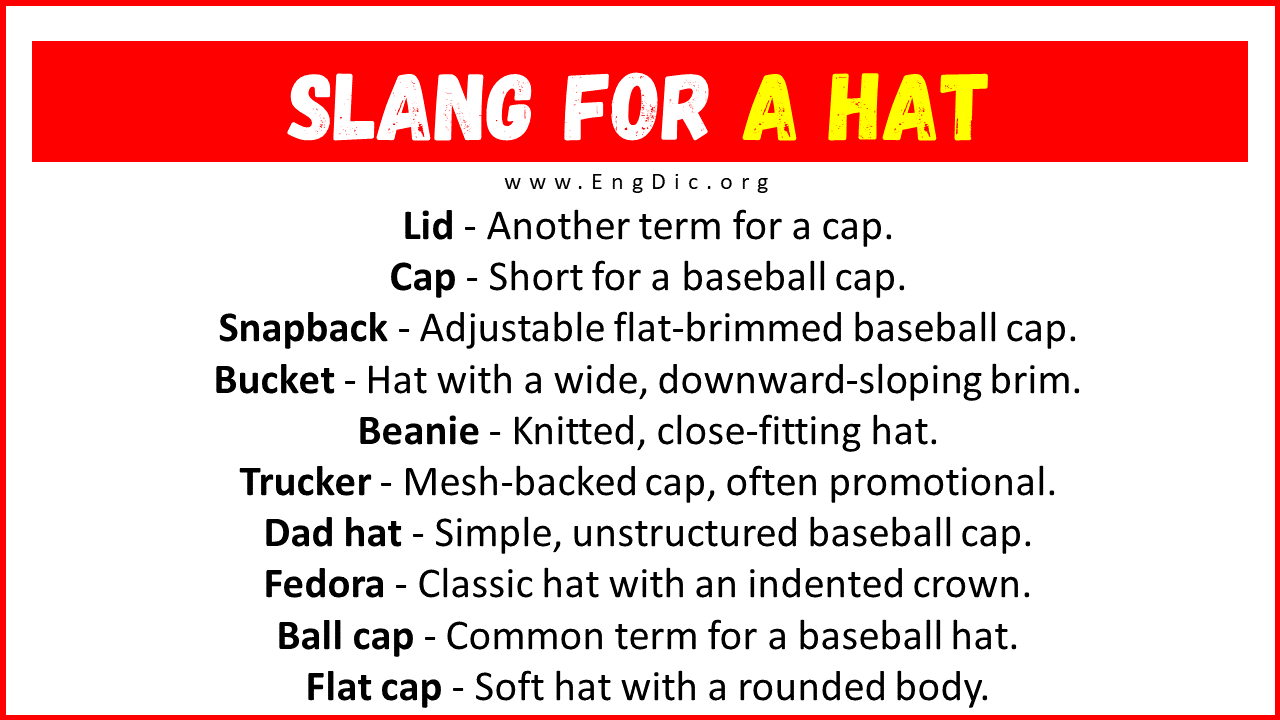 Slang Words for A Hat
Here is the list of slang words for a hat:
Lid
Cap
Snapback
Bucket
Beanie
Trucker
Dad hat
Fedora
Ball cap
Flat cap
Boonie
Topper
Beret
Trilby
Cloche
Bowler
Panama
Bonnet
Newsboy
Stetson
Slang Terms for A hat with Meanings
Lid – Another term for a cap.
Cap – Short for a baseball cap.
Snapback – Adjustable flat-brimmed baseball cap.
Bucket – Hat with a wide, downward-sloping brim.
Beanie – Knitted, close-fitting hat.
Trucker – Mesh-backed cap, often promotional.
Dad hat – Simple, unstructured baseball cap.
Fedora – Classic hat with an indented crown.
Ball cap – Common term for a baseball hat.
Flat cap – Soft hat with a rounded body.
Boonie – Wide-brimmed military-style hat.
Topper – Refers to a top hat.
Beret – Soft, round, flat-crowned hat.
Trilby – Narrow-brimmed type of fedora.
Cloche – Bell-shaped ladies' hat.
Bowler – Rounded, hard-topped hat.
Panama – Hand-woven traditional hat.
Bonnet – Soft, brimless head-covering.
Newsboy – Full, rounded cap with a button.
Stetson – Brand, often means cowboy hat.
Use of A hat Slangs in Example Sentences
I bought a new lid for the game.
Her cap matches her shoes perfectly.
He adjusted his snapback and grinned.
It's sunny; grab your bucket for shade.
She wore a purple beanie in winter.
I got this trucker at the concert.
His dad's hat looks worn out now.
The detective donned his fedora stylishly.
Is that a Yankees ball cap?
Grandpa loves wearing his flat cap.
He wore a boonie on the hike.
The magician's topper hid a rabbit.
Artists often wear a beret for style.
His trilby sets him apart in crowds.
The 1920s flapper wore a cloche.
British gentlemen often wore a bowler.
Panama kept him cool in the heat.
Babies look cute in a bonnet.
Newsies wore a newsboy in the 1900s.
Cowboys are often seen with a Stetson.
Explore More Slang Words: