Opposite of Loyal, Antonyms of loyal with meaning and Example Sentences in English PDF
What are opposite words or antonyms?
Opposite words or Antonyms means those words that oppose the meaning of each other completely. For example Dark/Light, White/Black etc.
Normally the question that comes to mind when we are trying to learn these vocabulary words is that "Why should I memorize these Opposites when I know the basic words?"
These words are very useful in our daily routine vocabulary. Here I will tell you what are the benefits of using antonym and opposites? If you know the opposites of all the vocabulary words in your collection then your collection can be increased and you have a variety of words to use in your conversation. In your writing and speaking if you use the variety of words instead using repeating the same words it will cast a good impression. And your writing and speaking will become professional.
Note: You must know that antonyms and synonyms are two different terms. Synonyms means the words that have same meanings but in case of antonym it is completely different as I discussed above.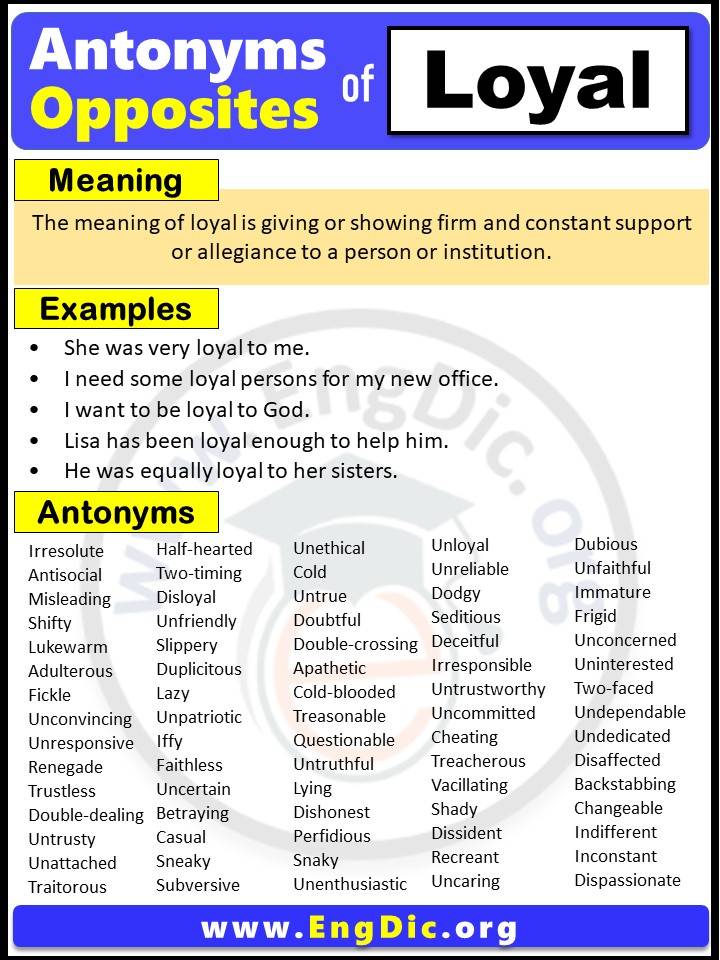 What is the meaning of loyal?
The meaning of loyal is giving or showing firm and constant support or allegiance to a person or institution.
Opposite of Loyal (Antonyms of Loyal)
Irresolute
Antisocial
Misleading
Shifty
Lukewarm
Adulterous
Fickle
Unconvincing
Unresponsive
Renegade
Trustless
Double-dealing
Untrusty
Unattached
Traitorous
Half-hearted
Two-timing
Disloyal
Unfriendly
Slippery
Duplicitous
Lazy
Unpatriotic
Iffy
Faithless
Uncertain
Betraying
Casual
Sneaky
Subversive
Unethical
Cold
Untrue
Doubtful
Double-crossing
Apathetic
Cold-blooded
Treasonable
Questionable
Untruthful
Lying
Dishonest
Perfidious
Snaky
Unenthusiastic
Unloyal
Unreliable
Dodgy
Seditious
Deceitful
Irresponsible
Untrustworthy
Uncommitted
Cheating
Treacherous
Vacillating
Shady
Dissident
Recreant
Uncaring
Dubious
Unfaithful
Immature
Frigid
Unconcerned
Uninterested
Two-faced
Undependable
Undedicated
Disaffected
Backstabbing
Changeable
Indifferent
Inconstant
Dispassionate
False
Cool
Fake
Misanthropic
Examples of Loyal in Sentences
She was very loyal to me.
I need some loyal persons for my new office.
I want to be loyal to God.
Lisa has been loyal enough to help him.
He was equally loyal to her sisters.
More Common Opposite Words
Departure – Arrival
Come – Go
Cold – Hot
Approximately – Exactly
All – None
Accidental – Intentional
Silly – Intelligent
Receive – Send
Plant – Harvest
Life – Death
Land – Take Off
High – Low
Hell – Heaven
Give – Take
For – Against
Flat – Hilly
Dirty – Clean
Cowardly – Brave
Connect – Separate
Complicated – Simple
Child – Adult
Broad – Narrow
Accidental – Intentional
Accidental – Intentional
Worst – Best
Worst – Best
West – East
War – Peace
Tragedy – Comedy
Thirsty – Hungry
Terrible – Lovely
Sunny – Cloudy
Short – Long
Rough – Smooth
Rest – Work
Reply – Question
Opponent – Supporter
Open – Closed
None Of – Al Lof
Never – Always
Loser – Winner
Little – Much
Land – Take Off
Innocent – Guilty
Hungry – Thirsty
High – Deep
Guilty – Innocent
Give – Take
Exit – Entrance
Entrance – Exit
Entrance – Exit
Divorce – Marry
Delicious – Awful
Day – Night
Big – Small
Background – Foreground
Artificial – Natural
All – None
Admit – Deny
Urban – Rural
Rise – Sink
Opponent – Supporter
Monarchy – Republic
Last – First
Fresh – Old/Stale
Foreign – Domestic
Foreground – Background
Follow – Lead
Flat – Hilly
Finish – Begin
Extreme – Moderate
Cellar – Attic
Below – Above
Beginning – End
Be Interested In – Bore
Adult – Child
Useful – Useless
Sometimes – Often
Senior – Junior
Save – Spend
Rich – Poor
Presence – Absence
Narrow – Broad
Much – Little
Male – Female
Male – Female
Enemy – Friend
Ending – Beginning
Distant – Near
Desperate – Hopeful
Big – Small
Admit – Deny
Abundance – Lack
Wet – Dry
Wet – Dry
Suspect – Trust
Sit – Stand
Protection – Attack
Powerful – Weak
Pleasant – Awful
Natural – Artificial
Master – Servant
Marriage – Divorce
Lovely – Terrible
Increase – Reduce
Hard – Easy
Exciting – Boring
Domestic – Foreign
Clear – Cloudy
Borrow – Lend
Apart – Together
Wealth – Poverty
Ugly – Beautiful
Tomorrow – Yesterday
Senior – Junior
Rude – Polite
Right – Wrong
Reply – Ask
Regret – Satisfaction
Negative – Affirmative
Natural – Artificial
Minor – Major
Intelligent – Silly
Inside – Outside
Immigrate – Emigrate
Hilly – Flat
Hate – Enjoy
Girl – Boy
Forbid – Allow
Few – Many
Empty – Full
Emigration – Immigration
Elementary – Advanced
Dusk – Dawn
Departure – Arrival
Defence – Attack
Defence – Attack
Death – Birth
Come – Go
Close – Open
Brother – Sister
Asleep – Awake
Ascent – Descent
Ancestor – Descendant
Advanced – Elementary
Succeed – Fail
Senior – Junior
Refuse – Agree
Public – Private
Marry – Divorce
Late – Early
Humane – Cruel
Free – Arrest
Everybody – Nobody
Elementary – Advanced
Divorce – Marriage
Dangerous – Safe
Close – Open
Cheap – Expensive
Awake – Asleep
Abundance – Lack
Wide – Narrow
Useless – Useful
Slow – Fast
Sit – Stand
Silly – Intelligent
Plenty – Lack
Nobody – Everybody
Life – Death
Interesting – Boring
General – Particular
Fail – Succeed
Destruction – Construction
Delicious – Awful
Best – Worst
Begin – End
Ask – Answer
Argue – Agree
Agree – Refuse
Wealth – Poverty
Urban – Rural
Shut – Open
Separate – Connect
Same – Different
Rest – Work
Raise – Lower
Quick – Slow
Particular – General
Noon – Midnight
Native – Foreigner
Melt – Freeze
High – Low
Entrance – Exit
Dead – Alive
Big – Small
Answer – Question
After – Before
Weak – Powerful
Unity – Division
Stupid – Clever
Some – Many
Sit – Stand
Shout – Whisper
Rough – Gentle
Repair – Damage
Polite – Rude
Out – In
Near – Distant
Marry – Divorce
Live – Die
Lie – Stand
Include – Exclude
Hopeful – Desperate
High – Low
Heat – Cold
Heat – Cold
Health – Disease
Guilty – Innocent
Foreground – Background
Drama – Comedy
Divorce – Marry
Dictatorship – Republic
Dictatorship – Republic
Dark – Light
Damage – Repair
Cowardly – Brave
Compliment – Insult
Closed – Open
Behind – In Front Of
Attack – Defense
Attack – Defence
Ancestor – Descendant
Absence – Presence
Work – Rest
Vowel – Consonant
Urban – Rural
Strange – Normal
Serious – Funny
Protection – Attack
Pretty – Ugly
Open – Closed
Married – Divorced
Intelligent – Silly
In Front Of – Back
Gentleman – Lady
Frequently – Occasionally
Flat – Hilly
Catch – Miss
Beautiful – Ugly
Attack – Defence
Yes – – No
Vertical – Horizontal