Opposite of Awake, Antonyms of awake with meaning and Example Sentences in English PDF
What are opposite words or antonyms?
Opposite words or Antonyms means those words that oppose the meaning of each other completely. For example Dark/Light, White/Black etc.
Normally the question that comes to mind when we are trying to learn these vocabulary words is that "Why should I memorize these Opposites when I know the basic words?"
These words are very useful in our daily routine vocabulary. Here I will tell you what are the benefits of using antonym and opposites? If you know the opposites of all the vocabulary words in your collection then your collection can be increased and you have a variety of words to use in your conversation. In your writing and speaking if you use the variety of words instead using repeating the same words it will cast a good impression. And your writing and speaking will become professional.
Note: You must know that antonyms and synonyms are two different terms. Synonyms means the words that have same meanings but in case of antonym it is completely different as I discussed above.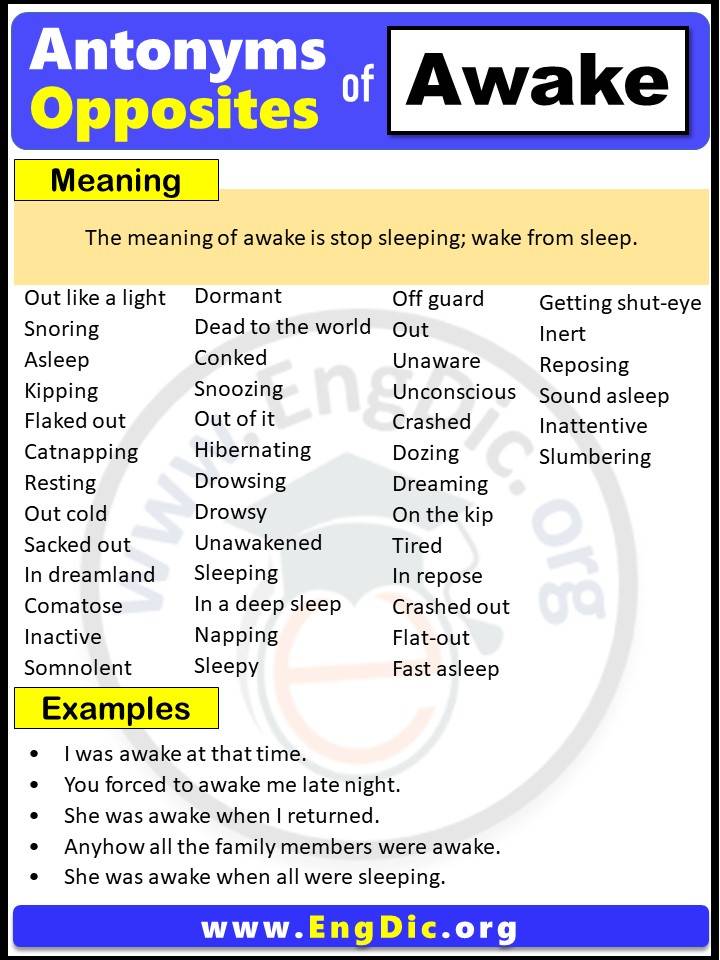 What is the meaning of awake?
The meaning of awake is stop sleeping; wake from sleep.
Opposite of Awake (Antonyms of Awake)
Out like a light
Snoring
Asleep
Kipping
Flaked out
Catnapping
Resting
Out cold
Sacked out
In dreamland
Comatose
Inactive
Somnolent
Dormant
Dead to the world
Conked
Snoozing
Out of it
Hibernating
Drowsing
Drowsy
Unawakened
Sleeping
In a deep sleep
Napping
Sleepy
Off guard
Out
Unaware
Unconscious
Crashed
Dozing
Dreaming
On the kip
Tired
In repose
Crashed out
Flat-out
Fast asleep
Getting shut-eye
Inert
Reposing
Sound asleep
Inattentive
Slumbering
Examples of Awake in Sentences
I was awake at that time.
You forced to awake me late night.
She was awake when I returned.
Anyhow all the family members were awake.
She was awake when all were sleeping.