Common Mistakes with Adjectives Pdf!
This Lesson is purely about the use of the adjective in daily conversation, here we are going to provide you with some example mistakes in English Phrases with their correct ones. Grammar Mistakes can be related to writing or speaking related to adjectives.
What are Adjectives in English Grammar?
Adjectives are words that describe nouns and pronouns. Adjectives are the most basic part of grammar and parts of speech. Adjectives have the ability to restrict the meaning of nouns and pronouns.
Common Mistakes with Adjectives in English
Below are some Common Mistakes with Adjectives in a list: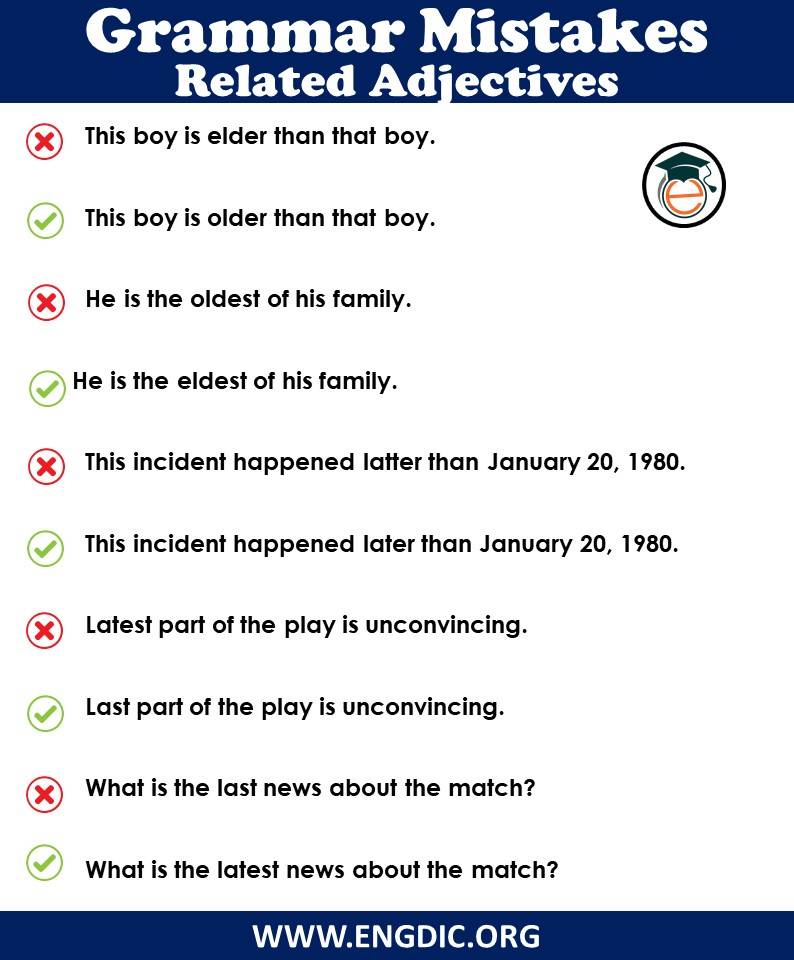 | | |
| --- | --- |
| Incorrect | This cloth is superior than that. |
| Correct | This cloth is superior to that. |
| Incorrect | This cloth is inferior than that. |
| Correct | This cloth is inferior to that. |
| Incorrect | John is senior than Joe. |
| Correct | John is senior to Joe. |
| Incorrect | Joe is junior than John. |
| Correct | Joe is junior to John. |
| Incorrect | I met him prior than his departure for London. |
| Correct | I met him prior to his departure for London. |
| Incorrect | Sana is stronger to Anna. |
| Correct | Sana is stronger than Anna. |
| Incorrect | This lesson is easier from that. |
| Correct | This lesson is easier than that. |
| Incorrect | The population of Alaska is greater than any other town in USA. |
| Correct | The population of Alaska is greater than that of any other town in USA. |
| Incorrect | He is more cleverer than you. |
| Correct | He is cleverer than you. |
| Incorrect | He was the most kindest of our teachers. |
| Correct | He was the kindest of our teachers. |
| Incorrect | This house is more preferable, than that. |
| Correct | This house is preferable to that. |
| Incorrect | No less than ten persons were killed in the stampede |
| Correct | No fewer than ten persons were killed in the stampede. |
| Incorrect | This shopkeeper does not sell fewer than twenty KGs of Sugar |
| Correct | This shopkeeper does not sell less than twenty KGs of sugar. |
| Incorrect |   This boy is elder than that boy. |
| Correct |   This boy is older than that boy. |
| Incorrect |   He is the oldest of his family. |
| Correct | He is the eldest of his family. |
| Incorrect |   This incident happened latter than January 20, 1980. |
| Correct |   This incident happened later than January 20, 1980. |
| Incorrect |   Latest part of the play is unconvincing. |
| Correct |   Last part of the play is unconvincing. |
| Incorrect |   What is the last news about the match? |
| Correct |   What is the latest news about the match? |
| Incorrect |   The later part of the novel is interesting. |
| Correct |   The latter part of the novel is interesting. |
| Incorrect |   Texas is further from Alaska than California. |
| Correct |   Texas is farther from Alaska than California. |
| Incorrect |   I have no farther comments to make. |
| Correct |   I have no further comments to make. |
| | |
Related: Grammar Mistakes Related Verb
Errors in the use of Adjectives
| | |
| --- | --- |
| | |
| Incorrect |   This is the worst example of hypocrisy. |
| Correct |   This is the worst example of hypocrisy. |
| Incorrect |   She is best of the two sisters. |
| Correct |   She is better of the two sisters. |
| Incorrect |   The vampire was the more interesting of all the characters. |
| Correct |   The vampire was the most interesting of all the characters. |
| Incorrect |   He is the ablest and efficient teacher. |
| Correct |   He is the ablest and most efficient teacher. |
| Incorrect |   He enjoys the most world-wide reputation. |
| Correct |   He enjoys world-wide reputation. |
| Incorrect |   She has the most perfect features. |
| Correct |   She has perfect features. |
| Incorrect |   Gilberts were the first who arrived. |
| Correct |   Gilberts were the first to arrive. |
| Incorrect |   There is a little truth in this story. |
| Correct |   There is little truth in this story. |
| Incorrect |   Please give me little sugar. |
| Correct |   Please give me a little sugar. |
| Incorrect |   Few things he said were very instructive |
| Correct |   The few things he said were very instructive. |
| Incorrect |   I am sorry I have a few friends. |
| Correct |   I am sorry I have few friends. |
| Incorrect |   Each of the sisters bring a present. |
| Correct |   Each of the sisters brings a present. |
| Incorrect |   Each one was shocked at the news of gruesome murder. |
| Correct |   Everyone was shocked at the news of the gruesome murder. |
| Incorrect |   Poors deserve our attention and help. |
| Correct |   The poor deserve our attention and help. |
| Incorrect |   There are thousands books in his library. |
| Correct |   There are thousands of books in his library. |
| Incorrect |   His all hopes were dashed to the ground. |
| Correct |   All his hopes were dashed to the ground. |
| Incorrect |   She was his chief object of desire. |
| Correct |   She was the chief object of his desire. |
| Incorrect |   He only is responsible for this act. |
| Correct |   He alone is responsible for this act. |
Also check: Grammar Rules Related to Adjectives
Infographics (Grammar Mistakes in the use of Adjective)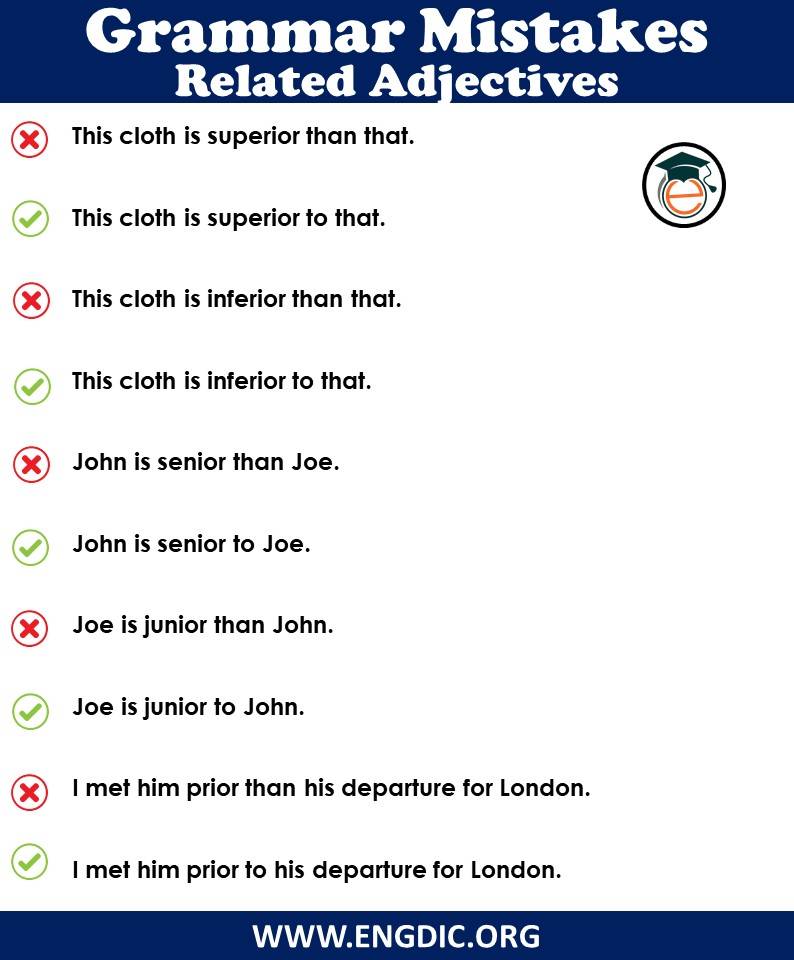 Grammar Mistakes in English in the use of Adjective PDF
Last updated on May 3rd, 2021 at 05:50 am