List of colors – Color Names List with Pictures PDF! Color is the beauty of this universe, and they give a visual perception of our world. Here is the list of some colors in English:
Azure
Aqua
Brown
Bronze
Blue
Black
Yellow
White
Wheat
Violet
Turquoise
Tomato
Teal
Silver
Salmon
Red
Purple
Pink
Orange
Olive
Navy blue
Navy
Maroon
Lime
Grey
Green
Gold
Dark blue
Cyan
Cyan
Chocolate
Examples of Colors
Her hairs are red.
He is earning a yellow shoe.
Ali has a good collection of black skirts.
He was playing with colors.
Kids love colors.
I have a mobile of red color.
The flag of Pakistan is in green and white color.
I like to wear white.
He was coming towards her with a flower of red color.
Actors are promoting red color on the screen.
He was panting wall in blue.
How can I help you with colors?
He has no interest in colors.
I have a bag of purple color.
Let me suggest some colors for you.
The yellow color is related to the sun and the moon has a white color.
My car is black.
His brother has a red ball.
It is a blue color.
Ayesha likes to wear a pink scarf.
Infographics (Color Names with Pictures)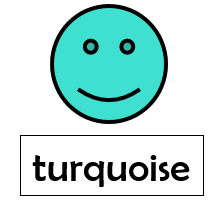 Download this lesson in PDF