Insects That Start With The Letter 'H'
In this lesson, we have enlisted some common insect names that start with F. Some are the most common names and some are the scientific ones.
Insects That Start With H
Housefly
Holly leaf miner
Harvester ant
Hemiptera
Honeybee
Hymenoptera
'H' Insect Names Definitions and Pictures
Housefly
A common household pest that is known for its ability to carry diseases. They are often attracted to food and other organic matter and can be a nuisance in households.
Holly leaf miner
A type of fly larvae that feeds on holly leaves. They are found in many parts of the world and can cause significant damage to holly plants.
Harvester ant
A type of ant that is known for its ability to harvest seeds. They are found in many parts of the world and can be an important source of food for other animals.
Hemiptera
Hemiptera, also known as true bugs, are a diverse group of insects that have mouthparts adapted for piercing and sucking. This group includes many important agricultural pests, such as aphids, stink bugs, and cicadas, as well as beneficial insects like assassin bugs.
Honeybees
Honeybees are social insects that play a critical role in pollinating many of the crops that humans rely on for food. They live in colonies with a queen, worker bees, and drones, and are known for their complex communication system and ability to produce honey.
Hymenoptera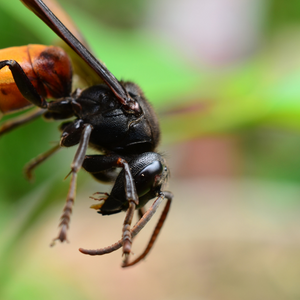 Hymenoptera is a large order of insects that includes bees, wasps, ants, and hornets. They are characterized by having two pairs of wings and a narrow waist. Many species are important for their role as pollinators or as natural predators of pest insects, while others are pests themselves and can cause damage to crops or be a nuisance to humans.
Explore Other Insects Starting With:
A – B – C – D – E – F – G – H – I – J – K – L – M – N – O – P – Q – R – S – T – U – V – W – X – Y – Z
Last updated on March 13th, 2023 at 07:54 am