We all get butterflies when we look into the eyes of someone we love and admire, especially if they return our gaze with admiration in their own. The best feeling is when that special person expresses just how 'beautiful' you are! Hearing those words can make us feel alive, loved, and truly appreciated for everything about ourselves.
However, sometimes it's good to switch things up a bit and come up with some creative flirty lines or funny ways to tell that special someone "you're beautiful." From cheesy one-liners to playful pickup lines – this blog post will provide insight into expressing the complimentary phrase 'you are beautiful' in an entirely new way!
Funny Ways to Say You Are Beautiful
1- You're like a fine wine, getting better with age!
2- I don't think you understand how unbelievably gorgeous you are
3- You should be a model – cameras just adore you!
4- When I saw you, my heart dropped.
5- If I were an artist, I'd paint a portrait of your beauty
6- Your beauty is unparalleled
7- I can't take my eyes off of you
8- You should have your own line of cosmetics!
9- Your beauty is nothing short of breathtaking
10- You are a goddess among mere mortals
11- I'm sure the stars are jealous of how you sparkle
12- Your beauty is so captivating, it's a crime
13- Everything about you is perfect
14- The most beautiful thing I've ever seen is your smile
15- I'm simply mesmerized by your beauty
16- Your beauty rivals the beauty of a summer day
17- You are drop-dead gorgeous
18- I am in awe of your looks
19- You radiate confidence and beauty
20- No filter is needed for you – you're flawless!
21- I'm sure you have angels singing in the background
22- Your beauty is like a beacon of light on a dark night
23- I could look into your eyes all day and never get bored
24- I think you were made to model for magazines
25- You are the definition of stunning!
26- I'm sure the Mona Lisa pales in comparison to your beauty
27- I'm drawn to you like a moth to a flame!
28- You shine brighter than the sun
29- Your beauty is pure perfection
30- I'd march through fire for you because you are that beautiful!
Read Also: 
80+ Romantic, Creative Ways to Say You Are Beautiful
20 Flirty Ways to Say You Are Beautiful
1- Your beauty shines brighter than the stars in the sky.
2- You make my heart skip a beat every time I look at you.
3- You have the most gorgeous eyes I have ever seen.
4- I could stare at you all day and never get bored.
5- Every time I see you, my heart starts to flutter.
6- You are the definition of beauty.
7- I can't take my eyes off you.
8- You must have been a masterpiece in your past life.
9- You are more beautiful than anyone else I know.
10- Your beauty radiates from the inside and out.
11- People often say that beauty lies in the eye of the beholder, but when I look at you, all I can see is perfection.
12- You are more stunning than any work of art I have ever seen.
13- Your beauty takes my breath away.
14- You light up a room just by walking in it.
15- When you smile, the whole world stops to take notice.
16- You are so beautiful that no words can do justice to your beauty.
17- Every time I see you, I fall in love with you all over again.
18- If angels exist, then they must look like you.
19- Your beauty knows no bounds.
20- I could never tire of looking at you.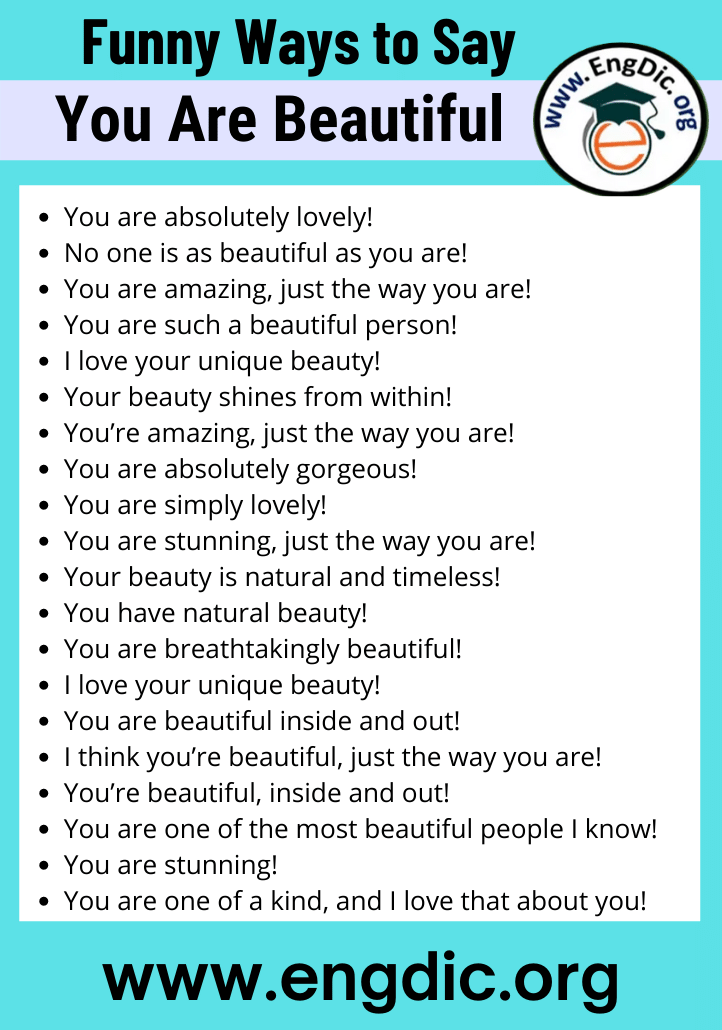 Last updated on February 21st, 2023 at 05:59 am