Missing someone special can be heartbreaking. Whether it's a long-distance relationship that keeps you apart, or life taking one of you in a different direction – expressing how much you miss them is an important part of any relationship.
Finding the right words to express these feelings can sometimes be challenging – but there are plenty of fun, creative ways we can let our loved ones know just how missed they truly are. In this blog post, we explore some sweet and unique ideas on other ways to say "I miss you"!
Other Ways to Say I Miss You
Here are cute and wonderful ways to say I Miss You;
1- Feeling incomplete without you
2- Needing to hear your voice
3- Craving your hugs and kisses
4- Aching to see you
5- Yearning for your touch
6- Wishing I could be with you
7- Thinking of you
8- Longing for your presence
9- Counting the days until we're together
10- Needing you by my side
11- Wishing I could be in your arms
12- Hoping for a chance to be close to you again
13- Desiring your warmth and love
14- Praying for the day when I can feel you near me
15- Wanting to feel your embrace
16- Missing the sound of your laughter
17- Dreaming of you constantly
18- Feeling empty without you
19- Searching for a way to be close to you
20- Yearning for your smile
21- Pining for your voice
22- Wishing I could be in the same room as you
23- Daydreaming of being together again
24- Aching for your companionship
25- Remembrances of our shared moments
26- Subconsciously counting down the days until we can reunite
27- Longing to feel that spark between us
28- Obsessing over when I can be with you again
29- A void in my heart only you can fill
30- Savoring the memories of us together
31- Nostalgic for our time spent side by side
32- Fantasizing about a future with you
33- Feeling incomplete without your presence
34- Reflecting on the moments we have shared
35- Hopeful that I can wrap my arms around you again soon
36- Wishing I could dive into your embrace
37- Yearning for our passionate connection
38- Desiring to run my fingers through your hair
39- Needing you like a plant needs water
40- Hungry for your affection
41- Wishing I had the power to be with you right now
42- Longing to look into those eyes that know me so well
43- Desiring to feel your breath on my neck again
44- Praying for our paths to cross again soon
45- Wanting to hear your voice calling my name
46- Dreading the time when I have to leave you again
47- Aching for a chance to be together
48- Memories of us together flood my mind
49- Imagining what it would be like if we never had to part
50- Knowing that I need you like a fish needs water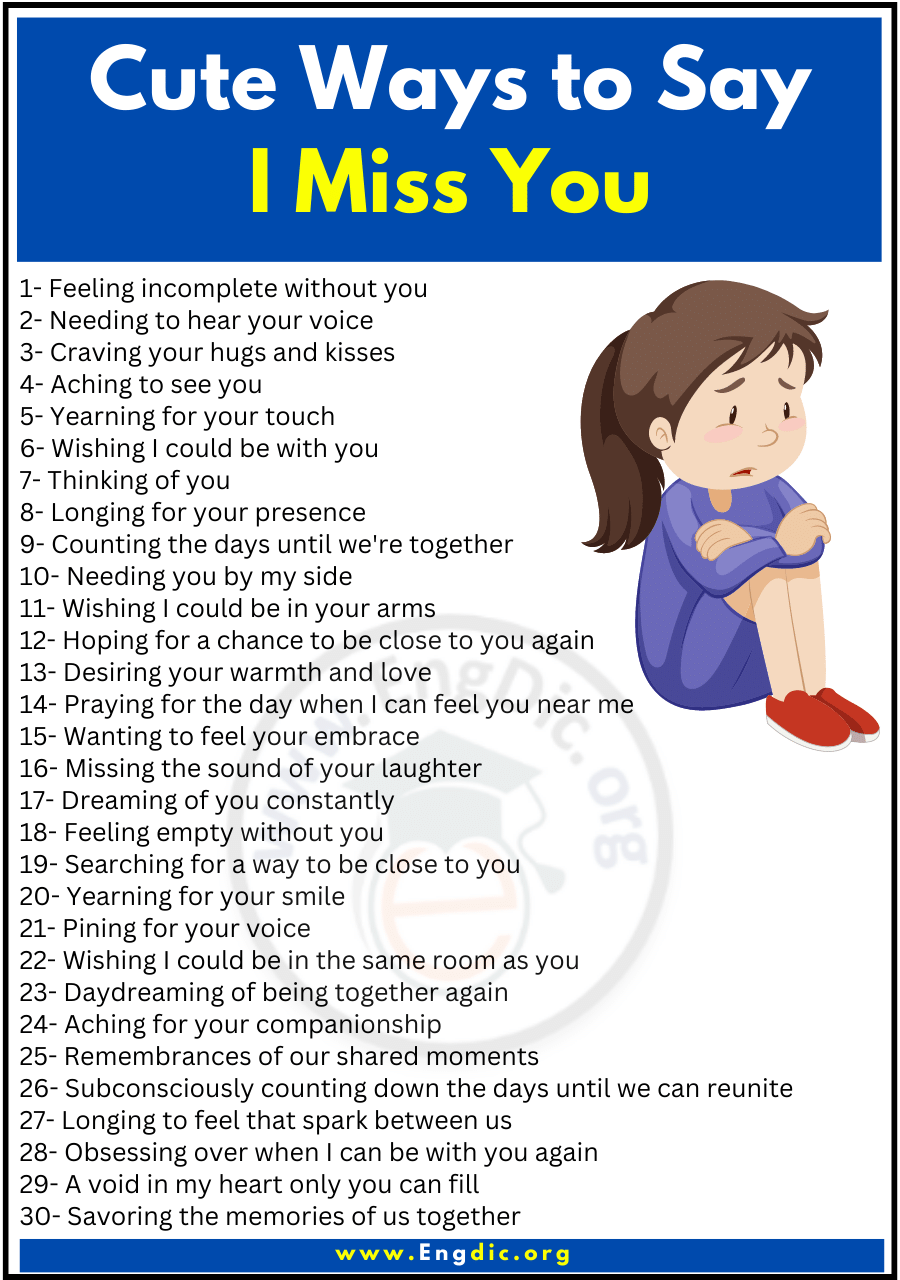 30 Romantic Ways to Say I Miss You
1- I feel like something is missing when you're not around.
2- Nothing makes me happier than seeing your face again after being apart.
3- Just wanted to let you know I'm thinking of you and wishing we were together right now.
4- How I wish I could be in your arms right now!
5- Every time we're apart, I miss you more and more.
6- I feel an emptiness inside when we're not together.
7- Not a day goes by that I don't think of you and how much I wish you were here.
8- No matter how close or far apart we are, I'll always be missing you.
9- A day without you feels like an eternity.
10- Just hearing your voice makes me miss you even more.
11- My heart aches for the times we can't be together.
12- You're never far away because you're always in my heart.
13- Come back soon, because I miss you like crazy!
14- If only I could turn back time and be with you again…
15- I long for the day we can see each other again.
16- No distance can keep me from missing you.
17- I'm counting down the days until we can be together again.
18- My life feels incomplete without you here.
19- Missing your smile more than anything else in the world.
20- Every time I miss you, a star falls from the sky.
21- You always fill my heart with joy, even when you're far away.
22- No matter the miles between us, I still feel close to you.
23- I miss your presence in my life more than words can say.
24- My love for you grows stronger each day we are apart.
25- Time passes so slowly when I'm not with you.
26- My heart yearns for the day we can be together again.
27- Missing you is like a piece of my soul is gone.
28- I wish I could teleport and be in your arms right now!
29- There are no words to describe how much I miss you.
30- No matter what, know that I'll always be missing you.
30 Poetic Ways to Say I Miss You
1- I yearn for your presence.
2- I hunger for the warmth of your kiss.
3- When you're away, my heart aches.
4- My soul searches for you in the dark.
5- I long to feel your embrace.
6- Your absence leaves me feeling incomplete.
7- I crave the sound of your laughter.
8- I pine for the smell of your skin.
9- My heart yearns for you in every way.
10- You're always on my mind.
11- I dream of being with you again soon.
12- Nothing about you is forgotten.
13- I miss our time together so much.
14- My days feel dull without your light.
15- Without you, my world feels empty.
16- I wish for your return soon and often.
17- Memories of you fill me with longing.
18- Each night I miss you more.
19- My heart is incomplete without you.
20- I need you in my life again soon.
21- The void within me aches for your return.
22- You are always in my thoughts and prayers.
23- Your sweet embrace is dearly missed.
24- When away from you, I feel hollow.
25- You make me feel alive again.
26- Holding your hand once more is my wish.
27- Whenever apart, I yearn for our reunion.
28- Nothing can replace the joy of being together.
29- Your absence leaves a hole in my heart.
30- I eagerly await the moment we reunite.
30 Professional ways of saying I miss you
1- Longing for your presence
2- Ache to be with you
3- Yearning for you
4- Thirsty for your company
5- My heart yearns for you
6- Loneliness without you
7- I feel incomplete without you
8- Your absence breaks my heart
9- I pined for your touch
10- I crave to be close to you
11- Needing you here with me
12- Hoping to see you soon
13- Wishing we were together
14- How I wish you were here
15- Longing to hear your voice
16- Thinking of you constantly
17- Aching to feel your embrace
18- Not the same without you
19- My soul is searching for yours
20- No one can replace you in my heart
21- I cherish every moment with you
22- Come back soon so I can kiss you
23- I'd do anything just to be with you
24- I miss everything about you
25- You complete me
26- I'm incomplete without you
27- My heart is calling out for yours
28- There's an emptiness inside of me
29- Your memories keep me going
30- All I want is to be with you again.
Last updated on March 5th, 2023 at 06:51 am