50 Examples of Adverbs in Sentences! Writing is an essential part of communication, and adverbs are one of the most important aspects of writing. Adverbs allow you to add detail to your message by modifying verbs, adjectives, and other adverbs. In this article, we will provide 50 examples of adverbs in sentences that demonstrate how to use them properly. We will explain the difference between strong and weak adverbs as well as show you how to make the right choice when it comes to using them in your writing.
Related: 100 Examples of Adverbs
50 Examples of Adverbs in Sentences
He spoke loudly during the speech.
She sings beautifully at the concert.
They arrived early for the meeting.
The dog barks furiously at strangers.
He always takes a shower in the morning.
The train was running quite late.
She almost finished her homework.
They will never be late again.
We rarely eat out on weekends.
She usually takes the bus to work.
The athletes were too tired to continue.
The movie was incredibly boring.
He drives carefully on slippery roads.
She slowly turned around.
The child played happily in the park.
He quickly grabbed his keys and left.
The fireworks lit up the sky brightly.
The teacher spoke clearly to the students.
She suddenly fainted during the performance.
The wind blew gently through the trees.
They silently entered the room.
The sun shines warmly on the beach.
She eagerly awaited the news.
He politely declined the invitation.
The car barely fit into the parking space.
The flowers finally bloomed in spring.
He boldly asked for a raise.
The cake was evenly divided among the guests.
The birds gracefully soared in the sky.
She tensely watched the game.
He anxiously paced around the room.
She smoothly applied the paint on the canvas.
They briskly walked through the park.
The rain fell steadily throughout the day.
He nervously adjusted his tie.
She gently cradled the baby.
The team easily won the match.
She deliberately avoided eye contact.
The dancer moved gracefully across the stage.
The guests enthusiastically applauded the performance.
He recently started learning guitar.
The soup was extremely hot.
She accidentally dropped her purse.
The runner swiftly crossed the finish line.
He patiently waited for his turn.
They lazily lounged by the pool.
She intensely focused on her work.
The car suddenly swerved to avoid the obstacle.
He generously donated to the charity.
She frequently visits her grandparents.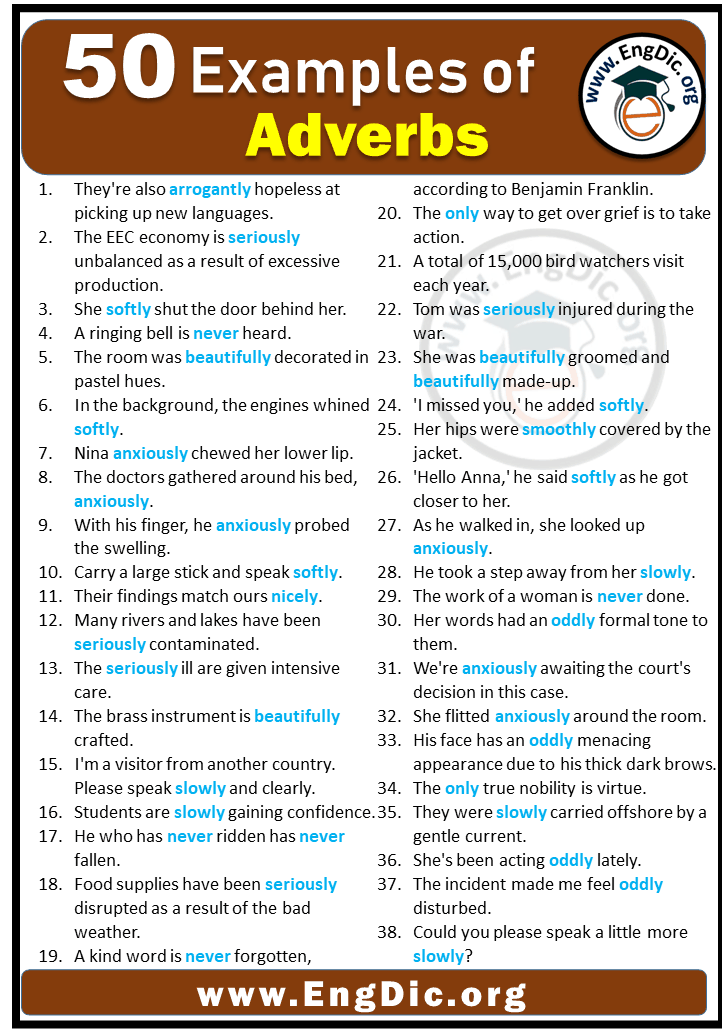 Last updated on April 6th, 2023 at 07:05 pm