300 Nouns that Start with H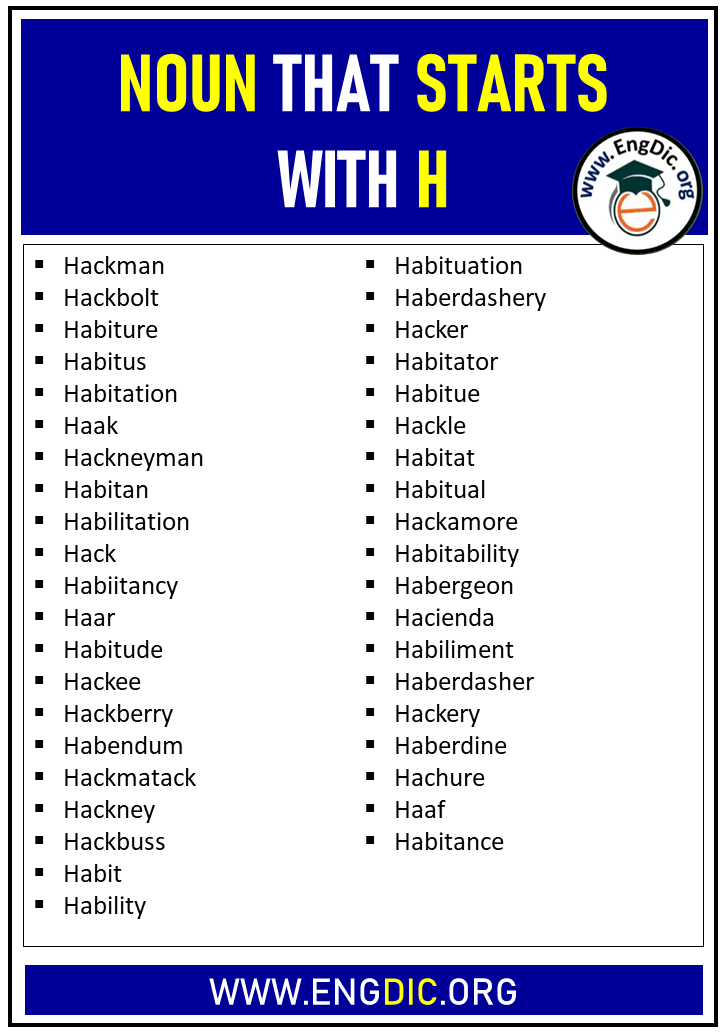 A noun is a word that represents a person, place, thing, or idea. Nouns can be classified into different types, including proper nouns, common nouns, Countable nouns, and Uncountable nouns.
List of Nouns that Start with H
Below is the list of nouns starting with h:
Nouns Beginning With HA
hackman
hackbolt
habiture
habitus
habitation
haak
hackneyman
habitan
habilitation
hack
habiitancy
haar
habitude
hackee
hackberry
habendum
hackmatack
hackney
hackbuss
habit
hability
habituation
haberdashery
hacker
habitator
habitue
hackle
habitat
habitual
hackamore
habitability
habergeon
hacienda
habiliment
haberdasher
hackery
haberdine
hachure
haaf
habitance
Nouns Beginning With HE
heald
healing
headiness
headland
headstone
headache
headline
headspring
headsail
headband
headroom
headliner
headwork
headman
headship
headshake
headway
headborough
headpan
headfish
headstrongness
healall
headborrow
headstock
headtire
headsman
headrace
healthfulness
headrope
headdress
headnote
headpiece
heading
header
health
headlight
head
headstall
headgear
headbeard
Nouns Beginning With HI
hibiscus
hibernacle
hierapicra
hierarchism
hickway
hiermartyr
hicksite
hierology
hidage
hierolatry
hierocracy
hibernation
hiatus
hieroglyph
hiccough
hickory
hibernaculum
hieromnemon
hieromancy
hiddenite
hierogram
hibernian
hie
hibernicism
hide
hiation
hieron
hierography
hierologist
hider
hieroglyphist
hibernianism
hierogrammatist
hickup
hierarch
hiding
hierarchy
hickwall
hiems
hidalgo
Nouns Beginning With HO
hobbletehoy
hobbism
hoarseness
hoarstone
hockey
hocus
hoard
hobit
hobbyhorsical
hoaxer
hobnail
hoarhound
hobble
hob
hobby
hobbyhorse
hobbist
hoarfrost
hoboy
hobblebush
hockamore
hoarder
hoariness
hobbler
hocco
hoar
hoarding
hoazin
hoax
hochepot
hobbledehoy
hobgoblin
hockherb
hock
hoatzin
hocuspocus
hobiler
ho
hockday
hobnob
Nouns Beginning With HU
huller
huke
huffer
huffiness
huddler
hulver
huckstress
huckleberry
huguenot
huckaback
huanaco
huff
hulch
huisher
hub
huloist
hulotheism
hulan
hucksterage
huckster
huer
hubner
hulk
hudge
huffcap
hullabaloo
huddle
hue
huguenotism
hucksterer
huchen
hugger
huckle
hubbub
hull
huch
hum
hug
human
hud
Nouns Beginning With HY
hydrargyrism
hydrargyrum
hyalography
hyalophane
hydramide
hybodus
hydractinian
hydatid
hydrate
hyacine
hydage
hybrid
hydranth
hybridism
hydrachnid
hydra
hydrant
hyaena
hybridity
hyalite
hydramine
hydrargochloride
hyalea
hydragogue
hydrangea
hydration
hydracid
hybridizer
hydrastine
hydantoin
hyalescence
hybridist
hybridization
hyalonema
hyaline
hydrarthrosis
hyalotype
hydraemia
hyalograph
hyacinth
Different Types of Nouns Starting With H
Common Nouns That Start With H
Hair Brush
Hair Dryer
Hair Dye
Hair Gel
Hair Wax
Hairbrush
Hairspray
Hamburger
Hammer
Hand Cream
Hand Sanitizer
Handbag
Handle
Hang Glider
Hard Drive
Hard Hat
Hat
HDMI Cable
Headphones
Headset
Heat Gun
Heater
Heating Pad
Helicopter
Herbal Supplements
Highlighter
Hinge
Hockey Stick
Hole Punch
Honey
Hoodie
Hospital Bed
Hot Air Balloon
Hot Dog
House Key
Hub
Humidifier
Proper Nouns That Start With H
Hawaii-Aleutian Standard Time
Helsinki
Himalayas
Hollywood Walk of Fame
Hong Kong
Hoosier National Forest
Houston
Hudson Bay
Hudson River
Hudson Strait
Hyde Park
Countable Nouns That Start With H
Hair Accessories
Hair Clip
Hair Curler
Hair Cutting Scissors
Hair Dryer
Hair Dryer Brush
Hair Dryer Diffuser
Hair Dye
Hair Extensions
Hair Spray
Hair Straightener
Hair Straightening Brush
Hair Styling Tools
Hair Tie
Hairbrush
Hammer
Hat
Headphones
Headphones Case
Hiking Boots
House
Uncountable Nouns That Start With H
Habit
Happiness
Hardship
Harm
Harmony
Hate
Health
Hearing
Heat
Heaven
Heavyweight
Help
Heroism
History
Honesty
Honor
Hope
Hospitality
Housing
Humidity
Humility
Humor
Hunger
Hunting
Hygiene
Nouns Starting With H – Definition and Example Sentence
Horse: a large, hoofed mammal often used for riding or as a draft animal.
The horse galloped through the field.
Hat: a head covering worn for warmth, protection from the sun, or fashion.
He put on his hat to shield his eyes from the sun.
House: a building designed for people to live in, typically consisting of rooms for sleeping, eating, and living.
They watched a movie on the house projector.
Helicopter: a type of aircraft that is capable of vertical takeoff and landing, and sustained flight in any direction using rotors.
She flew in a helicopter over the city.
Heart: a muscular organ that pumps blood through the circulatory system.
He drew a heart on the paper with a red pen to represent the heart.
Hammer: a tool with a weighted head and a handle, used for striking objects or driving nails.
They hammered a nail with a hammer.
Hamburger: a sandwich made with a cooked patty of ground beef, typically served with various toppings and condiments.
He enjoyed a juicy hamburger for lunch.
Hot air balloon: a type of aircraft that uses heated air to rise and float, typically consisting of a large, fabric bag filled with hot air and a wicker basket for passengers.
She took a ride in a colorful hot-air balloon.
Hanger: a device used for hanging clothes or other items, typically consisting of a hook or bar.
He hung his coat on a hanger.
Hockey stick: a stick used for playing hockey, typically made of wood, plastic, or composite materials.
They played hockey with a hockey stick.
Hairbrush: a device used for grooming and styling hair, typically consisting of bristles or other materials attached to a handle.
She brushed her hair with a hairbrush.
Halloween costume: a set of clothing and accessories worn for Halloween, typically consisting of costumes of characters or monsters from popular culture.
He dressed up as a superhero for Halloween in his Halloween costume.
Hammock: a type of bed or swing made of fabric or netting suspended between two points, typically used for relaxing or sleeping outdoors.
They relaxed in a hammock in the backyard.
Handcuffs: a device used for restraining a person's wrists, typically used by law enforcement or security personnel.
She handcuffed the suspect and took him to jail.
Harmonica: a small, handheld musical instrument with multiple reeds, played by blowing and sucking air through the holes.
He played a tune on his harmonica.
Harp: a large, stringed musical instrument played by plucking the strings with the fingers.
She strummed the strings on her harp.
Headphones: a device worn on the ears for listening to the audio, typically consisting of a pair of speakers and a headband or ear hooks.
He listened to music with his headphones.
Hedgehog: a small, spiny mammal with a pointed snout, found in Europe, Asia, and Africa.
They watched a cute hedgehog curl up into a ball.
Herb: a plant used for flavoring or medicinal purposes, typically used fresh or dried.
She added some herbs to her cooking for extra flavor.
High heels: a type of shoe with a tall, narrow heel, typically worn by women for fashion or dressy occasions.
He wore a pair of stylish high heels to the party.
Nouns That Start With H – Pictures
Explore other Nouns that start with:
A – B – C – D – E – F – G – H – I – J – K – L – M – N – O – P – Q – R – S – T – U – V – W – X – Y – Z