What does Hookup mean?
A hookup generally refers to a casual sexual encounter or relationship without a formal commitment. The term can also indicate a link or connection between two things.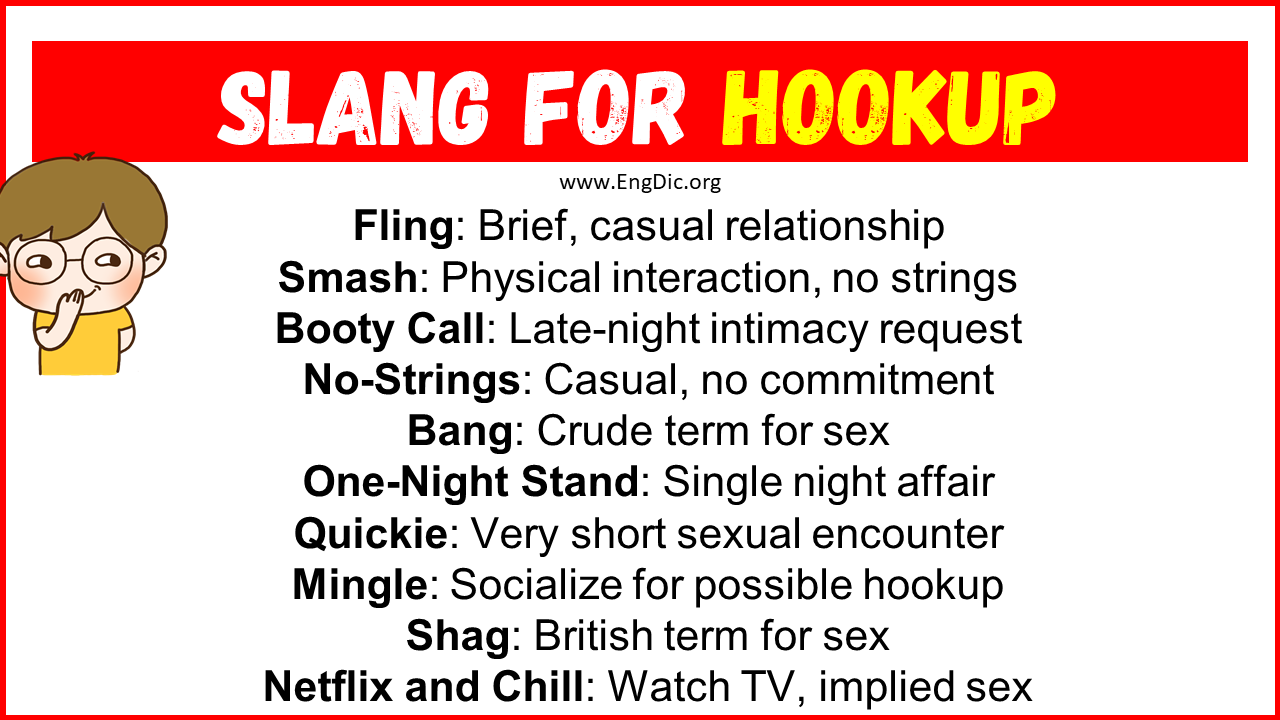 Slang Words for Hookup
Fling: Brief, casual relationship
Smash: Physical interaction, no strings
Booty Call: Late-night intimacy request
No-Strings: Casual, no commitment
Bang: Crude term for sex
One-Night Stand: Single night affair
Quickie: Very short sexual encounter
Mingle: Socialize for possible hookup
Shag: British term for sex
Netflix and Chill: Watch TV, implied sex
DTF: "Down to f*ck"
Casual: Non-serious sexual encounter
Hit It: Slang for sexual intercourse
Lay: Old term for sex
Tinderella: Met for hookup on Tinder
Snuggle: Mild; more about cuddling
Roll in the Hay: Quick, rustic encounter
Friends with Benefits: Friends, but sexual
Romp: Playful, fun sexual encounter
Sext: Texts for arranging sex
Use of Hookup Slang in Example Sentences
They had a summer fling while on vacation.
He wanted to smash, no questions asked.
She gave him a booty call after midnight.
It was definitely a no-strings situation.
They decided to bang, then went separate ways.
It was just a one-night stand, nothing more.
They managed a quickie during lunch break.
He went to the bar to mingle.
She wanted to shag, so they did.
They decided to Netflix and Chill tonight.
He texted, asking if she was DTF.
They had a casual thing last weekend.
She just wanted to hit it and quit it.
He was looking for a quick lay.
She was his Tinderella for the evening.
They decided to just snuggle for the night.
They had a roll in the hay at the barn party.
They were friends with benefits, nothing more.
They enjoyed a playful romp in the sheets.
They sent a sext to arrange the details.
Explore More Slang Words: