Explore science words that start with w.
Science Words that Start With W
Here are 100 science words that start with "W":
Wave
Water
Wind
Weather
Weight
White blood cell
Wavelength
Work
Waveform
Welding
Wave-particle duality
Wisdom
Wildlife
Worm
Watt
Wildfire
Weathering
Wetland
World
Wisdom teeth
Wet bulb temperature
Wildlife conservation
Wastewater
Wood
Wind energy
Weather forecast
Wing
Water cycle
Weather radar
Weather satellite
Wind power
Water pollution
Wind chill
Water vapor
Weathering process
Weather station
Wing span
Water conservation
Wind turbine
Wave frequency
Water molecule
Weather patterns
Wetlands ecology
Wave speed
Water resources
Wildlife habitat
Wind direction
Weather map
Water scarcity
Wave propagation
Weather system
Wind speed
Water quality
Wildlife biologist
Weed control
Wet deposition
Wavelengths of light
Wave energy
Waterborne
Weather phenomena
Wet scrubber
Wildlife sanctuary
Water treatment
Wind vane
Wetlands restoration
Weather extremes
Wavefront
Windward
Water desalination
Waterborne diseases
Water table
Watershed
Wastewater treatment
Waterborne pathogens
Wet-bulb globe temperature
Wind shear
Weather forecasting
Waterborne transmission
Wave interference
Weather balloon
Wildlife management
Water potential
Wind farm
Water purification
Wetland restoration
Wind tunnel
Water footprint
Windbreak
Water stress
Wave motion
Watershed management
Wind erosion
Waterborne illness
Related: Science Words A to Z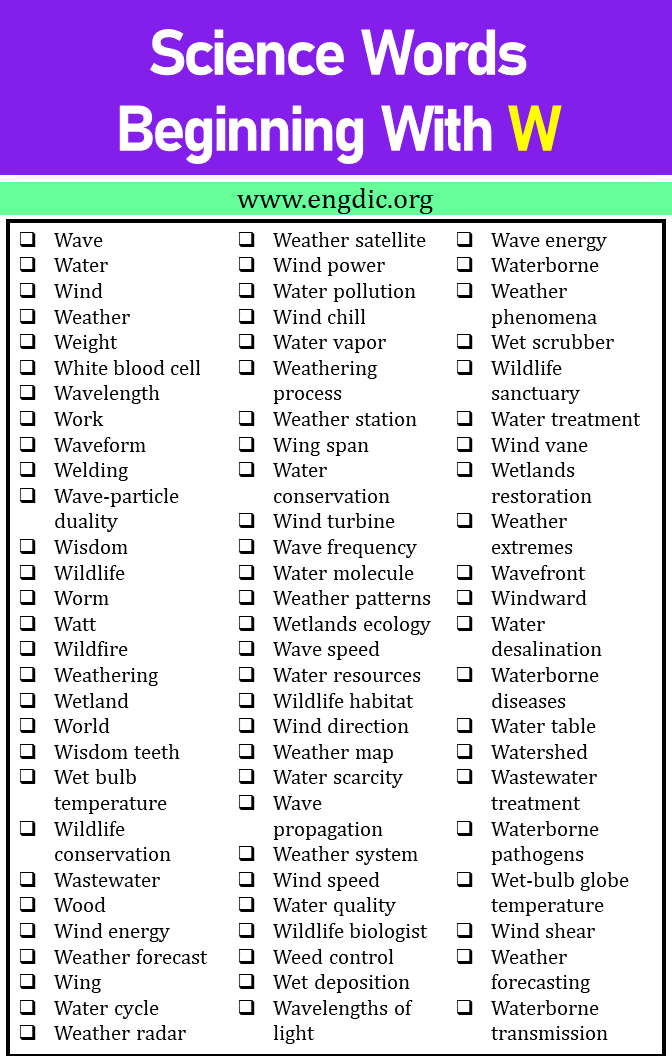 Science Words That Start With W (By Grade)
Science Words That Start With W (4th Grade):
Water
Weather
Wind
Weight
Worm
Wood
Wave
Wing
Whisker
Wavelength
Whirlpool
Wedge
Warmth
Wrist
Weeds
Whistle
Wagon
Watermelon
Walnut
Wheat
Science Words That Start With W (5th Grade):
Water cycle
Weathering
Wind energy
Weight measurement
Worms
Woodland ecosystem
Wave motion
Wingspan
Whiskers
Wavelengths of light
Whirlwind
Wedge shape
Warm-blooded
Wrist joint
Weed control
Whistle frequency
Wagon wheel
Watermelon seed dispersal
Walnut tree
Wheat germ
Science Words That Start With W (6th Grade):
Water pollution
Weather patterns
Wind turbine
Watershed
Wetlands ecosystem
Wave interference
Wind erosion
Wildlife conservation
Wavelength spectrum
Weather satellite
Waterspout
Wet bulb temperature
Water scarcity
Watershed management
Wind shear
Weather radar
Weather balloon
Wave refraction
Wetland restoration
Water filtration
Science Words That Start With W (7th Grade):
Wave-particle duality
Water quality
Wind energy conversion system
Watershed modeling
Wildlife population dynamics
Wind chill factor
Weather forecasting
Wet chemistry
Water desalination
Wave interference pattern
Watershed hydrology
Windbreak
Weather radar system
Wastewater treatment
Water potential
Wind tunnel
Wave function
Wind power generation
Water treatment process
Wetland ecology
Science Words That Start With W (8th Grade):
Wavelength modulation spectroscopy
Water cycle modeling
Wave optics
Wind power capacity
Watershed restoration
Weather extremes
Waterborne diseases
Wind farm
Wildlife conservation genetics
Waste management
Water reclamation
Wetland hydrology
Wind stress
Weather satellites
Wind energy storage
Wireless sensor networks
Weathering rates
Wastewater reclamation
Wavefront aberration
Wind direction measurement
Science Words Starting With W (By Subject)
Physics Words That Start With W:
Work
Wave
Wavelength
Weight
Watt
Wavefunction
Weak force
Wall friction
Work-energy theorem
Wave-particle duality
Wind
Warp
Wire
Wattmeter
Wavefront
Weak nuclear force
Ward identity
Wien's displacement law
White noise
Water vapor
Chemistry Words That Start With W:
Water
Wavelength
Weight
Wettability
Weak acid
Weathering
Welding
Wax
Wurtz reaction
Waste
Weber number
Water hardness
Wulff construction
Wash bottle
Water purification
Water pollution
Whisky lactone
Wilson cloud chamber
Wittig reaction
Wintergreen oil
Biology Words That Start With W:
Water
Wildlife
Wetland
Wings
White blood cell
Worm
Wind pollination
Wood
Wet mount
Wavelength
Wrapping
Warm-blooded
Wilting
Winged seed
Wildflower
Woodland
Wool
Withering
Waxy cuticle
Wing venation
Math Words That Start With W:
Whole number
Weighted mean
Width
Wavelength
Worksheet
Winding number
Word problem
Weight
Width-to-height ratio
Wilcoxon rank-sum test
Window function
Weak convergence
Wedge product
Waterfall chart
Weight function
Walsh function
Weierstrass approximation theorem
Weber-Fechner law
Wrapping function
Wiener process
Physical Science Words That Start With W:
Work
Watt
Wavelength
Weight
Weak force
Wave
Wind energy
Wattmeter
Weightlessness
Science Words Beginning with W with Meaning:
Water: Transparent, odorless, and essential liquid for life.
Wind: Movement of air caused by atmospheric pressure differences.
Weather: Atmospheric conditions at a specific time and place.
Waves: Disturbances that transmit energy through a medium.
Wildlife: Animals and plants living in their natural habitats.
Wetland: Ecosystem with standing water or saturated soil.
Wavelength: Distance between successive wave crests.
Winter: Coldest season of the year.
Wilderness: Undeveloped and uninhabited natural areas.
Woodland: Area covered with trees and shrubs.
Water cycle: Continuous movement of water on, above, and below Earth's surface.
World: Earth as a whole, the planet and all its inhabitants.
Warm-blooded: Animals capable of regulating their body temperature.
Weathering: Process of breaking down rocks and minerals on Earth's surface.
Wildlife conservation: Efforts to protect and preserve endangered species and their habitats.
Wind energy: Renewable energy harnessed from wind turbines.
Water vapor: Gaseous form of water in the atmosphere.
Weather forecast: Prediction of future weather conditions.
Water pollution: Contamination of water bodies by harmful substances.
Wetlands: Ecosystems with standing water or saturated soil, supporting diverse wildlife.
Explore Other Science Words:
A – B – C – D – E – F – G – H – I – J – K – L – M – N – O – P – Q – R – S – T – U – V – W – X – Y – Z