Opposite of Real, Antonyms of real with meaning and Example Sentences in English PDF
What are opposite words or antonyms?
Opposite words or Antonyms means those words that oppose the meaning of each other completely. For example Dark/Light, White/Black etc.
Normally the question that comes to mind when we are trying to learn these vocabulary words is that "Why should I memorize these Opposites when I know the basic words?"
These words are very useful in our daily routine vocabulary. Here I will tell you what are the benefits of using antonym and opposites? If you know the opposites of all the vocabulary words in your collection then your collection can be increased and you have a variety of words to use in your conversation. In your writing and speaking if you use the variety of words instead using repeating the same words it will cast a good impression. And your writing and speaking will become professional.
Note: You must know that antonyms and synonyms are two different terms. Synonyms means the words that have same meanings but in case of antonym it is completely different as I discussed above.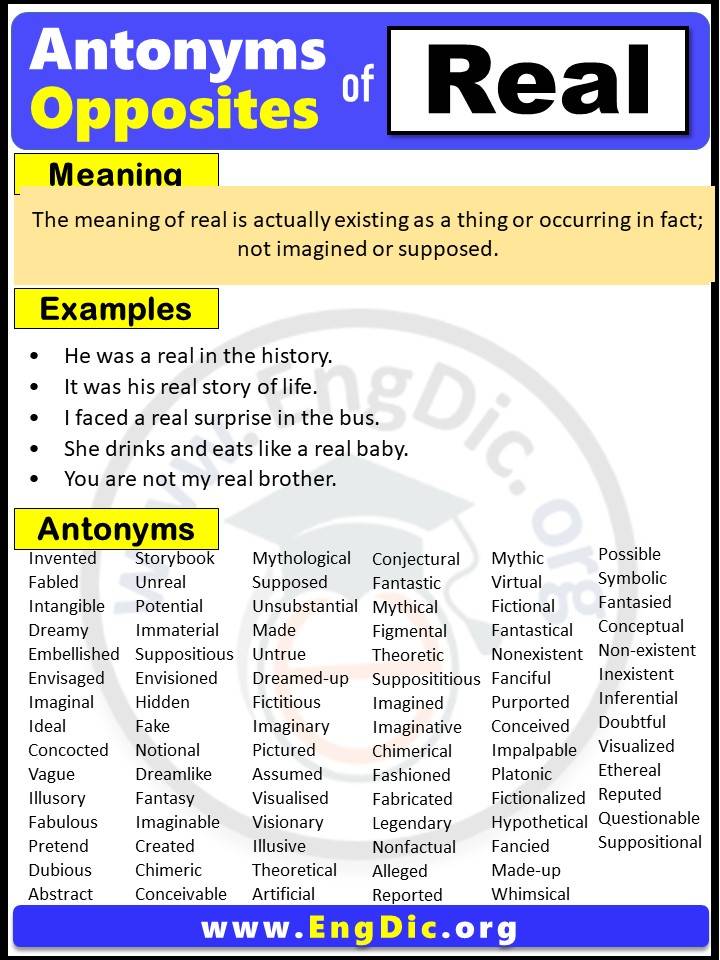 What is the meaning of real?
The meaning of real is actually existing as a thing or occurring in fact; not imagined or supposed.
Opposite of Real (Antonyms of Real)
Invented
Fabled
Intangible
Dreamy
Embellished
Envisaged
Imaginal
Ideal
Concocted
Vague
Illusory
Fabulous
Pretend
Dubious
Abstract
Storybook
Unreal
Potential
Immaterial
Suppositious
Envisioned
Hidden
Fake
Notional
Dreamlike
Fantasy
Imaginable
Created
Chimeric
Conceivable
Mythological
Supposed
Unsubstantial
Made
Untrue
Dreamed-up
Fictitious
Imaginary
Pictured
Assumed
Visualised
Visionary
Illusive
Theoretical
Artificial
Conjectural
Fantastic
Mythical
Figmental
Theoretic
Supposititious
Imagined
Imaginative
Chimerical
Fashioned
Fabricated
Legendary
Nonfactual
Alleged
Reported
Mythic
Virtual
Make-believe
Fictional
Fantastical
Nonexistent
Fanciful
Purported
Conceived
Impalpable
Platonic
Fictionalized
Hypothetical
Fancied
Made-up
Whimsical
Possible
Symbolic
Fantasied
Conceptual
Non-existent
Inexistent
Inferential
Doubtful
Visualized
Ethereal
Reputed
Questionable
Suppositional
Examples of Real in Sentences
He was a real in the history.
It was his real story of life.
I faced a real surprise in the bus.
She drinks and eats like a real baby.
You are not my real brother.