Opposite of Reduce, Antonyms of reduce with meaning and Example Sentences in English PDF
What are opposite words or antonyms?
Opposite words or Antonyms means those words that oppose the meaning of each other completely. For example Dark/Light, White/Black etc.
Normally the question that comes to mind when we are trying to learn these vocabulary words is that "Why should I memorize these Opposites when I know the basic words?"
These words are very useful in our daily routine vocabulary. Here I will tell you what are the benefits of using antonym and opposites? If you know the opposites of all the vocabulary words in your collection then your collection can be increased and you have a variety of words to use in your conversation. In your writing and speaking if you use the variety of words instead using repeating the same words it will cast a good impression. And your writing and speaking will become professional.
Note: You must know that antonyms and synonyms are two different terms. Synonyms means the words that have same meanings but in case of antonym it is completely different as I discussed above.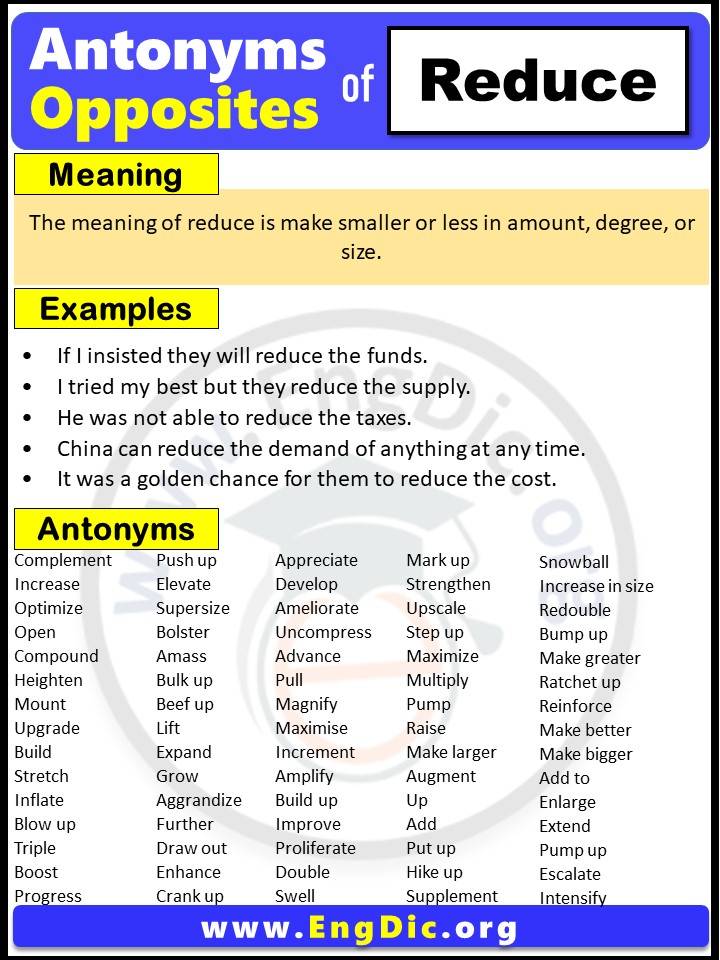 What is the meaning of reduce?
The meaning of reduce is make smaller or less in amount, degree, or size.
Opposite of Reduce (Antonyms of Reduce)
Complement
Increase
Optimize
Open
Compound
Heighten
Mount
Upgrade
Build
Stretch
Inflate
Blow up
Triple
Boost
Progress
Push up
Elevate
Supersize
Bolster
Amass
Bulk up
Beef up
Lift
Expand
Grow
Aggrandize
Further
Draw out
Enhance
Crank up
Appreciate
Develop
Ameliorate
Uncompress
Advance
Pull
Magnify
Maximise
Increment
Amplify
Build up
Improve
Proliferate
Double
Swell
Mark up
Strengthen
Upscale
Step up
Maximize
Multiply
Pump
Raise
Make larger
Augment
Up
Add
Put up
Hike up
Supplement
Snowball
Increase in size
Redouble
Bump up
Make greater
Ratchet up
Reinforce
Make better
Make bigger
Add to
Enlarge
Extend
Pump up
Escalate
Intensify
Jack up
Examples of Reduce in Sentences
If I insisted they will reduce the funds.
I tried my best but they reduce the supply.
He was not able to reduce the taxes.
China can reduce the demand of anything at any time.
It was a golden chance for them to reduce the cost.