Opposite of Lovely, Antonyms of Lovely, Lovely meaning and Example Sentences in English
What are opposite words or antonyms?
Opposite words or Antonyms means those words that oppose the meaning of each other completely. For example Dark/Light, White/Black etc.
Normally the question that comes to mind when we are trying to learn these vocabulary words is that "Why should I memorize these Opposites when I know the basic words?"
Before answering to your question I would like to tell you that we have covered almost all the basic and daily use vocabulary words and you can Download PDF of these words at the End of lesson.
These words are very useful in our daily routine vocabulary. Here I will tell you what are the benefits of using antonym and opposites? If you know the opposites of all the vocabulary words in your collection then your collection can be increased and you have a variety of words to use in your conversation. In your writing and speaking if you use the variety of words instead using repeating the same words it will cast a good impression. And your writing and speaking will become professional.
Note: You must know that antonyms and synonyms are two different terms. Synonyms means the words that have same meanings but in case of antonym it is completely different as I discussed above.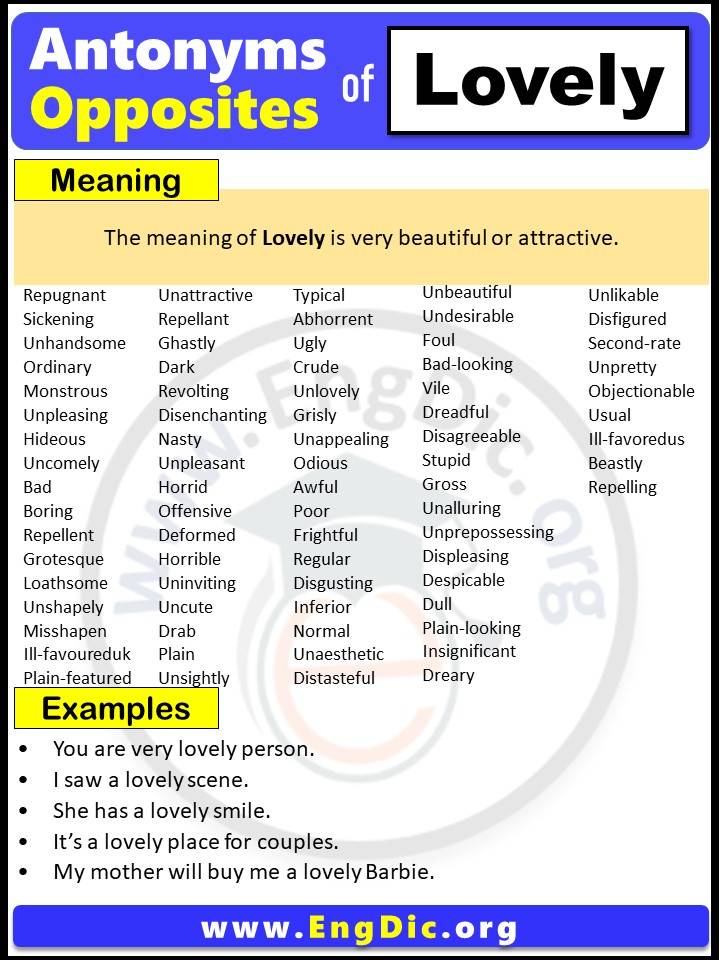 What is the meaning of Lovely?
The meaning of Lovely is very beautiful or attractive.
Opposite of Lovely (Antonyms of Lovely) List
Repugnant
Sickening
Unhandsome
Ordinary
Monstrous
Unpleasing
Hideous
Uncomely
Bad
Boring
Repellent
Grotesque
Loathsome
Unshapely
Misshapen
Ill-favoureduk
Plain-featured
Unattractive
Repellant
Ghastly
Dark
Revolting
Disenchanting
Nasty
Unpleasant
Horrid
Offensive
Deformed
Horrible
Uninviting
Uncute
Drab
Plain
Unsightly
Typical
Abhorrent
Ugly
Crude
Unlovely
Grisly
Unappealing
Odious
Awful
Poor
Frightful
Regular
Disgusting
Inferior
Normal
Unaesthetic
Distasteful
Unbeautiful
Undesirable
Foul
Bad-looking
Vile
Dreadful
Disagreeable
Stupid
Gross
Unalluring
Unprepossessing
Displeasing
Despicable
Dull
Plain-looking
Insignificant
Dreary
Unlikable
Disfigured
Second-rate
Unpretty
Objectionable
Usual
Ill-favoredus
Beastly
Repelling
Examples of Lovely in Sentences
You are very lovely person.
I saw a lovely scene.
She has a lovely smile.
It's a lovely place for couples.
My mother will buy me a lovely Barbie.
You can Download Pdf of the opposite/Antonyms of Lovely.